Louis C.K.'s 6 Best Dating Tips
Forty-six-year-old divorced comedian Louis C. K. has a comical viewpoint when it comes to dating and relationships. His unfiltered and unabashed approach to dating and relationship advice comes with hidden gems of truth.
Whether it is dating or marriage, he holds no punches when delivering his viewpoint. He's actually a dating expert in his own right, and here are his six best tips:
1. Don't stress about your looks
"I've never gotten laid 'cause of the way I look. I'm the guy women see and go, 'Eh?' And I'm like, 'I know, but just let me talk to you for a minute."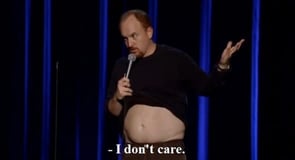 When it comes to dating, looks are important, but a good conversationalist also is attractive. Be sure to sharpen your conversation skills before a date and your success will go up, even if you're not Brad Pitt.
2. Embrace marriage
"There's guys thinking of getting married, and I hear them say stuff like, 'I don't know if I could have sex with one woman for the rest of my life.' Where are you getting that twisted fantasy? You're not gonna have sex with one woman. You're gonna have sex with zero women."

Enjoy your time being single. It's the time to explore and enjoy your life with no strings attached. Once you say I do, it's a different story.
3. We all hit rock bottom
"I was with one really hot woman once, and she got very drunk and slept with me. And the next morning I remember her looking down at me and she was so horrified. She just looked at me like she felt like she had raped herself with me somehow. I realized I am somebody's rock bottom moment."

Some people wake up from a drunken night and wonder who it is they are lying next to. Imagining Louis' face smiling back at you could be quite a surprise.
4. Younger isn't always better
"When I was first divorced, I started dating younger women, and it was really exciting. But after a while, I was like, 'This is just dumb.'"

Many of us experiment outside our age range. It can be fun and exciting, but at some point, we need to find someone at our maturity level.
5. Yes, dating can be awkward
"Dating is horrible — it's awful. I don't get it. It's like you're standing there, 'Hi. Do you want to sleep with me later and wish you hadn't?' It's horrible. And it's awkward at 42 because I don't have the body or the drive. I just sit in the car and hope somebody gets in."

Sometimes it can get awkward when sleeping together becomes a vague topic during dating. Usually dating implies sleeping together. In Louis' case, it gets more awkward as he gets older.
6. Sometimes divorce is a good thing
"Divorce is always good news. I know that sounds weird, but it's true because no good marriage has ever ended in divorce. That would be sad. If two people were married and … they just had a great thing and then they got divorced, that would be really sad. But that has happened zero times."

It's a good thing when relationships come to an end. It usually means it wasn't meant to be. When you close one door, another better one is bound to open. If you stay together, you'll know it's meant to be.
Louis C. K. delivers his relationship advice in a way that's down to Earth and relatable. Plus it gives you a good laugh to go along with it.
What we can learn from him is to see relationships for what they really are and accept reality.
Also, accept yourself and your situation. Get a laugh out of it when it seems too serious. Once we accept who we are and what we have, we are able to actually use all of this to our advantage and achieve success in relationships.
Quotes: fizzdom.com, thoughtcatalog.com, tressugar.com, brainyquote.com,
imdb.com
Photos: tumblr.com, giphy.com, reactiongif.org, ytimg.com