6 (Secret) Steps for "How to Get Over a Guy You Never Dated"
Whether you fall for a guy who is already taken, a friend, a co-worker, or an acquaintance, getting over a guy you never dated is sometimes as delicate and overwhelming as getting over an ex.
---
Ready to get out of the friend zone for good? Find your more-than-friend at Match.com.
---
Below are 6 strategies to help you get over a guy you never dated. Each strategy builds the foundation for the next, so use them as stepping stones that lead you in the right direction and ultimately free you from this uncomfortable circumstance.
1. Give Him a New Role in Your Life
The first step is to determine if it is possible to have him in your life if there is no sign of a love connection. This step involves honestly assessing if you are comfortable and capable of having a platonic relationship and if keeping him in your life serves you well.
During this evaluation process, it is important to picture yourself having choices and to be empowered to decide what is best for you despite the sadness, disappointment, and discomfort associated with his lack of interest in pursuing you.
Answer the following questions to get clear on what you want:
If I can't be with him, how might he fit into my life?
Is maintaining a friendship with him healthy for me, or will it be too difficult to manage? What are my concerns?
If he is currently in a relationship or married and I decide to continue contact, how will I handle seeing him with his partner?
How might I feel with more time and distance? How might I feel if either of us are in a relationship?
Is cutting off all contact with him what I need to do to effectively move on?
2. Make Sure Your Behaviors Match His New Role
Once you identify if or how you would like him to remain in your life, take action that is congruent with your choice and release him as a love interest. Focus on matching your actions and behavior with your intentions moving forward while remembering that your ultimate goal is to move on and get over him.
If your intention is to turn him into a friend and keep him in your life, create distance by avoiding flirting, date-like situations, and contact that is too often or too intimate.
If you determine it is best to cut off all contact, take measures to make this happen. This might include having a conversation with him that provides closure or stopping in-person contact and contact through phone, email, text, and social media.
3. Actually Let Yourself Grieve
It is natural to partake in a grief process with ups and downs. How long it takes to get over him will depend on your history, how much contact you have had, how much time you have spent together, etc.
For instance, if you met him one time and asked him out but he said he wasn't interested, it will take less time to move on than if you had a long-term friendship and then you were rejected when you brought up being more than friends. Be realistic and gentle with yourself as you move forward.
4. Train Your Mind to Stop Thinking About Him
When you like someone, your mind often becomes filled with thoughts, strong feelings, and fantasies about them. Therefore, it is best to refocus and retrain your mind to reduce thinking about him.
Try offering your mind an alternate reality and new thought pattern when your mind creates fantasies about a future with him ("I am able to move forward without him. I am focused on taking care of myself and meeting a partner who likes me as much as I like him.").
Also notice when he naturally wanders into your mind, but instead of engaging with or becoming attached to these thoughts, simply notice their presence (like a quiet observer) and get back into the moment. The key is to avoid dwelling and shaming yourself as you move toward emotional freedom.
5. Create a Mental & Physical Plan to Avoid Contact With Him
It would be unrealistic to say you won't be tempted to contact him, win him over, and try to change his mind. However, if he is not into you, it is best to move on. This means you need a plan to handle any natural urges to communicate with him.
Work toward self-control and actions that match your intention to let go, but if it feels too difficult to keep his contact information and not use it, delete it. If you are going to drive yourself crazy looking at his social media profiles, delete him, hide him, un-friend him, etc.
Do what you need to do to not buy into urges that are only going to leave you feeling worse (my clients ALWAYS feel worse when these types of urges get the best of them).
6. Focus Your Desire on Something & Someone Else
Do you really want a romantic relationship with a man who is not into you? Do you really want to beg for the attention you deserve?
Focus on your desire to meet and date a man who adores you as much as you adore him and get back into your own life (instead of being overly-involved in his). Use your support system and resources, healthy self-care strategies, and a variety of dating methods to aid you in creating the life you want.
7. If He's in Another Relationship, Try to Be Happy for Him
I know it isn't easy and is not immediately doable, but do your best to wish him well. This approach will benefit you, as hatred, negativity, competition, and jealousy all interfere with your own love life going well.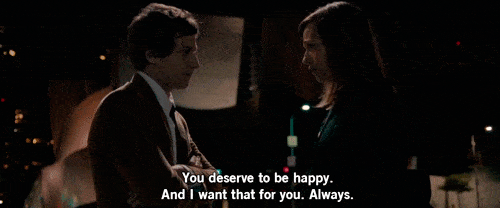 Wishing ill onto others will keep you feeling stuck in a negative emotional cycle, repelling your own opportunity for love and happiness.
Photo source: pinterest.com, bustle.com, youtube.com, variety.com, iamnotastalker.com, heresthethingblog.com, wallpapersfolder.com