Introducing: Tinder's Hot New Photo Feature
The flame of popular mobile dating app Tinder continues to burn hot with their new Tinder Moments feature, which is sure to increase their 850 million swipes a day to a much greater number of interactions.
Similar to SnapChat, where users post photos that destruct upon viewing, Tinder Moments allows a spur-of the-moment user to post a photo, add filters and send it once to everyone they've been matched with. Within 24 hours, the photo disappears.
So if that selfie isn't one of your best, it won't have a long shelf life.
How it works
The app accesses your camera roll or Facebook photos (with permission, of course).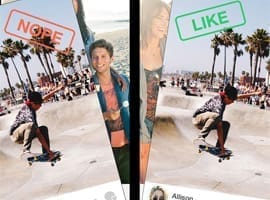 You can select the photo, use some filters, add a caption and send it out to those who have swiped right to be connected to you.
Users then swipe left if they don't like the photo or swipe right to give it a digital thumbs up, similar to liking or nixing a potential match.
Tinder and all of the online dating sites realize men and women are visual creatures, so it's all about the photos.
The pros and cons
The spontaneity adds a realistic view of what you look like today, not from your prom photos.
The downside is once you post the photo out there, you aren't necessarily looking your best. One has to wonder if Anthony Weiner-type photos will start appearing on Tinder, making it a creepy experience for some.
If you're gun-shy about using Moments to share your story as it happens, take a few moments and start v

iewing the Moments photos of your matches to get the swing of things.
Photos and videos are the flavor du jour for people who enjoy connecting in a digital world.
You'll be seeing more group activity shots and party photos, especially since Tinder considers itself a social discovery app and not a mobile dating app.
Will posting or viewing photos in Moments create better matches? Time will tell, but it certainly will make playing the game a lot more fun and engaging.
Photo sources: guardianlv.com, blogspot.com