Global Fund for Women: The #1 Resource for Advancing Women's Rights
The 411: For the past 25 years, Global Fund for Women has been the leading institution to give women the tools they need to raise their voices, demand equal rights and change the world.
Three decades ago, three bold women founded Global Fund for Women, which has now become the leader in providing funds and resources to courageous individuals and organizations that strive to advance the movement for women's rights.
"We've had a long history of making sure grassroots women leaders are trusted to do what's best and what's needed in their own communities and their own countries and to really enact change in ways they know will work," said Global Fund for Women's Communications Manager Anna Tenuta.
From first-rate services to local, national and international successes, Global Fund for Women is paving a path that we should all be traveling down.
Fund, amplify, connect and sustain
Global Fund for Women does so much more than just write checks. The team actually creates groundbreaking initiatives and digital campaigns that shed light on critical issues women deal with all over the world.
Their latest initiative, called IGNITE, shows that there are women who are interested in science, technology, engineering and math and who use those fields to help create change.
As part of this project, Global Fund for Women held an International Girls Hackathon in February that allowed women and girls aged 11 to 25 from all over the world work together to develop websites and apps that create virtual safe spaces.
"We're really trying to highlight the gender gap in technology and advocate for women and girls and increase access to and control of technology as a women's human rights issue," Tenuta said.
Global Fund for Women uses global campaigns like this and the stories of women and girls as a way to change the hearts and minds of members of society who see women as unequal to men and who question their abilities, as well as show them that women really are making the world a better place.
"The key is empower each other, continue to share each other's voices, encourage safe spaces for each other to come together, make sure women who are more vulnerable or who are in marginalized populations around the world have full power to make their voices heard, ensure that all of the advancements that we've made around the world for women's rights aren't rolled back and continue to drive equality and shatter stereotypes," Tenuta said.
Stand With Global Fund for Women. Stand With All Women
Global Fund for Women has a successful 25 years under its belt, but that's only the beginning.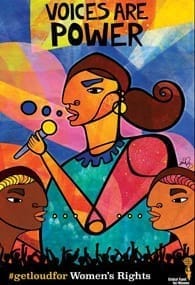 Over the next 25 years, the organization hopes to change stereotypes, shift power to ensure that more women become leaders and encourage them to participate in male-dominated fields, utilize their creativity and make their communities better for everyone.
"Our goal is to continue to be a leading grantmaker and advocate for women's rights and make sure gender equality isn't some faraway, unreachable goal, but it's something everyone can realize and that societies can benefit from around the world," Tenuta said.
"We really want to continue funding, amplifying and sustaining women's organizations and women's human rights movements around the world and create advocacy campaigns that can highlight and amplify women's voices on critical issues that women and girls are facing," she continued.
To learn more about Global Fund for Women and the amazing strides the organization is making in equal rights, visit www.globalfundforwomen.org<.>