9 Ways to Meet Singles in Phoenix, AZ (Dating Guide)
In "Away We Go," a 2009 rom-com that's one of my favorite movies, two young lovers search for the perfect place to start a family. Their first stop is Phoenix, Arizona. Under the orange sky, the couple imagines what it would be like to make their home amid the cacti and mountains.
"I hope you guys move here," says Allison Janney's character, a wacky former coworker. "We've had a hell of a time breaking into the social world."
Though the movie suggests Allison's social troubles stem from her lack of a filter, her comment brings up a common question: How do you meet people in a city as big as Phoenix? Once out of school, it isn't always easy for adults to make new friends, much less find dates. Whether you're new to the city or a long-time resident, you have to know where to go to narrow Phoenix's 1.5 million residents down to the one(s) you want to build a relationship with.
Fortunately, the city has a lot of offer romantics, especially in the dating scene. Like an oasis in the desert, we hope our nine suggestions for meeting singles in Phoenix help you put an end to your social dry spell and meet exciting, fun people near you.
First off, dating websites are a quick and easy way to meet people without even having to leave your house. It saves time and lets singles cut to the chase in a self-selected dating environment. Singles in Phoenix can find one another with a simple location-based search and start a conversation that could lead to a short-term date or a lasting relationship. When you sign up to a popular dating site that fits your needs, meeting like-minded people is just a click away.
Best Singles Site
Generally, the longer a dating site has been around, the more trustworthy and effective it is. If singles keep coming back to it, the site must be doing something right. Founded in 1995, Match has done a lot of things right. What makes it the best in the eyes of our dating experts is its simple matching features, open-ended profile setup, and time-tested compatibility algorithm. Today, Match.com fosters a relationship-oriented community of over 30 million members. It's a popular place for people of all backgrounds and orientations to have fun during their search for love. Phoenix singles can use this top dating site to flirt, date, and build a meaningful relationship with the right match.
Best Site for Professionals
Elite Singles prides itself on being "a cut above other dating sites." This premium dating network attracts professional singles with advanced degrees. In fact, over 80% of its members have a bachelor's, master's, or doctorate degree. If you're a working professional in Phoenix looking to meet smart men and woman in your area, joining Elite Singles helps you narrow down your dating prospects to the cream of the crop.
Over 50 & Senior Site
Sometimes senior daters feel intimidated by online dating, but senior-only dating websites aim to make the journey easier and more fun for singles of a certain age. Our dating experts rank OurTime as the best dating site for Phoenix singles over 50 years old because the simple features make it easy to sign up, search for a date, and chat online with mature daters. You don't need to be tech savvy to meet people using OurTime. The dating site even provides safe dating tips to help newcomers navigate the online world.
For Black Men & Women Only
According to the 2010 Census, 6.5% of Phoenix residents identify as black or African American. That's a slim minority, so Midwestern black singles sometimes have a hard time finding one another in the sprawling city. If you're living in Phoenix and looking to date within the black community, BlackPeopleMeet can hook you up. With over 1.4 million members, this dating site boasts the largest online network of black and biracial daters in the world. Since its founding in 2002, BlackPeopleMeet has offered safe, fun, and quick tools to meet black singles in any neighborhood.
Hookup & Sex Site
Phoenix is a hot city, and it's full of hot singles trying to hook up with one another. If you're looking for a sexy partner to take to bed, Adult Friend Finder gives you the chance to browse through attractive profile photos and make a flirtatious invitation to fast-moving singles in Phoenix. AdultFriendFinder has over 77 million members of all orientations, backgrounds, and fetishes, so you're sure to find someone who's your type. On AFF, you can pick up a date using the public chat rooms or private messages to sweet talk sexy singles near you.
Active daters are often on the move, roaming from bar to club to bar in the course of a night. Dating opportunities are ripe, but you have to choose the right target. When you scan a crowd, it's tough to see who's available and open to a flirtatious conversation. That's why dating apps have become so popular among today's singles. While you're out on the town in Phoenix, you can use a dating app to connect with a network of nearby hotties and make a date more easily. By using a dating app, singles can find a date no matter where they go. We recommend the following user-friendly apps for mobile daters in Phoenix.
Relationships: Fun Dates, Serious Relationships
Match System: Browse by location, age, interest, and more
About the App: Available via the App Store and Google Play, Match is a fantastic app for dates and relationships. With a user base of 30 million singles, Match is where you'll have a high chance of success. It's free to download, create a profile, search for date prospects, and receive compatible matches based on personalized preferences. Free members can also chat with select members and send unlimited likes.
Browse Free: View Profiles Now
| User Base | Gender Ratio | Popularity (Visits/Mo.) | App Cost |
| --- | --- | --- | --- |
| All Singles* | | 13.5 Million* | Free Download |
Relationships: Deep Relationships
Match System: Search by education, lifestyle habits, age
About the App: Commitment-minded, professional daters will feel at home with EliteSingles, which can be downloaded for free in the App Store or Google Play. Not only is everyone looking for a long-term partner, but 80% of members hold a bachelor's, master's, or doctorate degree. EliteSingles sees 210,000 visitors and 2,500 users finding love every month, so it's one of the fastest growing and most reputable apps.
Browse Free: View Profiles Now
| User Base | Gender Ratio | Popularity (Visits/Mo.) | App Cost |
| --- | --- | --- | --- |
| All Singles* | | 290,000* | Free Download |
Relationships: Casual Dates, Relationships
Match System: Search for and receive matches
About the App: Zoosk is the number one app for finding dates, and if you sync up your Google+ or Facebook account, you can have a profile in seconds. The app has 38 million members and will deliver matches to your inbox on a daily basis based on your behavior such as who you search for, like or don't like, and message. The Carousel is another section for matching (tap the heart if it's a yes and the X if it's a no).
Browse Free: View Profiles Now
| User Base | Gender Ratio | Popularity (Visits/Mo.) | App Cost |
| --- | --- | --- | --- |
| All Singles* | | 3.8 Million* | Free Download |
Downtown Phoenix has so many tempting spots to grab a drink with a date or introduce yourself to someone new. Many singles and couples hang out at bars to socialize while enjoying specialty drinks. The low-key atmosphere is perfect for starting a flirtatious chat with a crush. All it takes is a simple, "Can I buy you a drink?" to get the ball rolling. Phoenix has many drinking establishments to choose from, so we've helped you narrow down your date-night options by picking out the best wine bars, breweries, rooftop lounges, and awe-inspiring bars in the area.


1
Bitter and Twisted Cocktail Parlour
1 W. Jefferson Street • Phoenix AZ 85003
(602) 340-1924
Visit Website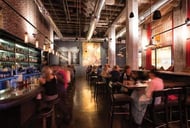 Topping our list is the Bitter & Twisted Cocktail Parlour, an award-winning and inventive cocktail bar with specialty drinks and an original menu. Does spicy popcorn sound good to you? How about Asian buffalo shrimp and grits or a ramen burger with caramelized onions? The snackable foods at the Bitter & Twisted come packed with savory flavors. And the specialty drinks are absolutely gorgeous too. Housed in what used to be the Arizona Prohibition Headquarters downtown, Bitter & Twisted is a hip drinking establishment serving fine cocktails, spirits, and fun times.


3620 E Indian School Rd B • Phoenix, AZ
(602) 753-6504
Visit Website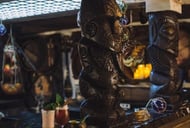 If you love rum, the menu at the UnderTow will be as tempting to you as buried treasure is to a pirate. The dimly lit bar serves inventive drinks with funny names like the Smoking Cannon, All Hands on Deck, and Smuggled Goods. The bar's delicious tropical drinks and elaborate Polynesian decorations make visitors feel like they've been transported from the desert to the beach. Landlubbers are welcome to come aboard and mingle in this whimsical setting. Seating is limited, so you may want to make a reservation to get a table where you can invite people standing at the bar to join you.


7245 E Main Street • Scottsdale, AZ 85251
480-425-7787
Visit Website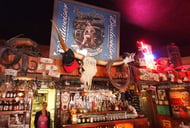 The Rusty Spur Saloon is Scottsdale's oldest bar for local cowboys and cowgirls. Those with a hankering for Tex-Mex food can hang up their hats in this authentic western locale and enjoy live country music while they eat and drink. The traditional cowboy saloon has served well-known actors, including John Wayne, Clint Eastwood, and Vince Vaughn, since it opened in the early 1950s. Originally named the Rusty Spur Cafe, this western classic is known for its smooth liquors and mouth-watering burgers. Saddle up and enjoy!


1612 E Bethany Home Rd • Phoenix, AZ
(602) 633-2134
Visit Website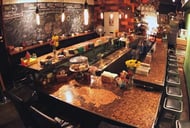 Founded in 2013, the Whining Pig is a neighborhood beer and wine bar for Phoenix locals.
The Whining Pig stocks over 125 craft beers on tap in its three locations in Gilbert, Arcadia, and Downtown Phoenix. The kitchen serves fancy grilled cheese sandwiches and decadent peanut butter brownies. It's a simple and cost-effective place for daters to hang out. The establishment has classic childhood games like Connect Four and Rock 'Em Sock Em' Robots to give singles a way to break the ice by challenging one another to a nostalgic game. Loser buys the next round of drinks!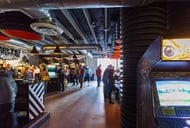 The Cobra Arcade Bar has an impressive collection of over 40 vintage arcade games, including Galaga, Frogger, Ms. Pac-Man, Super Mario Bros, and so many more. Each game invites daters down a trip to memory lane. The bar also serves 14 different types of beers and several specialty cocktails. If you enjoy fruity drinks, you'll love the bar's Princess Peach, reasonably priced at $8. Plus, you can score points with dates by ordering them a fun cocktail like the Crazy Kong (ingredients include banana liqueur, lemon, and ginger beer). This bar is a fun place for Phoenix gaming enthusiasts. "It started with my addiction to hunting for vintage arcade games," said Co-Founder Ariel Bracamonte, who scoured the US to fill her bar with the best games. "We would like to invite you all to come and grab a beer and get nostalgic as we pop some tokens in these vintage gems."


4228 E Indian School Rd • Phoenix, AZ
(602) 955-0339
Visit Website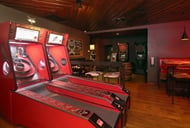 The Little Woody is tricky to find, but super fun once you're inside. The speakeasy vibe and retro atmosphere makes this place stand out among Phoenix bars. You can seat yourself at the booth or play foosball or skee ball until the wee hours of the morning. Count me in! The menu has an impressive selection of cocktails, whiskeys, scotches, beers, and wines. Seriously, the whiskey page has nearly 100 options to choose from. The Little Woody has frequent happy hours and game nights to loosen visitors up and enjoy a stress-free night at the bar.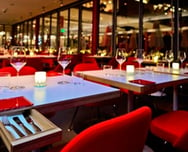 For some busy singles, dating is simply too time-consuming or too tedious to bother with. The search process, the string of bad dates, and the monotony can be demoralizing when you're doing it all on your own. If you're tired of wasting time in the dating scene, a speed dating event could be just what you need. During themed nights, speed dating companies invite a vetted group of singles to get to know one another in a structured and fast-paced dating environment. You meet someone, chat for 5-10 minutes, and then you meet someone new. Some tailored events will match people up based on their personal compatibility, making the night even more efficient!
SpeedPhoenix Dating dispenses with name tags and party gimmicks, instead fostering a sophisticated and cheeky atmosphere for Phoenix singles.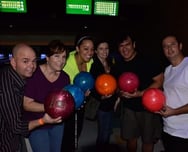 Phoenix is the most populous city in Arizona, but that doesn't mean attractive dates will just show up at your door. You have to know where to go to connect with Phoenix singles. A singles event is a fantastically fun way to put yourself out there and meet a slew of single people while bowling, rafting, paintballing, or partying together. Events & Adventures, an invitation-only club, organizes many dynamic events for over 40,000 members across 10 cities, including Phoenix. From trampoline dodgeball to hot air ballooning, these adventurous outings encourage singles to meet up and have a great time together.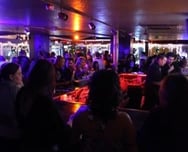 Under the strobe lights and pulsing music of a club, singles can dance away their troubles and meet dozens of fun-loving individuals. Downtown Phoenix has a vibrant nightlife with many modern places to sway to the beat, have a drink, and sidle up close to your crush. Whether you're going out dancing with a date or hoping to meet someone on the dance floor, a club gives people the opportunity to go out and have fun. Check out the clubs Phoenix residents rave about through clubZone's comprehensive list.
Chat rooms have been a central part of socializing on the internet for decades now. They've stood the test of time because many people enjoy using a lighthearted conversation as a way of building friendships and establishing chemistry. A singles chat room is often a sexually charged place with singles trading compliments and making flirtatious overtures at one another. Adults in Phoenix can use a topic-specific chat room to chat up nearby singles who share similar interests and goals. Sometimes the chat can get saucy and explicit as singles openly express their desires online.
Dating personals used to be available only in newspapers, but now the adverts have gone online to give singles easier access to one another. The process is almost identical to signing up to a dating site. You create your profile, fill in your personal details, and start searching for a compatible date near you. Phoenix singles can use dating personals to quickly meet and contact attractive date prospects online. We recommend the following four Phoenix dating personals websites:
Phoenix is one of the sunniest places in the US — the city had 211 clear days in 2010, which amounts to 3,872 hours of sun. It's no wonder Arizonians call Phoenix the "Valley of the Sun." Whether you live in Phoenix or are just visiting, you should really take advantage of those bright and clear days by going outside and doing something fun. A festival provides a wonderfully engaging scene for singles to meet new people. You can search for upcoming festivals on the VisitPhoenix calendar.
All year round, Phoenix hosts many splendid music, art, film, renaissance, and even peach festivals to bring singles, couples, and families out in the open air. From the jam-packed Phoenix Pride festival in April (with 150 entertaining performances) to intimate Real, Wild, and Woody Beer Festival (featuring over 50 Southwest craft beers), Phoenix's festivals give you something to do while mingling with locals who share your passions and interests.
There Are So Many Places to Have Fun in the Valley of the Sun
The couple in "Away We Go" feel drawn to Phoenix, Arizona, because it is so warm and sunny. This city is a hub of civilization in the middle of the desert and a great place for urban singles and couples to call home. You can make the most of these rich surroundings by joining a dating site, a chat room, a singles event, or a festival in your neighborhood. Or you can hunt on your own at a local bar or club. Between singles meetups and speed dating events, there are so many opportunities to meet new date prospects in Phoenix.
The right person for you could be right in your backyard, but you have to go outside to find them — so get out there and start dating! Good luck!
Advertiser Disclosure
DatingAdvice.com is a free online resource that offers valuable content and comparison services to users. To keep this resource 100% free for users, we receive advertising compensation from the sites listed on this page. Along with key review factors, this compensation may impact how and where sites appear on the page (including, for example, the order in which they appear). DatingAdvice.com does not include listings for all dating sites.
Our Editorial Review Policy
Our site is committed to publishing independent, accurate content guided by strict editorial guidelines. Before articles and reviews are published on our site, they undergo a thorough review process performed by a team of independent editors and subject-matter experts to ensure the content's accuracy, timeliness, and impartiality. Our editorial team is separate and independent of our site's advertisers, and the opinions they express on our site are their own. To read more about our team members and their editorial backgrounds, please visit our site's About page.