11 Ways to Meet Singles in San Francisco, CA (Dating Guide)
In "The Princess Diaries," Mia is an average San Francisco teen… or so she thinks. She goes to school, hangs out with her friends Lilly and Michael, and dreams of meeting a guy who can give her a "foot-popping kiss" like in old movies. Then she finds out she's secretly a princess and heir to the throne of Genovia.
Plot twist! Mia faces many challenges while coming into her own as a monarch, but she works hard to master the etiquette, win over her critics, and, eventually, get that perfect first kiss she's been dreaming about. Although her Prince Charming isn't who she expected him to be.
"The Princess Diaries" shows you don't have to be royal to find your perfect match — they could be right in front of you. Without further ado, here are 11 ways to meet some awesome people in San Francisco so you can live happily ever after too.
1
San Francisco Dating Sites
San Francisco is a beautiful sprawling city, but sometimes that makes it difficult to narrow down where the singles are, and that's why dating sites are so useful. A dating site is basically like gathering thousands of San Francisco singles in one place. Then you can just pick through your favorites based on other more important criteria. We've tested and reviewed dozens of dating sites and have ranked what we believe to be the top five.
Best Singles Site
When we think of online dating, we automatically think of Match. The site has been around the longest (22+ years), has the most diverse user base (over 30 million singles from over 25 countries), is the most reputable (thousands of positive reviews), and is the best at what it does (the most romantic connections of any dating site). San Francisco singles can use Match's advanced search features to get super specific about their location preferences as well as age, gender, sexual orientation, education, religion, and lifestyle (e.g., smoking).
Best Site for Professionals
Elite Singles caters to men and women who value a partner with an extensive educational background. Practically every member has earned a bachelor's, master's, and/or doctorate degree (82%). The site isn't for young singles looking for hookups either – nine out of 10 members are 30 or older, and 100% of them are looking for a lifelong commitment. Boasting a success rate of 2,500 relationships a month, Elite Singles is a fantastic choice for serious daters in San Francisco.
Over 50 & Senior Site
A close family member of mine who's in her 60s joined her first dating site a couple of years ago, but she didn't do any research beforehand. She just chose the first site she thought of. Unfortunately, it wasn't the best choice for single seniors, so she didn't have a good experience. What my family member should've done was join OurTime — it's just for people in her age range. On OurTime, mature daters will waste less time because they won't have to filter through profiles of younger daters.
For Black Men & Women Only
About 6% of San Francisco's population is black, while 5% is two and/or three or more races. One of the top dating sites for them to meet each other for friendship, dates, and relationships is BlackPeopleMeet. It's free to try, so you really have nothing to lose. BlackPeopleMeet is part of the People Media family, the leading online personals provider, which means you can rest assured that it's trustworthy as well.
Hookup & Sex Site
We're not all looking for Mr. or Miss Right — some people are looking for Mr. or Miss Right Now, and there's nothing wrong with that. Adult Friend Finder is a welcoming dating site for hookup-minded singles and couples. In minutes, you can have a profile and become a part of a community of 77 million. Adult Friend Finder also uses your location to find you matches and tell you who's online at the same time as you, making your life that much easier.
Dating apps allow you to take your dating life with you wherever you go — whether that's out to dinner at Fisherman's Wharf, commuting to work on the cable cars, catching a Giants game, or anything else. Most dating apps are free to download and browse, and most have the option to sync with a social media profile (Facebook, Google+, Instagram, etc.) — pulling your info and photos and speeding up the signup process. Our experts know dating apps like the back of their hands, and here are their three recommendations.
Relationships: Fun Dates, Serious Relationships
Match System: Browse by location, age, interest, and more
About the App: Available via the App Store and Google Play, Match is a fantastic app for dates and relationships. With a user base of 30 million singles, Match is where you'll have a high chance of success. It's free to download, create a profile, search for date prospects, and receive compatible matches based on personalized preferences. Free members can also chat with select members and send unlimited likes.
Browse Free: View Profiles Now
| User Base | Gender Ratio | Popularity (Visits/Mo.) | App Cost |
| --- | --- | --- | --- |
| All Singles* | | 13.5 Million* | Free Download |
Relationships: Deep Relationships
Match System: Search by education, lifestyle habits, age
About the App: Commitment-minded, professional daters will feel at home with EliteSingles, which can be downloaded for free in the App Store or Google Play. Not only is everyone looking for a long-term partner, but 80% of members hold a bachelor's, master's, or doctorate degree. EliteSingles sees 210,000 visitors and 2,500 users finding love every month, so it's one of the fastest growing and most reputable apps.
Browse Free: View Profiles Now
| User Base | Gender Ratio | Popularity (Visits/Mo.) | App Cost |
| --- | --- | --- | --- |
| All Singles* | | 290,000* | Free Download |
Relationships: Casual Dates, Relationships
Match System: Search for and receive matches
About the App: Zoosk is the number one app for finding dates, and if you sync up your Google+ or Facebook account, you can have a profile in seconds. The app has 38 million members and will deliver matches to your inbox on a daily basis based on your behavior such as who you search for, like or don't like, and message. The Carousel is another section for matching (tap the heart if it's a yes and the X if it's a no).
Browse Free: View Profiles Now
| User Base | Gender Ratio | Popularity (Visits/Mo.) | App Cost |
| --- | --- | --- | --- |
| All Singles* | | 3.8 Million* | Free Download |
3
San Francisco Singles Bars
San Francisco has five major districts, and finding the right bar for you depends on the area you're in. For example, Haight-Ashbury has a more diverse patronage than Marina/Cow Hollow, which Frommer's says is more for polo-shirt-wearing college graduates. Tourists tend to flock to North Beach, while hipsters feel at home in the Mission District. No matter what kind of person you are, bars are one of the most traditional ways to meet people, and we promise you'll like at least one of the options on our list.


98 Turk St • San Francisco, CA 94102
(415) 613-7623
Visit Website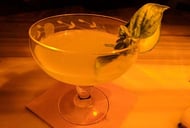 Formerly known as BIIG, 98 Turk is a reservation-only cocktail bar, but you can also hit the buzzer on the door and see if you're able to get it. Another unique aspect of 98 Turk is there's no menu -- just tell the bartenders a particular drink you like or what flavors you're a fan of, and they'll whip something up that's sure to impress. The decor is half upscale, half rustic, with red silk fabric lining the ceiling and deer and moose heads located on either site of the bar.

2526 Mission St • San Francisco, CA 94110
(415) 401-0810
Visit Website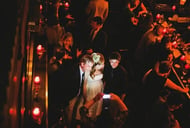 Fans of historical cinema and poetry will love Laszlo. As the site says, "Our collective visual past includes Iron Curtain dreams and fantasies shading the walls with past motifs in Eastern European film and Cinema Verite." Now, let's get to the cocktails and food. You can order highballs of St. George California Shochu, mixed drinks, including a Sunset Boulevard made with Square One botanical vodka, housemade rosemary syrup, fresh lemon, and seltzer, and French rosé. For shareable bites, try the five-spice duck cracklings, Tandoori nut mix, or the curry fried chicken sammies.


580 Sutter St • San Francisco, CA 94108
(415) 398-0195
Visit Website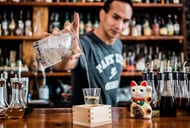 Pacific Cocktail Haven (PCH) is "your friendly, neighborhood cocktail bar" and was founded by Kevin Diedrich. It's owned and operated by Sidecar Hospitality, a leader in San Francisco's bar and restaurant industry. PCH is open every day but Sunday and strives to be the relaxing go-between from work and home. The drink menu is full of cocktails with fun names, such as Swizzle My Nizzle and Pootie Tang, as well as your standard beers, wines, and sakes.


400 Eddy St • San Francisco, CA 94109
(415) 358-1999
Visit Website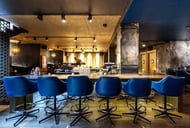 Located in the famous Verona Hotel and opened in 1906, Black Cat is now part bar, part restaurant, part music venue. The restaurant features small-scale yet filling plates (including raw oysters, house-cut fries, and lamb meatballs) that are meant to be divvied up among a group. The bar also serves classic cocktails that the team puts a spin on (including martinis, bee's knees, and gimlets) as well as its own artisanal champagne collection. The music venue showcases the sounds of curated music and live bands, including the Terry Disley Trio.


644 Broadway • San Francisco, CA 94133
(415) 788-8188
Visit Website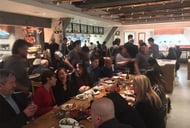 Bar Central is at China Live, one of the most popular restaurants in San Francisco's Chinatown. On the menu, you'll find a comprehensive selection of beers, wines, specialty drinks, non-alcoholic beverages, and cold brew coffees. Favorites include the French Concession, Sichuan Smash, and (Not) All the Tea in China. When you're ready to nosh on something, China Live has three venues to choose from: Market Restaurant, Oolong Cafe, and Eight Tables by George Chen. Here, you'll find things like classic roast duck and Chinese desserts.


2323 Polk St • San Francisco, CA 94109
(415) 441-2323
Visit Website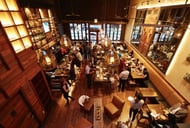 Mezcalito has received accolades from practically every publication in San Francisco -- including being voted among the "15 Restaurants Perfect For Girls' Night Out" by the Infatuation, "15 of San Francisco's Hottest New Happy Hours" by Eater SF, and "27 San Francisco Cocktails You Need to Drink This Summer" by Eventbrite Rally. The bar and restaurant's themed events, such as Negroni Week, Gourmex SF, and Know Your Spirit Road Trip, get the drinks and conversations flowing. And don't forget to try Mezcalito's brunch sometimes, featuring a Carnitas Benedict and a Bloody Maria.
4
San Francisco Speed Dating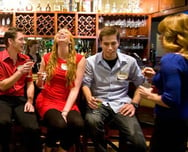 Speed dating was one of the first dating resources to bring a bunch of singles together in one room or for one event. According to the New York Times, it was invented by Rabbi Yaacov Deyo in 1998 in Beverly Hills at a Peet's Coffee & Tea. Each date lasted for 10 minutes, Deyo would twirl his gragger (a Jewish noisemaker used during Purim), the women would stay put while the single men would move to the next table, and the process would start over. Today, speed dating is still a go-to for many singles, and there are hundreds of speed dating companies hosting thousands of events all over the country.
5
San Francisco Singles Events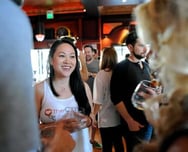 Sometimes dating can feel like a job interview. Everyone is trying so hard to make a good first impression and not say or do that wrong thing. A faux pas can make daters feel really stiff and lead to grilling the person across from them instead of just letting the conversation flow. Singles events allow people to relax because there's something else going on besides two people staring at each other not knowing what to say. Activities can include cocktail hours, sunset cruises, dances, picnics, hiking, city tours, and basically anything you can think of.
6
San Francisco Singles Clubs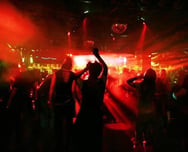 It's a Saturday night, and you're out at a club. The drinks are flowing, the music is playing, and your body is swaying. Then you look across the room and spot someone you can't take your eyes off of. You meet each other halfway and spend the next couple of hours talking more with your bodies than with your mouths. As the club starts to close, you lock eyes and know you both want to go home together, and whether you end up together or not doesn't matter. All you know is it's one of those perfect club experiences that you'll never forget. As Rihanna says, "Baby, this is what you came for." If you agree, Thrillist has an awesome article that highlights the best clubs in San Francisco.
7
San Francisco Chat Rooms
San Francisco chat rooms are great for singles who get nervous approaching people in person. Instead of focusing on your body language or how cute the other person is, you can focus on being yourself, sharing your passions, and getting to know him or her. The web has numerous chat rooms dedicated to San Francisco daters, but we've found the top five based on membership size, price, helpful tools, and success rates.
The word personals may make you think of those ads people used to put in the newspapers, but they're actually still a relevant thing. Personals is just another word for profile — although some of them can be shorter than what you might find on some dating sites and apps. Basically, you want to showcase what you have to offer a date or partner — as well as what you want a date or partner to offer you. We've researched several San Francisco personals sites and have narrowed it down to the cream of the crop!
9
Attend Museum Exhibitions & Other Artistic Activities
San Francisco is an arts and culture hotspot, with about 244 museums, centers, galleries, and parks in the city, Bay Area, Santa Clara Valley, and Peninsula. And these places aren't just about admiring the works in silence — they also offer interactive exhibits, programs, events, and classes where you can expand your artistic skills and knowledge and meet others who are doing the same.
For example, the San Francisco Museum of Modern Art has hosted activities like Live Personal Soundtrack (where you could play guitar while taking a tour) and the California Academy of Sciences has hosted activities like Beer Garden Nightlife (where you can learn about the brewing process while drinking beer and walking through the gardens).
10
Go to Networking Parties
Who says you can't mix work with pleasure? San Francisco is a thriving tech community, so while you're advancing your career, you could also be advancing your dating life. Brazen Technologies wrote a helpful blog post that recognizes the 10 most fun networking events in the city.
Even if you don't meet a potential date, you're still making good contacts for work. And who knows — you could also make a new friend who introduces you to someone you do hit it off with. Expanding your social circle is always a good thing!
11
Join an Activist Campaign
If activism is near and dear to your heart, why not use it to do some good for the world and come together with people who are doing the same? No matter your political affiliation or beliefs are, you can find an activist campaign or event on Meetup.
Just scrolling through the San Francisco list for a minute, we saw at least 100 different gatherings, clubs, groups, marches, protests, and projects. There were events for vegans, black women, Democrats, Libertarians, millennials, feminists, socialists, and every other type of person you can think of.
"If You're Going to San Francisco, You're Gonna Meet Some Gentle People There!"
"The Princess Diaries" is a Disney classic, and San Francisco is almost a character itself — what with Mia riding her scooter all over the city and introducing her grandmother to the cable cars and corn dogs. It's also a movie we could all learn a lesson from. Mia was looking for "The One," but she wasn't looking in the right places. The list above gives you 11 good places to start, places you may have never noticed before. And if we missed anything important, let us know in the comments!
Photo sources: sfchronicle.com, welovecycling.com, zipcar.com, dominican.edu, cbslocal.com, kimsmithmiller.com, sfgate.com, eater.com, restaurantbusinessonline.com, amgurban.com
Final Thoughts on Dating in
San Francisco, CA
We hope you've found our guide "11 Ways to Meet Singles in San Francisco, CA (Dating Guide)" to be helpful in your dating journey. If you're ready to take the leap into the local San Francisco, CA, dating scene, keep in mind that apps like Match and Elite Singles are the easiest way to meet singles locally and throughout California.
Prefer to meet people the old-fashioned way? You're certainly not alone. According to local reviews, these popular spots in San Francisco, CA, could be exactly what you're looking for:
98 Turk
Laszlo
Pacific Cocktail Haven
Black Cat
Bar Central
Mezcalito
Whether you're in San Francisco, CA, surrounding areas, or anywhere else in California, remember that there's someone out there for you. It's just a matter of taking that first step.
Advertiser Disclosure
DatingAdvice.com is a free online resource that offers valuable content and comparison services to users. To keep this resource 100% free for users, we receive advertising compensation from the sites listed on this page. Along with key review factors, this compensation may impact how and where sites appear on the page (including, for example, the order in which they appear). DatingAdvice.com does not include listings for all dating sites.
Our Editorial Review Policy
Our site is committed to publishing independent, accurate content guided by strict editorial guidelines. Before articles and reviews are published on our site, they undergo a thorough review process performed by a team of independent editors and subject-matter experts to ensure the content's accuracy, timeliness, and impartiality. Our editorial team is separate and independent of our site's advertisers, and the opinions they express on our site are their own. To read more about our team members and their editorial backgrounds, please visit our site's About page.