Down: The Dating App Taking the Shame Out of Getting Down
TL;DR: Whether you're looking for a safe place to date or a private place to hook up, Down is the #1 app to turn to, especially if you're a woman. With 2 million users and 50 percent of matches meeting IRL, getting a date or getting down has never been easier or more fun. 
Sex often is a taboo subject, especially if you're looking for it. However, online dating is often just as taboo.
How are you supposed to just come out and say all you want is a hookup without feeling guilty? You do it through the Down app.
Or how are you supposed to open yourself up to online dating if you're not comfortable with the atmosphere? Again, you do it through the Down app.
Down is the most secure and confidential way to state what you want (and get what you want) – no shame or fear!
How to "Get Down" or "Get Date"
Out of growing frustration with the dating market, Colin Hodge cofounded Down (formerly known as Bang with Friends) in January 2013 as a way for people to explicitly, and privately, state what they're looking for without embarrassment.
Members, whose average age ranges between 18 and 35, sign in through Facebook, and Down uses their friends, friends of friends and other connections to create matches.
For something a little more serious, users can choose to "Get Date," but if they want something more casual, then they can choose "Get Down.'"
Keeping with the anonymous theme, no matter what a user chooses, the person on the other end cannot see who they are until they also choose to get a date or get down.
Unlike most dating sites, users don't have to fill out a long profile with clever anecdotes, and participation is completely secret unless the members chose otherwise.
Users also are given a Bangability score, which Hodge said is a "secret formula" based on how many people have viewed them and how many people are interested in meeting for either a date or for getting down.
Down, which is available on iOS and Android, also is launching a new feature called "Daily Picks," where users get the 10 best matches of the day instead of having to swipe through hundreds, if not thousands, of people to find a match.
"It's just an easy way of popping into the app, spending 30 seconds and then going on with your day – make sure you get that date set up for the week and feel like it's not an overwhelming process, but it's something that just fits into your life," Hodge said.
Not another sketchy hookup app
So what keeps Down from being grouped with spammy hookup apps? Honesty.
Down took what was missing from the market (a dating site that's not scammy or appearing to be too perfect) and created a way for people to connect in a way that they know is giving them what they want and not wasting their time.
"We're so used to people kind of sugar-coating the dating scene," Hodge said. "We wanted to give people a more honest way to connect with each other and make sure we're not, frankly, bullshitting them," he said.
This honesty also is reflected in Down's user base.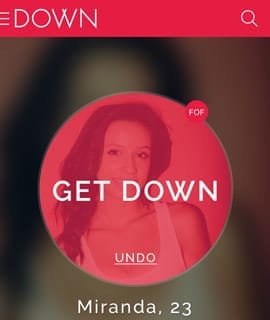 According to Hodge, the company took the social approach to gaining traction, using word of mouth to spread the news about the site, which has led to a more genuine product and clientele.
"That's kept the quality of our site higher. It's also kept the percentage of people matched and going on a date higher," he said.
Another fun fact: It's mostly women who are looking to get down.
Hodge said 75 percent of women choose to get down compared to 65 percent of men, citing security as the reason.
"Frankly it's a safer environment than just meeting total strangers," he said. "We want to give women the ability to be an equal part in the courting process and to have the freedom to choose whatever intention they want."
A modern-day secret admirer
The reaction from users has been overwhelmingly grateful. Hodge said people are excited to have a place where they can say what they want free from judgment, and Down is happy to give it to them.
"People are doing this anyway offline, so we might as well give them the technology to do it in a better way," he said. "We knew, especially for the younger generation, that there was a need to bring dating into the modern era and make it a lot simpler."
Hodge encourages users to anonymously invite friends they want to get down with through the site. And you guessed it – the person you invite won't know it's you until they sign up.
"We want people to invite their friends in a secret way through the app, and I think that raises everybody's chances of success," he said. "It's a modern-day secret admirer note you can send to your friends via text message."