10 Ways to Meet Singles in Arlington, VA (Dating Guide)
I met a lot of goodhearted, community-oriented activists while working on political campaigns in my college years. Many of my friends now work in Washington, D.C., and live in Arlington, Virginia, but we still keep in touch.
We often message each other to make election predictions, discuss the news of the day, or bemoan the state of the country. A few days ago, the chat blew up with one message: "Guys. Free cheesecake. Order from the Factory now!"
Apparently, the Cheesecake Factory celebrated its 40th anniversary by giving away 40,000 free slices of cheesecake to Doordash customers. As a result, Arlington delivery drivers caused monstrously heavy traffic on Clarendon Boulevard, and people waited over two hours for that heavenly free slice.
Turns out it's easy to attract a crowd in Arlington. Just say you're giving out free slices of cheesecake. People will lose their minds. If that doesn't work, you can try the following 10 ways to meet singles in Arlington.
Online dating has to be #1 on our list of ways to meet people. It's the fastest and easiest way to introduce yourself to the local (or not-so-local) dating scene. You can campaign for a date by creating a profile and sending a flirtatious message to a targeted audience. It doesn't take much strategy to be successful when you join the right site or app. We've endorsed the following dating sites for singles of all ages, backgrounds, and relationship goals.
Best Singles Site
Match has definitely won the popular vote in the online dating scene. This online dating platform has been around since 1995 and built a solid reputation among its constituents. Many Match users have shared testimonials about how the dating site brought them hope and fundamentally changed their love lives. You can sign up for free to see what it can do for you.
Best Site for Professionals
Over 35% of Arlington residents have graduate degrees, making it one of the most well-educated and highest-earning cities in the U.S. EliteSingles is the ideal dating site for the young, ambitious professionals here. This platform caters to college-educated singles seeking a relationship with someone on their level.
Over 50 & Senior Sites
Young people may seem to dominate Arlington's culture, but the older population is growing larger every day, and they need some love, too. According to a 2018 survey, over 70,000 residents are over 45 years old, and singles in this group deserve a mature dating network like OurTime to help them connect. OurTime allows singles to find a second chance at love and making dating great again.
For Black Men & Women Only
When politicians group African-Americans together in voting districts, it's called gerrymandering, and it's really harmful. But when dating sites put racial groups together, it's called niche dating, and it's actually really helpful. If you're looking for a a date in the Black community, you can use BlackPeopleMeet to curate a list of viable candidates. This can be a time-saver for singles seeking a relationship grounded in shared culture and values.
Hookup & Sex Site
High-profile figures in the D.C. area can tank their careers by allowing their sex lives to become public knowledge. These singles and swingers need a discreet place where they can anonymously seek affairs. Adult Friend Finder is that place. This dating site doesn't require singles to give their real names or post photos showing their faces. They can stay under the radar while soliciting sexual encounters online.
Arlington is a city of commuters. Approximately 86% of Arlington residents commute to work in D.C. or Fairfax County. People are always moving around, and a stationery dating site can't always keep up with them. A dating app can, though. Dating apps allow singles to stay connected to one another no matter where they go, and that means more opportunities to find a potential match near you.
Relationships: Fun Dates, Serious Relationships
Match System: Browse by location, age, interest, and more
About the App: Available via the App Store and Google Play, Match is a fantastic app for dates and relationships. With a user base of 30 million singles, Match is where you'll have a high chance of success. It's free to download, create a profile, search for date prospects, and receive compatible matches based on personalized preferences. Free members can also chat with select members and send unlimited likes.
Browse Free: View Profiles Now
| User Base | Gender Ratio | Popularity (Visits/Mo.) | App Cost |
| --- | --- | --- | --- |
| All Singles* | | 13.5 Million* | Free Download |
Relationships: Deep Relationships
Match System: Search by education, lifestyle habits, age
About the App: Commitment-minded, professional daters will feel at home with EliteSingles, which can be downloaded for free in the App Store or Google Play. Not only is everyone looking for a long-term partner, but 80% of members hold a bachelor's, master's, or doctorate degree. EliteSingles sees 210,000 visitors and 2,500 users finding love every month, so it's one of the fastest growing and most reputable apps.
Browse Free: View Profiles Now
| User Base | Gender Ratio | Popularity (Visits/Mo.) | App Cost |
| --- | --- | --- | --- |
| All Singles* | | 290,000* | Free Download |
Relationships: Casual Dates, Relationships
Match System: Search for and receive matches
About the App: Zoosk is the number one app for finding dates, and if you sync up your Google+ or Facebook account, you can have a profile in seconds. The app has 38 million members and will deliver matches to your inbox on a daily basis based on your behavior such as who you search for, like or don't like, and message. The Carousel is another section for matching (tap the heart if it's a yes and the X if it's a no).
Browse Free: View Profiles Now
| User Base | Gender Ratio | Popularity (Visits/Mo.) | App Cost |
| --- | --- | --- | --- |
| All Singles* | | 3.8 Million* | Free Download |
After working long hours, many journalists, organizers, aides, and others in the political sphere set aside their partisan agendas and head to a local bar to just be a person for a while. The bar scene allows individuals across the political spectrum to come together in support of IPAs, wine flights, and specialty cocktails. By making conversation at a bar, singles can reach across the aisle and build close relationships over a pint.


3207 Washington Blvd • Arlington, VA 22201
(703) 812-0939
Visit Website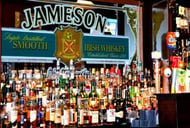 O'Sullivan's Irish Pub prides itself on having the city's finest whiskeys and spirits, and you can see this impressive lineup of over 130 whiskeys waiting for you behind the bar. Since 2006, this family-owned pub has welcomed locals into the fold and served traditional Irish foods and drinks with good humor. The bar hosts live music performances four times a week (on Wednesdays, Thursday, Fridays, and Saturdays) as well as Bar Bingo nights on Sundays, Karaoke Night on Tuesdays, and District Trivia on Wednesdays. Plus, the bar rolls out the green carpet for its huge St. Patrick's Day bash every year.


2711 Wilson Blvd • Arlington, VA 22201
(703) 525-8646
Visit Website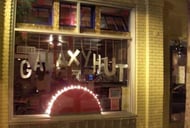 The funky atmosphere at Galaxy Hut attracts singles looking to get away from the hustle and bustle of the city for a little while. The bar stays open until 2 a.m. seven days a week, and you'll often see singles playing old-school arcade games and flirting with one another into the wee hours. The bar has over 28 rotating beers on tap, and the kitchen serves delightful vegan and vegetarian dishes, including eggplant fries, grilled cheese sandwiches, and frankfurters. There's a cover charge to get in the Galaxy Hut on Sunday and Monday nights, but the live music playing on those nights makes the extra charge well worth it.


1025 N Fillmore St • Arlington, VA 22201
(703) 888-0845
Visit Website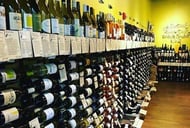 If you're looking for a quiet hangout in Arlington, the Screwtop Wine Bar will fit the bill. This sophisticated and intimate spot offers cheese flights to pair with its wine flights. Brilliant move, right? But the fun doesn't stop there. Screwtop Wine Bar also serves amazing grilled cheese sliders and craft beers to satisfy its patrons. You can sign up for a wine tasting or cheese-making class to expand your palate at this neighborhood wine bar. While you're sipping your reds or whites, you may just find someone to clink glasses with you. Cheers!


4
Arlington Rooftop Bar & Grill
2424 Wilson Blvd • Arlington, VA 22201
(703) 528-3030
Visit Website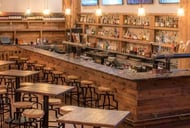 The Arlington Rooftop Bar & Grill features a rustic indoor bar as well as a spacious open-air bar on the roof. This neighborhood bar facilitates conversation and good vibes with plenty of bench seats and bar stools. The cozy atmosphere is great for anyone looking to unwind, and the happy hour prices help locals save money while enjoying a classic brew or a signature cocktail. "Great experience. I love the open space," wrote Newman B. in a Facebook review. "Highly recommend for a game, a meal, or just a cold beer."


5
The Celtic House Irish Pub & Restaurant
2500 Columbia Pike • Arlington, VA 22204
(703) 746-9644
Visit Website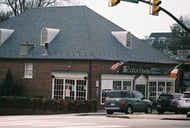 The Celtic House Irish Pub & Restaurant is a popular family-friendly spot in Arlington and D.C. It frequently shows up on lists like this one because of its delicious food, premier drinks, and friendly staff. You can grab a seat at the handmade, solid oak bar and order a whiskey, scotch, beer, or something else to wet your whistle. The traditional Irish cuisine, including cheesy potato cakes and beef stew, satisfies people of all tastes. Whether you're there for trivia on Wednesdays or Sunday brunch, you're bound to have a fantastic time.


6
Samuel Beckett's Irish Gastro Pub
2800 S Randolph St • Arlington, VA 22206
(703) 379-0122
Visit Website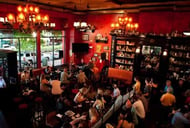 One look at the menu at Samuel Beckett's Irish Gastro Pub is enough to convince anyone to throw their support behind this well-established bar. The whiskey menu alone is over a page long and includes Irish, Scottish, and American whiskeys. Then you get to the dinner menu where the kitchen puts a fun twist on classic Irish dishes. These mad culinary geniuses have put Jameson whiskey in mashed potatoes and Bailey's Irish Cream in crème brûlée. Samuel Beckett's Irish Gastro Pub serves up a lot of laughs as a side dish to every order. This bar is also known for its Irish hospitality, great happy hour specials, and rowdy game-watch parties.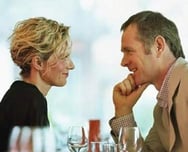 Government can move pretty slowly and take years to get anything substantial done. Singles don't have that kind of time to waste in the dating scene. They often want to move a little faster and see results within days and weeks rather than months and years. Speed dating events can help them accomplish everything on their dating agendas during one engaging evening. You can look on Eventbrite's calendar to see what upcoming speed dating events suit you.
5
Arlington Singles Events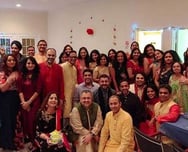 Politicians know the importance of speaking to their base and surrounding themselves with supporters and allies. That's how the game is played. Daters should do the same by rallying with like-minded singles who will be open to building a fruitful relationship. Singles events encourage attendees to network among their own kind and make progress toward their relationships goals. Arlington singles can search Meetup for local opportunities to meet people who share common values.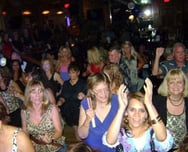 Forget the Republican Party and the Democrat Party — singles need to join the dance party if they want to make a date in town. A local nightclub can offer a prime hunting ground for singles ready to mingle. Anyone over 21 can show up and lose themselves in the heat of the moment and the beat of the music. Even serious professionals can't help but loosen up and tap their feet when the DJ plays a popular jam. Check out the clubs in downtown Arlington to swing your love life in a positive direction.
Thanks to the internet, you don't have to cross the Potomac River George Washington-style just to find a date. You can stay indoors, settle down in front of your computer, and make romantic connections online. Chat rooms offer a lively setting to charm singles in the area. You can keep a low profile on a chat room and flirt anonymously without jeopardizing your professional reputation. You can join a local chat room for free anytime you're feeling talkative. This nonjudgmental setting appeals to privacy-conscious and introverted singles seeking relationships built on conversation.
Before the era of fake news, newspapers used to hold a lot of sway over public opinion. Placing a personal ad in the classifieds section could boost your love life and give you a platform to find a partner. Now, however, a sharp decline in circulation has led singles to seek greener pastures online. Online dating personals have replaced newspapers in the eyes of the general public, and that has taken dating in a new direction. Singles today can create a short personal ad for free and blast it across the web to garner likes and messages. Check out the following personals sites to start a stop-being-blue wave of your own.
9
Get Involved Through Volunteerism & Activism
Anyone who's worked on a political campaign has seen firsthand the power of volunteerism to bring people together. Activists and volunteers often form tight bonds as they work toward a common goal.
Volunteer Arlington is a nonprofit organization on a mission to inspire community leaders and encourage civic engagement. It has partnered with over 200 organizations to create a calendar of volunteer opportunities for its members. You can get involved at these sponsored events do a good deed while meeting good people in Arlington.
10
Rally Together at a Community Event
When Americans come together, it can be a powerful thing. When we pool our efforts and celebrate our diversity, we can make positive changes in our society. You can see that happen in real time at a community event. Crowds of folks will turn out of their homes to experience different cultures, raise awareness, and bond with their neighbors in a spirit of goodwill.
Arlington's community events calendar is full of opportunities to dance, laugh, eat, and connect with people in the neighborhood.
Taste of Arlington is a prime example of a family-friendly and community-oriented festival where over 25,000 people set aside their differences and have fun together. The event features 50 of the best food trucks in town lined up along Wilson Boulevard, and it even has a pop-up dog park where dogs and their owners can hang out.
You can attend Taste of Arlington or another festival to surround yourself with smiling folks and attract dates in a casual and friendly setting.
Celebrate the Right to Date in A-Town
Arlington is home to many savvy, politically engaged individuals who know how to jump on a good deal and work whatever angle they can to get what they want. Sometimes it's a reformed government, and sometimes it's a slice of cheesecake. It really doesn't take much to get Arlington residents into a frenzy, and that fast-paced take-action atmosphere can be good news for singles in the area.
Whether you want to win votes or attract dates, you need a clear strategy to get people on your side. You have to think through what you have to offer and how you're going to deliver on your promises. And you have to know where to go to gain traction with your desired audience. For singles, the online dating world has made the campaign for a date much easier, but that doesn't mean you should rely solely on one platform or one method.
We recommend diversifying your tactics and appealing to as many people as you can on as many platforms as you can. That way, you can build your way to a bright future one conversation at a time. Good luck!
Final Thoughts on Dating in
Arlington, VA
We hope you've found our guide "10 Ways to Meet Singles in Arlington, VA (Dating Guide)" to be helpful in your dating journey. If you're ready to take the leap into the local Arlington, VA, dating scene, keep in mind that apps like Match and Elite Singles are the easiest way to meet singles locally and throughout Virginia.
Prefer to meet people the old-fashioned way? You're certainly not alone. According to local reviews, these popular spots in Arlington, VA, could be exactly what you're looking for:
O'Sullivan's Irish Pub
Galaxy Hut
Screwtop Wine Bar
Arlington Rooftop Bar & Grill
The Celtic House Irish Pub & Restaurant
Samuel Beckett's Irish Gastro Pub
Whether you're in Arlington, VA, surrounding areas, or anywhere else in Virginia, remember that there's someone out there for you. It's just a matter of taking that first step.
Advertiser Disclosure
DatingAdvice.com is a free online resource that offers valuable content and comparison services to users. To keep this resource 100% free for users, we receive advertising compensation from the sites listed on this page. Along with key review factors, this compensation may impact how and where sites appear on the page (including, for example, the order in which they appear). DatingAdvice.com does not include listings for all dating sites.
Our Editorial Review Policy
Our site is committed to publishing independent, accurate content guided by strict editorial guidelines. Before articles and reviews are published on our site, they undergo a thorough review process performed by a team of independent editors and subject-matter experts to ensure the content's accuracy, timeliness, and impartiality. Our editorial team is separate and independent of our site's advertisers, and the opinions they express on our site are their own. To read more about our team members and their editorial backgrounds, please visit our site's About page.