9 Ways to Meet Singles in Baltimore, MD (Dating Guide)
When I was 15 or 16, I went on a young leaders program in Washington, DC, where we learned about politics and economics and put on mock debates and situations like that. We also spent a lot of time exploring the city and surrounding areas, including going to a Baltimore Orioles game. These activities allowed us to get to know each other on a personal level, not just an educational level, and crushes inevitably developed between people (we were teenagers, after all).
At the end of the program, my fellow attendees and I came away with a better sense of how government works, but we also came away with good friends. Some of us even came away with a boyfriend or girlfriend. You don't need to sign up for a leadership program to meet people in Baltimore, though. You can meet them just by going out your front door! Today, we're here to play Cupid, highlighting nine ways to bring Baltimore's singles together.
Baltimore is a bustling city with bustling people who barely have time to make it to the gym — let alone find a date. If you want to change your single status, getting online is your best bet. Through a dating site, you can get a profile up in seconds, get matched up in minutes, and get on a date in days. Efficient isn't even a strong enough word to describe the online dating process. Reviewing dating sites is our bread and butter, and we've pinpointed five that, in our opinion, take the cake — no matter your age, profession, race, or what your needs are.
Best Singles Site
We've all heard of the game Six Degrees of Kevin Bacon, but what about six degrees of Match.com? You probably know somebody who knows somebody who knows somebody who's found love on Match. It's a household name. Since 1995, more than 42 million singles (including pop icon Mariah Carey, actress, model, and TV host Jenny McCarthy, and "Dancing With The Stars" judge Carrie Ann Inaba), have joined Match, and you'll be in good company if you do, too.
Best Site for Professionals
With almost 8,000 dating sites in the world, there's something for everyone, and there's no shame in having preferences. If educated, over 30, relationship-minded, ambitious, and affluent sounds like the ideal woman or man to you, Elite Singles is where you'll find her or him. Over 80% of members hold a bachelor's, master's, or doctorate degree, over 90% are at least 30 years old, and 100% want a long-term commitment. In terms of success rate, over 2,500 people find love on Elite Singles every month, and you could be next.
Over 50 & Senior Site
OurTime is a leader in the senior dating niche, focusing on singles aged 50+. The site is very popular (with 1.4 million mature visitors a month) in part because of its intuitive platform. Registering, adding and editing your photos and information, browsing through profiles, and communicating with matches are all skills that are easy to learn, and, like riding a bike, you'll never forget.
For Black Men & Women Only
At 63.7%, Baltimore has one of the largest African-American populations of any city in the US. Even so, meeting that special someone in person isn't as easy as pie. But that's the problem that BlackPeopleMeet.com strives to solve. On this dating site, black and biracial daters come together (1.4 million+ a month, to be exact) and fall in love.
Hookup & Sex Site
I have plenty of friends who've gotten fed up with dating (they've been ghosted, they didn't connect with the person, or whatever the reason may be) and had nights where they just wanted to find someone with whom to make out and/or go home. Most people turn to bars for this, but that can be hit-or-miss because it could be a slow night, and you're never 100% sure who you're talking to. Thanks to Adult Friend Finder, though, success is practically guaranteed, and everything is on your terms. All members have to provide a valid email address, you receive match suggestions based on your preferred appearance, age, and type of encounter, and you can message them for as long as you want to get to know them before meeting in real life.
More than 622,000 people live in Baltimore, and you can narrow down the compatible singles in no time if you download a dating app. Because most dating apps are location based, you could be at Starbucks and literally match with someone who's also in line right then. You're still experiencing serendipitous moments, but you're also being an active participant in your love life. The first place to start is selecting an app to use, and below are three choice ones:
Relationships: Fun Dates, Serious Relationships
Match System: Browse by location, age, interest, and more
About the App: Available via the App Store and Google Play, Match is a fantastic app for dates and relationships. With a user base of 30 million singles, Match is where you'll have a high chance of success. It's free to download, create a profile, search for date prospects, and receive compatible matches based on personalized preferences. Free members can also chat with select members and send unlimited likes.
Browse Free: View Profiles Now
| User Base | Gender Ratio | Popularity (Visits/Mo.) | App Cost |
| --- | --- | --- | --- |
| All Singles* | | 13.5 Million* | Free Download |
Relationships: Deep Relationships
Match System: Search by education, lifestyle habits, age
About the App: Commitment-minded, professional daters will feel at home with EliteSingles, which can be downloaded for free in the App Store or Google Play. Not only is everyone looking for a long-term partner, but 80% of members hold a bachelor's, master's, or doctorate degree. EliteSingles sees 210,000 visitors and 2,500 users finding love every month, so it's one of the fastest growing and most reputable apps.
Browse Free: View Profiles Now
| User Base | Gender Ratio | Popularity (Visits/Mo.) | App Cost |
| --- | --- | --- | --- |
| All Singles* | | 290,000* | Free Download |
Relationships: Casual Dates, Relationships
Match System: Search for and receive matches
About the App: Zoosk is the number one app for finding dates, and if you sync up your Google+ or Facebook account, you can have a profile in seconds. The app has 38 million members and will deliver matches to your inbox on a daily basis based on your behavior such as who you search for, like or don't like, and message. The Carousel is another section for matching (tap the heart if it's a yes and the X if it's a no).
Browse Free: View Profiles Now
| User Base | Gender Ratio | Popularity (Visits/Mo.) | App Cost |
| --- | --- | --- | --- |
| All Singles* | | 3.8 Million* | Free Download |
I remember one spring break, my friends and I were at a bar when a guy across the room caught my eye. I don't normally make moves because I'm pretty shy, but there was something that drew me to him. I knew I would've regretted not saying hi, at least. So I bought him and myself jello shots, we took them, and we chatted for a few minutes. Nothing came of it, but I was proud of myself for putting myself out there. Here are nine Baltimore bars where you can do the picking up, like I did, or be picked up.


1106 N Charles St • Baltimore, MD 21201
(410) 547-6925
Visit Website

The Brewer's Art is a classy place offering classic and new-age cocktails, fine whiskeys, house and guest beers, and national and international wines. It's open seven days a week, with happy hour Tuesday through Friday from 4 p.m. to 7 p.m. Gayout has called the Brewer's Art one of the "Top 10 Brewpubs in the US," while the Baltimore Sun has called Beazly, a house-made Belgian, one of the "Top 20 Beers in Maryland."


2010 Clipper Park Rd • Baltimore, MD 21211
(410) 464-8000
Visit Website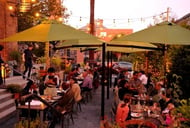 Woodberry Kitchen is known for its tasty food, including deviled eggs, beets and berries salad, fried quail croquettes, ground pork flatbread, cast iron lamb, and espresso float. But it's also known for its unique libations, including the Whiskey Smash, and local farm beers, hard ciders, and wines (Milkhouse Dollyhyde from Mount Airy, DLC Celebration from Jefferson, and Big Cork). Parker M. describes Woodberry Kitchen: "Ingredients are fresh and seasonal, the staff is attentive, and the vibe is energetic."


737 S Broadway • Baltimore, MD 21231
(410) 675-6297
Visit Website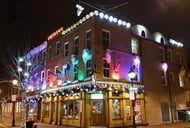 With more than 1,000 bottles, 102 drafts, and five casks, Max's Taphouse is a well-stocked bar that'll satisfy any beer-loving palate. Some of its most beloved include the Union Rye Baby, Heavy Sea Deep Six, and Burley Oak Sour Trip. In terms of food, the staff recommends the Eastern Shore Sliders, Drunken Monkey Wings, or Mac N Cheese-A-Dilla. Max's also hosts regular events, such as the Annual Belgian Beer Fest, Hopfest, and Italian Fest, where meeting people is as easy as looking to your left and right.


1730 Thames St • Baltimore, MD 21231
(410) 276-9866
Visit Website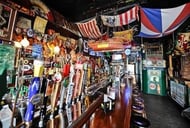 "The only thing we overlook is the harbor" is Cat's Eye Pub's promise, and the team upholds that promise by serving up first-class food and drink. The bar also hosts live shows every week from artists like Ursula Ricks and the Project, Drunken Uncles, and the Racket. Located in Fell's Point, the historic waterfront community, Cat's Eye Pub was named among the "10 Best Bars in Maryland" by BestThingsMD.com.


2706 Dillon St • Baltimore, MD 21224
(410) 276-9899
Visit Website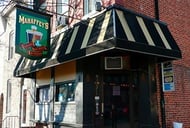 "Good Beer, Good Food, Good Friends" are the three things Mahaffey's Pub cares about most, and it does all three really well. On the beer menu, you'll find dozens of beers (served on draft and in bottles, cans, and casks), including Maryland favorites like Flying Dog Horn Dog, Heavy Seas Loose Cannon, and DuClaw Hop Hammer. Mahaffey's only serves dinner, and on the menu, you'll find everything from salads to fried pickles, not to mention wings, chicken sandwiches, burgers, and cheesesteaks. Don't forget to check out the events calendar for tap takeovers and block parties.


1910 N Charles St • Baltimore, MD 21218
(410) 625-4848
Visit Website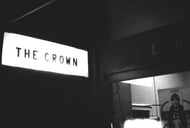 Part lounge, part bar, part restaurant, part venue, the Crown makes sure you never run out of things to do, throwing DJ-led dance parties, burlesque shows, karaoke nights, and themed happy hours (Sailor Moon, anyone?!). You'll also never run out of drinks to enjoy, food to eat, and people to meet. Maeve M. wrote on Yelp: "I'd definitely recommend this to anyone who's in the area. I've heard a lot of good things about Baltimore's dive bar culture, and this seems like an important stop if you're taking a tour."

2549 N Howard St • Baltimore, MD 21218
(410) 662-0069
Visit Website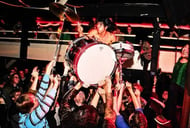 Founded in 1997, the Ottobar (which was initially on Davis Street but is now on Howard Street) is one of Baltimore's oldest and most celebrated bar and music venue. Of the 12,000 acts the Ottobar has hosted, the most famous include Coheed and Cambria, the Yeah Yeah Yeahs, and Dinosaur Jr. The Ottobar has 4.4 out of 5 stars on Facebook, with patrons praising its drink specials, attentive bartenders, and eclectic atmosphere.


1724 N Charles St • Baltimore, MD 21201
(410) 727-8815
Visit Website

Club Charles, aptly located on Charles Street, is a '40s-themed cocktail lounge that has been owned by the West family for over 50 years. People can't seem to get enough of the jukebox, Art Deco murals and furniture, and $3 Miller High Lifes. Numerous celebrities, including Nicole Kidman, have visited Club Charles, and it even has some ghosts, like Frenchie, who are known to play pranks on patrons.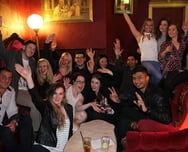 In "Movie 43," Robin and Batman (Justin Long and Jason Sudeikis, respectively) attend a Superhero Speed Dating event. They had received a tip earlier that said Penguin (John Hodgman) was going to be there with a bomb. While there, Robin starts talking with Supergirl (Kristen Bell), and as Batman tries to stop Penguin from detonating the bomb near her, he reveals that she was really the Riddler (Will Carlough) in disguise. The catch is that Batman, as a way to mess with his naive sidekick, did the unveiling after Robin had already kissed her/him. It's a ridiculous, funny scenario, and we love the fact that it was done at a speed dating event — which isn't just a thing of the past. Baltimore has numerous speed dating companies, including Pros in the City, that host superhero-themed events as well as any other activity you can think of.
5
Baltimore Singles Events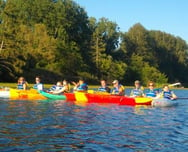 Party bikes were recently introduced to my city, and people are going crazy for them. About 16 passengers can fit on this huge, light-covered, bicycle-powered vehicle, and you can drink on it while you pedal from bar to bar doing a pub crawl. It's popular for birthday and bachelor/bachelorette parties but also for simply meeting people on a Friday night. Going on a party bike is just one example of what a singles event can be like. If you can imagine it, it probably exists as a singles event, and Meetup.com is the place to find it.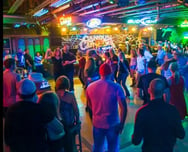 If you want to take your flirting up a notch, a club is where you want to go. Whether you're into hip hop, salsa, jazz, alternative, country, or pop, Baltimore has tons of music venues where you can show off both your dancing and dating moves. 10Best.com, owned and operated by USA Today, has a helpful list detailing Baltimore club prices, times, drinks, and reviews, among other things.
When AOL chat rooms first came out, my friends and I went crazy coming up with these now-embarrassing chat room usernames based on the Spice Girls, Lisa Frank, Leonardo DiCaprio, or whatever else we were interested in at the time. Today, chat room names can still be fun and based on your interests, but they should also be appealing to others, especially if you're single and trying to meet people online. A majority of chat rooms are free to use, so you can test out a bunch of usernames on different platforms, including the ones we've listed, and see which one works best.
Personal ads used to be a go-to way to meet people, but they were kind of a hassle. You'd have to write something appealing about yourself and something specific about your ideal date or partner, but you had to keep it within a certain character count. Then you'd have to mail it off, along with a payment, to the newspaper. Then you'd have to wait for them to publish it as well as for people to call you if they were interested. Doesn't sound very effective. Posting a personal ad is much more convenient now because you can do it online, and it's very similar to posting a profile on a dating site. It usually doesn't cost anything, you have more space to share info about yourself and who you're looking for, and you can start receiving messages that same day.
9
Take Your Dog to a Dog Park (Or Go With Friends)
I adopted my first dog about eight months ago, and it was one of the best decisions I've ever made. I'm obsessed with my little guy, and he's changed my life — and my social circle — in so many ways. When I take him to Home Depot, on a walk, or to a dog-friendly brewery or restaurant, people come up to me all the time asking questions about his age, name, breed, and the like. The dog park, too, is obviously where dogs, like mine, get a lot of attention, but sometimes so do their owners. Use your furry friend as you wingman or wingwoman the next time you go.
Some dog parks in Baltimore include Worthington, Ma & Pa, Patterson, Shirlington, and Cabin John. If you don't have a dog but one of your friends or family members do, go to the park with them sometime. It's amazing how starting a conversation is that much easier when it's about dogs!
Charm Your Way Into Someone's Heart in "Charm City"!
While the Orioles stadium was most of what I got to see of Baltimore during my trip, I'll remember that game forever because of the people I got to meet and spend time with. Baltimore singles are lucky to live in such an active place where around almost every corner is an opportunity to meet someone amazing. It doesn't matter if it's at a baseball game, bar, club, singles event, dog park, or Baltimore dating site — you never know who will catch your eye and vice versa. I mean, it is called Charm City!
Photo sources: yelp.com, baltimoremagazine.com, beerquest1k.com, youngfabulousandconscious.com, awgarstone.com, mdpennysaver.com, totalhappyhour.com, liketheteaeats.com, baltimoresun.com, thebaltimorechop.com, joshsisk.com, baltimorecity.gov, singlesevents.melbourne, pinterest.com, cbslocal.com
Final Thoughts on Dating in
Baltimore, MD
We hope you've found our guide "9 Ways to Meet Singles in Baltimore, MD (Dating Guide)" to be helpful in your dating journey. If you're ready to take the leap into the local Baltimore, MD, dating scene, keep in mind that apps like Match and Elite Singles are the easiest way to meet singles locally and throughout Maryland.
Prefer to meet people the old-fashioned way? You're certainly not alone. According to local reviews, these popular spots in Baltimore, MD, could be exactly what you're looking for:
The Brewer's Art
Woodberry Kitchen
Max's Taphouse
Cat's Eye Pub
Mahaffey's Pub
The Crown
The Ottobar
Club Charles
Whether you're in Baltimore, MD, surrounding areas, or anywhere else in Maryland, remember that there's someone out there for you. It's just a matter of taking that first step.
Advertiser Disclosure
DatingAdvice.com is a free online resource that offers valuable content and comparison services to users. To keep this resource 100% free for users, we receive advertising compensation from the sites listed on this page. Along with key review factors, this compensation may impact how and where sites appear on the page (including, for example, the order in which they appear). DatingAdvice.com does not include listings for all dating sites.
Our Editorial Review Policy
Our site is committed to publishing independent, accurate content guided by strict editorial guidelines. Before articles and reviews are published on our site, they undergo a thorough review process performed by a team of independent editors and subject-matter experts to ensure the content's accuracy, timeliness, and impartiality. Our editorial team is separate and independent of our site's advertisers, and the opinions they express on our site are their own. To read more about our team members and their editorial backgrounds, please visit our site's About page.