12 Ways to Meet Singles in Columbus, OH (Dating Guide)
When Ashley J. moved from Washington, DC, to Columbus, Ohio, she didn't know much about the city, specifically where to go to meet new people, so she reached out to the folks on Yelp for help.
She explained that she wasn't a registered student yet, so connecting with people in class wasn't an option. She also had briefly explored some of Columbus' popular areas (like Short North and German Village), but she wanted some examples of fun places to go where it would be easy to approach people. Luckily, several locals jumped in to offer numerous suggestions, including Jessica H., who invited her to an upcoming event with her friends at the Bluestone concert venue.
Columbus has a population of 860,000, and Ashley probably isn't the only one who has struggled to make new friends or find a date. That's why we've created this guide, complete with 12 tips for discovering things to do — and people to do them with — in the Discovery City.
It can take a lot of effort to have success in dating. From taking a shower to doing your hair and putting on makeup to actually going where the people are and non-awkwardly starting a conversation, the doing stuff never seems to end. For those days when you don't feel like putting on real clothes and leaving the house, but you still want to meet someone special, that's when you need to log into a dating site. Then, whenever a friend tries to get you to go to that afternoon Spin Cycle class, you can feel accomplished and proclaim "But I already did something today!" just like Titus from "Unbreakable Kimmy Schmidt" would. We've created a handful of graphs that will help walk you through the best dating sites and how to choose the right one for you.
Best Singles Site
Match.com is like the Meryl Streep of dating sites — it's been around for decades, is good at everything, shows others how it's done, has won a ton of awards, and everyone loves it. Launched in 1995, Match is the dating industry's trailblazer, paving the way for things like the subscription pricing model and a female-, gay- ,and lesbian-friendly atmosphere. Today, the site has more than 30 million members (from more than 25 countries who speak more than eight different languages) and is responsible for the most romantic connections made by a dating site.
Best Site for Professionals
If you always loved school and are attracted to those who also value education, Elite Singles is a dating site you don't want to pass up. About 82% of its members have a bachelor's, master's, and/or doctorate degree., and that number is sure to rise — as the site gets over 290,000 monthly visits. We also recommend Elite Singles to singles who are at least 30 (as are 90% of its members) and want a serious relationship (like 100% of its members do), not a hookup or casual date.
Over 50 & Senior Site
An older family member of mine recently got an Amazon Fire TV Stick, and I went over to her house to help her set it up. She'll admit that she's not the best with technology. It's not that she can't figure it out — she would just rather spend her time doing something else, especially if she has people like me who don't mind lending a hand. OurTime is the perfect dating site for my family member and others like her because it doesn't have all these fancy, yet unnecessary, features that turn out to be a hindrance more than an advantage. The site is straightforward, clutter-free, and, most importantly, can find singles over 50 a date.
For Black Men & Women Only
According to the latest numbers, black men and women make up 28% of the population in Columbus. Traditional dating venues just can't hold up to online dating, especially if black singles want to quickly and easily connect, and BlackPeopleMeet.com is the site to turn to. BPM has over 1.4 million monthly users who are black or biracial, and it's a sister property of Match, so you know it can be trusted.
Hookup & Sex Site
Movies like "No Strings Attached" or "Friends With Benefits" tell the story of two friends who say all they're looking for is a hookup, so they start a casual relationship together to fulfill their sexual needs. Like it's that easy! What if you don't have a friend, coworker, or acquaintance to turn to and who will agree to this kind of arrangement? Don't worry because you have Adult Friend Finder. This sex site has more than 77 million frisky singles and couples to choose from — no matter if you want a one-night stand, NSA relationship, threesome, swinging relationship, or affair, among other encounters.
I don't know about you, but I sleep with my phone on the nightstand next to me. Usually, part of my routine is to check it one more time before bed and as soon as I get up. I bet a lot of people do something similar. We're looking for texts or Snaps from our friends and family, what the weather is going to be like, if there's a work email that needs to be addressed, or if we got a new match on our dating app. Our phones and the apps we've downloaded have made many aspects of our lives so much more convenient, and these are conveniences that we can't imagine not having. To help you choose the dating app that will best fit into your routine, we've highlighted three that take the cake compared to the rest.
Relationships: Fun Dates, Serious Relationships
Match System: Browse by location, age, interest, and more
About the App: Available via the App Store and Google Play, Match is a fantastic app for dates and relationships. With a user base of 30 million singles, Match is where you'll have a high chance of success. It's free to download, create a profile, search for date prospects, and receive compatible matches based on personalized preferences. Free members can also chat with select members and send unlimited likes.
Browse Free: View Profiles Now
| User Base | Gender Ratio | Popularity (Visits/Mo.) | App Cost |
| --- | --- | --- | --- |
| All Singles* | | 13.5 Million* | Free Download |
Relationships: Deep Relationships
Match System: Search by education, lifestyle habits, age
About the App: Commitment-minded, professional daters will feel at home with EliteSingles, which can be downloaded for free in the App Store or Google Play. Not only is everyone looking for a long-term partner, but 80% of members hold a bachelor's, master's, or doctorate degree. EliteSingles sees 210,000 visitors and 2,500 users finding love every month, so it's one of the fastest growing and most reputable apps.
Browse Free: View Profiles Now
| User Base | Gender Ratio | Popularity (Visits/Mo.) | App Cost |
| --- | --- | --- | --- |
| All Singles* | | 290,000* | Free Download |
Relationships: Casual Dates, Relationships
Match System: Search for and receive matches
About the App: Zoosk is the number one app for finding dates, and if you sync up your Google+ or Facebook account, you can have a profile in seconds. The app has 38 million members and will deliver matches to your inbox on a daily basis based on your behavior such as who you search for, like or don't like, and message. The Carousel is another section for matching (tap the heart if it's a yes and the X if it's a no).
Browse Free: View Profiles Now
| User Base | Gender Ratio | Popularity (Visits/Mo.) | App Cost |
| --- | --- | --- | --- |
| All Singles* | | 3.8 Million* | Free Download |
Whether your poison is beer, wine, cider, mead, sake, mixed drinks, or straight-up liquor, Columbus' bars can quench your thirst. The same goes for dating. Whether your poison is guys, girls, or both; blondes, brunettes or redheads; hipsters, jocks, or geeks, Columbus' bar scene can be your wingman. Below are just eight of the top watering holes for singles in the 614, and believe it when we say we had a hard time narrowing it down!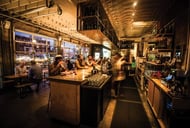 Founded in 2013, Seventh Son serves up some of Columbus' best beers in the historic Italian Village. These include the Seventh Son itself (an American Strong Ale), the Scientist (an IPA), the Stone Fort (an Oat Brown Ale), and the Humulus Nimbus (a Strong Pale Ale). When your stomach starts growling, head outside the brewery to see what local food truck is serving up delicacies that night.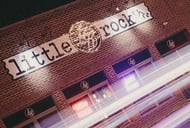 Little Rock is a karaoke, comedy, and music bar all in one, depending on what night you go. On Tuesdays, sing your heart out and get $3 drafts. On Thursdays, listen to local singer/songwriters while trying some of the 30 beers on tap. This is what patron Matt Arbee had to say about the bar on Facebook: "This is my favorite bar in Columbus. The beer selection is on point, music is always good, such a diverse crowd, and an INCREDIBLE staff that I'm always excited to see! F*** yeah!"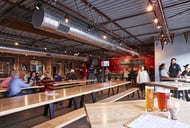 Adam, Walt, Jamie, and Gus, the basset hound, are the creative minds behind Land Grant Brewing, a beloved staple in Columbus. The Ohio State University alumni are obsessed with their city, Midwestern sports, and, of course, good beer and good food. The 3,000-square-foot taproom is "the perfect place to gather, watch the game, talk beer, meet your neighbor," as the site says. From the Stiff Arm IPA and the Sports Gose, to the tacos and burgers served by Columbus' best food trucks, all palates will be happy here.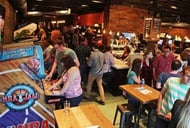 At 16-Bit Bar+Arcade, you've got the drinks and you've got the game — what more could you ask for?! For the former, you can choose from cocktails, like the Kevin Bacon (Jim Beam maple bourbon, ginger ale, and real bacon jerky), craft drafts, like the Weyerbacher High Weyer, classic cans, like Modelo, and "the Good Shit" like Makers 46. For the latter, you can choose from old-school favorites like Donkey Kong, BurgerTime, NBA Jam, and Pac-Man.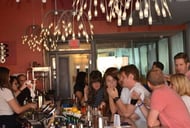 Located on High Street in the Yankee Trader Building, Denmark on High is a two-story bar and lounge offering one-of-a-kind cocktails (crafted with house-made liqueurs and bitters, fresh ingredients, and the utmost creativity), local brews, first-rate wines, and delicious shareables. We'd suggest the Blue Mule, Mellow Pomelo, North High IPA, Zepplin Reisling, chorizo cheese ball, and/or pork barbecue flatbread.


6
Strongwater Food & Spirits

Part restaurant, part bar, part event space, Strongwater Food & Spirits does many things, but the hardworking team does them all very well. Looking at the food menu, we literally started drooling over the farro fritters, Nashville hot chicken, and browned butter blondie. In terms of the drink menu, it's always changing, so you'll have to go there and see for yourself. But they've been raved about in publications like Columbus Alive and Columbus Underground.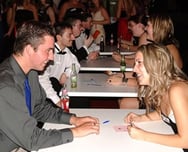 I have a friend who's tried a bunch of various dating avenues, except for speed dating. She doesn't have anything against it — she just hasn't given it a try yet. But speed dating is something my friend, as well as all singles like her, should definitely consider. Columbus, in particular, is a rich speed dating playground, with numerous companies hosting weekly events all over the city for daters with any interest and end goal in mind. Eventbrite has a great list going that you'll want to check out.
A singles event is just what it sounds like — it's a group activity made for people who are looking for a date or partner. Sometimes it's a game night; a sporting event; a paddle boarding, sewing, wielding, or line dancing lesson; a trip to the dog park; a rock climbing day, or anything else you can think of. SinglesEvents.com has a page dedicated to Columbus, Ohio, and you can see all of its offerings by clicking the link.
When we think of clubs, most of us probably think of hip-hop or rap clubs, and they can be a lot of fun. But sometimes what we forget is that a club can also be a jazz club, a Latin club, or a rock club or that clubs can have theme nights when they play '70s, '80s, '90s, or other kinds of music genres. I know a club in my city has had a Beyoncé night! The point is it doesn't matter what kind of music or dancing you're into — you can find a club for it, particularly in an eclectic city like Columbus.
Invented in 1980 by Alexander Trevor in none other than Columbus, Ohio, the CompuServe CB Simulator was the first online chat service that was widely available to the public (Talkomatic was the first, having been created in 1973, but it was only available for PLATO System users at the time.). This drastically changed the way people communicated, and the chat rooms today, including the ones for dating, have Trevor to thank. Now we can talk to anyone from anywhere at anytime about anything. Here are five Columbus dating chat rooms where you can get your conversation on!
Imagine it's the 1970s and you're having trouble meeting your perfect match. You feel like you've tried everything, but nothing has panned out yet. So you grab a pen and a piece of paper, write out your best qualities and what you're seeking in a date or partner, and send it to your local newspaper. The next day, it appears in the personals section, and you wait for the calls to come in. This is what personals used to be like decades ago (even as recently as the '90s), but today they're easier than ever — simply head online. It's the same process, too. Share the most important facts about yourself and the kind of person you desire, and wait for the messages to come in!
9
Go to an Ohio State Game
Columbus citizens are sports fanatics, especially for the Ohio State football team. And it's easy to see why — they've won eight national championships, 37 conference championships, and five division championships and have had 10 undefeated seasons and six perfect seasons.
Not only do Columbusites love rooting for their athletes, but they also love coming together to do so. All year round you can find a game to attend, and you never know when camaraderie could turn into love.
10
Try Your Hand at Acting (Or Another Form of Entertainment)
In addition to being a sports hub, Columbus is also a hub for theater, dance, and other forms of entertainment. A unique way to meet people would be to take a class or sign up for a camp for adults, and you have resources to turn to — including CAPA, CATCO, Evolution Theatre Company, Acting in Columbus, Broadway2LA, and TakeLessons.
These kinds of activities allow you to pick up some new skills and, most importantly, get to know people who could turn into friends, dates, girlfriends/boyfriends, or husbands/wives. Expanding your social circle is always a good thing for your dating life!
What do you do during your free time? Read comics? Play rugby? Knit scarfs? Hike any trail you can find? No matter your passions, you should use them to meet singles who have those same passions. Check out Columbus' community groups and social clubs, like the Buckeye Boardgamers, find one that catches your eye, see when their next meeting is, and attend!
There's hardly anything more attractive than when someone likes (and maybe even hates) the same things we do, and you already have something to talk about — the ice is basically broken for you!
12
Donate Your Time to Nonprofits
Some of the best times of my life have come from volunteering. I grew closer to my friends (one even turned into a boyfriend), I made some new ones, and I made a difference in the lives of others and the world, in general. Columbus, like most cities, is always looking for people to help with homelessness, animal neglect, domestic violence, park cleanups, and so much more.
Columbus Monthly has a wonderful article showcasing 44 ways you can donate your time, and you're sure to find at least one activity that speaks to your heart.
Where Do Singles Meet in Columbus? Practically Everywhere!
From dating sites and apps to events and clubs, and from chat rooms and personals to sporting matches and adult classes — we hope we've shed some light on how amazing a city Columbus is. In the process, we hope we've shown singles, like yourself and Ashley J., how to find one another both online and offline. The rest is up to you, so get to it!
Photo sources: columbuslivingblog.com, michiganjournal.org, lifefullofcheese.com, buckeyeboardgamers.org, rmhc-centralohio.org, experiencecolumbus.com,
columbusunderground.com, singlesdance.net, prosinthecity.com, trover.com, pittsburghmagazine.com, cincinnati.com, 614columbus.com
Final Thoughts on Dating in
Columbus, OH
We hope you've found our guide "12 Ways to Meet Singles in Columbus, OH (Dating Guide)" to be helpful in your dating journey. If you're ready to take the leap into the local Columbus, OH, dating scene, keep in mind that apps like Match and Elite Singles are the easiest way to meet singles locally and throughout Ohio.
Prefer to meet people the old-fashioned way? You're certainly not alone. According to local reviews, these popular spots in Columbus, OH, could be exactly what you're looking for:
Seventh Son
Little Rock
Land Grant Brewing
16-Bit Bar+Arcade
Denmark on High
Strongwater Food & Spirits
Whether you're in Columbus, OH, surrounding areas, or anywhere else in Ohio, remember that there's someone out there for you. It's just a matter of taking that first step.
Advertiser Disclosure
DatingAdvice.com is a free online resource that offers valuable content and comparison services to users. To keep this resource 100% free for users, we receive advertising compensation from the sites listed on this page. Along with key review factors, this compensation may impact how and where sites appear on the page (including, for example, the order in which they appear). DatingAdvice.com does not include listings for all dating sites.
Our Editorial Review Policy
Our site is committed to publishing independent, accurate content guided by strict editorial guidelines. Before articles and reviews are published on our site, they undergo a thorough review process performed by a team of independent editors and subject-matter experts to ensure the content's accuracy, timeliness, and impartiality. Our editorial team is separate and independent of our site's advertisers, and the opinions they express on our site are their own. To read more about our team members and their editorial backgrounds, please visit our site's About page.