10 Ways to Meet Singles in Detroit, MI (Dating Guide)
A couple years back, one of my friends ended up unexpectedly stuck in Detroit after a flight delay. She and her boyfriend had four hours to kill before they could get back home, so they found the nearest bar serving Bloody Marys and made the best of it. After a few drinks, what began as a disaster turned into one of the best dates of their relationship. They laughed, they drank, and they ended up spending quite a bit of money at a duty-free store — as you do.
No matter where you are, when you're with the right person, any place can be romantic. Even a Detroit airport. For tourists and locals, the Motor City is full of opportunities to bond, unwind, and build a lasting memory with someone special.
If you're looking for a date, our dating experts recommend the following 10 simple and effective ways to meet people in Detroit and make a genuine connection online or in person.
In the modern dating scene, online dating is a force to be reckoned with. What was once stigmatized as a dating avenue for the desperate has now become a top resource for singles of all ages, backgrounds, and orientations. Singles now have tons of niche and general dating websites to choose from, and it's hard to know which are legit. That's why we've compiled a list of our favorite dating websites for singles, professionals, seniors, black people, and casual daters. Enjoy!
Best Singles Site
As a dating site, Match.com is about as good as it gets. This well-known dating platform has been connecting people in long-term relationships since 1995. It has a stellar reputation in the dating industry because of its compatibility algorithms and original profile setup. Your profile isn't simply a laundry list of traits and interests but a lengthy explanation of your personality and passions, described in your own words. Plus, on Match, singles enjoy a dynamic and active dating community of over 30 million men and women worldwide.
Best Site for Professionals
On Elite Singles, you won't meet just anybody. This dating site carefully targets a membership base that is highly educated, motivated, and serious about dating. A strong majority of its users (over 80%) hold a university degree. That stat speaks to the quality of people you'll find on Elite Singles. More than 165,000 members join this high-caliber dating network each month to meet someone who's a step above the rest. If you want to upgrade your dating experience, join Elite Singles for free.
Over 50 & Senior Site
For daters of a certain age, a mature dating site can be a breath of fresh air. OurTime, a niche dating site for seniors, has designed its features to cater to singles over the age of 50. The site makes it easy to become a member and search for a potential match in your age bracket. Aware that not everyone is technologically savvy, OurTime simplifies the online dating process with step-by-step instructions every step of the way.
For Black Men & Women Only
In the 20th century, Detroit's black population exploded as African-Americans left the South in search of a fair and prosperous place to call home. Census data shows Detroit's black population has grown from 16.2% in 1950 to 82.7% in 2010. If you're looking to date within this booming segment of the population, BlackPeopleMeet can hook you up. This dating site is the largest online community of black and bi-racial singles. Whatever your heritage, the dating site welcomes single men and women who share similar ethnic backgrounds and dating interests. On BlackPeopleMeet, over 1.4 million people come every month to make a friend, get a date, and establish a lasting relationship.
Hookup & Sex Site
Sometimes you're not online looking for love. Sometimes you just need to get laid. If that's the case, Adult Friend Finder can fast-track your sex life with flirtatious online chat features and a naughty community of over 78 million members. Thousands of singles and swingers are online every day seeking a raunchy encounter with someone up for a bit of fun. Whether they're interested in finding a kinky long-term partner or an adventurous one-night stand, Adult Friend Finder helps mature daters 18 and older narrow down the dating pool to sexually active singles near them.
Because of its added flexibility and convenience, mobile dating has become in vogue with many urban daters. Dating apps include all the features and functions of a traditional dating site — but made portable in a handheld screen. Typically, dating apps also add location-based matching tools that connect you with users in the same neighborhood. Real-time chatting on the apps mimic texting, so you can enjoy a natural way to introduce yourself and set up a date in a fast-paced dating environment. We recommend the following popular dating apps for singles in Detroit:
Relationships: Casual Dates, Relationships
Match System: Search for and receive matches
About the App: Zoosk is the number one app for finding dates, and if you sync up your Google+ or Facebook account, you can have a profile in seconds. The app has 38 million members and will deliver matches to your inbox on a daily basis based on your behavior such as who you search for, like or don't like, and message. The Carousel is another section for matching (tap the heart if it's a yes and the X if it's a no).
Browse Free: View Profiles Now
| User Base | Gender Ratio | Popularity (Visits/Mo.) | App Cost |
| --- | --- | --- | --- |
| All Singles* | | 3.8 Million* | Free Download |
Relationships: Fun Dates, Serious Relationships
Match System: Browse by location, age, interest, and more
About the App: Available via the App Store and Google Play, Match is a fantastic app for dates and relationships. With a user base of 30 million singles, Match is where you'll have a high chance of success. It's free to download, create a profile, search for date prospects, and receive compatible matches based on personalized preferences. Free members can also chat with select members and send unlimited likes.
Browse Free: View Profiles Now
| User Base | Gender Ratio | Popularity (Visits/Mo.) | App Cost |
| --- | --- | --- | --- |
| All Singles* | | 13.5 Million* | Free Download |
Relationships: Deep Relationships
Match System: Search by education, lifestyle habits, age
About the App: Commitment-minded, professional daters will feel at home with EliteSingles, which can be downloaded for free in the App Store or Google Play. Not only is everyone looking for a long-term partner, but 80% of members hold a bachelor's, master's, or doctorate degree. EliteSingles sees 210,000 visitors and 2,500 users finding love every month, so it's one of the fastest growing and most reputable apps.
Browse Free: View Profiles Now
| User Base | Gender Ratio | Popularity (Visits/Mo.) | App Cost |
| --- | --- | --- | --- |
| All Singles* | | 290,000* | Free Download |
This is a no-brainer. You don't need to be a dating expert to know that bars are prime dating hunting grounds. It's pretty easy to make a connection in such a fun and casual setting. Many singles come out for a drink and end up with a date. All it takes is a game of billiards or a free round of drinks to break the ice. Suddenly, you have a drinking buddy to chat with, laugh with, and maybe even take home with you. To make it even easier, we've ranked the top Detroit bars to meet someone new and pick up a date.


608 Woodward Ave • Detroit, MI 48226
(313) 961-3043
Visit Website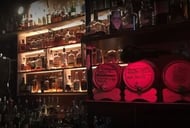 As the oldest new bar in Detroit, the Whiskey Parlor is a fixture in the downtown scene. The curated collection of liquors and wines satisfied even the most sophisticated of palates. The menu pays homage to its long history by naming dishes and drinks after the proprietors of the businesses that have occupied the building since 1879. Weekday cocktail specials and no cover charges on the weekends make this an affordable place to enjoy a good conversation and a smooth glass of whiskey.


2
JB Bamboozles Pub & Grille
14323 Michigan Ave. • Dearborn, MI 48126
(313)581-0295
Visit Website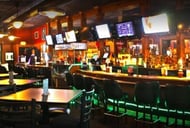 JB Bamboozles Pub & Grille is a lively place for singles to enjoy a drink along with Irish-style grub, like a towering burger or a cheesy plate of pasta. According to the website, "If it ain't fun... we just don't do it." The back room stimulates conversation with a billiards table, a dart board, and intimate booths. You can play a song for your crush at the jukebox and order a specialty drink -- the pub has an impressive collection of dessertinis -- to start the night off right.


4265 Woodward Ave • Detroit, MI 48201
(313) 769-8828
Visit Website

In the 313, as the area is known, HopCat is known for supplying a good time and a good beer. The pub has over 130 beers, ales, and ciders on tap -- plus a selection of bottles and special releases. Located on Woodward Avenue, you can't miss HopCat's building because it's got huge yellow cat eyes painted on it. Weekly happy hours and special events encourage singles to forget their worries and partake in a pint and made-to-order American food.


1384 Michigan Ave • Detroit, MI 48226
(313) 965-3180
Visit Website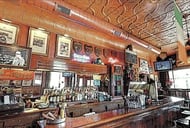 Nemo's Bar touts itself as "a Detroit classic" because of its old-timey feel and straight-up bartending style. The walls are lined with memorabilia, including framed newspaper articles and street signs. Nemo's Bar cultivates a friendly community of regulars and locals coming together for a cold, refreshing drink. The neighborhood bar is a great place to have a casual conversation and enjoy a juicy burger. Plus, the Nemo's Shuttle takes visitors to Detroit games and major events around town.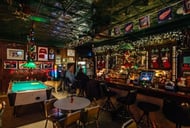 Open since 1907, Abick's Bar's claim to fame is being the oldest, continuously operating family-owned bar. It's so old-school that it doesn't even have an official website -- just a Facebook page. This is a neighborhood institution dating back generations. Everyone who steps through the door instantly becomes part of the family at Abick's. This hidden gem doesn't put on airs, but its home-cooked meals will knock your socks off.


225 Gratiot Avenue • Detroit, MI 48226
(313) 736-5533
Visit Website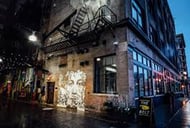 Standy's entrance is just a simple door in the middle of an old graffitied brick wall, but don't let that fool you. Once you're inside, the bar is a sleek and modern space full of locally sourced foods and fancy drinks. Efficient service and culinary mastery leaves daters impressed and satisfied in the dimly lit dining room. The extensive cocktail menu makes this bar stand out on the Belt in downtown Detroit.


2130 Michigan Ave • Detroit, MI 48216
(313) 962-0123
Visit Website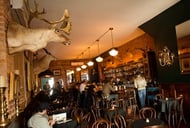 The Sugar House is a sweet place to retreat from the daily grind and meet people. The craft cocktail bar is full of unique tastes and experiences. From the Absinthe Frappe to the Zombie (an aged rum concoction), the Sugar House has dozens of original and inexpensive drinks to savor with someone special. The bar's calendar highlights any upcoming performances or specials going on at Sugar House.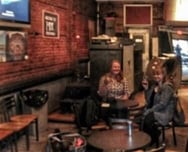 Dating is often time-consuming and stressful when you're doing it on your own. You have to screen dates, arrange dates, and weed through bad dates all while living your real life. Who has time for that?! If you want to speed up the dating process and get a lot of action crammed into one night, speed dating might be for you. During a speed dating event, you'll meet dozens of potential matches, chatting for five to 10 minutes before meeting someone new. When the night is over, you can request the contact information of anyone you'd like to see again. Speed dating is an effective way of sampling a variety of prospective dates in the course of one evening. The Fun Singles hosts speed dating events in modern bars with a menu of upscale cocktails on hand. Check out their events using the following link: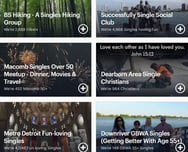 There's no denying Detroit is a romantic city. This is the city of Motown, after all — of the Supremes, Stevie Wonder, the Temptations, and the Jackson 5 — so it has its fair share of crooners and sultry tunes. But sometimes singles feel like they're in a "Love Hangover" with "Nowhere to Run." A singles event is a great way to shake off any reservations you have about dating in a casual and friendly setting. Whether you're looking for an intimate gathering or a large shindig, a singles event gives unattached men and women the opportunity to mingle while joining a planned activity like bowling, hiking, or partying. A good singles event can have you "Dancing in the Street" instead of "Standing in the Shadows."
Music. Dancing. Drinking. A night club is like the holy trinity of dating. It combines everything you need to shed your inhibitions and meet fun-loving singles in a place where you can let your dance moves do the talking. With a little luck, you might just dance your way into someone's heart. Detroit's downtown area is full of vibrant, modern, and upbeat clubs meant to bring together the city's youth and inspire romantic connections between people swept up by the music.
Maybe you're not up to leaving your home to meet someone new. I get that. Going places is tiring. That's why chat rooms were invented. In a singles chat room, Detroit daters can mingle with one another without having to wade through crowds of people. It's low-pressure, low-commitment, and makes for a nice compromise for singles turned off by bars, clubs, and dating websites. An online discussion between anonymous Detroit singles can get pretty steamy, so only those 18 and older can join the following hot chat rooms:
Once upon a time, dating personals involved placing an ad in a newspaper to attract attention from local singles willing to call up a stranger. Nowadays, that practice has gone digital. Dating personals work a lot like a dating site — except you don't have to worry about swiping, matching, or other complicated features. Dating personals websites are more straightforward than that — you create a profile, you search for a date, and you make contact. Single adults who like to cut to the chase can place an ad for a hookup, date, or long-term partner on any of the following websites:
9
Join a Community Project as a Volunteer
Not everyone feels comfortable meeting people in bars. One Redditor posted asking for suggestions for the best non-bar place to meet people in Detroit. Because it's the internet, most answers were snarky or blunt, including "Get off Reddit." One user, however, gave a clear and helpful answer: "Volunteer. There are many opportunities around Detroit."
As an alternative to the nightlife, we recommend volunteering in the community to meet people who care about the same social issues or causes you care about. Spending a day at a dog shelter or a neighborhood garden is a great way to meet people doing worthwhile things, without having to step foot into a bar.
It's easy to meet new people at popular volunteer events. Thousands of Detroit volunteers come together at Forgotten Harvest to contribute to the effort to end hunger, and they often end up having a great time
Volunteering is a fantastic way to do a good deed while meeting good people, so it's a win-win! Check out local volunteer opportunities on VolunteerMatch to find a cause that fits your interests and schedule.
Escape rooms offer an imaginative adventure for participants who want to test their mettle. You have to work together to hunt for clues and solve a problem, which makes for a great bonding experience for daters.
I know what you're thinking — don't you need a team to take part in an escape room? Nope! Not at Detroit's Escape the Room anyway. This quirky and humorous company puts together teams of friends as well as complete strangers. Everyone who signs up for the same date and time will go into the escape room together. Trapped in a roomful of strangers trying to solve a puzzle, you could wind up making some fast friends.
As J.K. Rowling says in "Harry Potter and the Sorcerer's Stone," "There are some things you can't share without ending up liking each other." And solving an escape room just might be one of them.
Detroit: Steer Your Own Love Life in the Motor City
Ultimately, meeting people is pretty easy once you know where to go. With our 10 recommendations, Detroit singles can get out there and start building connections with people in their neighborhoods.
Wherever you are, you have to know how to take advantage of the setting, both online and in person, to get a date. Mostly, that just means being present and positive when you talk to people. A singles-friendly event gives you the chance to meet people — the rest is up to you. Even the Detroit Metropolitan Airport can be the setting for a romantic story if you go into it with the right attitude. Good luck!
Advertiser Disclosure
DatingAdvice.com is a free online resource that offers valuable content and comparison services to users. To keep this resource 100% free for users, we receive advertising compensation from the sites listed on this page. Along with key review factors, this compensation may impact how and where sites appear on the page (including, for example, the order in which they appear). DatingAdvice.com does not include listings for all dating sites.
Our Editorial Review Policy
Our site is committed to publishing independent, accurate content guided by strict editorial guidelines. Before articles and reviews are published on our site, they undergo a thorough review process performed by a team of independent editors and subject-matter experts to ensure the content's accuracy, timeliness, and impartiality. Our editorial team is separate and independent of our site's advertisers, and the opinions they express on our site are their own. To read more about our team members and their editorial backgrounds, please visit our site's About page.