9 Ways to Meet Singles in Jackson, MS (Dating Guide)
The song "Jackson" is one of the most famous duets ever, and my favorite rendition of it is by Johnny Cash and June Carter. The lyrics tell the story of t a couple who get "married in a fever," but they soon fall out of love and start bragging to each other about what they're going to do in Jackson. For example, he'll teach women "what they don't know how," and she'll "be dancin' on a pony keg."
While more of a breakup song than a love song, "Jackson" is very popular, and it often makes people think of Jackson, Mississippi — even though songwriters Billy Edd Wheeler and Jerry Leiber said it wasn't named after that. Since we've got Jackson on our minds, we'd like to highlight nine ways to meet people in the city — whether you end up finding a relationship that's "hotter than a pepper sprout" or just someone cool to hang out with.
Just over 169,000 people call Jackson home, and singles have the best chance of finding each other if they get online. About 8,000 dating sites have been launched over the past 22+ years, with about 1,000 new sites being launched every year. But just because you have a lot of options, doesn't mean they're all created equal. You've got a lot of loser dating sites out there, which is why we've narrowed the list down to the top five:
Best Singles Site
We can't have a list of the go-to dating sites without talking about Match. Founded in 1993 and launched in 1995, it was the first date site to ever exist, so it definitely knows what it's doing. The proof is in the fact that Match has facilitated more romantic connection than any dating sites ever.
Best Site for Professionals
Everyone has their particular dating preferences, and if education is yours, then Elite Singles is the dating site you should try. Eight out of 10 members on Elite Singles hold at least a bachelor's degree from an accredited college or university, and you can browse profiles by education level. In terms of age and intention, the sweet spot for Elite Singles tends to be 30+ and long-term commitments.
Over 50 & Senior Site
Approximately, 18% of Jackson's population is made up of people 55 or older. For those who fall into that demographic, OurTime is here to help you streamline the meeting process. Since everyone on the site is within your age range, you'll have more time to take their lifestyle, hobbies, beliefs, and values into account before asking them on or agreeing to a date.
For Black Men & Women Only
Over 70% of people in Jackson identify as African American, making it one of the most diverse cities in the country. But it's not like meeting other Black singles is as easy as falling off a greased log (as my geometry teacher used to say). Forget trying to guess who's taken and who's not while you're out and about — join BlackPeopleMeet instead. The dating site sees over 1.4 million Black and biracial visitors every month, so you won't have to wonder — you can just start matching.
Hookup & Sex Site
I've got a friend who's just not into relationships and the idea of marriage. She may change her mind some day, but for now, she's enjoying her single freedom and exploring her sexuality. For people who feel the same way as my friend, Adult Friend Finder has your back. This casual sex site is great for finding one-night stands, NSA relationships, affairs, threesomes, and swinging partners, and you've got more than 100 million members to view.
According to Inc., 61% of people admit to using their phones in the bathroom, and that could be for texting, checking Facebook, and, yes, even dating. While it might not be the most pleasant thought, that's one of the things today's technology has afforded us. With dating apps, we could be doing anything and could be anywhere in the world, and we wouldn't have to miss a beat when we get a new match or someone messages us. Below are our three favorites:
Relationships: Fun Dates, Serious Relationships
Match System: Browse by location, age, interest, and more
About the App: Available via the App Store and Google Play, Match is a fantastic app for dates and relationships. With a user base of 30 million singles, Match is where you'll have a high chance of success. It's free to download, create a profile, search for date prospects, and receive compatible matches based on personalized preferences. Free members can also chat with select members and send unlimited likes.
Browse Free: View Profiles Now
| User Base | Gender Ratio | Popularity (Visits/Mo.) | App Cost |
| --- | --- | --- | --- |
| All Singles* | | 13.5 Million* | Free Download |
Relationships: Deep Relationships
Match System: Search by education, lifestyle habits, age
About the App: Commitment-minded, professional daters will feel at home with EliteSingles, which can be downloaded for free in the App Store or Google Play. Not only is everyone looking for a long-term partner, but 80% of members hold a bachelor's, master's, or doctorate degree. EliteSingles sees 210,000 visitors and 2,500 users finding love every month, so it's one of the fastest growing and most reputable apps.
Browse Free: View Profiles Now
| User Base | Gender Ratio | Popularity (Visits/Mo.) | App Cost |
| --- | --- | --- | --- |
| All Singles* | | 290,000* | Free Download |
Relationships: Casual Dates, Relationships
Match System: Search for and receive matches
About the App: Zoosk is the number one app for finding dates, and if you sync up your Google+ or Facebook account, you can have a profile in seconds. The app has 38 million members and will deliver matches to your inbox on a daily basis based on your behavior such as who you search for, like or don't like, and message. The Carousel is another section for matching (tap the heart if it's a yes and the X if it's a no).
Browse Free: View Profiles Now
| User Base | Gender Ratio | Popularity (Visits/Mo.) | App Cost |
| --- | --- | --- | --- |
| All Singles* | | 3.8 Million* | Free Download |
I'm a beer girl (IPAs are my weakness), and I tend to be attracted to guys who like beer as well. Some of the best dates I've had are when we're sharing a cold one while discussing our love of, well, cold ones. Drinks can help calm the nerves on a date, and bars are casual settings that take some of the pressure off. We've found 10 watering holes that are extremely popular in Jackson — whether you're a fan of beer, like me, wine, cocktails, or any other libation.


3100 N State Street • Jackson, MS 39216
(601) 321-9169
Visit Website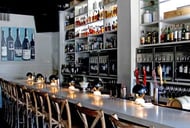 Located in the Fondren District of Jackson, CAET Wine Bar (pronounced Kate) offers more than 30 wines, from Syrah to Malbec, and is a winner of Wine Spectator's Award of Excellence. CAET is also known for its snacks (like broiled oysters and bourbon glazed pork belly), dinners (like flank steak with truffle fries and pan seared scallops), and desserts (like pumpkin pecan streusel cake and s'mores ice cream sandwiches).


3139 N State Street • Jackson, MS 39216
(769) 208-4227
Visit Website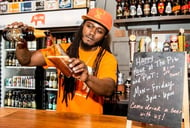 Love pork? Love beer? Then you've come to the right place! The Pig & Pint serves up award-winning barbecue with a twist and more local craft beers than most other bars in Mississippi. Open Monday through Saturday from 11 a.m. to 9 p.m., the Pig & Pint has an extensive menu that includes pork rinds and queso, boudin burgers, the Hop Fiasco IPA, and the Black Gold Stout.


1060 E County Line Road • Ridgeland, MS
(601) 899-0038
Visit Website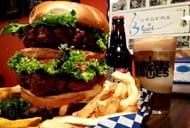 Burgers and Blues strives to not just be the best place in Jackson to get a burger — it also wants to be the best place in Jackson to get a beer, listen to music, and meet people. Owned by Steven Sahler, Burgers and Blues favorites include the Willie Love Handle (applewood smoked bacon, three cheese sticks, American cheese, and queso) and the Pine Top Perkins (grilled ham, pineapple, onions, and their own sauce). Enjoy your burger while listening to bands like the Three Hour Tour.


214 S State Street • Jackson, MS 39201
(601) 354-9712
Visit Website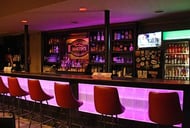 Founded in 1953, Martin's Restaurant & Bar is "where every hour is happy" and "the home of Jackson's best original live music. The calendar of events includes performances by local artists specializing in all genres, including rock and jazz. Martin's also hosts themed nights, like Karaoke Tuesdays and Oyster Thursdays, when you can get food and drinks half off. We'd recommend the catfish po-boy and a Shiner Premium.


901 E Fortification St • Jackson, MS 39202
(601) 948-0055
Visit Website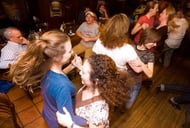 Fenian's Pub opened its doors in 1996, and it's been beloved among locals and visitors ever since. This Irish bar and restaurant is open every day (11 a.m. at the earliest and 2 a.m. at the latest) and can be as casual or as fancied-up as you want it. On the menu, you'll find traditional meals, such as shepherd's pie, as well as unique plates such as Irish Poutine. Don't forget to order a Guinness, too. Slainte!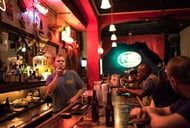 F. Jones Corner focuses on three things: cold beer, live music, and good food. Reading the menu, we got excited about the Liquid Mary Jane cocktail, jello shots, hot tamales, and Blues Dog. Every Thursday, F. Jones Corner holds the Blues & Music Challenge, when all singers and musicians are welcome to take the stage. However, the best of the best perform on Friday nights from midnight to 4 a.m.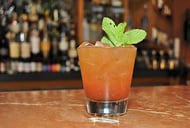 BRAVO! wants patrons to "Gather. Relax. Savor," and the team helps them do that by providing a drinking and dining experience like they've never seen. Menu items include cocktails (e.g., the Mississippi Red Dress) wines (e.g., the Claris Pinot Grigio from Venezia, Italy), pastas (e.g., wood-fired lasagna), and entrees (e.g., herb-crusted salmon). Established over two decades ago, BRAVO! has received many positive reviews, including from Pete F., who said: "Friendly service, great atmosphere, and world-class food make BRAVO! a must for anyone traveling through Jackson or local to the area."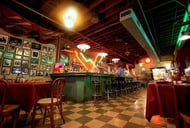 Hal and Mal's is run by brothers Hal and Malcolm White, whose stated mission is to provide Jackson residents with a family-friendly restaurant and modern entertainment venue. Any day of the week you could see performances by groups, like the New Bourbon Street Jazz Band, as well as solo artists like Seth Powers. We love that Hal and Mal's serves local, regional, national, and international beers, including Lazy Magnolia Southern Pecan, Abita Amber, Sierra Nevada Pale Ale, and Heineken. Food that made our mouths water is the seafood bisque, stuffed jalapeños, bacon cheeseburger, and shrimp platter.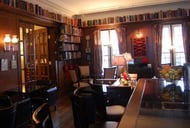 Head to the historic Fairview Inn, and that's where you'll find the Library Lounge. The library, which opened in 1908, was turned into a cocktail lounge with a theme around famous Mississippi writers, including William Faulkner and Tennessee Williams. The Library Lounge is only closed on Sundays and serves lunch (e.g, paninis and tacos), brunch (e.g., scrambles and salads), and specialty drinks, draft beers, and wine flights.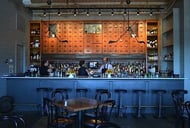 The Apothecary at Brent's Drugs is one of the most unique bars in Jackson. Founded in 1946, the Apothecary serves what it calls Prescriptions, including Summer Teeth, El Nacional, and Moscow Mules. Soak it all up with a cheese plate, house-cut fries, or chicken sandwich. Evan Tew wrote on Facebook: "Apothecary is an awesome, low-key cocktail joint, which also has a welcoming, energetic vibe when busy. It has all of the characteristics of a speakeasy with very knowledgeable and friendly staff."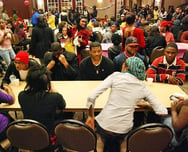 I like to think of speed dating kind of like a buffet — you've got a ton of choices, and you get to pick out what you like. It could be the salad, the sides, the meats, the desserts, or a little bit of everything. At speed dating events, it could be the doctor, the chef, the blonde, the brunette, the shy guy, the outgoing girl, or someone who possesses a little bit of everything you're looking for. Pre-Dating is a national speed dating company that puts on monthly events in more than 70 cities, including Jackson. It's responsible for more than 5.6 million dates, and you could be next!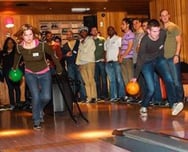 Bowling, happy hours, kayaking, trivia, dances, rock climbing, day cruises — a singles event can be basically any activity. A really helpful component of singles events is that you already have an icebreaker as soon as you get there — just turn to someone next to you and talk to them about the activity y'all are participating in. Eventful is a site full of all kinds of events for singles in Jackson to attend, and you can check them out by clicking the following blue link: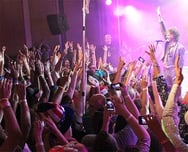 I'm a horrible dancer — I'm not ashamed to admit it. At clubs, I'm always the person making sure I'm in the middle of my friend group so no one can see how uncoordinated I am. However, I admire people who just seem to have a natural talent for dancing, no matter what it is. If this sounds like you, Jackson has numerous clubs where you can show off your talents and attract a hottie for the night, a potential date, or whatever else you're interested in!
A chat room is a good avenue for singles who tend to get nervous approaching strangers in public or talking to first dates face-to-face — because it allows them to think about what they want to say and get to know someone before meeting up in real life. I know I'm usually a better communicator when I'm texting, emailing, or writing or when I've already gotten through the initial awkward phase with someone. In this section, we've got three Jackson-based chat rooms that are relaxing, fun, and free.
Dating sites and personals sites pretty much go hand in hand — except, when you're using the latter, your profile tends to be more succinct and have more abbreviations (such as S/W/F seeks male IPA lover). Usually, you also do most of the searching on your own, which is a big perk for singles who like being more in control. Craigslist, DateHookup, and Backpage are the personals sites we're recommending to Jackson singles. They all have their unique aspects, but none of them charge for registration. Test them out for yourself to see which one you like.
9
Get Outdoors to Enjoy Zoos, Water Parks, Gardens & Festivals
If you're into sports, this is the city for you. Jackson has 72 athletic fields, 61 tennis courts, 56 parks and recreational facilities, 32 playgrounds, 10 miles of walking trails, and nine swimming pools. But, wait! There's more! The city also counts with five community centers, four gymnasiums, two golf courses, one driving range, one botanical garden, and one model airplane field.
Other fun places to visit include the Eudora Welty House and Garden, the Jackson Zoo, Geyser Falls Water Park, or the Natchez Trace Parkway. Outside is where you need to be — not just to get fresh air and exercise but to meet people.
Jackson also hosts several festivals every year that thousands of people attend, including the Jackson Gumbo Festival and the Mississippi Light Festival. Bond with other attendees by sharing your love of music, food, or whatever the festival's focus is.
Find Your Soul Mate In "The City With Soul!"
The couple in the song "Jackson" may not have found their happily ever after, but that doesn't mean you can't. Jackson, Mississippi, offers a plethora of opportunities for singles, and we've just hit the tip of the iceberg with our advice above. Try a few of these strategies out, and do some research of your own to see what you come up with. Remember, we're all in this together!
Final Thoughts on Dating in
Jackson, MS
We hope you've found our guide "9 Ways to Meet Singles in Jackson, MS (Dating Guide)" to be helpful in your dating journey. If you're ready to take the leap into the local Jackson, MS, dating scene, keep in mind that apps like Match and Elite Singles are the easiest way to meet singles locally and throughout Mississippi.
Prefer to meet people the old-fashioned way? You're certainly not alone. According to local reviews, these popular spots in Jackson, MS, could be exactly what you're looking for:
CAET Wine Bar
The Pig & Pint
Burgers and Blues
Martin's
Fenian's Pub
F. Jones Corner
BRAVO!
Hal and Mal's
The Library Lounge
The Apothecary
Whether you're in Jackson, MS, surrounding areas, or anywhere else in Mississippi, remember that there's someone out there for you. It's just a matter of taking that first step.
Advertiser Disclosure
DatingAdvice.com is a free online resource that offers valuable content and comparison services to users. To keep this resource 100% free for users, we receive advertising compensation from the sites listed on this page. Along with key review factors, this compensation may impact how and where sites appear on the page (including, for example, the order in which they appear). DatingAdvice.com does not include listings for all dating sites.
Our Editorial Review Policy
Our site is committed to publishing independent, accurate content guided by strict editorial guidelines. Before articles and reviews are published on our site, they undergo a thorough review process performed by a team of independent editors and subject-matter experts to ensure the content's accuracy, timeliness, and impartiality. Our editorial team is separate and independent of our site's advertisers, and the opinions they express on our site are their own. To read more about our team members and their editorial backgrounds, please visit our site's About page.