10 Ways to Meet Singles in Oakland, CA (Dating Guide)
When one single person was preparing to move to the Bay Area, she posted in a local discussion forum looking for suggestions on how to meet people. "Although I have a few friends and acquaintances in the area, [I] will probably be spending a lot of time alone," she wrote.
A few people replied to share their experiences and give advice. "It really depends on your scene," one East Bay resident wrote. "In general, I find that people are friendlier and more laid-back in Oakland."
Singles in Oakland may be surrounded by friendly folks, but narrowing a city's worth of date prospects to a few viable candidates can still be a challenge. Fortunately, there are places you can go and resources you can use to help you find attractive locals on the same wavelength. We've listed the best ways to meet singles in Oakland to help you get started.
First up, we have online dating. Have you heard of it? Of course, you have. That's because it's an incredibly popular way to expand your social circle and date prospects within a few clicks. I wasn't always the biggest fan of online dating, but a few months of chatting turned me into a believer. I don't know of any easier way to fill my calendar with dates. Sure, it takes time to sort through your likes and develop matches into conversations that lead to dates, but it's a lot easier than approaching randos on the bus.
Best Singles Site
Match is the dating site for relationship-minded singles. The Match Group company has spent nearly three decades honing its match algorithm and adding members to its database. Today, the online dating platform claims responsibility for pairing up more relationships and marriages than any other dating site in existence. And new users can chat for free with their Top Picks, so you don't need a subscription plan to meet a compatible date in Oakland.
Best Site for Professionals
Oakland is one of the most well-educated cities with some of most concentrated wealth in the US. Nearly about 38% of residents over 25 have earned at least a bachelor's degree. If you live in one of the elite ZIP codes in Oakland, you may want to consider joining EliteSingles to meet singles of the same caliber.
Over 50 & Senior Sites
Once you reach a certain age, general dating sites may not cut it for you anymore. Too many young bucks running around, and not enough age-appropriate matches. Singles over 50 may want to consider joining OurTime. This senior dating site specializes in connecting mature singles who are close in age and live near one another.
For Black Men & Women Only
In the 1990s, Black people made up the majority of Oakland's population. By 2020, though, only 23% of residents identified as black or African-American. As a result, today's Black singles may have a harder time finding love in O-Town. But BlackPeopleMeet can solve that problem. This niche dating site has the largest network of Black and biracial singles in the US.
Hookup & Sex Site
Some singles just aren't the commitment type. They're not looking to walk down the aisle or even stay for breakfast. They just want straight-up, no-strings-attached sex. These horny singles often aren't satisfied by a general dating site where clingy or desperate singles try to trap them into a serious relationship. That's why they tend to rely on sex-oriented dating sites like Adult Friend Finder to hook them up with willing partners.
Dating apps allow you to carry the global network of a dating site in your pocket. That's just plain cool. Wherever you go, you can stay connected to date opportunities thanks to your trusty dating app. Thanks to simple matching systems and location-based date recommendations, mobile dating has become a go-to solution for singles hoping to meet someone in real time. Check out our reviews on our three favorite dating apps for Oakland singles.
Relationships: Fun Dates, Serious Relationships
Match System: Browse by location, age, interest, and more
About the App: Available via the App Store and Google Play, Match is a fantastic app for dates and relationships. With a user base of 30 million singles, Match is where you'll have a high chance of success. It's free to download, create a profile, search for date prospects, and receive compatible matches based on personalized preferences. Free members can also chat with select members and send unlimited likes.
Browse Free: View Profiles Now
| User Base | Gender Ratio | Popularity (Visits/Mo.) | App Cost |
| --- | --- | --- | --- |
| All Singles* | | 13.5 Million* | Free Download |
Relationships: Deep Relationships
Match System: Search by education, lifestyle habits, age
About the App: Commitment-minded, professional daters will feel at home with EliteSingles, which can be downloaded for free in the App Store or Google Play. Not only is everyone looking for a long-term partner, but 80% of members hold a bachelor's, master's, or doctorate degree. EliteSingles sees 210,000 visitors and 2,500 users finding love every month, so it's one of the fastest growing and most reputable apps.
Browse Free: View Profiles Now
| User Base | Gender Ratio | Popularity (Visits/Mo.) | App Cost |
| --- | --- | --- | --- |
| All Singles* | | 290,000* | Free Download |
Relationships: Casual Dates, Relationships
Match System: Search for and receive matches
About the App: Zoosk is the number one app for finding dates, and if you sync up your Google+ or Facebook account, you can have a profile in seconds. The app has 38 million members and will deliver matches to your inbox on a daily basis based on your behavior such as who you search for, like or don't like, and message. The Carousel is another section for matching (tap the heart if it's a yes and the X if it's a no).
Browse Free: View Profiles Now
| User Base | Gender Ratio | Popularity (Visits/Mo.) | App Cost |
| --- | --- | --- | --- |
| All Singles* | | 3.8 Million* | Free Download |
If you're not into technology and prefer old-fashioned face-to-face wooing methods, the bar scene is probably your best bet. Singles frequent bars because they want to mingle, so they're often open to starting a conversation over a few drinks. You have the chance to meet people in a casual environment where there's little expectation and zero commitment. Oakland has quite a few singles-friendly bars, and we've reviewed some of our favorites.


1915 San Pablo Ave • Oakland, CA 94612
(510) 788-6217
Visit Website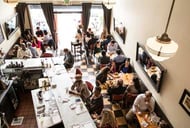 Any place that serves a bucket of chicken automatically goes to the top of my list of places I want to visit. Hopscotch deserves its #1 spot on this list for its creative fusion of beloved American and Japanese dishes. This upscale diner and bar uses seasonal ingredients to wow patrons with fresh starters, flavorful cocktails, and mouth-watering main courses. You can try the bar's signature Hops & Scotch pairings or decadent homemade donuts for brunch, lunch, dinner, or a late-night snack. This retro spot closes early at 11 p.m., so be sure to grab a stool before last call.


2
Heinold's First and Last Chance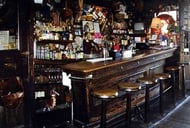 Heinold's First and Last Chance Saloon is an old-fashioned pub with a rich history. The building was built in 1880 out of remnants of a whaling ship. In 1883, Johnny Heinold opened it as a 'last chance saloon' meaning it was the last chance to have a drink before entering dry country. The popular pub later became known as Jack London's Rendezvous because the American author spent so much time there talking to seafarers about their travels. Today, this historic bar has survived earthquakes, heat waves, and the hipster crowd to remain a beloved staple in Oakland.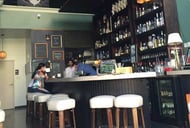 Located in downtown Oakland, Penelope serves some of the most amazing cocktails in the city. Whether you're in the mood for something fruity, tangy, sour, or strong, the mixologists behind the bar can hook you up. You can often find the owner, Johnny Navarro, mingling in the crowd, working as a bartender, or recommending drinks to patrons. The friendly atmosphere makes it ideal for daters hoping to meet someone. "I've made friends with many of their regulars," said Jennifer B. in a Yelp review. "They all collectively make sure you feel welcome here."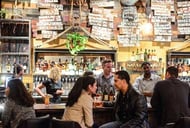 This place is so California. From the rooftop deck to the beer garden, the Mad Oak Bar is just a really fun spot to hang out with good friends. You'd have to be mad not to enjoy the spacious area and extensive, food truck menu. Everyone is welcome here — even dogs. You can chow down on a burger and play trivia on Tuesday evenings, or you can brave the happy hour crowds Monday through Friday to enjoy discounted drinks and plenty of good company.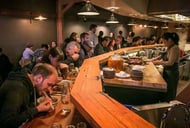 Open for brunch, dinner, and late-night drinks, the Ramen Shop is a perfect place to stop and savor the good things in life. Starting with ramen. These scrumptious bowls include generous portions of noodles, meat, eggs, and veggies, so you'll never leave hungry. The bar's specialty cocktails include the Southern Pearl, which has gin, basil, lemon, lime, and simply syrup, and the Old Flame, which has bourbon, grapefruit and lime juice, and passion fruit, sprinkled with brown sugar and toasted cinnamon. Be sure to save room for the burnt honey cake or black sesame ice cream for dessert.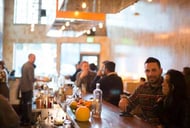 Many Oakland locals know and love the Plum Cocktail Bar, which adjoins the Plum restaurant. The bar serves innovative cocktails with flavors enhanced by lavender, ginger, lime, cucumber, mint, and bitters. Whether you're in the mood for something sweet (Huckleberry Hound) or strong (Barrel-Aged Manhattan), the bar is sure to have something to satisfy. "Awesome place, super-friendly staff, and the drinks are exceptional," wrote Amir Adibi in a Google review.


1741 Telegraph Ave. • Oakland CA, 94612
(510) 251-1400
Visit Website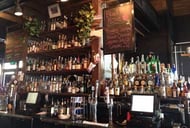 Make Westing is an affordable, low-key, and contemporary bar conveniently located on Telegraph Avenue. Its craft cocktails and elevated bar bites keep patrons happy as they relax during a weekday or weekend evening. The bar stays opens from 4 p.m. to 2 a.m., and the servers have a friendly and welcoming vibe. You can play bocce ball with someone you met at the bar and see where the night leads.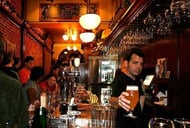 The Trappist is a well-known Victorian-style bar and eatery in Oakland. People may come for the Belgian and specialty beer, but they stay for the gooey grilled cheese and shareable boards of meats and cheeses. The kitchen uses local, seasonal products, so the menu is constantly changing to offer something new and delicious. Plus, every Thursday the bar hosts free live trivia starting at 7 p.m. on the dot. You can grab a pint and hang out at the bar or the back patio to meet people with fine taste.



If you've never been speed dating, you're missing out because it's a total blast. You get an adrenaline rush from meeting so many interesting, odd, and attractive people at once, and you simply don't have time to be bored. Speed dating events give you all the excitement of a first date and all the time-saving satisfaction of swiping. My Cheeky Date organizes frequent speed dating events in Oakland. These events usually cater to singles in their late 20s or 30s.


The Bright Side of the Bay always has something going on, and that's great news for singles in the area. You can easily find a singles event to liven up your evenings and spice up your love life. Just search Eventbrite with the keyword "singles," and you'll find wine tastings, weekend celebrations, dance parties, and other opportunities to mix and mingle with the city's most eligible bachelors and bachelorettes.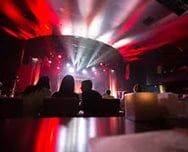 In 2012, Forbes called Oakland a "New Sin City" because of its relaxed cabaret laws. The city has a thriving nightlife full of jazz lounges and trend-setting night clubs. Singles can dance the night away at a club and see if they're drawn to a partner on the dance floor. The club scene is a fantastic place to establish chemistry and win someone over with your smooth moves.
You've got to play to your strengths when looking to meet someone special in your area. Maybe you clam up in person, but have a lot to say when you're in front of a keyboard. In that case, local chat rooms are going to be right up your alley. You don't have to create an in-depth profile or post a picture of yourself to join these online free-for-alls. Just enter your email address, choose a password, and you're good to go. You can make friends and attract potential dates by becoming a regular in Oakland's most popular chat rooms, listed below.
Dating personals are basically no-muss, no-fuss dating sites. You don't have to undergo a psychological evaluation to set up a profile, and it doesn't connect to your social media accounts. It's just an advertisement for dates. It can be as brief as, "I'm single, live in Oakland, and want to meet new people." Though we'd recommend getting a little more specific about who you are and what you want so you turn some heads online. You can join the following dating personal sites for free and make headway in the local dating scene.
9
Take Advantage of Volunteer Opportunities
The North Oakland Village listed "meet interesting people" and "make new friends" as one of the chief benefits of volunteering. We'd add, "potentially find a date" to that list. When you volunteer in the community, you meet fellow volunteers who share your interests, passions, and values, and that's a great foundation for any relationship.
The North Oakland Village supports an aging-friendly community where seniors can stay active by taking part in social activities and events. Volunteer teams work together to ensure the senior population has everything they need to live out their golden years in style.
Whatever cause is close to your heart, we recommend getting involved and working to make the world a better place while you meet new people. You can volunteer with any nonprofit or charitable organization in the area to widen your social circle and increase your likelihood of meeting a compatible and compassionate date.
10
Join a Co-Ed Sports Team
Sports has a magical way of bringing people together — especially if you're on the same team. Athletic singles can show their competitive side and meet outgoing people by joining an adult sports team. Oakland has many co-ed teams, including volleyball, softball, and bowling that help straight singles have fun and start relationships.
The Oakland Parks and Recreation's Adult Sports division offers leagues for people of all skill levels, so you don't have to be Ricky Henderson to play ball.
Whether you enjoy playing soccer or basketball, you can find a team of new friends by registering for a sports league in Oakland.
It doesn't even have to be sports. You can join all sorts of outdoorsy groups in Oakland. The Sleep Late and Hike Meetup has over 10,000 members, making it the most popular hiking group in the Bay Area. If you join them on one of their weekend excursions through the trails, you'll find yourself surrounded by friendly folks.
Get Out of Your Dating Slump in Bump City
Whether you're new to Oakland or have lived here your entire life, it can never hurt to explore the city and expand your social circle. Who knows? You may meet your next bae or true love at the bar, or on a dating site, or during a volunteer event. It's up to you to figure out what dating environments appeal to you. You have the ideas, now all you need is the courage and persistence to put yourself out there and find hot dates in Oakland.
As someone told Travelbee23, "There are nice people scattered throughout all three cities, so you should check them all out and see for yourself."
Final Thoughts on Dating in
Oakland, CA
We hope you've found our guide "10 Ways to Meet Singles in Oakland, CA (Dating Guide)" to be helpful in your dating journey. If you're ready to take the leap into the local Oakland, CA, dating scene, keep in mind that apps like Match and Elite Singles are the easiest way to meet singles locally and throughout California.
Prefer to meet people the old-fashioned way? You're certainly not alone. According to local reviews, these popular spots in Oakland, CA, could be exactly what you're looking for:
Hopscotch
Heinold's First and Last Chance
Penelope
Mad Oak Bar
Ramen Shop
Plum Cocktail Bar
Make Westing
The Trappist
Whether you're in Oakland, CA, surrounding areas, or anywhere else in California, remember that there's someone out there for you. It's just a matter of taking that first step.
Advertiser Disclosure
DatingAdvice.com is a free online resource that offers valuable content and comparison services to users. To keep this resource 100% free for users, we receive advertising compensation from the sites listed on this page. Along with key review factors, this compensation may impact how and where sites appear on the page (including, for example, the order in which they appear). DatingAdvice.com does not include listings for all dating sites.
Our Editorial Review Policy
Our site is committed to publishing independent, accurate content guided by strict editorial guidelines. Before articles and reviews are published on our site, they undergo a thorough review process performed by a team of independent editors and subject-matter experts to ensure the content's accuracy, timeliness, and impartiality. Our editorial team is separate and independent of our site's advertisers, and the opinions they express on our site are their own. To read more about our team members and their editorial backgrounds, please visit our site's About page.