9 Ways to Meet Singles in Oklahoma City, OK (Dating Guide)
Oklahoma City, Oklahoma, has a population of 638,300, but that doesn't necessarily mean singles are meeting each other left and right. That's how BChris02 felt when he posted a thread on OKCTalk.com asking for ways to expand his social circle. He'd been there for a year since moving from Charlotte, North Carolina, but he was having a hard time making friends because he's shy. "I think it's a city I could learn to love if I could find my niche," he wrote on the site.
Within 10 minutes, BChris02 received numerous responses from people who were experiencing similar situations and/or who had some ideas to share. The conversation culminated in the planning of a get-together with all the users in that thread. BChris02's post goes to show that there are people worth meeting out there — you just have to ask. In this guide, we have nine things for single Oklahomans to try to get their dating life back on track.
1
Oklahoma City Dating Sites
Almost 50 million people have tried online dating, and about 20% of relationships and 17% of marriages begin online, according to Statistic Brain. If you're single, there's basically no reason why you shouldn't be on a dating site, where most singles are interacting. Plus, it's affordable, safe, and fruitful. There's no need to go trying random sites, though, because, through years of research, we've identified the top five:
Best Singles Site
Match.com is like the champion bull rider at the rodeo — experienced, popular, adaptable, and envied by competitors. The site hit the online dating scene in 1995, has more than 30 million members, always comes out with new features (including live events and Missed Connections), and is responsible for more matches than any other dating site.
Best Site for Professionals
Intelligence is one of the most attractive qualities someone can have, and the folks at Elite Singles agree. That's why they've created a dating site for educated, career-driven singles — a majority of members (82%) have graduated from college with at least a bachelor's degree. Elite Singles is also good if you're past your 20s and are looking for a monogamous, long-term partnership.
Over 50 & Senior Site
In Oklahoma City, almost 20% of the population is 55 or older, and when you take out the married people, that percentage gets even smaller. Finding not just a single senior but a single senior you're compatible with can be a difficult task, but OurTime is here to take that task off your plate. Meant specifically for people aged 50+, OurTime has one of the smoothest signup, search, and communication processes of any dating site.
For Black Men & Women Only
Approximately, 10% of Oklahoma's City's residents identify as black or African-American, which means singles in this demographic often struggle to connect. BlackPeopleMeet has taken the lead on this effort by creating an environment that's completely made up of black and biracial men and women. Not only that but narrowing down the site's 1.4 monthly users to those in OKC is as easy as providing your zip code.
Hookup & Sex Site
Sometimes you've got a one-night stand on your mind and your mind on a one-night stand, and the site to help you make that dream a reality is Adult Friend Finder. For over two decades, Adult Friend Finder has been the go-to in the online hookup industry. You've got 77 million members to choose from and a nearly endless number of ways to talk with them — such as real-time chat, group forums, and two-way video.
Our lives got significantly better when mobile apps were invented — and by better, I mean easier and way less stressful. Now, instead of having to carry paper and a pen to the store to make sure we don't forget something, or having to look at a map or print out directions when we're traveling somewhere new — we can just download an app that'll do it for us. Dating has become simpler and more fun as well thanks to apps. You'll go from zero to hero in the blink of an eye thanks to the following three dating apps:
Relationships: Fun Dates, Serious Relationships
Match System: Browse by location, age, interest, and more
About the App: Available via the App Store and Google Play, Match is a fantastic app for dates and relationships. With a user base of 30 million singles, Match is where you'll have a high chance of success. It's free to download, create a profile, search for date prospects, and receive compatible matches based on personalized preferences. Free members can also chat with select members and send unlimited likes.
Browse Free: View Profiles Now
| User Base | Gender Ratio | Popularity (Visits/Mo.) | App Cost |
| --- | --- | --- | --- |
| All Singles* | | 13.5 Million* | Free Download |
Relationships: Deep Relationships
Match System: Search by education, lifestyle habits, age
About the App: Commitment-minded, professional daters will feel at home with EliteSingles, which can be downloaded for free in the App Store or Google Play. Not only is everyone looking for a long-term partner, but 80% of members hold a bachelor's, master's, or doctorate degree. EliteSingles sees 210,000 visitors and 2,500 users finding love every month, so it's one of the fastest growing and most reputable apps.
Browse Free: View Profiles Now
| User Base | Gender Ratio | Popularity (Visits/Mo.) | App Cost |
| --- | --- | --- | --- |
| All Singles* | | 290,000* | Free Download |
Relationships: Casual Dates, Relationships
Match System: Search for and receive matches
About the App: Zoosk is the number one app for finding dates, and if you sync up your Google+ or Facebook account, you can have a profile in seconds. The app has 38 million members and will deliver matches to your inbox on a daily basis based on your behavior such as who you search for, like or don't like, and message. The Carousel is another section for matching (tap the heart if it's a yes and the X if it's a no).
Browse Free: View Profiles Now
| User Base | Gender Ratio | Popularity (Visits/Mo.) | App Cost |
| --- | --- | --- | --- |
| All Singles* | | 3.8 Million* | Free Download |
3
Oklahoma City Singles Bars
In "Going the Distance," Drew Barrymore's character, Erin, and Justin Long's character, Garrett, meet at a bar when he interrupts her game of Centipede. They hit it off, have a few more drinks, go back to his place, and then hook up. The rest of the movie shows them trying to navigate their relationship as their careers, and therefore locations, change, but the big thing is that they (spoiler alert) end up together. And it's all because they happened to go to the same bar one night. Your life can change directions at any moment, and you could even have your own "Going the Distance" moment at one of the 10 OKC bars below:


1
The Metro Wine Bar & Bistro
6418 N Western Ave • Oklahoma City, OK
(405) 840-9463
Visit Website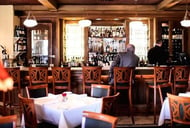 Founded almost 30 years ago, the Metro Wine Bar & Bistro strives to be "at the cutting edge of food and wine," and the team achieves that by continuously adapting the menu to the times and offering top-notch service. The Metro is open every weekday for lunch (if you want a more casual experience) and every day for dinner (if you want something more formal). What caught our eye on the menu were the wine flights, Parmesan Risotto, Cedar Plank Salmon, and Vanilla Bean Pot de Crème.


1 N Oklahoma Ave • Oklahoma City, OK
(405) 232-2739
Visit Website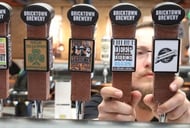 Bricktown Brewery, located in the Bricktown District, specializes in "Local Beer. Great Food" with menu items including the Old King Kolsch, Single-String Stout, Cowboy Bison Burger, and BBQ Chicken Pizza. OKC was the original location of Bricktown Brewery (opened in 1992), and now there are locations all over Oklahoma, Arkansas, and Kansas.


3
The Garage Burgers and Beer
1117 N. Robinson • Oklahoma City, OK 73103
(405) 602-6880
Visit Website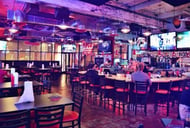 The Garage Burgers and Beer serves up, you guessed it, burgers and beer. But it's not just any burgers and beer — it's all made from scratch, with the finest ingredients and a little bit of "magic." You can get your burger topped with almost anything — from fried onions to guacamole to coleslaw to bacon and chili. Brews include the 8-Bit Pale Ale and Evil Twin Citra Sunshine American IPA, and specialty drinks include the Cherry Limeade and Two Fruits, One Cup.


1845 Northwest Expy • Oklahoma City, OK
(405) 582-2253
Visit Website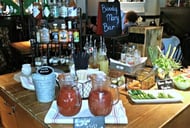 Across from the Penn Square Mall is Whiskey Cake, a farm-to-kitchen bar and restaurant that's named after "Grandma's secret recipe." The chef and his team promise to never use a microwave on their food (they don't even own one) — only a stove, oven, grill, smoker, or spit. Food Dude calls Whiskey Cake "a home away from home," and with menu items like chicken and waffles, brisket, pinot noir, and milk stouts, we'd say that sounds about right.


1734 NW 16th St • Oklahoma City, OK 73106
(405) 557-1760
Visit Website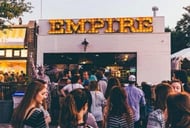 Empire Slice House can quench your beer thirst and satisfy your pizza craving in one place and in one night. Offerings we'd recommend include the COOP Native Amber, King Malbec, garlic knots, and Doug E. Fresh pizza (marinated mozzarella, roasted tomatoes, and fresh basil). And you can enjoy it all inside or in the beer garden. Empire Slice says it's "like Frank Sinatra and David Bowie had a pizza baby," and if that doesn't draw you in, we don't know what will.


5137 Classen Cir • Oklahoma City, OK 73118
(405) 840-3339
Visit Website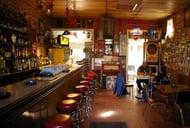 Edna's is "Home of the Original Lunchbox," having sold more than 1.7 million lunchboxes since it opened. Lunchboxes include libations, like Coors Light, amaretto, Irish whiskey, and Captain Morgan, and mixers like orange, cranberry, and pineapple juice. They start as low as $3.75 during Thunder games, and you can finish them off with mac and cheese bites, nachos, or sweet potato fries.


2425 N Walker Ave • Oklahoma City, OK
(405) 702-8898
Visit Website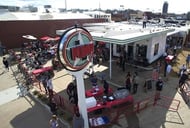 The Pump Bar is open every day of the week (starting at 4 p.m. Mondays through Fridays and 11 a.m. Saturdays and Sundays). Here's how it works: head on up to the bar shaped like a question mark, place your order (from 16 local drafts to 50 domestic and imported bottles and Southern and Scottish whiskey), and make your way to the 9,000-square-foot outdoor patio. For even more entertainment, the Pump is always playing a classic cult movie, and, when you get hungry, walk up to the food truck of the night.


730 NW 23rd St • Oklahoma City, OK 73103
(405) 702-6960
Visit Website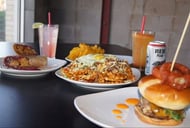 Named after the Phish song, Guyutes focuses on "elevated street food" — such as braised pork belly with chipotle honey glaze and garlic basil whipped cream, and catfish and cream cheese wontons with a sweet chili oil. It doesn't matter if you're a golden, pale ale, or wheat kind of guy or gal — Guyutes has a beer (or two) that you'll fall in love with, including Elk Valley, COOP, Hoegaarden, and Great Divide.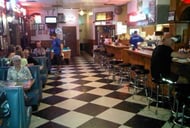 Eischen's is the self-proclaimed "oldest in Oklahoma," established in 1896 by Peter Eischen. The bar closed during Prohibition but was reopened afterward by Peter's son and grandson. It's a cash or check only place, but the food and drinks more than make up for it. Jodie S. shared her story on Yelp, saying, "Always great food. Service is prompt, and servers are friendly. There's nothing I don't like."
4
Oklahoma City Speed Dating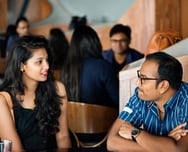 Speed dating can be like shopping — you find a few things (aka people), try everything on (aka get to know them), put stuff back that you're not crazy about (aka don't exchange contact info with those who are incompatible with you), and keep the items you're really into (aka plan another date with those who are). MyCheekyDate.com is a speed dating and matchmaking company that arranges weekly events for singles in OKC — which can be a breath of fresh air for when you want to take a break from online dating and the bar crowd.
5
Oklahoma City Singles Events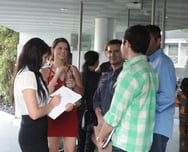 In my junior year of high school, I went whitewater rafting with the church group I was a part of, and it was one of the most fun times I've ever had. It wasn't just because I was doing something exciting — it was also because I was growing closer to my friends. One of those friends even became my boyfriend down the road, and that was the trip that sparked the flirtation between us. Doing an activity, like whitewater rafting, is a great way to kick off a relationship because it makes the banter flow naturally. AmazingSingles.com has an extensive list of singles events held in Oklahoma City that'll tickle anyone's fancy.
6
Oklahoma City Singles Clubs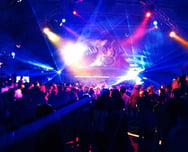 "In Da Club" by 50 Cent is one of the most popular club songs of all time, and it still is to this day — even though it came out in 2003. Who could forget gems like this: "You can find me in the club, bottle full of bub… I'm into having sex, I ain't into making love so come give me a hug…" If a club plays that song, people still go nuts for it, and for good reason. For single club goers in Oklahoma City who want to hear "In Da Club" and more hits, head to VisitOKC.com for the details on where to go.
7
Oklahoma City Chat Rooms
An online chat room is exactly what it sounds like — an online room where you can chat with other people either via instant message, private emails, or video. Here are five chat rooms made specifically with Oklahoma City singles in mind — no matter what their dating goals or hobbies are (e.g., a relationship with a woman who also loves politics).
Personal services can include the classified ads sections of newspapers as well as sites for posting information about yourself and your dream match. Craigslist is probably the most well-known example, but then you also have services like DateHookup that act as a traditional dating site and a personals site. Usually, registration is free (if not, it's very reasonable), and you should hear from someone on the same day. You can also take matters into your own hands by searching personals posted by other people and reaching out on your own. We've pinpointed five personals services that are perfect for single OKC men and women.
9
Take Part in the Outdoor Recreation
Oklahoma boasts about 110 parks, which include access to one or more outdoor sports such as baseball, cricket, disc golf, football, softball, and soccer. You'll also find playgrounds; picnic and fishing areas; golf courses; biking, walking and hiking trails; tennis courts; and gardens. Getting outdoors is one of the best ways to meet your fellow citizens.
You've got ropes courses at SandRidge Sky Trail and Slide, paddleboarding in the Boathouse District, "stunt jump" free falls at the Lake Overholser Boathouse, and so much more. VisitOKC.com has everything you could want to know about outdoor recreation in Oklahoma City.
I mean, Oklahoma City is known as the Big Friendly, so approaching someone at one of these places, or at an event or class being held at one of these places, shouldn't be a problem. If you're an outdoorsy person, these activities shouldn't be missed.
Round Up Your Ideal Date in OKC!
Oklahoma City may be a big place, but truly connecting with people can still be a struggle, as BChris02 showed. In addition to reaching out in forums online, consider the advice we've given if you're looking for more friends or haven't met that special someone yet. From dating sites to water sports, you've got a lot of options to look into!
Photo sources: okcchamber.com, riversportokc.org, visitokc.com, tulsafood.com, tulsaworld.com, yelp.ca, onlyinyourstate.com, karylskulinarykrusade.com, reddirtreport.com, okcbars.net, tripadvisor.com, clubone15.com
Advertiser Disclosure
DatingAdvice.com is a free online resource that offers valuable content and comparison services to users. To keep this resource 100% free for users, we receive advertising compensation from the sites listed on this page. Along with key review factors, this compensation may impact how and where sites appear on the page (including, for example, the order in which they appear). DatingAdvice.com does not include listings for all dating sites.
Our Editorial Review Policy
Our site is committed to publishing independent, accurate content guided by strict editorial guidelines. Before articles and reviews are published on our site, they undergo a thorough review process performed by a team of independent editors and subject-matter experts to ensure the content's accuracy, timeliness, and impartiality. Our editorial team is separate and independent of our site's advertisers, and the opinions they express on our site are their own. To read more about our team members and their editorial backgrounds, please visit our site's About page.