The NUiT App Offers Astrology Wisdom to Help Users Learn About Themselves & Find Love
The Short Version: Many couples turn to astrology to study the fate of their connections. They believe the cosmos and their relation to when they were born can offer insight into relationship compatibility and other concerns in their lives. The NUiT app was the first to use astrology in evaluating dates, friendships, and other life connections. Today, it's popular with many singles who are ready to do more than wish on a star for love.
"What's your sign?" is a tired pick-up line, but it has been used as a conversation opener for a reason. Everyone has an astrological sign based on the hour, day, and month they were born. Astrologers use that information to create birth charts, or unique profiles that explain a person's tendencies, desires, and other attractive traits. Some zodiac signs are seen as compatible, while some are said to produce combustible relationships.
Astrology is not some new algorithm. The zodiac dates back to the time of Babylonia, around 400 B.C. Today's celestial coordinate system starts with the sign of Aries and begins with the sun in its vernal equinox. That's one of two days in the year when the sun and the moon share equal time in the sky.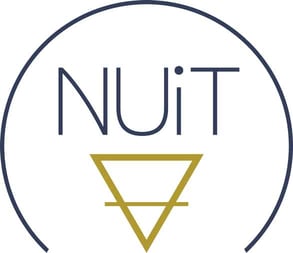 Singles looking for love want to find all the signs they can. The NUiT app relies on astrology — the ultimate signs written in the stars — to create connections and help people learn more about themselves.
NUiT uses the modern zodiac calendar to help singles find partners. Users enter their birth hour, day, and month on the free app to learn about their sign and the singles they are compatible with.
"Your birth chart is unique to you," said Joy, Co-Founder of NUiT. "It's about 1 in 1.6 million if someone has the same chart as you. Your birth chart can tell about your love language, what makes you feel safe, and how you communicate. These things are an important insight in personality traits."
A Name Inspired by the Egyptian Goddess of Sky and Stars
Natalie, another NUiT Co-Founder, said she became interested in creating a new dating app after using many of them herself during her travels to find dates and friends. She said she realized that the popular swiping style made it challenging to find someone to just connect with on a platonic level. It's difficult to get an idea of a person based on a short profile, she said.
Then, in 2013, she was sitting with her partner and a group of friends as an astrologer started giving free readings.
"Back then, I knew about astrology, but as a scientist, I was skeptical. After the reading, I was blown away. It was so interesting. I wish people had access to that," she said.

Her work contract ended a few years later, and then she met Joy, who had in-depth knowledge of birth charts, and the two decided to work together to help people match with their soul mates. The pair launched the app worldwide in 2018.
The name was inspired by Nut (NUiTh), the Egyptian goddess of sky and stars and one of the most prominent ambassadors to astrology. Joy said she also liked how the name sounds like "I knew it," because people can get to know each other by reading their birth charts.
The friends said they knew it would be challenging for many singles to write about themselves in a short profile. But the app helps everyone learn more about their zodiac signs and those of others. That may help make communication easier, especially with compatible signs.
Unique Matchmaking Designed for Dating and Making Friends
NUiT has seen its membership grow during the last two years as COVID-19 health mandates and social distancing guidelines took effect. Most singles on the app are millennials and members of Gen Z who want to learn more about themselves and their partners. The platform hosts more women than men and is also LGBTQ+ friendly.

Most users hail from the United States, although the site has many users in Europe's English-speaking countries.
"It's not purely dating. People go in and want to meet friends, chat, and find people. You can start as friends and evolve into dating," Natalie said.
The app allows users to teleport, meaning they don't need to look for their perfect match within their region.
"The soul mate isn't someone in your neighborhood. They could be across the country or in a different county," Natalie said. "Astrology can give you the right compatibility to find the right match, and we didn't want to confine it to a radius. You can choose that for yourself."
NUiT offers personality insights, advice on relationships and other conversation topics. Singles can use the wisdom they gain in romance, business, friendship, and other aspects of their lives that require guidance.
Even if the astrology match scores are not high, couples may still want to pursue the connection and find common interests. This is where NUiT comes in with advice based on Astrology Charts to highlight where they will need to work on to overcome obstacles. The charts can point out which opportunities and strengths couples need to focus on to be able to solve any issues and empower their relationship in the long run.
NUiT Analyzes Birth Charts to Explain the Mystery of Romance
Joy said the app also provides plenty of interesting topics to start conversations on a first date.
"It's a nice icebreaking approach," she said. "We get feedback from users that they use it to start talking. It's fun."
Singles can view the dating app as an educational platform for people curious about how astrology can help them gain a clearer understanding of their lives.
The co-founders said they envision the app as a social networking platform and a place for connections on all levels. Still, they've heard about plenty of romantic relationships NUiT has made possible.
One couple, Sarah and Kevin, connected on the app but were forced to battle travel restrictions due to the COVID-19 pandemic. Sarah lived on the West Coast of the United States, while Kevin lived in Belgium. The couple persisted. Sarah eventually received a special visa to travel to Europe, and they ended up engaged. Now, they're just waiting for the borders to open so they can live together and get married.
Both Joy and Natalie said hearing those success stories makes it all worth it.
"Our mission is to provide lasting and more meaningful relationships, so it's amazing," Joy said.
In the upcoming months, they plan to publish even more content about astrology for users. They are also working on another project called the Friendship Universe, which will make it easy to find new friends. It may eventually launch in the Metaverse, they said.
"Every relationship requires hard work, and it's the willingness of two people to work together," Natalie said. "With astrology, we can overcome those pet peeves that can break a relationship, so that's part of our holistic approach."