10 Ways to Meet Singles in Albuquerque, NM (Dating Guide)
In 2001, my grandmother declared that she missed the mountains of New Mexico and had decided to retire in Albuquerque where my cousins live. I'm a born and raised Floridian, so I couldn't imagine living so far from a beach (or Disney World), but my grandmother felt passionately about returning to her roots. She longed for the place where she had grown up, met my grandfather, and started her family.
So, during my spring breaks growing up, we'd visit her small adobe home and eat Mexican food every night. Now Albuquerque has a romantic nostalgia for me, too. While my grandmother remembers joyful car rides into the desert with my grandfather, I remember long afternoons sitting on her back porch, facing the mountains, and reading "Pride and Prejudice."
Albuquerque is famed for its colorful hot air balloons, spicy margaritas, and "Breaking Bad" film locations — but, to me, Bernalillo County is where breathtaking mountains call on young lovers to dream and make memories that last a lifetime.
As New Mexico's most populous city, Albuquerque offers a vibrant community to socialize and fall in love (or in like) with someone special. We've come up with 10 ways you can meet people and spark a connection with a date prospect near you.
1
Albuquerque Dating Sites
At the top of our list of ways to meet people in Albuquerque: join a dating site. It's simply the fastest and easiest way to connect with singles these days. Dating sites have forever changed the dating scene by creating match algorithms, chat tools, and flirtatious features that facilitate romantic connections. Whether you're looking for a new friend or a hot date, online dating has the tools to hook you up. By signing up for a popular dating site, you can instantly surround yourself with attractive dates in Duke City.
Best Singles Site
Personally, I think Match is the best dating site around. It's certainly the longest-running dating platform (it was founded in 1995), and it has the most impressive track record (responsible for more marriages than any other dating site). But what really wows me about Match is how the in-depth profiles, free-form questions, and tagged interests help you get a sense for who a person is before you decide to send a message. The time-tested dating site puts personality first, so you're sure to meet people of quality.
Best Site for Professionals
My cousins in Albuquerque include a Yale graduate, a classically trained violinist, and an anesthesiologist. They enjoy the finer things in life and expect high-caliber conversations in their social circle. Elite Singles caters to singles of their ilk with an upscale dating environment. Over 80% of members have at least a bachelor's degree and have joined Elite Singles in search of a sophisticated partner with a professional career and high-quality tastes.
Over 50 & Senior Site
Senior dating sites support singles who only get better with age. OurTime has earned its reputation as a top dating platform for singles of a certain age because it promotes a user-friendly experience with no technology know-how required. Many old-timers are first-timers online, so the curated OurTime community eases new members into online dating, ensuring a good experience. On OurTime, a romantic encounter with a single senior is just a click away.
For Black Men & Women Only
Though it is still a slim minority, Albuquerque's black population has actually more than doubled over the past 50 years, and multiracial residents are quickly becoming more common among the Sandia Mountains. New Mexican singles interested in dating black and biracial people can join BlackPeopleMeet to find eligible date prospects around town. Founded in 2002, BlackPeopleMeet now boasts the largest black community of singles anywhere in the world, so it's a helpful resource for diversifying your dating life.
Hookup & Sex Site
With an average of 310 days of sunshine per year, Albuquerque is a hot place, and it's crammed with hot singles hoping to Netflix and chill together. Sex-minded daters can use Adult Friend Finder to search the 505 for a kinky partner. This top adult dating site has made over 4.6 million member connections around the world. You can chat people up in live chat rooms and satiate your burning desires on Adult Friend Finder.
Much like the Rio Grande, Albuquerque's dating life never stays still. It flows from flirtation to deep connection, from "hello" to "I do," in a swift, ever-moving stream. Not everyone feels comfortable diving into these waters, but technology can help locals dip their feet in the dating pool to see how they like it. It's easy to get caught up in a love affair by using a dating app. The following high-performance apps provide location-based match tools to support daters of all experience levels.
Relationships: Fun Dates, Serious Relationships
Match System: Browse by location, age, interest, and more
About the App: Available via the App Store and Google Play, Match is a fantastic app for dates and relationships. With a user base of 30 million singles, Match is where you'll have a high chance of success. It's free to download, create a profile, search for date prospects, and receive compatible matches based on personalized preferences. Free members can also chat with select members and send unlimited likes.
Browse Free: View Profiles Now
| User Base | Gender Ratio | Popularity (Visits/Mo.) | App Cost |
| --- | --- | --- | --- |
| All Singles* | | 13.5 Million* | Free Download |
Relationships: Deep Relationships
Match System: Search by education, lifestyle habits, age
About the App: Commitment-minded, professional daters will feel at home with EliteSingles, which can be downloaded for free in the App Store or Google Play. Not only is everyone looking for a long-term partner, but 80% of members hold a bachelor's, master's, or doctorate degree. EliteSingles sees 210,000 visitors and 2,500 users finding love every month, so it's one of the fastest growing and most reputable apps.
Browse Free: View Profiles Now
| User Base | Gender Ratio | Popularity (Visits/Mo.) | App Cost |
| --- | --- | --- | --- |
| All Singles* | | 290,000* | Free Download |
Relationships: Casual Dates, Relationships
Match System: Search for and receive matches
About the App: Zoosk is the number one app for finding dates, and if you sync up your Google+ or Facebook account, you can have a profile in seconds. The app has 38 million members and will deliver matches to your inbox on a daily basis based on your behavior such as who you search for, like or don't like, and message. The Carousel is another section for matching (tap the heart if it's a yes and the X if it's a no).
Browse Free: View Profiles Now
| User Base | Gender Ratio | Popularity (Visits/Mo.) | App Cost |
| --- | --- | --- | --- |
| All Singles* | | 3.8 Million* | Free Download |
3
Albuquerque Singles Bars
If you want to build chemistry with someone, all you need is the right stimulant and setting to heat things up. A crowded bar gives you all the elements you need for romance. Combine delicious drinks with unattached singles, and you just might get the reaction you're looking for. Below, we've ranked the top nine Albuquerque bars where active daters can build bonds and have fun. Let's cook!


2031 Mountain Road NW • Albuquerque, NM
(505) 766-5100
Visit Website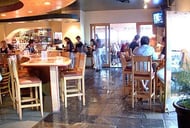 Located in the heart of Old Town, Seasons Rotisserie and Grill is a favorite of Albuquerque residents looking to unwind. On weekends, local talent plays live music while guests enjoy intimate conversations over a glass of wine. Known for its high culinary standards, Seasons serves American-style dishes cooked to smoky perfection. Plus, the decadent desserts on the menu encourage singles to indulge in the finer things in life and treat themselves to a night on the town.


407 Central Ave NW • Albuquerque, NM
(505) 242-4900
Visit Website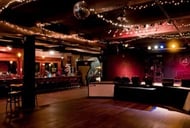 Sister delights guests with late-night tacos and classic arcade games. Any bar with a wall lined with pinball machines has my vote as a top-notch place to spend an evening. When you add in a spacious dance floor, full-service bar, and a ceiling of Christmas lights, I'm definitely putting Sister on my to-visit list. Every week, the bar hosts live music shows to encourage singles (over the age of 21) to mix and mingle in an upbeat atmosphere. Whether you want to split a mint chocolate chip taco with your date or challenge your crush to Game of Thrones pinball, Sister can definitely keep you occupied all night long.


800 Rio Grande Blvd. NW • Albuquerque, NM
(505) 843-6300
Visit Website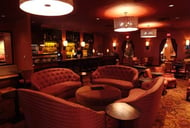 Conveniently situated in the Hotel Albuquerque at Old Town, the Qbar keeps a relaxed setting where out-of-staters and locals mingle over drinks. The posh lounge features contemporary art, original cocktails, a billiards room, and comfortable couches. On Thursdays, you can come to the bar to take salsa lessons and meet smooth dancers while the music plays. Conversation and drinks flow easily at Qbar, making it a top choice for singles in need of a night out.


409 Central Ave NW • Albuquerque, NM
(505) 244-1820
Visit Website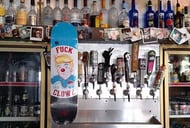 Anodyne's laid-back atmosphere and affordable prices make it a go-to spot for young singles in Albuquerque. You can shoot pool and shoot the breeze with new friends in the dimly lit bar. There's usually a line of people waiting to play the Addams Family pinball machine at this welcoming hangout. As an added bonus, Anodyne is dog-friendly so you can bring your furry friend along as a wingman for the night.


8000 Paseo Del Norte • Albuquerque, NM
(505) 821-1918
Visit Website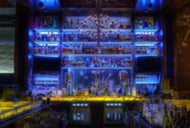 Vintage 423 has a fantastic wine list and a menu of high-end scotches and signature cocktails to quench the thirst of diners and barflies alike. The bar serves great food, wine, and libations with a smile. Whether you're hankering for a cheesy guacamole burger or a homemade glass of sangria, the lounge is a comfortable and upscale place to sate your appetite while chitchatting with Albuquerque singles.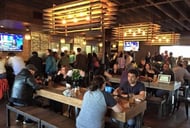 From Oatmeal Stout to Wildflower Wheat, the Marble Brewery is always brewing up something special for beer lovers in Albuquerque. Founded in 2008, the brewery set up shop in the center of Albuquerque and quickly became a social hub for locals sharing a cold one after work. Now it has three locations around town. The brewmasters' original flavor combinations reflect the funky nature of New Mexico's landscape, people, and cuisine. You can take a tour of the Marble Brewery or attend the locale's community events (complete with food trucks) to meet new people.


3211 Central Ave NE • Albuquerque, NM
(505) 265-7447
Visit Website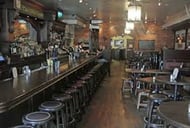 All it took was two fools and a dream to bring Albuquerque its first authentically Irish pub. The Two Fools Tavern is a lighthearted place to partake of your favorite Irish dishes, washed down by the finest ales, stouts, and whiskies in town. The European atmosphere distinguishes this bar as something truly special in the heart of the desert. The Two Fools Tavern packs in the crowds on a Friday night and provides singles with an ideal dating scene.


6501 Americas Pkwy #110 • Albuquerque, NM
(505) 508-3093
Visit Website

Uptown Funk Bar knows how to show singles a good time. Dueling pianos. Specialty cocktails. Talented musicians. VIP party packages. There's a long list of reasons to jam out at this bar. Musically themed drinks strike the right note and help singles loosen up under the neon pink lights. You can buy your crush an Uptown Girl Martini or Rocket Man Margarita to break the ice while the DJs set the mood with classic rock, jazz, and country tunes.
4
Albuquerque Speed Dating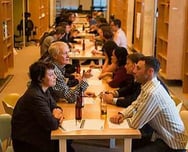 Some people let dating happen to them. At a speed dating event, you can go out and happen to dating. Be the one who knocks. But politely. Not like Walter White. Speed dating events give proactive daters a way to meet one another in a fast-paced scene. You save precious time by going on a dozen or so mini-dates in one evening and deciding who you want to pursue further. Take control of your love life and attend a themed speed-dating event near you.
5
Albuquerque Singles Events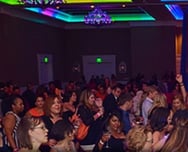 In 2017, an Albuquerque mayoral candidate named Gus Pedrotty shook over 7,800 hands at the New Mexico State Fair in an attempt to break a world record set by Governor Bill Richardson. He didn't break the record, but he did meet a lot of people all at once. You don't have to be that hardcore to make a genuine connection with someone in your neighborhood, but getting out there and introducing yourself to a lot of people at once is a pretty savvy strategy for politicians as well as daters. Many people with romance on the brain gather together at local singles events in Albuquerque. If you're looking for a place where you can up your handshake game, we suggest checking out Eventbrite's calendar.
6
Albuquerque Singles Clubs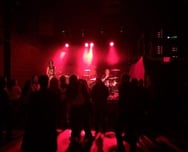 A jam-packed dance floor can help singles come out of their shells and meet fun-loving people. Some daters sparkle best under the flashing strobe lights of the club, and many couples enjoy swaying together to the music. Downtown Albuquerque has many dance havens where young singles go to let loose and pick up a date. Yelp has ranked the best nightclubs in Albuquerque based on customer reviews, so you can use this resource to find a lit spot to dance your heart out.
Chat rooms provide a low-pressure environment where singles can court strangers, flirt freely, and even arrange an IRL date. In an Albuquerque-specific chat room, thousands of singles have found it easy to meet available people in their area. We've put together a list of the top five chat rooms for singles in the heart of New Mexico. Just be warned that online chatters rarely censor themselves, and you may quickly find yourself in an X-rated conversation. Tread lightly and enjoy yourself!
Singles don't have to beat around the bush on personals sites. They can come right out and say what they're looking for, whether it's a hookup or long-term partner. There's no judgment online. Just opportunity. You can create a straightforward profile listing your name, age, and location and then start searching for someone who shares your predilections. Listed below, we've linked to the most popular personals sites for Albuquerque singles hoping to make a fast connection on the web.
9
Marvel as the Hot Air Balloons Soar at the Annual Fiesta
If you've never seen the Albuquerque International Balloon Fiesta in person, you're missing out on something truly spectacular. Since 1972, this autumn tradition has filled the sky with color as over 500 hot air balloons launch at once. Whether you're on the ground or in the balloon, the sight is breathtaking.
This unique event lasts for nine days and attracts hundreds of thousands of attendees from all over the world. Professional balloonists aim to impress with their original, colorful, and whimsical balloon designs. You can picnic in any park across the city and see the balloons wafting by like clouds.
The Albuquerque International Balloon Fiesta offers amazing sights from dawn till dusk. After the sun sets, the fairground becomes aglow with the propane fires of the hot air balloons and then fireworks light up the sky. Under the romantic glow of the balloons, a sense of awe descends on locals and visitors alike.
The event's festivities also include laser light shows, chainsaw carving demonstrations, delicious fair food, and competition flying. Albuquerque's hot air balloon extravaganza offers an engaging and delightful atmosphere to take a date or meet someone new.
10
Join an ABQ Singles Meetup Group
Albuquerque singles in the prime of their dating lives can check out Meetup.com for casual ways to mingle with locals and make new friends. This Albuquerque singles group has attracted over 900 people and organized over 100 meetups since it started in June 2012. Outgoing people post about hiking groups, paint nights, and other adventures taking place around town, inviting everyone and anyone to show up and make friends.
The members have formed a tight-knit community thanks to Meetup's easy connective tools. There are membership dues attached to this group, but it's affordably priced at $9.99 a year, which is less than you'd spend on a night at a club or speed-dating event, so it's well worth your while.
On Meetup.com, you can search through hundreds of similar activity-based groups in your area to find the one that's right for you.
Break Your Bad Dating Habits in the Mountains of the Burque
When I visit Albuquerque, I'm enchanted by the city's rugged mountains, friendly people, and long history. It may be situated in the desert, but it's by no means deserted. The social scene bursts with color and flavor, blending Mexican and American culture into a beautifully diverse and enriching atmosphere.
Albuquerque is as warm and welcoming as a grandmother's hug, as thrilling as a hot air balloon taking flight, and as full of opportunity as any city in the US. Under the sweeping shadows of the Sandia Mountains, active daters can woo one another by using our top 10 ways to meet singles in Albuquerque. While the real-life town may not be as action-packed as an episode of "Breaking Bad," the New Mexican city has its fair share of mystery, excitement, and suspense for daters willing to explore and appreciate it.
As Weird Al sings, "At least you can take a small bit of comfort in knowing that, somewhere out there in this crazy mixed-up universe of ours, there's still a place called Albuquerque."
Advertiser Disclosure
DatingAdvice.com is a free online resource that offers valuable content and comparison services to users. To keep this resource 100% free for users, we receive advertising compensation from the sites listed on this page. Along with key review factors, this compensation may impact how and where sites appear on the page (including, for example, the order in which they appear). DatingAdvice.com does not include listings for all dating sites.
Our Editorial Review Policy
Our site is committed to publishing independent, accurate content guided by strict editorial guidelines. Before articles and reviews are published on our site, they undergo a thorough review process performed by a team of independent editors and subject-matter experts to ensure the content's accuracy, timeliness, and impartiality. Our editorial team is separate and independent of our site's advertisers, and the opinions they express on our site are their own. To read more about our team members and their editorial backgrounds, please visit our site's About page.