10 Ways to Meet Singles in Billings, MT (Dating Guide)
I've grown up watching "Survivor," and yet I'm continually surprised by the choices made by hungry and sleep-deprived players. In 2007, when the show's 16th season pit returning players against fans of the show, it wasn't a shock to see the Favorites tribe dominate the hapless Fans. It was a shock, though, when Survivor's golden-boy Ozzy Lusth started a show-mance with Amanda Kimmel, a beauty pageant winner from Billings, Montana.
Don't get me wrong, they're both very attractive wanna-be models, but I can't imagine cuddling someone who hasn't brushed their teeth or showered in weeks. It made for great TV though. "I honestly feel I started to fall in love with you," Ozzy said in the "Survivor: Fans versus Favorites" finale before casting a vote for Amanda to win the game. "I'm glad I didn't win Cook Islands so I could be here and meet you."
Billings residents don't have to strand themselves on an island to find romance. There are easier (and more hygienic) ways to meet people around town. In fact, we've come up with 10 ways to meet singles in Montana's biggest city so you can make friends, hook up, and fall in love without leaving town.
The internet has fundamentally changed the dating world. No cap. Whether you like it or not, there's no denying that online dating has become a go-to resource for singles everywhere. Dating websites are easy to join and promise fast results. It could take hours to introduce yourself to dozens of dates in person, but online you can send out message after message without breaking a sweat. If you're wondering which dating sites would be best for your dating goals, check out our reviews of the best options for different types of people.
Best Singles Site
I've spent a lot of time on dating websites, for work and for pleasure, and Match definitely stands out to me as one of the best in the industry. Its intuitive design, in-depth profiles, and clever matching system make it feel like the dating network is working overtime to connect you with a compatible person. The stats can back me up on this. Since its launch in 1995, Match has been responsible for more relationships and marriages than any other dating site in existence.
Best Site for Professionals
If you're interested in dating a white-collar professional in rural Montana, Elite Singles is the dating platform for you. This selective network caters to adult singles (over 30) who are well-educated (at least a bachelor's degree) and seeking a serious relationship. Under 30% of Billings residents have earned a bachelor's degree, but over 80% of Elite Singles members have graduated from college, so joining can up your odds of meeting a high-caliber single. Having a dating site dedicated to quality fosters a pleasant online dating experience for choosy daters everywhere.
Over 50 & Senior Site
In Billings, over 40% of the population is over the age of 45, and a good number of them are unattached. Singles of a certain age may hesitate to dive into the online dating world, but OurTime lets users ease into the shallow end of the senior dating pool. The site supports newcomers with clear and intuitive site features that help people get their bearings while seeking a mature date. On OurTime, thousands of singles over 50 have built long-lasting connections, so we encourage anyone wondering how to get back out there to create a profile and see what the hubbub is all about.
For Black Men & Women Only
The Black population in Montana is fairly slim, which can be frustrating for daters attracted to diversity or dark skin. Fortunately, BlackPeopleMeet gives you the opportunity to meet local Black and biracial singles in a niche online environment. The dating site boasts the largest community of African-American daters in the U.S., so it won't be hard to start a casual convo with date prospects whose cultural histories and backgrounds extend beyond the ranch lands.
Hookup & Sex Site
Billings can feel like a lonely place when you go home alone night after night. If you'd like to add a little excitement to your routine, Adult Friend Finder can definitely hook you up. This sex-driven online community keeps it light and casual so you don't need to make a commitment to make a date. You can browse over 100 million hot photos for free and use the live-chat features to arrange a fling with desirable singles and swingers near you.
Established as a railroad town in 1882, Billings became known as "the Magic City" because of how it sprouted up from nothing to become one of the largest municipalities in the untamed West. The city is known for pioneering vast frontiers, so it's no wonder that mobile dating has taken off in the local dating scene. Young people enjoy the ability to find a date wherever they go simply by taking out their phones. It's a brave new world, and tons of dating apps, including our top-rated choices below, make the experience easier and more fun for Billings singles.
Relationships: Fun Dates, Serious Relationships
Match System: Browse by location, age, interest, and more
About the App: Available via the App Store and Google Play, Match is a fantastic app for dates and relationships. With a user base of 30 million singles, Match is where you'll have a high chance of success. It's free to download, create a profile, search for date prospects, and receive compatible matches based on personalized preferences. Free members can also chat with select members and send unlimited likes.
Browse Free: View Profiles Now
| User Base | Gender Ratio | Popularity (Visits/Mo.) | App Cost |
| --- | --- | --- | --- |
| All Singles* | | 13.5 Million* | Free Download |
Relationships: Deep Relationships
Match System: Search by education, lifestyle habits, age
About the App: Commitment-minded, professional daters will feel at home with EliteSingles, which can be downloaded for free in the App Store or Google Play. Not only is everyone looking for a long-term partner, but 80% of members hold a bachelor's, master's, or doctorate degree. EliteSingles sees 210,000 visitors and 2,500 users finding love every month, so it's one of the fastest growing and most reputable apps.
Browse Free: View Profiles Now
| User Base | Gender Ratio | Popularity (Visits/Mo.) | App Cost |
| --- | --- | --- | --- |
| All Singles* | | 290,000* | Free Download |
Relationships: Casual Dates, Relationships
Match System: Search for and receive matches
About the App: Zoosk is the number one app for finding dates, and if you sync up your Google+ or Facebook account, you can have a profile in seconds. The app has 38 million members and will deliver matches to your inbox on a daily basis based on your behavior such as who you search for, like or don't like, and message. The Carousel is another section for matching (tap the heart if it's a yes and the X if it's a no).
Browse Free: View Profiles Now
| User Base | Gender Ratio | Popularity (Visits/Mo.) | App Cost |
| --- | --- | --- | --- |
| All Singles* | | 3.8 Million* | Free Download |
With a population of over 117,000 people, Billings is a fast-growing hub of civilization in a beautiful mountainous state. The city is packed with opportunity for outgoing daters, and its bar scene is particularly ideal for social daters. The metropolitan area has more microbreweries than any other city in the region. Montanans sure love their bars too, surviving long winters by huddling up at a sports bar or settling in at a fire-lit lounge. We've ranked our favorite breweries and bars where Billings locals can flirt over drinks.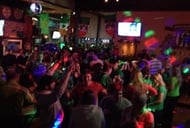 Calling all hooligans, ne'er-do-wells, and rebel rousers! Hooligan's Sports Bar keeps its doors open just for you. The Irish-American bar doesn't mind when patrons get a little loud — that just means they're having fun. The lively atmosphere and pub fare make this a go-to spot for daters around town. Over 20 high-def TV sets ensure sports fans never miss a game, while the authentic mouthwatering dishes make people of Irish descent feel right at home. Hooligan's encourages its visitors to bring their game face and enjoy themselves in the brashest bar on Broadway.


2403 Montana Ave • Billings, MT 59101
(406) 259-0047
Visit Website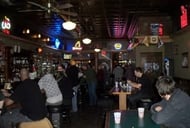 As far as dive bars go, the Rainbow Bar is a solid choice. This colorful locale serves some of the strongest drinks in town with a no-muss, no-fuss attitude. Friendly bartenders keep the drinks flowing well into the night and make conversation with patrons drinking by themselves. It doesn't look like much from the outside so you won't find any tourists or out-of-towners hanging around here. The Rainbow Bar is a local treasure in the Treasure State, ideal for anyone who wants to mingle in an intimate low-key setting.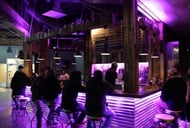 In December 2014, the Pub Station turned an old Greyhound bus station into a rocking convergence of music and fun. The live musical performances get singles on their feet and singing along. The stage has hosted many talented performers, including Queen cover bands and alt-country groups. The Pub Station defies anyone who calls Montana's nightlife boring. If you're looking for a rowdy place to mingle, it's definitely worth stopping by and jamming out.


4
Angry Hank's Microbrewery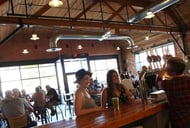 The motto at Angry Hank's Microbrewery is "a great place to have a pint." And it really is. The team's traditionalists believe in letting the quality of their brews (like the tangy Belgian wheat ale known as Anger Management) speak for themselves. From milling to kegging the beers, the entire brewing process is done in-house using Montana-grown barley malted in the Great Falls. What began in a run-down gas station in 2006 has since grown into a treasured brewery in south-central Montana. "We don't want to take over the world," the brewers insist. "We just want to have a fun job and a fun place to have a pint."


5
Montana Brewing Company

One glance at the Montana Brewing Company menu is enough to make your mouth water. From the fried enchilada bites to Bayou mac and cheese, the plates combine flavors from around the world to surprise and impress local diners. Since 1994, the award-winning brewery has been serving patrons incomparable beers, cocktails, appetizers, and meals. You can order your crush a rich golden ale or sweet signature cocktail to break the ice at the Montana Brewing Company.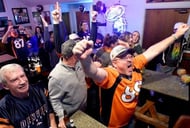 In 1983, three buddies got it in their heads to start a bar, and they named it Tiny's Tavern. Curt, Rog, and Rich hoped to create a friendly space where people would enjoy congregating over a few pints. They've kept the doors open for over two decades, so it seems they were successful. The outdoor patio, full bar, and private back room offer an array of different settings ripe for mixing and mingling. On the bar's Bronco Boards, sports fans can set up fantasy leagues and trade tickets to bond over a love of the game. Whether you're craving a cheesy slice of pizza or want to try your luck on the bar's gaming machines, Tiny's Tavern focuses on giving the local community unrivaled personalized service.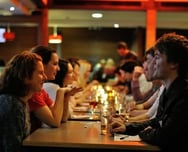 Patience is a virtue, but having patience doesn't really help a single person who's keen to start a family. Daters don't need patience; they need results. Speed dating events help singles optimize their time and sort through their date prospects more efficiently. Participants sit down for brief dates (usually lasting no more than a couple minutes) and then move on to the next person before anyone's patience runs thin. At speed dating events, dozens of single folks come together because they're tired of wasting time chit-chatting with dead-end dates and want to find a compatible date quickly.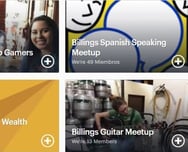 Nabbing a date in general social gatherings can be as hard as lassoing a cow on a horse ranch. After starting a conversation and laying on the charm, you might find out that friendly person is spoken for, and you have to move on to greener pastures. How frustrating! At singles events, though, everyone has branded themselves as fair game and ready to date. Billings residents come out in droves to singles events because they're eager to make a deep connection and rustle up a date. On Meetup, you can find an activity-based group to bond with people who enjoy similar hobbies or share the same interests.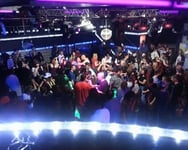 Outsiders might think Montana's nightlife is tame, but downtown Billings is actually just as wild and exciting as the surrounding mountains if you know where to go. Local dance clubs, saloons, and casinos offer singles a chance to hunt down a good time and bring home a real catch. Young people seek an escape from the mundane in the colorful, irrepressible, and musical atmosphere of a dance club. You can find a good one by checking out Yelp reviews of Billings' nightlife spots.
If the roads are bad, events are scant, or you just don't feel like going anywhere, logging into a chat room can bring all the socializing opportunity of a night out as well as all the convenience and affordability of a night in. A local Billings chat room offers flirtatious Montanans a place to gather and be themselves online. Striking up a conversation with singles is easy when you have live chat tools at your disposal. Below, we've listed some popular Billings chat rooms to try out while you wait for the icy streets to thaw.
Newspapers may be going out of style these days, but dating personals sure aren't. The practice of putting out an ad for a date is still alive and well on local personals websites. These platforms work like simplified dating websites without complicated matching and search filters. Billings singles can set up a profile, state what they're looking for, and conduct a straightforward search for a romantic partner online. It's an easy way to introduce yourself to people with similar interests and desires.
9
Dance, Play & Revel at a Local Festival
If you think Billings is boring, you clearly haven't seen its festivals. From blues music to harvest time, the city's festivals celebrate local talents and create a fun atmosphere where thousands of locals commingle. The Festival of Trees, for instance, is a major fundraiser for the community with family-friendly activities entertaining over 10,000 attendees.
Traditionally held on the second Saturday in June, the Strawberry Festival has been going on for over 25 years and has a following of over 11,000 people. Plus, sweetest of all, an inspired culinary team bakes and serves a 60-foot strawberry shortcake for attendees with a sweet tooth.
Every August, the Montana Fair takes place in Billings' MetraPark fairgrounds. Thrill rides and vendors seem to appear overnight to delight locals seeking a fun time. For nine days, the flashing lights, fried foods, and competitive games give people a reason to come out into the autumn air. It's by far the largest event held in Montana with an attendance of nearly a quarter of a million people.
From poetry readings to farmers markets, Billings has a lot going on all year round. You can check out this local events calendar to find hundreds of places you can go to meet people.
10
Get Active in an Adult Sports League
When I was a kid, I loved playing after-school sports because I got to meet so many different people my age. Bonding over a group activity or victory creates special memories for all involved. As an adult, I sometimes miss my basketball team's pizza strategy sessions or my soccer team's crazy hair-coloring traditions. If your goal is to make a fast friend or win over a crush, joining a sports team is a great plan of attack.
Singles in Billings can get involved in a short-court volleyball tournament or beginners Zumba classes to meet new people. The city's adult sports programs rotate every season and offer a wide variety of activities for athletic individuals. These classes and games give singles the chance to get to know people while staying healthy and active.
Romantics Shoot for the Stars in Big Sky Country
On "Survivor," contestants tend to love winning $1 million more than they do anyone they meet on the island. The reality show fosters a competitive, back-stabbing environment that's definitely not ideal for young romantics. Billings local Amanda went on to play the game one more time, while Ozzy tried his luck twice more, but their showmance wasn't renewed after "Fans vs Favorites." Once the cameras were off, it turned out the water-loving challenge beast and the soft-spoken small-town beauty didn't have much in common.
In the search for lasting romance, Billings natives are often better off staying local. The mountain city may not be as exciting as a million-dollar reality show, but it's definitely more accessible. Montanans often look to Billings for big-city conveniences and attractions, so singles shouldn't have much difficulty running into date prospects around town. Whether you feel most comfortable mingling online or in person, you can use our list of ideas to meet tons of Billings singles. Good luck!
Advertiser Disclosure
DatingAdvice.com is a free online resource that offers valuable content and comparison services to users. To keep this resource 100% free for users, we receive advertising compensation from the sites listed on this page. Along with key review factors, this compensation may impact how and where sites appear on the page (including, for example, the order in which they appear). DatingAdvice.com does not include listings for all dating sites.
Our Editorial Review Policy
Our site is committed to publishing independent, accurate content guided by strict editorial guidelines. Before articles and reviews are published on our site, they undergo a thorough review process performed by a team of independent editors and subject-matter experts to ensure the content's accuracy, timeliness, and impartiality. Our editorial team is separate and independent of our site's advertisers, and the opinions they express on our site are their own. To read more about our team members and their editorial backgrounds, please visit our site's About page.