9 Ways to Meet Singles in Cheyenne, WY (Dating Guide)
Expanding your social circle in Cheyenne, Wyoming, can be very difficult. Cheyenne is the most populous city in Wyoming, but that doesn't mean singles are around every corner.  If you're new to town, it can be hard to break into the established social circles of locals. And if you've lived here your whole life, you might feel as if you've tried all the avenues you can for love and don't know where to turn next.
It's not that Cheyenne is a city with zero dating potential — you just need a nudge in the right direction. Without further ado, here are nine ways to get your dating life going from a red light to a green light!
Slightly more than 65,000 people live in Cheyenne, and that number includes those who are already married — which makes your actual dating pool even smaller. On a dating site, though, you'll find more Cheyenne singles all in one place than anywhere else. If you're new to the online dating world, it's our job to help you determine which platform is the best for your needs. Whether you're a busy CEO, student, senior, young adult, African American, Caucasian, hookup-minded woman, or commitment-oriented man — we've got you covered with the five dating sites below.
Best Singles Site
Match is like the stallion of dating sites — it's a leader, it's a protector, and it's confident. Match is the dating site every platform looks to for inspiration. This dating site puts members above anything else. Since 1995, Match has facilitated more first dates, second dates, relationships, and marriages than any other dating platform.
Best Site for Professionals
Laramie County Community College, a branch of the Institute of Business & Medical Careers, and a branch of the University of Phoenix call Cheyenne home. Thousands of students attend these schools, and even more have graduated from them. Intelligence if often a quality that singles are looking for in a date or partner, and if that's the case for you as well, look no further than Elite Singles. More than 80% of its users have at least a bachelor's degree, and the site even allows you to search profiles by education.
Over 50 & Senior Site
About 36% of people in Cheyenne are 50 or older, according to CensusReporter.org. Age is another one of those common dating identifiers, and OurTime is the premier site for the over-50 niche. You can rest assured that everyone is within your target demographic, which means you can focus on more important things — like lifestyle habits, relationship goals, sexual orientation, and career.
For Black Men & Women Only
Research conducted by SuburbanStats.org shows that African Americans make up 2% of Cheyenne's population. Looking for other single African Americans can be like looking for a needle in a haystack, but if you let BlackPeopleMeet take the wheel, you'll be on the highway to love in no time. Over 1.4 million black and biracial singles visit the site every month, so the numbers are ever in your favor.
Hookup & Sex Site
Online dating isn't necessarily all about long-term dating, and Adult Friend Finder gets that. The site was launched to help turned-on singles (and couples!) connect in not-so-serious encounters — including one-night stands, group sex, no-strings-attached relationships, swinging, and affairs. Adult Friend Finder has more than 77 million members, and counting, making it the largest of its kind. It'll also show you Cheyenne singles who are online at the same time as you, so arranging a meetup can be a quick process.
Dating apps take the amazing work dating websites have done and make it even better. When you've got a free moment during lunch, you can pull out your phone and search for matches. When you're bored on the couch and can't find anything to watch on Netflix, you can open a dating app and start sending some "Hi cutie" GIFs. When you're sick of listening to the man on the bus next to you complain about his boss, you can put your headphones in and listen to some music that'll pump you up for swiping on dating profiles. The point is: dating apps have made the world our dating playground!
Relationships: Casual Dates, Relationships
Match System: Search for and receive matches
About the App: Zoosk is the number one app for finding dates, and if you sync up your Google+ or Facebook account, you can have a profile in seconds. The app has 38 million members and will deliver matches to your inbox on a daily basis based on your behavior such as who you search for, like or don't like, and message. The Carousel is another section for matching (tap the heart if it's a yes and the X if it's a no).
Browse Free: View Profiles Now
| User Base | Gender Ratio | Popularity (Visits/Mo.) | App Cost |
| --- | --- | --- | --- |
| All Singles* | | 3.8 Million* | Free Download |
Relationships: Fun Dates, Serious Relationships
Match System: Browse by location, age, interest, and more
About the App: Available via the App Store and Google Play, Match is a fantastic app for dates and relationships. With a user base of 30 million singles, Match is where you'll have a high chance of success. It's free to download, create a profile, search for date prospects, and receive compatible matches based on personalized preferences. Free members can also chat with select members and send unlimited likes.
Browse Free: View Profiles Now
| User Base | Gender Ratio | Popularity (Visits/Mo.) | App Cost |
| --- | --- | --- | --- |
| All Singles* | | 13.5 Million* | Free Download |
Relationships: Deep Relationships
Match System: Search by education, lifestyle habits, age
About the App: Commitment-minded, professional daters will feel at home with EliteSingles, which can be downloaded for free in the App Store or Google Play. Not only is everyone looking for a long-term partner, but 80% of members hold a bachelor's, master's, or doctorate degree. EliteSingles sees 210,000 visitors and 2,500 users finding love every month, so it's one of the fastest growing and most reputable apps.
Browse Free: View Profiles Now
| User Base | Gender Ratio | Popularity (Visits/Mo.) | App Cost |
| --- | --- | --- | --- |
| All Singles* | | 290,000* | Free Download |
Singles have been buying drinks for each other ever since bars were invented, and it's still a good way to try to pick someone up. Yes, it'll take some guts to go up to a guy or girl you find attractive, ask them what they're drinking, and offer to get them another one. But it's a great way to start a conversation. Even if it doesn't work out, you should still be proud of yourself for trying. And if it does work out, that one drink could turn into a date, which could turn into a relationship. Here are the top nine bars for singles in Cheyenne:


312 S Greeley Hwy • Cheyenne, WY 82007
(307) 635-7552
Visit Website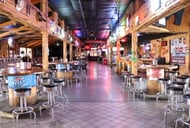 It's "always a good time" at the Outlaw Saloon, a popular bar and music venue with five places to order drinks, three levels of fun, two big-screen TVs, and several pool tables, dart boards, and pinball machines. Weekly specials include $1 shots on Mondays, free country Western dance lessons on Wednesdays, and buy-one-get-one drink specials on Thursdays. Musical performances have featured U-Foria, Blind Draw, and High Valley.

222 W Lincolnway • Cheyenne, WY 82001
(307) 778-9202
Visit Website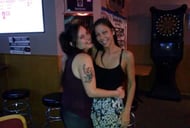 Open from 11 a.m. to 2 a.m. the Crown Bar not only has affordable drinks and appetizers ($3 Rolling Rocks), but it also hosts weekly events that are great for mingling. For example, on any given night, you can find live music, DJ parties, holiday celebrations, burlesque shows, and sports on the high-def TVs. The Crown Bar has 3.9 stars on Facebook, with Kimberly J. Cramer giving it five-star review: "The Crown Bar is a nice place to hang out if you are meeting friends. The people in Cheyenne are very friendly. Stop in and check them out."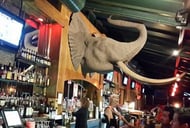 Tusker Bar has so many things going for it: the right prices, a big backroom for pool and shuffleboard, a jukebox, two outdoor patios, and an attentive staff. In terms of food, you'll typically find fresh popcorn and personal pizzas, or you can bring in your own food. In terms of entertainment, you'll enjoy activities like '80s nights, Halloween parties, and tap takeovers. Even if it's just a regular Wednesday, you'll still have a lot of fun.


3307 E Nationway • Cheyenne, WY 82001
(307) 274-3900
Visit Website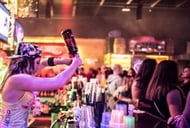 Cadillac Ranch has a Coyote Ugly vibe, with its bartenders dancing on the bar and whipping up drinks like you've never seen before. People of all ages and backgrounds seem to love this place, judging by the photos on Facebook. Every Thursday, it's Ladies Night, and every Friday, it's Girls Night Out, which means $2 domestics and $2 wells. Cadillac Ranch also holds annual events, like its End of Summer party, to draw in dozens of extroverted people.


5
Four Winds Liquor & Lounge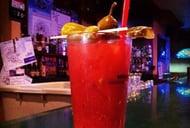 Four Winds Liquor & Lounge calls itself "Cheyenne's favorite local watering hole," and the positive online reviews back up that claim. Happy hour is Monday through Friday from 4:30 p.m. to 6 p.m., and it picks up again later from 11 p.m. to midnight. The attire is casual, and the patrons are welcoming and outgoing. Lindsey K. shared her experiences on Yelp, saying, "The perfect neighborhood bar. Great, friendly staff."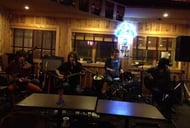 The Midtown Tavern (aka Anderson's Other Corner) has got that neighborhood pub feel, but it can also take care of all your at-home drinking needs via its drive-thru package liquor store. Each and every night, you can find a different drink and food special, including $3 Jaeger Bombs on Saturdays, $2 domestic bottles on Sundays, and $1 jello shots on Thursdays. Run by Rande and Rita Pouppirt, the Midtown Tavern has gotten a lot of positive feedback from patrons. "Best little hole-in-the-wall bar in Cheyenne," wrote Nicki J. "Live music on Fridays, and some of the nicest bartenders in town!"


7
Scooters Scoreboard Bar
507 E Lincolnway • Cheyenne, WY 82001
(307) 635-5555
Visit Website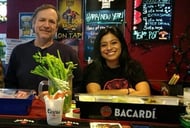 Part bar, part package liquor store, Scooters Scoreboard Bar is located on Lincolnway and promises customers a "friendly atmosphere" and "fun nights!" Bar offerings include local, regional, national, and international drink options, such as Saddle Bronc Brown Ale, and the kitchen's menu includes free pizza on Fridays. Keep an eye on Scooters' calendar of events, too, because you don't want to miss out on things like karaoke, comedy shows, trivia nights, and outdoor concerts.

2121 E Lincolnway • Cheyenne, WY 82001
(307) 632-3458
Visit Website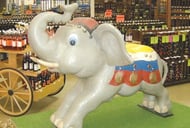 "Cheyenne's Most Convenient Discount Liquor Store," DT's Liquors is open every single day (even on holidays) and has two locations in the city (Ridge Road and Lincolnway). The bar and store has one of the largest selections of beer, wine, liquor, liqueurs, and other special orders around. The sports bar gets going at 8 a.m. at the earliest and runs until 2 a.m. at the latest. We'd recommend the $6 pizza and beer on Friday!


1617 Capitol Ave • Cheyenne, WY 82001
(970) 308-3774
Visit Website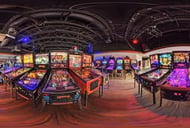 Flippers Family Arcade may have the word "family" in its name, but it's an awesome place for anyone who's looking for a good time. When you aren't playing Indiana Jones pinball or Pac-Man, enjoy some nachos, pizza, hot dogs, burgers, and other bar fare. Then you can wash it all down with a Coors Light, Chardonnay, or mixed drink. Cathy B. raved about Flippers: "Super fun novelty stop in downtown Cheyenne. Was fun to play the childhood arcade games with a beer in hand. Our server/host was very polite and efficient."


Speed dating has been around since the late '90s, and it's definitely worth giving a try (if you haven't already). Some companies stick with the traditional format: dozens of singles gather at a bar or restaurant and go on mini-dates with each other. The women stay at the same two-top table the whole the night while the men move throughout the room every two minutes . Other companies have come up with their own way of doing things (e.g., women get a lock, men get a key, and they have to find the match). The company that's stood out among the crowd over the past several years is Pre-Dating — which hosts weekly speed dating events in more than 70 US cities, including Cheyenne.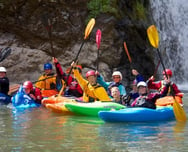 Eventful.com is a site dedicated to helping people find local concerts, festivals, fundraisers, sporting events, plays, musicals, comedy shows, movies, art exhibits, and hundreds of other activities. More than 22 million people across the world use Eventful, and it's a resource we'd highly recommend to Cheyenne singles. Just provide your location and the type of event you're interested in (such as Nightlife & Singles), and Eventful will give you a massive list of options in your area.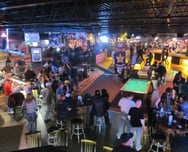 While Cheyenne is considered more of a Western kind of city, in addition to country, you'll find all types of music being played in the bars and clubs. Indie, rock, punk, metal, jazz, blues, R&B, hip hop, rap, and many more genres are represented in the Frontier City. What better way to touch someone's heart than through music? Yelp is where you can go to learn about what clubs to check out on your next night out. It's also helpful because you can read what people have to say about the atmospheres, prices, hours, drinks, and things like that.
We wanted to include chat rooms in this guide because they're very relaxed and less intimidating than our other options. Chat rooms are best for singles who want to practice their pick-up lines and improve their communication skills with potential dates. Talking with someone online in the comfort of your own home can be less stressful than talking with someone face-to-face at a bar, coffee shop, park, or anywhere else. We've identified five chat rooms that are meant for dating and singles like you. They're free to join, so take them for a spin to see which one feels like the right one.
People have been posting personal ads in newspapers and other publications since the 17th century. While it used to be out of necessity more than anything else, personal ads still serve a function today — except online instead of in newspapers. Personals sites work almost exactly like dating websites, but often your profile is shorter, people use more abbreviations, and you'll do more of the searching yourself. One of the biggest advantages of personals sites is that they have specific pages for almost every city in the country (and, for some, the world). In this section, we've highlighted the five that we've been the most impressed with:
9
Get Outdoors & Head to the Parks, Mountains & Ranches
Cheyenne has about 34 parks, recreation areas, speedways, golf clubs, events centers, springs and reservoirs, sports complexes and fields, hiking trails, and parkways. It also has mountains and ranches including the Laramie Mountains and Terry Bison Ranch. Saying it's an outdoorsy city is an understatement. For those who love being out in the fresh air and sunshine, the best way to meet like-minded people is to keep doing what you're passionate about.
You could also attend Cheyenne Grizzlies baseball games or games put on by nearby teams, including the Laramie Colts (baseball), Wyoming Knights (football), Wyoming Calvary (indoor football), and Yellowstone Quake (hockey). Cheyenne has numerous sports leagues (volleyball, softball, lacrosse, kickball, dodgeball, etc.), so you can get in on the action if you're more of a doer than an online dater. Visit CheyenneCity.org to learn about local opportunities to mix things up with singles around town.
Start Some Magic In "The Magic City of the Plains!"
Many dating experts have mentioned how difficult dating can be in a smaller rural area. And we here at DatingAdvice have to agree. Of course, it's important to take control of your dating life and actually try to make a difference by following expert advice and taking action. But it doesn't have to be something as direct as joining a speed dating event. You can participate in a volunteer activity or join a book club to meet people more casually.
When you're focused on why you're single, you aren't focused on what's going on around you. Concentrate on enjoying your hobbies, learning new things, excelling at work, spending time with family and friends, and participating in your community — and the rest will fall into place!
Advertiser Disclosure
DatingAdvice.com is a free online resource that offers valuable content and comparison services to users. To keep this resource 100% free for users, we receive advertising compensation from the sites listed on this page. Along with key review factors, this compensation may impact how and where sites appear on the page (including, for example, the order in which they appear). DatingAdvice.com does not include listings for all dating sites.
Our Editorial Review Policy
Our site is committed to publishing independent, accurate content guided by strict editorial guidelines. Before articles and reviews are published on our site, they undergo a thorough review process performed by a team of independent editors and subject-matter experts to ensure the content's accuracy, timeliness, and impartiality. Our editorial team is separate and independent of our site's advertisers, and the opinions they express on our site are their own. To read more about our team members and their editorial backgrounds, please visit our site's About page.