9 Ways to Meet Singles in Colorado Springs, CO (Dating Guide)
If you're finding it tough to meet singles in Colorado Springs, you're not alone. There's a five-page City-Data thread devoted to how difficult dating in the city can be. A 27-year-old single on the forum asked what the dating scene in Colorado Springs is like, and she got an earful from locals.
"Sucks, sucks, sucks," said Ladybug24, later adding, "For some strange reason, I find it terribly difficult to meet new people here. Never had a problem before."
Many locals in this thread agreed that Colorado Springs is great for military men, women, and families, but challenging for singles who don't already have a social network in the city. Well, we'd like to lend a helping hand by recommending nine ways to meet singles in Colorado Springs.
1
Colorado Springs Dating Sites
It should come as no surprise that online dating is at the top of our list. Online dating has revolutionized the way singles meet one another in the last decade or so. In 2017, 19% of brides told the Knot they met their spouses online. Dating sites have become one of the most popular and effective tools in the dating toolbelt, so check out a few of our favorites to start meeting folks in Colorado Springs.
Best Singles Site
Match serves millions of singles in 24 countries. Since 1995, the dating site has perfected its match algorithm and designed features to help relationship-minded singles find someone special. Coloradans can reach the summit of online dating by creating a free profile on Match and browsing for potential love interests by age, location, or other date criteria.
Best Site for Professionals
EliteSingles caters to white-collar professionals between 30 and 55 years old. Colorado Springs has many singles who work in the tech industry and fit this description. Whether you work at Verizon, Hewlett-Packard, or Lockheed Martin, you can invest time in EliteSingles to find high-caliber date prospects in the City of Millionaires.
Over 50 & Senior Sites
Once you reach a certain age, general dating sites populated by 20-somethings and 30-somethings just don't suit you anymore. Swiping and matching is a young person's game. More experienced daters would prefer to slow down and meet someone without all the game-playing, and that's why OurTime has become so popular among singles over 50. This senior dating site offers Coloradans an easy way to meet people who share similar experiences and values.
For Black Men & Women Only
Only 6.3% of residents in Colorado Springs identify has black or African-American. Not an encouraging statistic for those seeking a date in the Black community. However, you can diversify your dating prospects by visiting BlackPeopleMeet, which has the largest network of Black and biracial singles in the US.
Hookup & Sex Site
Colorado Springs is a pretty hot place — and not just because it's in the middle of the desert. Many active daters scour the city for hot dates and sexual encounters, and Adult Friend Finder makes the search much easier by gathering millions of sexy profiles in one place. You can browse over 98 million photos on this adult-friendly, sex-positive dating site.
Dating sites are all well and good, but what if you want to browse for dates while you're walking downtown, taking the Mountain Metropolitan Transit, or going about your day? Then you need a dating app. The convenience and simplicity of dating apps appeal to singles who are always on the go and need a dating network that can keep up with them. We've reviewed our favorite dating apps for singles in Colorado Springs to help you stay connected wherever you go.
Relationships: Fun Dates, Serious Relationships
Match System: Browse by location, age, interest, and more
About the App: Available via the App Store and Google Play, Match is a fantastic app for dates and relationships. With a user base of 30 million singles, Match is where you'll have a high chance of success. It's free to download, create a profile, search for date prospects, and receive compatible matches based on personalized preferences. Free members can also chat with select members and send unlimited likes.
Browse Free: View Profiles Now
| User Base | Gender Ratio | Popularity (Visits/Mo.) | App Cost |
| --- | --- | --- | --- |
| All Singles* | | 13.5 Million* | Free Download |
Relationships: Deep Relationships
Match System: Search by education, lifestyle habits, age
About the App: Commitment-minded, professional daters will feel at home with EliteSingles, which can be downloaded for free in the App Store or Google Play. Not only is everyone looking for a long-term partner, but 80% of members hold a bachelor's, master's, or doctorate degree. EliteSingles sees 210,000 visitors and 2,500 users finding love every month, so it's one of the fastest growing and most reputable apps.
Browse Free: View Profiles Now
| User Base | Gender Ratio | Popularity (Visits/Mo.) | App Cost |
| --- | --- | --- | --- |
| All Singles* | | 290,000* | Free Download |
Relationships: Casual Dates, Relationships
Match System: Search for and receive matches
About the App: Zoosk is the number one app for finding dates, and if you sync up your Google+ or Facebook account, you can have a profile in seconds. The app has 38 million members and will deliver matches to your inbox on a daily basis based on your behavior such as who you search for, like or don't like, and message. The Carousel is another section for matching (tap the heart if it's a yes and the X if it's a no).
Browse Free: View Profiles Now
| User Base | Gender Ratio | Popularity (Visits/Mo.) | App Cost |
| --- | --- | --- | --- |
| All Singles* | | 3.8 Million* | Free Download |
3
Colorado Springs Singles Bars
Colorado Springs has a vibrant bar scene and nightlife. Whether you're interested in a traditional Irish pub, a sports bar, a speakeasy, or a cocktail lounge — the city has it all. These low-key spots offer daters an ideal hunting ground because so many singles come here to socialize and have a good time. You can start a conversation by offering to buy someone a drink and see where the night leads you. Below, we've ranked our favorite singles-friendly bars in Colorado Springs.

21 S Tejon St • Colorado Springs, CO
(719) 385-0766
Visit Website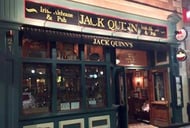 Jack Quinn's Irish Pub is a beloved hallmark in Colorado Springs. You don't have to be Irish to love the bar's libations and live entertainment. This authentic pub serves import drafts, local Colorado brews, mixed drafts, wines, whiskeys, martinis, and signature cocktails that'll knock your socks off. You should definitely try its specialty shots — the Irish Pancake, made with Jameson, butterscotch schnapps, and orange juice, always makes people flip. The restaurant's motto is "A meal is not a meal without a drink," so order a cold one to pair with your beef burger, Irish stew, or fish and chips.


326 N Tejon St • Colorado Springs, CO
(719) 228-6566
Visit Website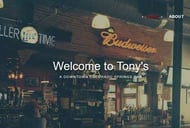 In the downtown area, Tony's is a hub of excitement and activity. The spacious bar lets men and women come and just be. They can enjoy a drink, play a game of pool, and sit and have a quiet conversation for hours without being bothered. If you show up before, during, or after a Packer's game, you'll find it full of rowdy fans. Midwesterners love the folksy feel of this hole-in-the-wall bar. The beer may be cheap, but it gets the job done, and that's all patrons of Tony's Downtown Bar want. The bar's owner promises, "Our laid back attitude will have you coming back for more."


3
Axe and the Oak Whiskey House
1604 S Cascade Ave • Colorado Springs
(719) 660-1624
Visit Website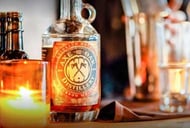 The Axe and the Oak Whiskey House is the place to go if you love a smooth glass of whiskey. This bar serves "delicious, beautifully blended, local whiskey that doesn't cost you an arm and a leg." Five friends founded this distillery to be a place where friends and family can celebrate together. What started as an idea tossed around a campfire became a community-oriented bar with locally made and lovingly blended bourbon.

445 E Cheyenne Mountain • Colorado Springs
(719) 465-3079
Visit Website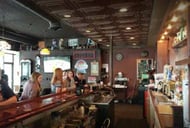 The Public House prides itself on being a bar of the people and by the people. Its motto is "Our house is your house," and the servers do everything possible to make the bar's patrons feel like part of the family. This local watering hole is known for its live music, pub food, and trivia nights. Its small stage has also seen more than a few memorable karaoke performances. The bar's kitchen makes all its sauces in-house, so every plate of wings and loaded fries has that personal touch. Every time you dine at Public House, you'll feel right at home.


6406 Academy Blvd • Colorado Springs, CO
(719) 886-7107
Visit Website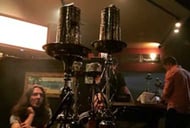 Hooked on Hookah (HOH) is incredibly popular among young singles in Colorado Springs, and it's easy to see why. The hookah bar's chill atmosphere welcomes anyone over 18 years old, and its high-tech tobacco supplies satisfy hookah enthusiasts of all backgrounds. Singles can gather around a discussion table and make new friends, or they can join a rowdy audience in the state-of-the-art movie room. Since 2005, Hooked on Hookah has delighted people with its smooth and delicious hookahs, and its award-winning bar continues to create signature mixes to surprise its regular customers.


101 N Tejon St • Colorado Springs, CO
(719) 203-5072
Visit Website

You can spend an evening at the Rabbit Hole for dinner or drinks to bring some fun to your dating life. This charming late-night spot is a favorite of local foodies, who adore its bacon-cheddar mashed potatoes and bacon-wrapped rabbit meatloaf. The menu has much more than just rabbit food — its American cuisine hits all the right notes and offers indulgent, one-of-a-kind treats to lucky patrons. The romantic yet quirky setting is great for daters looking to enjoy themselves in Colorado Springs.


717 Manitou Ave • Manitou Springs, CO
(719) 685-2294
Visit Website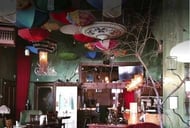 Swirl's extensive wine and beer list and decadent desserts attract locals looking to upgrade their evenings from ordinary to extraordinary. From the moment you step inside and see multi-colored umbrellas hanging from the ceiling, Swirl seduces your senses and captures your imagination with its unique atmosphere and menu. Wine lovers can spend hours drinking and nibbling on small plates on the outdoor patio. Whether you're snuggling up to someone by the fire pit or clinking glasses with someone at the bar, you're sure to have a great time mingling at this upscale yet down-to-earth wine bar.
4
Colorado Springs Speed Dating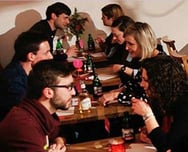 Some singles are content taking things slowly, but not everyone has that kind of time on their hands. Oftentimes singles with full-time jobs and adult responsibilities are eager to skip the time-consuming getting-to-know-you part of a first date and focus on date prospects that have a chance of becoming something serious. Speed dating allows singles to cut to the chase and date more efficiently by establishing chemistry on dozens of mini-dates. You can check out Eventbrite's calendar to find engaging, interesting, and themed speed dating events in Colorado Springs.
5
Colorado Springs Singles Events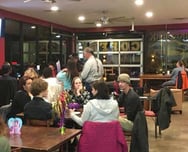 Singles events and meetups provide a casual dating environment where singles can feel comfortable approaching someone they don't know. These events are all about putting yourself out there and meeting someone special, and many participants go in with an upbeat and friendly attitude. Pikes Peak Dating hosts some of the most popular singles events in Colorado Springs. Its laid-back mixers have received rave reviews from single men and women of all ages.
6
Colorado Springs Singles Clubs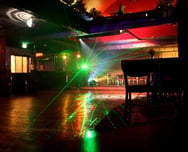 If you want to find a date in your own time and in your own way, then you can head to a nightclub in downtown Colorado Springs any night of the week. This is an easy, zero-pressure way to mix things up. No need to jump through any hoops or follow anyone else's program — you have control over where you go and who you approach. You can take control of your love life while busting a move on the dance floor. Even if you don't walk away with a date on your arm, you're bound to have a good time dancing, drinking, and socializing at one of the following top-rated night clubs.
7
Colorado Springs Chat Rooms
Things often heat up fast in online chat rooms, so only singles over 18 can take part in these dating free-for-alls. Anyone looking for a date, a friend, or a pen pal in Colorado Springs can visit a chat room to start conversations with interesting individuals who live in the area. You don't have to fill out a lengthy profile or pay a subscription fee to get started, and that makes it ideal for time-conscious singles looking for a no-muss, no-fuss dating experience.
8
Colorado Springs Personals
Sometimes online daters can get stuck in the weeds while sorting through lengthy profiles and navigating match systems. Not everyone wants or needs an algorithm to tell them who to like. Online dating personals offer these singles a more straightforward interface with dating profiles that stick to the basics. Singles write their age, location, and what they're looking for, and they leave it at that. It won't take long to peruse the dating ads and find viable date prospects on the following personals websites.
9
Explore Hiking Trails or Public Parks
Getting involved with an outdoorsy group can do wonders for your health and your social life. You can join a running group or a sports team to get some exercise while meeting interesting locals. When it comes to outdoor recreation, Colorado Springs definitely has a mountain of activities open to active daters.
You can go horseback riding, rock climbing, or whitewater rafting to get your heart pumping, or you can take it easy at the dog park. Bear Creek Dog Park is a popular dog park in Colorado Springs because it gives pups and their owners plenty of room to wander, discover, and play. The 25-acre off-leash park is fully enclosed and full of trees and trails maintained by the El Paso County Parks system.
"This isn't just my favorite dog park," said Jesse C. in a review, "it's one of my favorite places to go just for fun!"
Fitafy is a niche dating site for active outdoor enthusiasts, and its groups frequently post meetups where members can hike, bike, climb, kayak, and explore nature together. You can join this online community to make fast friends with singles in the area.
Spring Into Action to Meet Singles in the Springs
Colorado Springs is a city full of opportunity, and many online threads offer a good debate about how to meet people in the Southwest. Our dating experts don't agree with the locals who say driving to Denver is the only option for singletons hoping to meet people. Colorado Springs is a thriving city, and it has some great dating options within its borders, if you know where to look.
We've recommended a lot of resources for daters of all ages and experience levels, and now it's up to you to decide which way is right for you. Whether you decide to brave the bar scene or give online dating a shot, you have to go into it with a good attitude if you want to get good results.
I'll leave you with the inspirational words of Ladybug24: "To all the single folks planning to move here: Don't get discouraged — the outdoors will make up for it!"
Final Thoughts on Dating in
Colorado Springs, CO
We hope you've found our guide "9 Ways to Meet Singles in Colorado Springs, CO (Dating Guide)" to be helpful in your dating journey. If you're ready to take the leap into the local Colorado Springs, CO, dating scene, keep in mind that apps like Match and Elite Singles are the easiest way to meet singles locally and throughout Colorado.
Prefer to meet people the old-fashioned way? You're certainly not alone. According to local reviews, these popular spots in Colorado Springs, CO, could be exactly what you're looking for:
Jack Quinn's Irish Pub
Tony's Downtown Bar
Axe and the Oak Whiskey House
The Public House
Hooked on Hookah
The Rabbit Hole
Swirl
Whether you're in Colorado Springs, CO, surrounding areas, or anywhere else in Colorado, remember that there's someone out there for you. It's just a matter of taking that first step.
Advertiser Disclosure
DatingAdvice.com is a free online resource that offers valuable content and comparison services to users. To keep this resource 100% free for users, we receive advertising compensation from the sites listed on this page. Along with key review factors, this compensation may impact how and where sites appear on the page (including, for example, the order in which they appear). DatingAdvice.com does not include listings for all dating sites.
Our Editorial Review Policy
Our site is committed to publishing independent, accurate content guided by strict editorial guidelines. Before articles and reviews are published on our site, they undergo a thorough review process performed by a team of independent editors and subject-matter experts to ensure the content's accuracy, timeliness, and impartiality. Our editorial team is separate and independent of our site's advertisers, and the opinions they express on our site are their own. To read more about our team members and their editorial backgrounds, please visit our site's About page.