12 Ways to Meet Singles in Dallas, TX (Dating Guide)
A friend of mine has gone on one of the coolest (and possibly craziest) first dates I've ever heard of. She had tickets to see a Rangers game in Dallas, Texas, and asked a coworker she liked to go with her. They were at that stage where they both knew how they felt, but they hadn't admitted it to each other yet. She saw this as an opportunity to see where things would lead, so they took the seven-hour drive to Arlington, where the stadium is located. Eight years later, they're still together and happily married.
Dallas has a special place in my friend's heart, as it does for so many people. It's a city with lots of opportunity for romance — you just have to know where to look and have the guts to take some chances every now and then. If you're still looking for your defining dating moment in Dallas, or if you just want to expand your social circle, here are 12 ways to meet people in D-Town.
Dallas is a huge city (nearly 1.3 million people), so the best way to whittle down the options is to join an online dating site. Not only can you specify your location (even by miles), but you can also specify the characteristics you're looking for in a date by age, gender, sexual orientation, religion, and lifestyle habits, among other things. Online dating is also an economical way to meet people because pretty much every site offers a free trial and/or membership.
Best Singles Site
Match is not just a pioneer in the online dating industry – it's the pioneer of the online dating industry. Founded in 1995 before any other dating site, Match has been showing everyone else how it's done. The site has grown to 30 million members (and growing) since then and is responsible for more first and second dates, relationships, marriages, and babies than its competitors. Your chances on Match are exponential.
Best Site for Professionals
Elite Singles understands single professionals often want to date someone who's also serious about their career, and that's why it was created. Approximately, 82% of its members have earned a degree from a college or university, so that's one less thing you have to filter for. Some other impressive stats include 90% of members are aged 30 or older and 100% are looking for a long-term relationship.
Over 50 & Senior Site
People within the same age group tend to lead like-minded lifestyles and have like-minded beliefs, which can be very important in dating. OurTime is a dating site that's strictly for men and women over 50, and it's one of the top niche sites at that. The signup process only takes a couple of minutes, and every feature is super easy to pick up on — from adding photos to searching for and messaging matches.
For Black Men & Women Only
Niche dating sites have changed the online dating landscape because they've allowed singles to get as specific about their preferences as they want, and race is sometimes among those preferences. We recommend BlackPeopleMeet for black and biracial daters all the time. Here, you won't have to waste time sorting through incompatible profiles as you might on other dating sites.
Hookup & Sex Site
If your goal is finding a hookup, not a date, Adult Friend Finder can most certainly help you meet it. The site caters to frisky singles (77 million of them) no matter what their desire is. Couples are fans of Adult Friend Finder as well because the site has a large swinger audience. It's free to fill out a profile (including photos), browse, and communicate in various ways. Adult Friend Finder even shows you who's online at the same time so you can get right to chatting.
Smartphones have become like a third hand to most people, including myself, so efficient mobile apps are a necessity. You want to be able to read your work emails, check the weather, add something to the grocery list, send a Snap to your friends, text your mom about her birthday, look up the big game's final score, and, of course, connect with people who could be potential dates or a partner. While the following three apps may not be able to help you with grocery shopping and work emails, they can definitely help you in the love department.
Relationships: Fun Dates, Serious Relationships
Match System: Browse by location, age, interest, and more
About the App: Available via the App Store and Google Play, Match is a fantastic app for dates and relationships. With a user base of 30 million singles, Match is where you'll have a high chance of success. It's free to download, create a profile, search for date prospects, and receive compatible matches based on personalized preferences. Free members can also chat with select members and send unlimited likes.
Browse Free: View Profiles Now
| User Base | Gender Ratio | Popularity (Visits/Mo.) | App Cost |
| --- | --- | --- | --- |
| All Singles* | | 13.5 Million* | Free Download |
Relationships: Deep Relationships
Match System: Search by education, lifestyle habits, age
About the App: Commitment-minded, professional daters will feel at home with EliteSingles, which can be downloaded for free in the App Store or Google Play. Not only is everyone looking for a long-term partner, but 80% of members hold a bachelor's, master's, or doctorate degree. EliteSingles sees 210,000 visitors and 2,500 users finding love every month, so it's one of the fastest growing and most reputable apps.
Browse Free: View Profiles Now
| User Base | Gender Ratio | Popularity (Visits/Mo.) | App Cost |
| --- | --- | --- | --- |
| All Singles* | | 290,000* | Free Download |
Relationships: Casual Dates, Relationships
Match System: Search for and receive matches
About the App: Zoosk is the number one app for finding dates, and if you sync up your Google+ or Facebook account, you can have a profile in seconds. The app has 38 million members and will deliver matches to your inbox on a daily basis based on your behavior such as who you search for, like or don't like, and message. The Carousel is another section for matching (tap the heart if it's a yes and the X if it's a no).
Browse Free: View Profiles Now
| User Base | Gender Ratio | Popularity (Visits/Mo.) | App Cost |
| --- | --- | --- | --- |
| All Singles* | | 3.8 Million* | Free Download |
I got out to the bars with my friends a couple of times a week, and I'm sure a lot of you do as well. Yes, it's a way to let off steam, especially after a long day or week, but, if you're single and looking, you don't want to go to just any ol' bar or the same ones all the time. You want to go to the bars that'll give you the best opportunities for meeting people. We believe the bars below do just that!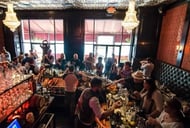 Open 5 p.m. to 2 a.m. Monday through Saturday, Parliament can be found on Allen Street, which is in uptown. The menu is leather bound and exhaustive (in a good way), so you can rest assured that it's a nice place and you'll be able to find something no matter what your tastes are. Some of the items that caught our eye include the Parliament 75 (citrus gin, yuzu, angostura, and Champagne), the Chai-Maple Whiskey Flip (Buffalo Trace bourbon, maple, chai, port, whole egg, and nutmeg), the short rib quesadillas, and the warm spinach and chicken paillard.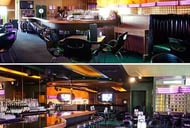 We couldn't have a list of Dallas singles bars without mentioning the Inwood Lounge -- it's on Lover's Lane for crying out loud! This martini bar has been around for more than 28 years and is the place to have a drink before seeing a movie at the Inwood Theater. Inwood hosts happy hours every weekday, and if you're not a martini fan, it also has an array of beers, wines, and scotches. Don't just take our word for it, though. The Inwood Lounge has four stars on Yelp, and one reviewer, named Natalie, said, "Great date place to have an Old Fashioned and watch TCM. Cozy atmosphere with an Art Deco vibe."


3
Flying Saucer Draught Emporium
14999 Montfort Dr • Dallas, TX 75254
(972) 991-7093
Visit Website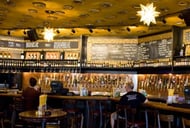 Located in the Addison area, the Flying Saucer Draught Emporium has more than 200 local, national, and international beers (with 90 of those available on draft) and its own UFO Club. Join and the beers you try will be tracked -- get to 200 and you'll be in the running for the "Ring of Honor." You also might be dubbed a "beerknurd," a nickname lovingly given to regular patrons. In terms of food, try the queso, pretzels, and pizza.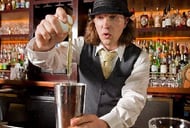 For fancy cocktails but a relaxed vibe, Black Swan Saloon is the place to be. Every now and then, the bar will have live music, but it's mostly for having some amazing drinks and getting to know some amazing people. Black Swan is near a farmers market, so its bartenders, particularly Gabe, use only the freshest ingredients to whip up concoctions with their own simple syrups, mixes, and infusions. Beer lovers, don't worry -- Black Swan has got you covered as well, and every brew is served in recyclable cans.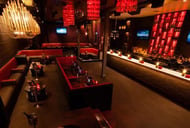 Since 2003, the Candleroom has been the bar "to be, be seen, socialize, and celebrate." Just head to the Henderson Avenue entertainment district and you'll find a 3,000-square-foot historic building with decor that utilizes art, video, and lighting systems and drinks that don't disappoint. The general menu is chock-full of crafted cocktails, such as the Swipe Right, Champagne cocktails, such as the 16 Candles, and white, red, and sparkling wines. There's also a bottle service menu if you want to take things up a notch.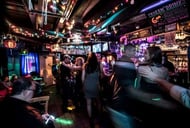 Do you need anything more than a rooftop deck, basketball court, large patio, and daily happy hours? We think not. The Grapevine Bar lives by the four Cs: cool, cozy, comfortable, and crazy. Known for its frozen drinks, like the Bellini, Tangarita, and Pom Pom, Grapevine doesn't just frequently change out its menu items -- it also frequently changes out its glasses and furniture. So you can have a totally different experience from one night to the next.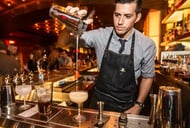 Midnight Rambler, located in the Joule Hotel, calls itself an underground craft cocktail salon, offering both sweet and savory drinks for Dallas locals and visitors alike. For the former, we'd recommend a Lavender Bramble, made with gin, lemon, Crème de Mure, and, of course, lavender. For the latter, go for the Neroli Negroni (gin, Campari, Italian vermouth, and Neroli). With four-top tables, intimate booths, red leather couches, and a long bar, Midnight Rambler provides spaces for groups, couples, parties, and solo drinkers.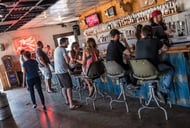 You'd think a bar with a name like the Goat would be a little off the wall, and you'd be right. But that's the best part! When the Goat doesn't have a popular blues band playing a set or two, it's running karaoke nights that'll help singles have a laugh and break the ice. Pool is also free for ladies on Tuesdays. Turning to the libations, the Goat's main focus is ice cold, cheap beer, but you wouldn't want anything else at a neighborhood dive bar like this.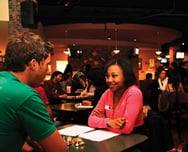 Sometimes it takes a while for a spark to grow between two people, but other times it happens within minutes or even seconds. Usually, you go on a date with one person at a time, and if the spark isn't there, you have to wait another day to see if it's there with someone else. But with speed dating events, you get to meet numerous people all in one night, and if the spark doesn't happen with the first one, it could happen with the second, third, or last. Dallas has a plethora of speed dating events, with mini dates lasting as little as three minutes and as long as 10 minutes, and you can check them out by visiting SpeedDallasDating.com.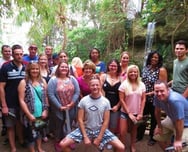 Instead of going to events held for the general public, look for events that are specifically meant for singles to come together. These can include speed dating events, but usually they're things like attending baseball games, tubing down a river, hot air ballooning, zip lining, going to pool parties, and rock climbing. It doesn't matter if you're an adventure seeker or are more low key — Dallas has every kind of singles event for every kind of personality.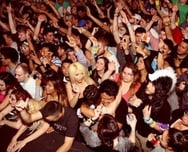 Every now and then, you don't want to meet someone in a formal setting or at an arranged activity — you want it to be more natural, random, and passionate. Clubs are where that's likely to happen. You've got the music, you've got the lights, you've got your best outfit on, and you've got dozens or hundreds of people who are feeling it, too. Whether you're looking for a hookup that doesn't go beyond one night or an encounter that turns into something more, Dallas' clubs are where you can find it.
In the '90s when AOL chat rooms hit the web, me and my friends used to rush home after school so we could talk online. Sure, we had just seen each other for like six hours at school and probably already talked about everything that was going on in our lives, but chat rooms were exciting and new. Not only were people able to talk to their friends, but they were able to talk to strangers from across the country or world. Even though everyone communicates via text and social media these days, for some people, chat rooms haven't lost their appeal — particularly for shy singles who find it easier to strike up a conversation in a dating-specific online community.
"Single White Female" is a 1992 movie starring Bridget Fonda and Jennifer Jason Leigh in which the former puts an ad in a newspaper for a new roommate and the latter responds. Spoiler alert: Fonda's character Allie ends up killing Jason Leigh's character Hedy because she's trying to have her all to herself. I'm not trying to freak you out — my point is personal ads used to be a big thing before the internet changed our way of life. This was especially true for finding roommates as well as employees and dates. Personal ads are still a good resource, though, and the good news is they're easier than ever to post because it's all pretty much online now.
9
Go to Football, Baseball, or Basketball Games
The site FanSide.com ranks Dallas as the number seven best sports city in America, so, of course, we had to include going to sporting events on our list of ways to meet singles. There's the Cowboys (football), the Mavericks (basketball), the Stars (hockey), the Rangers (baseball), and FC Dallas (soccer). If you're looking for something off the beaten path, the city also offers horse racing, rugby, and cricket, among other professional sports.
Sporting events are good places to meet people because everyone's pumped up to root for their team. Adrenaline levels are high, and it's easy to start talking to someone about the last play or playfully rag on them when one of their players makes a mistake. Go with a group of friends and it's that much more fun (not to mention less stressful to approach a cute guy or girl).
10
Spend Some Time at Charity Events
If you're philanthropic and are attracted to people who have the same mindset, a charity event can help bring y'all together. Eventbrite is a wonderful site for finding organizations that are working on causes that are near and dear to your heart. Some events include Cuddle Party (which donates proceeds to a local food bank), First Draft (which strives to help the Salvation Army), and Rockin' for the Ribbon (which fights against breast cancer).
11
Sign Up for an Adult Class
Who says you have to stop learning after high school or college? Adult classes aren't anything like the biology, English, and history lessons we've all had to endure. They're actually fun and draw in large crowds of interesting people from all walks of life.
We found a ton of stuff on D Magazine, including classes for sewing, ceramics, gardening, learning French (which you know is the language of love), acting, dancing, and cheesemaking. For real, though, the choices go on and on.
Taking a class allows you to broaden your skill sets and work on being your best self. It's true that when you focus on yourself instead of finding a date, it all seems to fall into place on its own.
12
Attend Religious Functions
According to the Texas Almanac, more than half of Texans are adherents to a religion, and that statistic probably applies to Dallas as well. For religious and/or spiritual singles, attending some sort of event that's aligned with your beliefs will without a doubt help you meet people who feel the same way. During our research, some places we think could be of interest are CSL Dallas, Temple Emanu-El, and St. Jude Chapel. Yelp has a variety of other churches, mosques, synagogues, temples, centers, and other places for worship, meditation, and/or reflection.
Dallas — "Big Things Happen Here," Including Love!
I admire my friend for knowing what she wanted and going after it. Her gamble paid off, and her love life wouldn't be the same if she hadn't done that. But you don't have to travel seven hours to have an incredible date. Dallas has so much to offer right within its city limits, and we've brought you the best of the best!
Photo sources: eater.com, citydining.com, dallasobserver.com, dmagazine.com, culturemap.com, dailysnark.com, groupon.com
Advertiser Disclosure
DatingAdvice.com is a free online resource that offers valuable content and comparison services to users. To keep this resource 100% free for users, we receive advertising compensation from the sites listed on this page. Along with key review factors, this compensation may impact how and where sites appear on the page (including, for example, the order in which they appear). DatingAdvice.com does not include listings for all dating sites.
Our Editorial Review Policy
Our site is committed to publishing independent, accurate content guided by strict editorial guidelines. Before articles and reviews are published on our site, they undergo a thorough review process performed by a team of independent editors and subject-matter experts to ensure the content's accuracy, timeliness, and impartiality. Our editorial team is separate and independent of our site's advertisers, and the opinions they express on our site are their own. To read more about our team members and their editorial backgrounds, please visit our site's About page.