10 Ways to Meet Singles in Des Moines, IA (Dating Guide)
When he was preparing to move to Des Moines, Josh238 had an important concern on his mind. Getting a date. "How is the dating life for young professionals?" he asked in a local forum. "Is it difficult?"
Josh identified himself as a single guy, approaching 30, who was looking to move into the downtown part of the city, where he hoped to make friends and meet women his own age. The city boy worried that country folk would hole up indoors in the wintertime, and he wondered if his background as a minority would hurt his dating chances. "Frankly, I'm kinda scared," he wrote.
Dating shouldn't be scary. It should be fun! We want to help uncertain singles, like Josh, find romance in Des Moines, so we've put together a comprehensive list of the top 10 ways to meet new people around town. Whether you're hoping to make a friend or get a date, you can use our recommendations to up your social game in Iowa's capital.
Experts estimate that there are over 2,500 online dating services available for singles in the US. If you're dating internationally, the number is more like 8,000. So many great and not-so-great options exist to help daters out, but who has time to try thousands of dating websites until they find the right one? Our dating experts, that's who! We pride ourselves on keeping our finger on the pulse of the dating industry and staying up with the best in the business. We've gone through and reviewed more dating platforms than I care to count in search of the tools that will best serve Des Moines singles. Below, you'll find our favorite dating websites ranked by category.
Best Singles Site
Founded in 1995, Match has stood the test of time as a dating site because it's simply the best option for relationship-oriented singles. The matching tools prioritize personality traits when suggesting compatible partners, making it that much easier to find someone who fits with your lifestyle and values. Over the years, Match has arranged more dates and led to more relationships than any other dating site on the market. We highly recommend this general dating site for local singles seeking long-term connections.
Best Site for Professionals
For Des Moines singles who are on the picky side, Elite Singles is a breath of fresh air. This upscale dating platform helps selective singles escape the general populace and rub elbows in a higher quality crowd. You won't find many spelling errors or immature members here. On Elite Singles, over 80% of members identify themselves as working professionals with at least a bachelor's degree.
Over 50 & Senior Site
Dating as a mature adult can be complicated, especially if you're looking for a partner your own age. According to the 2010 Census, just over one-third of Des Moines residents are over the age of 45. That's a slim minority that gets even smaller when you consider how many are taken or not interested in dating. Fortunately, a seniors-only dating site (our favorite is OurTime) can help you navigate this narrow dating pool and meet singles of a certain age in Des Moines. OurTime's user-friendly dating tools spur singles to friendship and romance.
For Black Men & Women Only
Nearly 11% of the Des Moines population is African American, and the city's Black community has been steadily growing since the 1950s. If you live on the West Side of town though, you might have trouble finding any hint of diversity in the white-washed suburban scene. BlackPeopleMeet gives singles an avenue to connect with Black and biracial dates online. The dating site boasts having the largest community of African-American singles in the U.S.
Hookup & Sex Site
Adult Friend Finder encourages horny singles to be upfront about what they want. This dating site caters to the sexually active and uninhibited. Hopefully you don't blush easily because there are over 100 million raunchy and revealing photos on the site. Whether you're looking for a quickie or a threesome, Adult Friend Finder turns daters on to the world's largest online sex network.
Maybe you've been there, done that with online dating sites and are ready to upgrade to something faster. Well then, dating apps are the perfect solution for you. Young people have really taken to dating apps and driven tremendous growth in the number of singles online. Now many popular dating websites have adapted their tools to a mobile audience, fostering fast-moving real-time chats between daters in the same area. Wherever you are, a date is just a swipe away when you have a dating app close at hand. The following friendly apps have a strong user base in Des Moines and pair people up with dependable location-based searches.
Relationships: Fun Dates, Serious Relationships
Match System: Browse by location, age, interest, and more
About the App: Available via the App Store and Google Play, Match is a fantastic app for dates and relationships. With a user base of 30 million singles, Match is where you'll have a high chance of success. It's free to download, create a profile, search for date prospects, and receive compatible matches based on personalized preferences. Free members can also chat with select members and send unlimited likes.
Browse Free: View Profiles Now
| User Base | Gender Ratio | Popularity (Visits/Mo.) | App Cost |
| --- | --- | --- | --- |
| All Singles* | | 13.5 Million* | Free Download |
Relationships: Deep Relationships
Match System: Search by education, lifestyle habits, age
About the App: Commitment-minded, professional daters will feel at home with EliteSingles, which can be downloaded for free in the App Store or Google Play. Not only is everyone looking for a long-term partner, but 80% of members hold a bachelor's, master's, or doctorate degree. EliteSingles sees 210,000 visitors and 2,500 users finding love every month, so it's one of the fastest growing and most reputable apps.
Browse Free: View Profiles Now
| User Base | Gender Ratio | Popularity (Visits/Mo.) | App Cost |
| --- | --- | --- | --- |
| All Singles* | | 290,000* | Free Download |
Relationships: Casual Dates, Relationships
Match System: Search for and receive matches
About the App: Zoosk is the number one app for finding dates, and if you sync up your Google+ or Facebook account, you can have a profile in seconds. The app has 38 million members and will deliver matches to your inbox on a daily basis based on your behavior such as who you search for, like or don't like, and message. The Carousel is another section for matching (tap the heart if it's a yes and the X if it's a no).
Browse Free: View Profiles Now
| User Base | Gender Ratio | Popularity (Visits/Mo.) | App Cost |
| --- | --- | --- | --- |
| All Singles* | | 3.8 Million* | Free Download |
When my brother was little, he would say, "Let's get out of this stuck house" when he was bored and wanted to go somewhere. He was an antsy toddler, but his point is valid. Being stuck inside is no way to live your life, and it's certainly not fun for outgoing young people. It doesn't make sense for singles to stay at home on Saturday nights waiting for a dream date to show up at the door. If you want a date, you've got to get out there and make it happen. The bar scene has long been the favorite haunt of local singles because mingling in a crowd of inebriated hotties is way more fun than staying in the stuck house. We've picked out our favorite bars in Des Moines to help you meet new people in a low-key setting.


223 E Walnut St • Des Moines, IA 50309
(515) 770-9795
Visit Website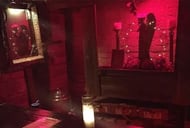 Sexy red lighting sets the mood at the Black Sheep, a unique speakeasy with a taste for tequila. This bar aims to break the mold and mock the ordinary with a revolutionary underground atmosphere. Local DJs add flair to the sultry ambiance every weekend and invite people to get on their feet to celebrate all that is wacky and weird. Black Sheep is a small hole in the wall, so only locals typically find this artsy gem in Des Moines. As one clever reviewer named Patrick said, "Bah Bah Black Sheep have you any COOL, yes sir, yes sir, pull up a stool."


2925 Ingersoll • Des Moines, Iowa 50312
(515) 277-7828
Visit Website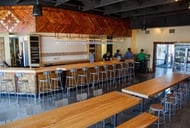 The Cheese Bar serves the best grilled cheese in town with a solid wine selection to boost the flavors. The menu's cheesy foods and specialty drinks offer a treat to Des Moines residents looking to kick back in a friendly setting. Ever since the Cheese Shop announced it was going to start selling wine, beer, and liquor, people have crowded in to get a taste. This place began as a cheese shop, and now it's a bar. That's progress for you. Whether you're hankering for old-fashioned cast-iron mac and cheese or a plate of hand-carved country ham, the Cheese Bar has a rich smorgasbord to delight all comers.


7700 University Ave • Clive, IA 50325
(515) 661-4615
Visit Website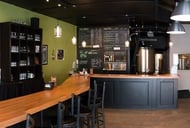 The goal of the 515 Brewing Company is to tantalize the palate with exceptionally flavorful beers. Made with fresh ingredients and a lot of love, these brews stand out in the Des Moines bar scene. The team is always trying out new recipes and creating imaginative flavor combinations to delight beer lovers around town. What started as a home-brewing hobby among friends is now a full-blown successful business with a seven-barrel fermentation system ensuring an unforgettable taste in every sip.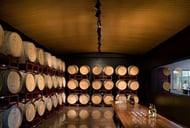 Located in the heart of the metro area, Jasper Winery promises estate-style vintages that transport Iowans from the prairie lands to the vineyards. Using locally sourced grapes, the winery produces dozens of rich bottles of wines. You can go to a tasting event to mingle with people who enjoy the sophisticated flavors of a good Merlot. Visitors can also explore the on-site vineyards at Jasper Winery to see where the magic happens and enjoy a little intimacy in the peaceful outdoors.


Edit 500 E Locust St • Des Moines, IA
(515) 243-4322
Visit Website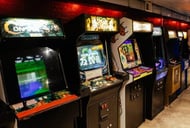 Des Moines residents can press start on an active social life by becoming a regular player at Up-Down. This retro barcade has brought in more than 40 classic arcade games from the '80s and '90s to appeal to people who are still young at heart. Millennials sick of adulting can descend into this dimly lit bar to play a few Nintendo or Sega games and take the edge off the nostalgia with a craft beer or cocktail. Challenging your crush to a game of skeeball, life-size jenga, or connect four is certainly a memorable way to introduce yourself, so grab some quarters and head to Up-Down to have a great time.


6
Angry Goldfish Pub & Eatery
2301 SW 9th St • Des Moines, IA 50315
(515) 288-2358
Visit Website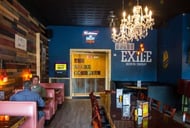 Known for affordable drinks and juicy burgers, the Angry Goldfish packs in the flavors. The rustic decorations make guests feel at home while the friendly staff serves original dishes and drinks with some bite to them. The bar is named after its signature appetizer which is a bowl of spicy sriracha-crusted goldfish. At the Angry Goldfish Pub, every item on the menu comes with a side of good times. If you stop by on Whiskey Wednesdays, you can enjoy cheap shots that are perfect for splitting with a new friend.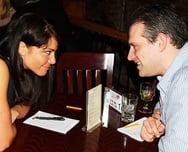 Dating one person at a time can mean wasting months of your life on failed first dates before finding someone worthwhile. A lot of Des Moines singles don't have the time to fritter away on bad dates and short-term relationships. These goal-oriented folks would rather cut to the chase in the dating process, and speed dating lets them do just that. At one speed dating event, singles get the chance to meet dozens of date prospects in brief dates lasting under five minutes. That's enough to establish chemistry and decide if you want to see that person again. Speed dating is a fun option for time-conscious and relationship-driven individuals, so look for an upcoming event in your area by clicking the link below.
5
Des Moines Singles Events



People in the Hawkeye State are no strangers to the rural lifestyle, but that doesn't mean they're all cow-tipping country hicks. Des Moines, as the largest city in the state, attracts a fair number of high-caliber city dwellers and socialites. Singles events provide locals with a fabulous opportunity to put themselves out there and get to know people in the dating scene. Lock and Key Events invite hundreds of singles to come find that perfect fit. With drink specials and raffle prizes, these themed parties have built-in icebreakers so it's easy to approach someone you don't know and strike up a conversation.
6
Des Moines Singles Clubs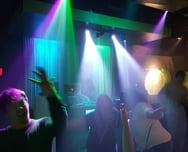 Iowa is not all farmland, corn fields, and conservatives. Des Moines is a hub of civilization in the heartland of America. Young residents find more than enough to entertain and excite them on the average night out — most notably in the club scene. Locals flock to the dance clubs in Greater Des Moines to forget their troubles and dance the night away. If you're interested in the nightlife, we've got the 411 on where to go to pick up a date in the 515.
I get easily tongue-tied when talking to someone in person. Especially if I find that person attractive. I prefer to communicate via text rather than in person. My personality shines best is when I have a keyboard to help me organize my thoughts, so meeting people online is often more comfortable and effective for me. Online chat rooms are like a verbose playground where wordy individuals can make a good first impression. Chat rooms give singles the freedom to express themselves anonymously online, which can lead to some scintillating and steamy conversations. For those Des Moines singles who enjoy flirting via text, we recommend a local chat room in the following popular portals.
The state's prestigious place as the first caucus in the presidential elections means Iowans are used to campaigners coming to their doors and schmoozers chatting them up. Every four years, political ads descend upon Des Moines and become all anyone can talk about. Often the candidates who aggressively promote themselves do the best at the Iowa caucus. Industrious singles can take a page out of the politico's playbook and place their own persuasive ads on a dating personals website. You can create a simple dating profile, state your preferred positions, and see if anyone casts a vote for you online. Dating personals offer a straightforward channel from introduction to hookup, so it's ideal for liberal daters who are looking for short-term results.
9
Mix Things Up at the Iowa State Fair
The annual Iowa State Fair has been a local crowd-pleaser since 1854. Festivities last 11 days and attracts families, farmers, and visitors from all over. In 2017, the fair announced a record-breaking attendance of over 1.1 million people. Pancake tacos. Fried peanut butter. Thrill rides. Back-to-back concerts. What's not to love?
Where else can you go to take part in a chess tournament, fiddler contest, talent show, and eating competition? Nothing compares to this fair. Whether you're showing off your powerful arms in the arm-wrestling championship or flaunting your favorite hat in the marvelous hat contest, the fairground gives locals a chance to strut their stuff and make friends in a rowdy setting.
In election years, the Iowa State Fair serves as a hot spot for rising political figures with their eyes set on the presidency. Iowans really get a kick out of that because it's just plain fun to watch out-of-towners try to gracefully eat food on a stick. From eating competitions to parades, this fair has it all.
If the Iowa State Fair is too folksy for you, music lovers can always check out the fantastical musical wonderland that is the 80/35 Music Festival. The live performances and artsy activities are great opportunities for daters of all ages to engage in an one-of-a-kind community event.
To use the words of the website, "In addition to our magical line-up, attendees will be treated to rare appearances by whimsical treasures of years past. After 48 hours, this twisted fairytale for music-heads will rise back up into the ether, where no one can spill beer on its shoes ever again."
10
Get the Ball Rolling Over a Sports Game
Sports bring people together and give them something fun to talk about, so playing or watching a game can help daters knock it out of the park with someone who shares the same interests. Des Moines residents can register for an adult sports league online and bond with teammates while playing football, kickball, Wiffle ball, basketball, volleyball, or Ultimate Frisbee.
If you're not athletic, cheering for a sports team works just as well. Whether you're a Barnstormer or a Buccaneer, you can go to a local sports bar to root for your favorite teams and meet fellow fans in a chummy atmosphere. Overboard Sports Bar and Players Sports Bar & Grill both offer plates full of fried foods and wide-screen TVs to catch all the action while you dig in. The friendly atmosphere of a local pub gives sports lovers a chance to mingle, flirt, and get a date before the clock runs out on the game.
Get Out of Your Forlorn State in the Corn State
Surrounded by prairie lands and corn fields, Des Moines is like a civilized oasis in Iowa's rural landscape. More than 203,000 people live, work, and love here, and the strong community spirit binds everyone together. Singles can take advantage of the city's active social scene to make a date online or in person. It could be as easy as heading to the fair and making small talk with the cutie at the popcorn maker.
Though it can be nerve-wracking to build relationships from scratch, plenty of date-friendly venues around town can help you break the ice. It's really not that scary once you get some practice. A forum moderator under the handle ElleTea answered Josh's worries about Des Moines with calm good sense. "Don't be scared," she said. "They can sense your fear! It's all about putting yourself out there."
Whatever method of meeting people you choose, go into it with a positive attitude and you'll find people drawn to you like fairgoers to funnel cakes. Good luck!
Advertiser Disclosure
DatingAdvice.com is a free online resource that offers valuable content and comparison services to users. To keep this resource 100% free for users, we receive advertising compensation from the sites listed on this page. Along with key review factors, this compensation may impact how and where sites appear on the page (including, for example, the order in which they appear). DatingAdvice.com does not include listings for all dating sites.
Our Editorial Review Policy
Our site is committed to publishing independent, accurate content guided by strict editorial guidelines. Before articles and reviews are published on our site, they undergo a thorough review process performed by a team of independent editors and subject-matter experts to ensure the content's accuracy, timeliness, and impartiality. Our editorial team is separate and independent of our site's advertisers, and the opinions they express on our site are their own. To read more about our team members and their editorial backgrounds, please visit our site's About page.