9 Ways to Meet Singles in El Paso, TX (Dating Guide)
In 1959, country singer Marty Robbins immortalized El Paso, Texas, in an epic love song simply titled "El Paso." Told in three parts, this gunfighter ballad is about a tragic relationship between a daring cowboy and a Mexican maiden in the Old West.
The classic song depicts a romantic drama fueled by an all-consuming and reckless love. It's a lovely sentiment, but, these days, most El Paso singles just don't know where to go to fall for their own sweet señorita. It's hard enough to land a first date! However, living in the Lone Star state doesn't have to mean living alone. We've come up with nine simple ways to get out there and meet available men and women in El Paso, Texas. As long as you avoid cowboy brawls and badland shootouts, you should do all right.
In the days of the Wild West, socializing happened on the wagon trail, in saloons, and on horseback. Many Americans roamed freely from town to town in search of prosperity. Today, online dating is the new untamed frontier for millions of single cowboys and cowgirls out there. Dating websites are where most daters go to roam and mingle freely. You lose the great outdoors but gain a more streamlined path to one-to-one connections.
Best Singles Site
Match has been at the top of the dating industry for decades now. Since 1995, Match has pioneered online dating and has striven for excellence as a serious tool for serious daters. Today, the relationship-oriented dating site is unrivaled in the number of matches, relationships, and marriages facilitates online.
Best Site for Professionals
By cultivating a high-quality membership base, Elite Singles has made itself stand out as the best dating site for professionals. Over two-thirds of members (approximately 82%) have studied at a university and earned a bachelor's, master's, or doctorate degree. If you're looking for someone ambitious, attractive, and available in El Paso, you'd do well to join Elite Singles.
Over 50 & Senior Sites
Sometimes online dating seems intimidating to older singles, but not on
OurTime. This dating website was made for daters of a certain age, so it's completely user-friendly — even for people uncomfortable using technology. OurTime makes it much easier for singles over 50 to go online and find a new acquaintance with similar life experiences and values.
For Black Men & Women Only
While many may assume El Paso is a solidly Hispanic city, it actually has a fairly diverse population that includes tens of thousands of black and African-American adults. According to the 2010 Census, 3.4% of city residents identify as black. If you're hoping to date within that slim demographic, BlackPeopleMeet is a great tool to find the type of person you're attracted to and make a date. This black and biracial network has over 1.4 million people in its membership base so you're sure to have a lot of desirable options in your area.
Hookup & Sex Site
Relationships aren't for everyone. That's why there are hookup websites like
Adult Friend Finder to connect people who have sex on the brain. Casual daters can be open about their desires on this judgment-free platform responsible for making over 4.6 million connections. Whether you're looking for a hot date or a threesome, AdultFriendFinder will hook you up in the world's largest sex and swinger community.
Like the roaming cowboys of old, some daters just can't be tied down. Dating apps give you the freedom to go wherever you like and still remain connected to date prospects via any mobile device. While you meander about town, you can rustle up some dates by chatting people up on a reliable dating app. We've picked out our favorite apps for your convenience.
Relationships: Fun Dates, Serious Relationships
Match System: Browse by location, age, interest, and more
About the App: Available via the App Store and Google Play, Match is a fantastic app for dates and relationships. With a user base of 30 million singles, Match is where you'll have a high chance of success. It's free to download, create a profile, search for date prospects, and receive compatible matches based on personalized preferences. Free members can also chat with select members and send unlimited likes.
Browse Free: View Profiles Now
| User Base | Gender Ratio | Popularity (Visits/Mo.) | App Cost |
| --- | --- | --- | --- |
| All Singles* | | 13.5 Million* | Free Download |
Relationships: Deep Relationships
Match System: Search by education, lifestyle habits, age
About the App: Commitment-minded, professional daters will feel at home with EliteSingles, which can be downloaded for free in the App Store or Google Play. Not only is everyone looking for a long-term partner, but 80% of members hold a bachelor's, master's, or doctorate degree. EliteSingles sees 210,000 visitors and 2,500 users finding love every month, so it's one of the fastest growing and most reputable apps.
Browse Free: View Profiles Now
| User Base | Gender Ratio | Popularity (Visits/Mo.) | App Cost |
| --- | --- | --- | --- |
| All Singles* | | 290,000* | Free Download |
Relationships: Casual Dates, Relationships
Match System: Search for and receive matches
About the App: Zoosk is the number one app for finding dates, and if you sync up your Google+ or Facebook account, you can have a profile in seconds. The app has 38 million members and will deliver matches to your inbox on a daily basis based on your behavior such as who you search for, like or don't like, and message. The Carousel is another section for matching (tap the heart if it's a yes and the X if it's a no).
Browse Free: View Profiles Now
| User Base | Gender Ratio | Popularity (Visits/Mo.) | App Cost |
| --- | --- | --- | --- |
| All Singles* | | 3.8 Million* | Free Download |
Western films and songs often feature a rowdy bar scene involving outlaws, cowboys, and beautiful damsels. Marty Robbins chose a fictional cantina as the scene for his love ballad because bars provide a place where emotions run high and people come together. Though you won't find Rosa's Cantina in El Paso, you can go to a number of great bars, saloons, and watering holes where people go to relax, mingle, and make eyes at one another. We've uncovered the best nine bars in El Paso where singles will find plenty of opportunities to meet that special someone (and hopefully avoid a gunfight).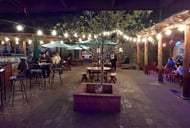 Hope and Anchor has just about everything you could ask for in a bar: beers, liquors, wines, finger foods, and a jukebox. You can play a song to set the mood for some flirting action with your crush or order a round of homemade infusions to break the ice with new friends at the bar. Frequent happy hours and events give single men and women plenty of opportunity to have a good time at the Hope and Anchor. They also have a positively epic patio bar, perfect for chilling out with a date on a cool summer's evening.


4025 N Mesa St • El Paso, Texas 79912
(915) 231-6750
Visit Website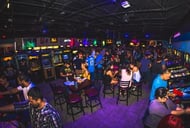 Rubiks Arcade Bar is where pinball games and specialty drinks meet and singles mix things up. This bar promises to have all the classic games you remember fondly from childhood, and maybe even some you don't remember. This is a family-friendly bar where you can choose your player and challenge your date to a game of Asteroids, Tron, Donkey Kong, Pac-Man, Mortal Kombat, Mario Kart, TMNT, and so many other retro games. If you're tired of playing the dating game, playing an arcade game can be just the energy boost you need to relax and have fun in a social atmosphere.


3
Brew Sports Pub & Grill
1441 N Zaragoza Rd • El Paso, TX 79936
(915) 856-7477
Visit Website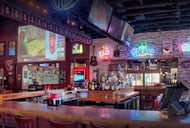 Open from Monday through Sunday from 11 a.m. to 2 a.m., the Brew Sports Pub and Grill is a popular hangout for beer aficionados in El Paso. Daily happy hour specials tempt daters to linger with an American lager, a draught import, or a specialty drink. The bar also has a roomful of pool tables, dart boards, and interactive games to keep people occupied. Whether you want to dig into a quesadilla on the patio or mix and mingle with solo drinkers at the bar, Brew Sports Pub can set the scene for a great evening on the town.


408 E San Antonio Ave • El Paso, Texas
(915) 532-1848
Visit Website

The Tap Bar (and Restaurant) boasts having the best nachos in town. Like, world-famous, melts-in your-mouth, you've-got-to-try-these-nachos good. Order a batch of these bad boys for a new acquaintance, and you're sure to make a good first impression. Packed with authentic and traditional flavors, the Mexican food served here is inexpensive and delicious. The Tap Bar's welcoming atmosphere keeps people coming back for more beer, enchiladas, and, of course, nachos.


4141 N Mesa St • El Paso, TX 79902
(915) 307 - 3263
Visit Website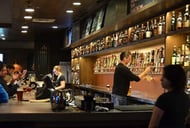 At the Hoppy Monk, margaritas, wines, and ales flow freely. This quirky local favorite has a truly impressive 13-page menu for drinks (and cigars) alone. Whether you're hankering for a sturdy single malt scotch or a fizzy peach cocktail, the bar is fully stocked for your drinking pleasure. Proudly family-owned, the Hoppy Monk provides an intimate setting for friendship, flirtation, and romance. Plus, if you come on a Tuesday or Wednesday, you'll enjoy amazing drink specials such as $5 cocktails. Cheers to that!


6127 N Mesa St #A • El Paso, TX 79912
(915) 235-9145
Visit Website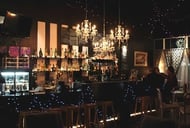 Lit up with colorful lights and fancy chandeliers, the Black Orchid Lounge is a beautiful spot where daters can linger on a weekend or weekday night. The hip ambiance and lively events help single men and women feel at home at the bar. The lounge hosts frequent trivia nights and live music performances to pack people into the bar for a cocktail revolution. Come get your drink on at the Black Orchid Lounge, and you'll soon find yourself surrounded by a friendly crowd of singles.


305 E. Franklin Ave • El Paso, TX 79901
(915) 219-7141
Visit Website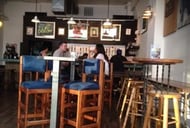 At Craft & Social, there's always a new beer to try or a new person to meet. This dynamic bar helps singles break the ice and mingle with locals in El Paso. From draught beers to flavorful wines, the libations on the menu satisfy people of all tastes -- and you can order them to go! If you come during kitchen hours, basically before nighttime, you can enjoy cheesy sandwiches on sourdough bread or market salads with fresh ingredients. When you step into Craft & Social, you're bound to have a good time and meet outgoing daters looking for some fun.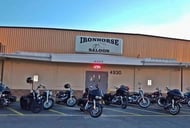 Open since 1997, the Iron Horse Saloon recognizes that today's American cowboy rides motorcycles instead of horses. Blending the old-fashioned country saloon with a rock-and-roll billiards bar, this friendly establishment fosters a unique atmosphere for adventurous daters. Live bands and karaoke nights give you something to chat about as you sip a cold glass of beer alongside a new acquaintance.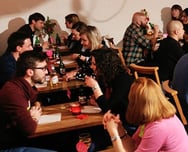 Dating can be a slow process. Some singles get frustrated when stuck at a trot and long to gallop off into the sunset with that one special person. If meeting a lot of date prospects all at once sounds appealing to you, you should definitely give speed dating a try. Instead of filtering through people online or at the bar, you can skip right to a mini-date with dozens of singles in El Paso at a speed dating event. Pre-Dating has signed up dozens of singles interested in attending speed dating events in El Paso. You can find out more by clicking the link below.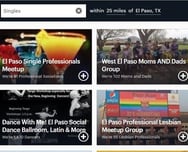 Local singles events herd together people who have similar interests, lifestyles, and goals. It's a rich dating environment full of possibilities. You can meet hundreds of date prospects in El Paso by attending a popular singles party or meetup near you. The activity-based events are particularly great for introducing yourself to new people in a low-key setting. You can download the Meetup app to find fun ways to socialize with singles in El Paso.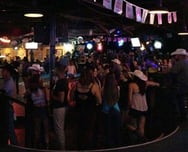 For all you night owls out there, a singles club is an ideal dating scene. The music, the dim lighting, and the crowd of young people make it a go-to for many active daters. You can sidle up to a pretty little lady or a hot hunk at a swinging club in your neighborhood. This is an awesome way to make an introduction and expand your social network in El Paso. You can consult Yelp's list of the best dance clubs in El Paso to plan your next night out.
Online chat rooms open singles up to anonymous flirting in a safe setting. If you don't feel up to leaving the house to meet people, this is a simple alternative. It's accessible to everyone with an internet connection, so you never know who you're going to meet. Generally, the conversation in adults-only chat rooms can get pretty explicit and move rather quickly, so it's ideal for singles up for some flirtatious and raunchy interactions.
Back in the day, dating personals in newspapers were how singles spread the word when they were looking for a date. Nowadays, singles have taken that time-honored practice online and created dating profiles on popular websites. Personals websites work like dating websites, but with more straightforward search features and no matching necessary. You simply describe yourself, describe what you're looking for, and start searching for date prospects by location, age, or keyword. The following four platforms offer a fast and easy way to raise your dating profile and meet flirtatious people online.
9
Go to a Lively Musical Performance or Festival
Going to a packed musical performance or festival gives singles a chance to loosen up and party together. El Paso has plenty of options — from the El Paso Downtown Street Festival in June to the Sun City Music Festival in September — for anyone looking to mingle. Hundreds of people turn out for the city's musical events every year.
El Paso is a hub of culture and entertainment, if you know where to go. Established in the 1930s, the El Paso Symphony is known as the longest continuously running symphony orchestra in Texas and makes for a great date activity. The classical music provides a sophisticated backdrop for romance and a natural conversation starter with others in the audience.
Viva! El Paso celebrates the city's 400-year history in an outdoor musical extravaganza held every summer. Since 1978, this dynamic performance has enraptured audiences. The story follows two lovers moving through historical events from the time of indigenous settlers to modern-days events. It's a tapestry of color, drama, dance, and song. A lot of people turn out to see it, and you can easily strike up a conversation with people before and after the show.
Saddle Up and Date in El Paso City
The city of El Paso is steeped in culture and legend. It's a beautiful place to call home, but the romantic mountain vistas can be lonely if you're riding out on your own.
When Marty Robbins sings, "Out in the West Texas town of El Paso, I fell in love with a Mexican girl," you can hear the longing and pain behind his words. The man in the song never gets to have his Faleena, but you can make a happy ending to your own love story by going out and meeting singles in the heart of El Paso.
Final Thoughts on Dating in
El Paso, TX
We hope you've found our guide "9 Ways to Meet Singles in El Paso, TX (Dating Guide)" to be helpful in your dating journey. If you're ready to take the leap into the local El Paso, TX, dating scene, keep in mind that apps like Match and Elite Singles are the easiest way to meet singles locally and throughout Texas.
Prefer to meet people the old-fashioned way? You're certainly not alone. According to local reviews, these popular spots in El Paso, TX, could be exactly what you're looking for:
Hope and Anchor
Rubiks Arcade Bar
Brew Sports Pub & Grill
The Tap Bar
The Hoppy Monk
Black Orchid Lounge
Craft & Social
Iron Horse Saloon
Whether you're in El Paso, TX, surrounding areas, or anywhere else in Texas, remember that there's someone out there for you. It's just a matter of taking that first step.
Advertiser Disclosure
DatingAdvice.com is a free online resource that offers valuable content and comparison services to users. To keep this resource 100% free for users, we receive advertising compensation from the sites listed on this page. Along with key review factors, this compensation may impact how and where sites appear on the page (including, for example, the order in which they appear). DatingAdvice.com does not include listings for all dating sites.
Our Editorial Review Policy
Our site is committed to publishing independent, accurate content guided by strict editorial guidelines. Before articles and reviews are published on our site, they undergo a thorough review process performed by a team of independent editors and subject-matter experts to ensure the content's accuracy, timeliness, and impartiality. Our editorial team is separate and independent of our site's advertisers, and the opinions they express on our site are their own. To read more about our team members and their editorial backgrounds, please visit our site's About page.