11 Ways to Meet Singles in Fort Worth, TX (Dating Guide)
I used to listen to Lex and Terry on the radio every morning on the way to work (before my city stopped airing it). They're based in Fort Worth, Texas, and their show is known as what "your mom listens to after she drops you off at school." Lex and Terry, as well as Dee and a few other team members (they've changed over the years), talk about anything and everything.
The sex, dating, and relationship conversations were always particularly interesting. Listeners would call in asking for advice, and Lex and Terry wouldn't hold any punches. Their advice was in your face, but it was honest and helpful.
While our styles might be different, our mission is similar to Lex and Terry's: to help people, especially daters, overcome whatever challenge they happen to be facing. Today, we're addressing single Fort Worthians (or Fort Worthers) — highlighting 11 ways for them to connect.
Fort Worth is a big city (more than 854,000 people), so trying to find that perfect date on your own can make you feel like you're a hamster on a wheel — you're working your butt off, but you're not getting anywhere. Dating sites can do all the grunt work for you. You just have to tell them what you want. You also don't have to stress yourself out about choosing a dating site because we've taken care of that for you — pinpointing the five best no matter what your needs are.
Best Singles Site
If you're looking for fun, affordability, size, style, and reputation, Match.com is the diamond among the rhinestones. The site was created in 1995 (making it one of the first online dating services), has over 30 million members, is absolutely free to try, offers advanced features (such as Missed Connection and exclusive events), and has facilitated the most romantic connections (and even babies from those connections).
Best Site for Professionals
So many singles work more than 40 hours a week, and when they're not working, they have to find time for working out, spending time with family, friends, and pets, getting stuff done around the house and with the car, and participating in hobbies. Where is dating supposed to fit in? For those who can't seem to fit one more thing into their life, Elite Singles can take care of the dating aspect. The site will send you daily match suggestions, and your role is to yay or nay them. Plus, approximately 82% of members hold a bachelor's degree, master's degree, doctorate, or some combination of the three, so they totally relate to your lifestyle.
Over 50 & Senior Site
Sometimes we get complaints from older online daters who say more general dating sites keep matching them with people who are too young. They like that they're getting a lot of recommendations, but they're tired of wasting their time filtering through incompatible profiles. They want to meet someone within their age range, and they want to meet them now. On OurTime, an over-50 dating site, that worry goes away. Practically everyone is from the Baby Boomer Generation, and it only takes a couple of minutes to create a profile and join them.
For Black Men & Women Only
City-Data.com reports that black men and women make up 18.5% of Fort Worth's population and that biracial men and women make up 1.8%. BlackPeopleMeet.com is hands down the top way for singles within these demographics to meet. Not to mention it won't cost you to register, add photos, browse, have compatible profiles emailed to you, and communicate (e.g., express interest, "like" and "favorite" members, send virtual flirts).
Hookup & Sex Site
Whether it's been a day, a week, a month, or a year, when you want it, you want it, and no one understands that better than the folks at Adult Friend Finder. This leading sex site can help you scratch that itch — thanks to its 77 million users, free basic membership, and various chat features, including videos.
Online dating doesn't have to be done on your laptop at home (or at work — you're not that sneaky). It can be done anywhere in the world because we have these amazing things called apps. I'm sure you've heard of them. Sarcasm aside, dating apps, like the following three we've reviewed, have revolutionized the way singles meet. So check out these apps, grab your phone, download your favorite(s), and start finding matches while you're on the go!
Relationships: Fun Dates, Serious Relationships
Match System: Browse by location, age, interest, and more
About the App: Available via the App Store and Google Play, Match is a fantastic app for dates and relationships. With a user base of 30 million singles, Match is where you'll have a high chance of success. It's free to download, create a profile, search for date prospects, and receive compatible matches based on personalized preferences. Free members can also chat with select members and send unlimited likes.
Browse Free: View Profiles Now
| User Base | Gender Ratio | Popularity (Visits/Mo.) | App Cost |
| --- | --- | --- | --- |
| All Singles* | | 13.5 Million* | Free Download |
Relationships: Deep Relationships
Match System: Search by education, lifestyle habits, age
About the App: Commitment-minded, professional daters will feel at home with EliteSingles, which can be downloaded for free in the App Store or Google Play. Not only is everyone looking for a long-term partner, but 80% of members hold a bachelor's, master's, or doctorate degree. EliteSingles sees 210,000 visitors and 2,500 users finding love every month, so it's one of the fastest growing and most reputable apps.
Browse Free: View Profiles Now
| User Base | Gender Ratio | Popularity (Visits/Mo.) | App Cost |
| --- | --- | --- | --- |
| All Singles* | | 290,000* | Free Download |
Relationships: Casual Dates, Relationships
Match System: Search for and receive matches
About the App: Zoosk is the number one app for finding dates, and if you sync up your Google+ or Facebook account, you can have a profile in seconds. The app has 38 million members and will deliver matches to your inbox on a daily basis based on your behavior such as who you search for, like or don't like, and message. The Carousel is another section for matching (tap the heart if it's a yes and the X if it's a no).
Browse Free: View Profiles Now
| User Base | Gender Ratio | Popularity (Visits/Mo.) | App Cost |
| --- | --- | --- | --- |
| All Singles* | | 3.8 Million* | Free Download |
In the movie "Lost in Translation," Scarlett Johansson and Bill Murray's characters meet at a bar in the hotel they're both staying at in Japan. She's lonely because her celebrity photographer husband is always on assignment, and he's going through a midlife crisis, which puts even more strain on his 25-year marriage. They grow closer together as they explore Tokyo and have intimate conversations about each other's lives. The bar becomes an important part of their relationship, as they make one final visit to it the night before he's supposed to return home. It goes to show that you never know when one drink is going to change your life — so here's a little bit of information about Fort Worth's most popular bars, where meeting people is as easy as ordering.


909 W Magnolia Ave • Fort Worth, TX 76104
(817) 920-9616
Visit Website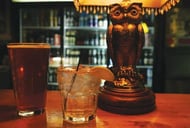 Over 50 craft beers, a 4.4. star rating on Facebook, 75-cent pool, dozens of free events, one awesome jukebox — these are the Boiled Owl Tavern's impressive numbers. This is a popular hangout for smokers, hipsters, and smoking hipsters, so you'll want to grab a Lone Star, pick a song, chat up a local, and let the night take you wherever. Frog G. wrote on Yelp that the Boiled Owl Tavern is, "One of my favorite spots in this whole city. If it's your first time, there's no problem making a new friend or two."


2024 Ridgmar Blvd • Fort Worth, TX 76116
(817) 731-8521
Visit Website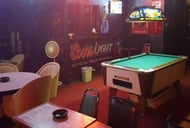 Someone had a great notion when they came up with A Great Notion, a beloved dive bar in the Western Hills area of Fort Worth. A Great Notion is said to have the best karaoke in town (Thursday through Saturday from 9 p.m. to 2 a.m.) as well as cheap drinks ($5 Johnnie Walker Black Label), awesome food (BLTs), a helpful staff (run by Gail Oshier), and unique events (luaus and gold scrambles).


2735 W 5th St • Fort Worth, TX 76107
(817) 759-9100
Visit Website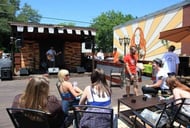 If you're looking for "premium rock 'n' roll," Lola's Saloon is where it's at. Fort Worth Weekly has named Lola's the "Best Music Venue," hosting musicians like Sarah Hobbs, Reid Farris Band, Cut Throat Finches, and Venetian Sailors. Founded in 2007, Lola's doesn't skimp on the drinks either. You can get yourself a Long Island for $7, a tallboy for $3.50, and a Fireball shot for $4.50. Once you do, take it out to the patio, a favorite spot among patrons.


900 Houston St • Fort Worth, TX 76102
(817) 882-8003
Visit Website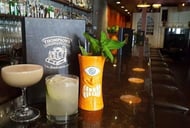 The Basement Rx Bar at Thompson's Bookstore may be open Wednesday through Saturday from 8 p.m. to 2 p.m., but you'll need a password to get in on Fridays and Saturdays, Don't worry, though. Follow the bookstore on social and ask around, and you should be able to figure it out. This is one of several things that makes Thompson's such an amazing place to get a drink. You have three stories to explore, knowledgeable bartenders to talk to, and an upscale, yet relaxed, atmosphere to enjoy the night in.


1408 W Magnolia Ave • Fort Worth, TX 76104
(817) 810-0114
Visit Website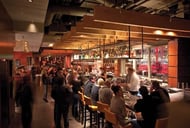 Located in Southside Fort Worth, the Usual serves up classic cocktails, like sidecars and martinis, as well as new concoctions like the Last Word and the Ambassador Punch. Beer and wine lovers will be just as satisfied, too. The decor at this pet-friendly bar is part of the experience as well — with low lighting, candles, private booths, two- and four-top tables, an outdoor patio, and bottles lining the bar.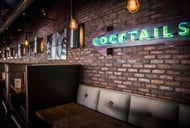 Reservoir is one part bar, one part patio, and one part kitchen, and it does all of those things extremely well. Head west of downtown, and that's where you'll find Reservoir. Its menu focuses on quality and Southern comfort, including mesquite-fired baby back ribs, ham and cheese sandwiches, buffalo chicken wraps, and pecan cobbler. In terms of drinks, go for the frozen margaritas, local beers, and Moscow mules.


5418 Brentwood Stair Rd • Fort Worth, TX
(817) 446-3395
Visit Website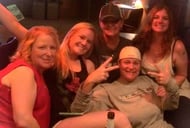 When we say Corporate Image is a dive bar, we mean it (in the best way possible, of course). Whether you're playing pool, singing karaoke, watching the game, or having a smoke and a drink with the person next to you, you'll feel like family, as many patrons have said. Here's what Jack A. had to say about Corporate Image: "The drinks are strong and not very expensive. It's a fun place, too — sassy barmaid, people buying other people drinks, very comfortable vibe."


2520 Rodeo Plaza • Fort Worth, TX 76164
(817) 624-7117
Visit Website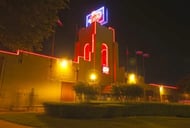 The question isn't "What is there to do at Billy Bob's Texas?" The question is "What isn't there to do at Billy Bob's Texas?" You've got bull riding, line dancing lessons, "authentic Texas cuisine," concerts performed by folks like Joe Diffie, Restless Heart, and Tyler Farr, and one-of-a-kind events (like the world's largest karaoke fest and competition). Billy Bob's Texas is a club Shooter Jennings used to go to with his father, Waylon, and has been featured in movies like "Pure Country" with George Strait. In terms of the building, it was built in 1910 and can house 6,000 people.



The initial minutes of conversation can be the most exciting ones on a first date. You've got butterflies in your stomach, your eyes are sparkling with excitement, and the questions and stories are flying back and forth. At a speed dating event, you can enjoy that moment again and again as you go on about a dozen mini first dates with about a dozen different people. You can find speed dating events in Fort Worth every week, and the Fort Worth Dating Company has all the info you need to know.
5
Fort Worth Singles Events


Every weekend most of us are doing things with our friends — rock climbing, happy hours, kayaking, dancing, cycling, painting, whatever it is. And maybe what we don't realize is those are some of the same things we can do with a group of singles. Singles events are meant to bring people together in ways that are interactive (aka less awkward) and fun. It doesn't matter what your hobby is (or maybe you want to try a new one) — there's a singles event that you'll enjoy. Just visit Eventbrite.com, and you'll see.
6
Fort Worth Singles Clubs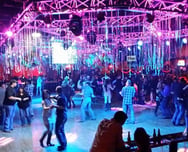 Most of us know that scene in "A Night at the Roxbury" where brothers Steve (Will Ferrell) and Doug (Chris Kattan) simultaneously bob their heads to "What is Love?" by Haddaway and hip thrust in an attempt to pick up girls. It's a classic, and it's hilarious. Whether your moves look like this or you actually have some talent, there are places for you to show off: the clubs in Fort Worth. Click the link to read more from Yelp.com.
In chat rooms, instead of your mouth doing the talking, which can be nerve-wracking, you can let your fingers take over (as in typing — get your minds out of the gutter). You only need a couple of things: a username and a photo or avatar. There are even rooms dedicated to finding a date in Fort Worth, such as the five we've listed.
Personals ads is kind of another way to say dating profiles, and personals sites is kind of another way to say dating sites. They mostly work in the same ways — you post some facts about yourself (age, location, appearance, etc.) and your ideal hookup, date, or partner (age, location, appearance, etc.). Then you receive compatible ads based on that criteria as well as sort through the ads yourself. Some of the most well-known personals sites are Craigslist and DateHookup.
If you love golf, drinking, and meeting people, then Top Golf is the activity for you. Even if you don't like golf, you can still have a lot of fun. TopGolf.com has a wealth of resources about the game, including a page specifically for Fort Worth. For example, the space has more than 100 hitting bays, a full-service bar and restaurant, and a rooftop terrace with a fire pit.
Grab some other single friends and play wingman and wingwoman for each other — it's always easier to meet people when you're in a group. Top Golf in Fort Worth also hosts a lot of events and parties, so the crowd on those days should be larger than normal.
10
Spend Time Volunteering
Fort Worth is a wonderful city, and a lot of that has to do with how its citizens work hard to keep it that way. They dedicate their time and money to helping children, veterans, seniors, LGBTQA+, animals, the homeless, and so many other communities. For those who want to do their part while meeting others with like-minded values, volunteering kills two birds with one stone.
We simply Googled "Fort Worth volunteering" and found opportunities at United Way, SafeHaven, and the Humane Society of North Texas. If none of these are up your alley, do some Googling of your own, and you're sure to find something in seconds.
I'm a huge Harry Potter nerd, so I'm always attending themed trivia nights and watch parties in my city as well as conventions, tours, and celebrations across the country and the world. I've met a lot of other Harry Potter-obsessed fans, but most importantly, I've met a lot of really nice people. Think of the movie, book, TV show, sport, hobby, or what have you that means the most to you, and use it to your dating advantage.
Let's say you're crazy about playing guitar. You should check out sites like GuitarSociety as well as browse Meetup.com for Fort Worth guitar groups. Or broadly search for "social clubs in Fort Worth" and do some clicking around until you come across one that peaks your interest.
Fort Worth is "Where the West Begins," But It Can Also Be Where Your Love Life Begins!
I don't listen to Lex and Terry as much since their show stopped being broadcast in my city, but I'll always remember those drives where they made my commute to work more entertaining and informational. Their tips are actionable and based on real-life experiences, and that's something our experts and I strive to do every day with our advice as well. With the advice above, we hope we've made the dating journey seem less daunting and more exciting for Fort Worth singles!
Photo sources: thefun.singles, princess.com, iloveguitarsandcadillacs.com, topgolf.com, fwnaturecenter.org, fwweekly.com, zomato.com, dallasobserver.com, fwtx.com, totalhappyhour.com, menuism.com, fortworth.com
Where to Start in
Fort Worth, TX
Dating in Fort Worth, TX — or anywhere in Texas, for that matter — can certainly be an adventure. That's why you'll want to research and learn everything you can about the local dating scene before venturing out into the great unknown.
We highly recommend you start your adventure by browsing Match.com profiles in Fort Worth, TX, which is entirely free to do on the Match.com app and website.
We also like these spots as the best places to meet singles in Fort Worth, TX:
The Boiled Owl Tavern
A Great Notion
Lola's Saloon
Thompson's Bookstore
The Usual
Reservoir
Corporate Image
Billy Bob's Texas
However you decide to start your journey, we wish you all the best! And we will be right here at DatingAdvice.com if we can help you again along the way.
Advertiser Disclosure
DatingAdvice.com is a free online resource that offers valuable content and comparison services to users. To keep this resource 100% free for users, we receive advertising compensation from the sites listed on this page. Along with key review factors, this compensation may impact how and where sites appear on the page (including, for example, the order in which they appear). DatingAdvice.com does not include listings for all dating sites.
Our Editorial Review Policy
Our site is committed to publishing independent, accurate content guided by strict editorial guidelines. Before articles and reviews are published on our site, they undergo a thorough review process performed by a team of independent editors and subject-matter experts to ensure the content's accuracy, timeliness, and impartiality. Our editorial team is separate and independent of our site's advertisers, and the opinions they express on our site are their own. To read more about our team members and their editorial backgrounds, please visit our site's About page.