10 Ways to Meet Singles in Lincoln, NE (Dating Guide)
When scrolling through Reddit's Lincoln, Nebraska, page, you can see everything from restaurant recommendations to elementary school enrollment information. Locals share tips, jokes, and resources with one another, and it's a good open forum to ask just about any question.
So it makes sense that WeMustSetSail chose this subreddit to pose a question to locals in Lincoln: "Is there really any other way to meet people or anything to do outside of going to the bars?"
WeMustSetSail identified herself as a newly employed 20-something who was both the youngest and only unmarried person at her company. She wanted to branch out and make new friends, but she didn't know where to start. Fortunately, the internet has all the answers. Many folks posted their advice to this single gal, and we thought we'd help out too by putting together a comprehensive list of ways to meet singles in Lincoln and the surrounding area.
The city of Lincoln covers more than 94,000 square miles and has a population of over 284,000 people. That's a lot of ground to cover and a lot of potential date prospects to sort through on your own. Not all singles are up to that challenge, which is why they rely on online dating to help them narrow the dating pool to viable dates. You can search for mutual matches by age, location, gender, appearance, education, interests, and other dealbreakers on a dating site, and that makes it that much easier to meet people you click with.
Best Singles Site
At this point, Match is older than some of its users. This longstanding dating site has been around since 1995, and it only gets better with age. Decades of matching couples has served to hone the match algorithm and inform the online dating process so it's a well-oiled machine. You can quickly find a compatible date on this dating site and app.
Best Site for Professionals
Lincoln's booming tech industry has earned it the reputation as the Midwest Silicon Prairie. Thousands of intelligent individuals move there to attend the University of Nebraska and stay to work as young professionals in the city. These highly motivated and successful singles often want a partner who matches them in education and ambition, and that's where EliteSingles comes in. This highly curated dating network attracts lawyers, doctors, engineers, and other busy professionals.
Over 50 & Senior Sites
OurTime is one of the most trusted senior dating sites around. It welcomes singles over 50 who are recently divorced, widowed, or have never been married. A mature network like this one can be extremely in a college town like Lincoln where the median age is 31.8.
For Black Men & Women Only
If you live in Lincoln, then you know it's not exactly the most diverse city in the US. According to the 2010 census, over 85% of the population is white and less than 5% identify as black or African-American. No exactly encouraging for black singles in the city. There's good news, however, because BlackPeopleMeet exists to connects black and biracial singles across the US. You can sign up for free to browse your date prospects and find someone who understands where you're coming from.
Hookup & Sex Site
As much as online dating has the reputation as being for hookups, the truth is that it's not always that friendly to casual daters. Not everyone online is looking for the same things — some want a relationships and others would prefer to be friends first — and that can be exceedingly frustrating if all you want to do is get laid. That's why adult-friendly dating sites like Adult Friend Finder have gained popularity among sexually active singles. Anyone over 18 can join this sex and swinger community and be upfront about their needs, desires, and preferences.
What's the difference between dating apps and dating sites? Just the device you use. Dating apps bring all the functionality and networking power of a dating site into a mobile-friendly platform. Dating apps also tend to emphasize swiping over searching, but every platform is a little bit different so you may have to download a few before you find the right one for you. We have rated some of our favorite dating apps (which are also accessible as dating sites) to help you get started.
Relationships: Fun Dates, Serious Relationships
Match System: Browse by location, age, interest, and more
About the App: Available via the App Store and Google Play, Match is a fantastic app for dates and relationships. With a user base of 30 million singles, Match is where you'll have a high chance of success. It's free to download, create a profile, search for date prospects, and receive compatible matches based on personalized preferences. Free members can also chat with select members and send unlimited likes.
Browse Free: View Profiles Now
| User Base | Gender Ratio | Popularity (Visits/Mo.) | App Cost |
| --- | --- | --- | --- |
| All Singles* | | 13.5 Million* | Free Download |
Relationships: Deep Relationships
Match System: Search by education, lifestyle habits, age
About the App: Commitment-minded, professional daters will feel at home with EliteSingles, which can be downloaded for free in the App Store or Google Play. Not only is everyone looking for a long-term partner, but 80% of members hold a bachelor's, master's, or doctorate degree. EliteSingles sees 210,000 visitors and 2,500 users finding love every month, so it's one of the fastest growing and most reputable apps.
Browse Free: View Profiles Now
| User Base | Gender Ratio | Popularity (Visits/Mo.) | App Cost |
| --- | --- | --- | --- |
| All Singles* | | 290,000* | Free Download |
Relationships: Casual Dates, Relationships
Match System: Search for and receive matches
About the App: Zoosk is the number one app for finding dates, and if you sync up your Google+ or Facebook account, you can have a profile in seconds. The app has 38 million members and will deliver matches to your inbox on a daily basis based on your behavior such as who you search for, like or don't like, and message. The Carousel is another section for matching (tap the heart if it's a yes and the X if it's a no).
Browse Free: View Profiles Now
| User Base | Gender Ratio | Popularity (Visits/Mo.) | App Cost |
| --- | --- | --- | --- |
| All Singles* | | 3.8 Million* | Free Download |
WeMustSetSail specifically ruled out the bar scene when seeking new friends and dates, but not everyone has qualms about going to a bar alone, grabbing a drink, and starting a conversation with a stranger. This can actually be a fun and low-pressure way to expand your social network. Even if you're not a big drinker, you can still hang out, maybe order some food, and meet people from all walks of life. We recommend stopping by the following popular Lincoln bars next time you're feeling rundown by the dating scene.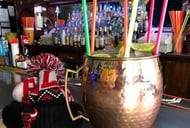 Duffy's Tavern is one of the oldest and most popular neighborhood bars in Lincoln. Since 1936, it has welcomed patrons looking for a cold drink and a hot meal. Locals know this longstanding bar as a the Home of the Fishbowl because of its large, shareable drinks. These massive drinks come with colorful bendy straws and definitely pack a punch. The bar hosts live music, trivia nights, karaoke nights, $1 Tallboy Tuesdays, and pizza happy hours, so you can always treat yourself to a great time here.

311 N Cotner Blvd • Lincoln, NE 68505
(402) 467-4471
Visit Website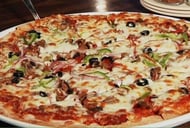 Personally, I'm a sucker for a good old-fashioned Irish pub, and that's exactly what Patty's Pub is. This grill and bar has been in business for over 20 years, and yet it's always cooking up something new. It may seem strange that an Irish pub is known for its pizzas, but its signature gourmet pizzas are piled with cheese, toppings, and goodness. You can wash that down with an ice-cold beer, but just make sure to leave room for the Chips Galore Ice Cream Sandwich served with chocolate sauce for dipping.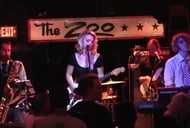 The legendary Zoo Bar delights patrons with live blues and jazz music pretty much every night of the week. This is an authentic dive bar dedicated to bringing talented musicians on its stage. Since 1973, the Zoo Bar has made a name for itself as the go-to hangout for music lovers in Lincoln. Definitely check out its annual music festival (Zoofest) in the summer if you're looking to dance, drink, and meet lots of people. Over the years, Zoo Bar has hosted well-known musical acts, including Buddy Guy, Bo Diddley, Robert Cray, and Otis Rush.


6212 Havelock Ave • Lincoln, NE 68507
(402) 904-7576
Visit Website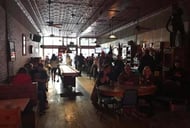 Bob's Tavern doesn't look like anything special from the outside, but that's very much intentional. This dive bar caters to Lincoln's working class population, so it doesn't put on airs or try to be anything other than a place to hang out and relax for an evening. People come for the cheap prices, and they stay for a game of pool or shuffleboard. Most of the bar's regulars are Average Joes (or Janes) looking for a quiet drink after a long day at work. Bob's Tavern hosts live music on Friday and Saturday nights, so stop on by and take a load off your shoulders.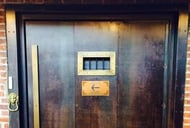 Speakeasies have become all the rage these days. That mysterious and exclusive atmosphere appeals to trendsetters looking for a hidden gem in the city. The Other Room certainly fits the bill with its unobtrusive alleyway door with a slot for whispering a password. This place is pretty hard to find, but it's well worth the effort. A green light will tell you if the bar is open for visitors. If the light is green, use the door knocker to announce your presence. And put your cell phone away before you enter because this is a strict no-phones zone. The Other Room's bar doesn't serve beer or wine — it's all about original and upscale cocktails. This intimate and eclectic spot is perfect for daters seeking a memorable experience.


350 Canopy St #100 • Lincoln, NE 68508
(402) 904-5283
Visit Website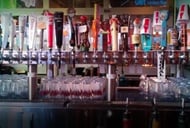 Open since 1976, Longwell's touts itself as both a craft brew house and a sports bar. It has over 100 beers on tap, and dozens of high-def TVs, including a 445-foot LED TV set that provides the ultimate game-watching experience. As you can probably guess, Longwell's really packs in a crowd on gamedays. Fans sit together at the bar and cheer on their teams while digging into plates of BBQ wings, stuffed burgers, and other pub grub.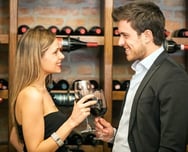 Time-conscious singles love speed dating because it allows them to skip past the searching and the small talking more quickly than other date venues. You can meet dozens of singles in just a couple hours and establish chemistry during a five-minute conversation. At the end of the night, you'll have a list of mutual matches to follow up with and arrange full-on dates. Pre-Dating is one of the largest speed dating companies in the world, and it organizers frequent events in Lincoln. Check it out by clicking the link below.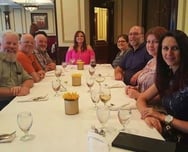 Singles events offer a targeted dating environment where you know everyone you meet is available and looking to find a date. That takes a lot of pressure off singles, and it opens them up to have a fabulous and flirtatious time out on the town. You don't have to feel shy about meeting someone new at a singles mixer or meetup. You can search Meetup by the keyword "singles" to find date-friendly opportunities in your area. For instance, Lincoln's Young & Social 20 Somethings is a fantastic Meetup with over 176 members going to brunches and attending game nights in Lincoln. You can go hiking, biking, or brunching with fun folks by becoming a Meetup member.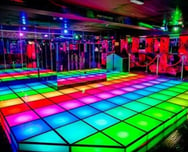 From the Brayford Waterfront to High Street, you can find many fun dance clubs in Lincoln. After all, students at the University of Nebraska need to unwind somehow, right? Many 20-somethings and 30-somethings head downtown for a good time on Friday or Saturday nights. This is a perfect opportunity to work on your moves and meet someone special. If you're feeling brave, you can sidle up to an attractive person by the bar and ask for a dance. Or you can do the thing where you make eye contact across a crowded room and know you're going to meet up at some point on the dance floor.
Not all romantic connections start on the dance floor. Some start with a long, flirtatious conversation. You know you've found a catch when you can spend all night chatting with someone and never get bored. Online chat rooms facilitate those discussions in a free and casual space. You can find a local chat room to mix things up with singles in Lincoln and the surrounding area. We've listed some of the most popular chat rooms to help you dive into a good conversation.
Bars are only open at certain times, and singles events only take place on certain days, so it helps busy singles to have a way of meeting people that's open 24/7. Online dating personals work with your schedule and offer date prospects on demand. You sign up for free and log in any time of day to check messages or browse for dates. Much like traditional dating sites, personals sites allow users to search by location or age range, but the profiles there tend to be much shorter than those you'll find on a dating site. Dating personals get straight to the point so you don't have to wonder about anyone's intentions.
9
Volunteerism Brings Locals Together
Volunteering isn't just good for the community; it's good for you, too. You can expand your horizons and meet many kind people by lending a helping hand to a cause that's close to your heart. Whether you're cleaning up a park, working a charitable event, or walking shelter dogs, you can make a positive impact while bonding with positive people.
VolunteerLinc is a popular networking resource for altruistic folks in the Cornhusker State. This organization partners with nonprofits and lets its members know about opportunities to get involved in Lincoln and Lancaster County. You don't have to create a profile to search the database for volunteer events, filtering by age, agency, distance, date, interests, teams, or other criteria.
Finding a good cause is easy on VolunteerLinc. In the words of the website, " We are committed to identifying, focusing on, and responding to critical social needs and mobilizing the enormous energy and talent of our citizens through civic engagement and community service."
10
Get in the Field During a Pickup Game
I played a lot of sports as a child, and that team spirit helped me get over my shyness and make a lot of friends. As adults, we tend to leave sports to the professionals, but there are actually a lot of adult-friendly sports leagues for those of us who still enjoying playing games and being competitive.
Lincoln shares its team sports schedule online to help locals find the league that's right for them. You can join a volleyball team in the fall and a softball team in the spring and stay active all year round. Quick tip: If you're straight and looking for a date, we recommend checking out the coed kickball and coed softball divisions.
The Lincoln Ultimate Disc Association offers a list of pickup games that are open to anyone. Ultimate Frisbee is a pretty simple game, so you don't need to be a stellar athlete to play. You can show up to the field and join the team in running around and looking foolish. It's a great way to loosen up, get some exercise, and meet outgoing individuals.
Finding a Date in Star City Takes More Than Just Wishing
Unless you attend the university or community college, you may not always be surrounded by date prospects in your day-to-day life. Single professionals, like WeMustSetSail, often struggle to meet new people and find a date. "I love grabbing drinks as much as the next person," she said, "but it would be nice to have a different option."
The goods news is that singles have a lot of online and offline options to meet people, but it's going to take some effort. You have to join a club, create a profile, make conversation, and set yourself up for success — it's not going to come to you. You can use this list of resources to make headway in Lincoln's dating scene and have fun while you're at it. Good luck!
Final Thoughts on Dating in
Lincoln, NE
We hope you've found our guide "10 Ways to Meet Singles in Lincoln, NE (Dating Guide)" to be helpful in your dating journey. If you're ready to take the leap into the local Lincoln, NE, dating scene, keep in mind that apps like Match and Elite Singles are the easiest way to meet singles locally and throughout Nebraska.
Prefer to meet people the old-fashioned way? You're certainly not alone. According to local reviews, these popular spots in Lincoln, NE, could be exactly what you're looking for:
Duffy's Tavern
Patty's Pub
Zoo Bar
Bob's Tavern
The Other Room
Longwell's
Whether you're in Lincoln, NE, surrounding areas, or anywhere else in Nebraska, remember that there's someone out there for you. It's just a matter of taking that first step.
Advertiser Disclosure
DatingAdvice.com is a free online resource that offers valuable content and comparison services to users. To keep this resource 100% free for users, we receive advertising compensation from the sites listed on this page. Along with key review factors, this compensation may impact how and where sites appear on the page (including, for example, the order in which they appear). DatingAdvice.com does not include listings for all dating sites.
Our Editorial Review Policy
Our site is committed to publishing independent, accurate content guided by strict editorial guidelines. Before articles and reviews are published on our site, they undergo a thorough review process performed by a team of independent editors and subject-matter experts to ensure the content's accuracy, timeliness, and impartiality. Our editorial team is separate and independent of our site's advertisers, and the opinions they express on our site are their own. To read more about our team members and their editorial backgrounds, please visit our site's About page.