10 Ways to Meet Singles in Louisville, KY (Dating Guide)
Louisville is the largest city in Kentucky, home to the Kentucky Derby, and with a heritage that traces back to 1778. Whether you pronounce it "loo-a-vul" or "loo-ee-vill," everyone agrees this longstanding city has cultivated a close-knit community of family friends, folksy neighbors, and Southern charm. Despite its welcoming atmosphere, however, some single folks find it hard to meet new people in such a well-established and time-honored place.
"I moved here about six months ago and have yet to really make any friends," wrote Rachel Allison, a 31-year-old single woman, in a Louisville discussion forum. "Sometimes I feel like I am surrounded by families or people who have been friends all their lives," she added. Bless her heart.
Rachel went online looking for suggestions for how she could make single friends in Louisville because she was tired of going out to dinner alone. If you're also keen on meeting people in Jefferson County, you can improve your social (and dating) life by using our top 10 ways to meet singles in Louisville. Hopefully, we can get you riding off into the sunset with a new friend or romantic interest real soon!
If you've a mind to get a date, go on and get yourself online. Dating sites give you the chance to mix and mingle with available people in your area. You can join a niche platform that caters to your kind of folks to help you meet a compatible date that much faster. To help you pick the right site, we've highlighted the best dating sites by category for singles in Louisville.
Best Singles Site
Our experts reckon Match is the best dating site out there because it has a vast user base, a longstanding reputation, and a quality matching system. You can quickly connect with friendly fellows and lovely ladies thanks to the site's state-of-the-art personality profiles and time-tested dating tools. Joining Match is a sure-fire way to meet date prospects in your area, and you can join for free!
Best Site for Professionals
People in Louisville don't usually put on airs, but some singles aim a little higher in their love lives, desiring high-caliber dates with substance. Maybe you feel you have more in common with people who are as educated and cultured as you are. If so, Elite Singles is the dating network for you. On this upscale platform, over 80% of users are working professionals with at least a bachelor's degree. Elite Singles delivers a premium dating experience for folks who have particular standards for their dates.
Over 50 & Senior Sites
Not everyone is looking for a young buck to go out with — some seasoned daters just want someone to sit on the porch with them and have a heartfelt conversation. OurTime helps daters escape the fast-paced dating scene and enjoy an age-appropriate environment that caters to the needs of singles over 50. This user-friendly dating site makes finding a mature date in Louisville that much easier.
For Black Men & Women Only
As are many big cities in the South, Louisville is a fairly diverse place. From Old Louisville to the West End, many different cultures call the city home. According to 2007 demographic information, over 22% of the population identifies as black. If you're interested in dating within the black community in Louisville, BlackPeopleMeet is a fantastic online dating resource. You can register for free and introduce yourself to black and biracial singles who live near you.
Hookup & Sex Site
Adult Friend Finder hooks you up with millions of sexually active adults in a few clicks. This dating site hosts the world's largest sex and swinger community with over 98 million photos posted by hot men and women seeking no-strings-attached sex. For adventurous daters in Louisville, AdultFriendFinder.com provides a nonjudgmental platform to enjoy raunchy encounters with local singles.
In 1790, Louisville had a population of 200 people, so dating was pretty straightforward for young singles with limited options. Today, Louisville has well over 628,000 people, and mobile dating means singles have almost unlimited dating options. Dating applications give singles a portal to fast connections with local singles, cutting down your search for a date thanks to the power of technology. Below, you can read our expert reviews on the best dating apps for active daters in Louisville.
Relationships: Fun Dates, Serious Relationships
Match System: Browse by location, age, interest, and more
About the App: Available via the App Store and Google Play, Match is a fantastic app for dates and relationships. With a user base of 30 million singles, Match is where you'll have a high chance of success. It's free to download, create a profile, search for date prospects, and receive compatible matches based on personalized preferences. Free members can also chat with select members and send unlimited likes.
Browse Free: View Profiles Now
| User Base | Gender Ratio | Popularity (Visits/Mo.) | App Cost |
| --- | --- | --- | --- |
| All Singles* | | 13.5 Million* | Free Download |
Relationships: Deep Relationships
Match System: Search by education, lifestyle habits, age
About the App: Commitment-minded, professional daters will feel at home with EliteSingles, which can be downloaded for free in the App Store or Google Play. Not only is everyone looking for a long-term partner, but 80% of members hold a bachelor's, master's, or doctorate degree. EliteSingles sees 210,000 visitors and 2,500 users finding love every month, so it's one of the fastest growing and most reputable apps.
Browse Free: View Profiles Now
| User Base | Gender Ratio | Popularity (Visits/Mo.) | App Cost |
| --- | --- | --- | --- |
| All Singles* | | 290,000* | Free Download |
Relationships: Casual Dates, Relationships
Match System: Search for and receive matches
About the App: Zoosk is the number one app for finding dates, and if you sync up your Google+ or Facebook account, you can have a profile in seconds. The app has 38 million members and will deliver matches to your inbox on a daily basis based on your behavior such as who you search for, like or don't like, and message. The Carousel is another section for matching (tap the heart if it's a yes and the X if it's a no).
Browse Free: View Profiles Now
| User Base | Gender Ratio | Popularity (Visits/Mo.) | App Cost |
| --- | --- | --- | --- |
| All Singles* | | 3.8 Million* | Free Download |
However you pronounce it, Louisville is full of personality and character. It hosts the Kentucky Derby in Churchill Downs every year. It's where Jennifer Lawrence grew up. From Kentucky Fried Chicken to the Louisville Bats, the city has produced many winners over the years. Many proud Kentuckians celebrate their victories and honor their traditions in the city's bustling downtown area. Louisville's bar scene reflects all there is to love about Kentucky, including an extensive menu of mint juleps, bourbon, and whiskey. We've highlighted the best bars in town to help you get off to the races that much faster. Enjoy!


969 Charles St • Louisville, KY 40204
(502) 637-4377
Visit Website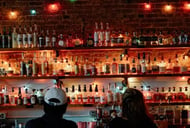 NachBar is a favorite Louisville bar with a friendly neighborhood feel to it. The affordable drinks, cozy atmosphere, and jukebox tunes encourage singles to linger for hours at a completely unpretentious bar. Plus, the patio is pet-friendly so your dog can be your wingman! NachBar frequently hosts jam sessions, honky-tonk shows, and other live entertainment to encourage Louisville residents to come out of their shell and have a good time. You can join the fun by ordering a shot for yourself or someone special at NachBar.


425 W Chestnut St • Louisville, KY 40202
(502) 822-6382
Visit Website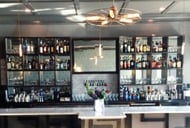 Known for serving craft cocktails, beer, and sake, Meta is a sophisticated speakeasy for Louisville singles and couples. The vintage decor and soft lighting facilitates romantic moments over specialty drinks. Every month, the bar comes out with a new drink that fuses old classics into something deliciously innovative. Usually it has a funny name, too, such as the Dead Hemingways, Make It Strong, and Louisville Hanky Panky. Meta is a trendy place to unwind with a flavorful drink in your hand and someone special by your side.


1202 Bardstown Rd • Louisville, KY 40204
(502) 618-2237
Visit Website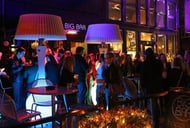 Big Bar is a modern and cozy gay bar in the Highlands of Louisville. Under the soft red glow of the lamplight, you can relax and order a drink at the bar, then go out onto the patio to rub elbows with a diverse mix of people. Karaoke nights and drink specials liven the place up on a regular basis. Every time it snows, Big Bar celebrates by serving $3 signature slushies. You can chill out here alongside chatty regulars and make fast friends in the bar's festive atmosphere.


2235 Frankfort Ave • Louisville, KY 40206
(502) 777-1505
Visit Website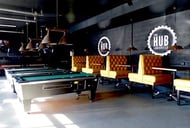 The Hub is a social hub in Louisville, filled with fun, friends, and food. You can hang out at the bar or on the patio to mingle with locals over a few cold ones. Rows of pool tables, intimate booths, and premium liquors tempt singles with a good time. The fresh popcorn is a great snack to share with a date and get you both thirsty for traditional and original cocktails made by skilled mixologists. You can flirt with your crush by ordering them a Hey Babe, a drink made with gin, lemon, black pepper ginger syrup, and grapefruit bitters. At the Hub, unforgettable tastes and experiences are close at hand.


702 W Main St • Louisville, KY 40202
(502) 217-6360
Visit Website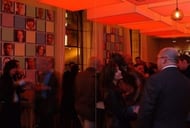 Proof on Main promises to have the finest bourbon on Main Street. The curated selection of 120+ spirits reflects the quality and originality of the bar's patrons, who love to come here to shake things up. If cocktails aren't your thing, you can choose from more than 100 bottles of wine from Italy, Spain, France, and other parts of the world. The bar menu even suggests food pairings to help you look like a pro as you sate your appetite. Additionally, the beautiful artwork lining the walls offers a roomful of conversation starters for anyone popping by Proof on Main for a drink.


732 E Market St • Louisville, KY 40202
(502) 690-6595
Visit Website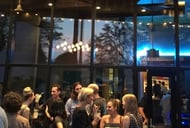 At Galaxie, crowds of Louisville locals come out for quality drinks, happening festivals, and fun concerts. The signature spicy margaritas and all-night dance parties are sure to make an impression on singles looking for a good time. Tall glass windows give the space an open and inviting look. The kitchen serves handmade flatbread tacos and indulgent beignets late into the night, so there's no curfew on your good time when you come to Galaxie.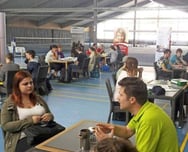 Some singles see dating as a marathon to marriage. They don't have time to waste with short-term dates and are eager to race ahead to the finish line. Speed dating can put time-conscious singles on the inside track to their relationship goals. It's a straightforward event full of dating possibilities. Once the starting bell rings, you have a few minutes to meet a date prospect and decide if that person is your speed. If not, you can rush by to the next match. Fast-paced and relationship-oriented speed dating events help singles quickly sift through dates until they find a winner.
5
Louisville Singles Events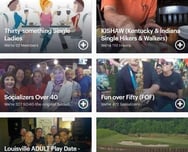 Louisville represents a rich culture of open doors and good eats. Southern hospitality is alive and well in this city, and special singles events give you the chance to pull up a chair, grab yourself a plate, and dig in. Whether you want to meet fellow professionals or someone in your age group, many singles events cater to specific types of people so it's easier for like to go with like. Meetup provides an accessible platform to find a popular singles group and start mingling with people in your area.
6
Louisville Singles Clubs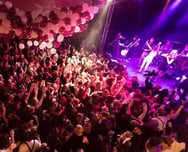 Louisville may seem like a traditional, old-fashioned Southern city, but its nightlife tells a different story. Chic modern clubs crop up all around town to give young, energetic singles a place to come together. If you enjoy busting a move on the dance floor, a popular nightclub could be the perfect dating venue for you. From honky-tonk blues to smooth jazz, you can find all sorts of romantic and dance-worthy tunes playing in Louisville's clubs.
Feeling chatty? Go online! Louisville chat rooms can fix you up right quick. These flirtatious online spaces encourage a no-holds-barred discussion between attractive adults looking for a date. You can instant message someone who catches your eye in the forum and build an online relationship based on mutual interests.
Maybe online dating has too much going on for you. Swiping, liking, and matching can feel like speed bumps on the way to actually talking to someone. If you'd prefer to get straight to the point and start dating, you can make fast connections by placing an online personals ad for Louisville singles. Dating personals skip the fancy stuff and let singles interact without a lot of complicated features. All you have to do is set up your profile, state what you're looking for, and conduct a simple search to find your kind of date.
9
Volunteer Your Time to Community Projects
By volunteering in Louisville, singles can kill two birds with one stone: doing a good deed while meeting altruistic people. There are plenty of opportunities to roll up your sleeves and do something positive for the less fortunate, the environment, or the Louisville community in general.
Brightside is a sunny group dedicated to keeping Louisville's streets clean and public lands beautiful. The cleanup projects typically take place on weekends. Every year, the Brightside Bash invites hundreds of volunteers to enjoy themselves at a fundraiser featuring local bands, raffles, food, and a silent auction. You can join Brightside to lend a helping hand to a worthy cause and meet people from all walks of life.
Of course, this is the South, so you'll find an active volunteerism streak in churches throughout Louisville. A lot of socializing happens at church fundraisers, volunteer projects, and special events. In 2016, Queen Elizabeth II presented Louisville's World Mission Society Church of God with the Queen's Award for Voluntary Service. This acclaimed church emphasizes voluntary good works as the way to share peace and transcend differences of race, culture, nationality, and religion.
If you're in search of a greater purpose and like-minded souls, joining a local church group could be an enriching experience. Plus, attending church services and events are a great way to connect with the strong faith community in the City of Beautiful Churches.
10
Join a Social Group for Louisville Singles Like You
It's easy for a single person to feel isolated and trapped into their solitude, but the reality is that there are tons of people out there going through the same struggle. Being single doesn't have to mean being alone. You can join a supportive group for Louisville singles to expand your social network and inject some fun into your daily routine.
New2Lou is a popular Facebook group designed for men and women who are new to Louisville and hoping to make friends (or maybe more). This closed group often posts about local opportunities to get involved at festivals, art shows, conferences, and other events. Over 1,000 members have used this group to make local connections and fill their calendars with fun events.
Another meetup group called LouisvilleMojo helps singles get to know one another by sharing event information, dating personals, and photos online. An active forum and blog supports locals interested in dating in Louisville. By joining a like-minded group, you can increase your flirtatious opportunities and have fun alongside new date prospects.
Lead the Field & Place First in Dating at Derby City
Though Rachel felt like an outsider in Louisville, all she really needed was a prod in the right direction to get a foothold in the dating scene. There are so many resources online and around town to help newcomers and singles get involved and feel like part of the community. With luck, our 10 ways to meet new people in Louisville can steer you toward romance and relationships.
Dating is a lot like racing for the Triple Crown — you have to keep your eye on the prize, keep working at it all year, and wait for luck to swing your way. It's not a sure thing, but getting back up on the horse is the only way to have a shot at getting what you want. Singles in Louisville are well-positioned to get off to a fast start, find dating success, and take it all the way. Good luck!
Where to Start in
Louisville, KY
Dating in Louisville, KY — or anywhere in Kentucky, for that matter — can certainly be an adventure. That's why you'll want to research and learn everything you can about the local dating scene before venturing out into the great unknown.
We highly recommend you start your adventure by browsing Match.com profiles in Louisville, KY, which is entirely free to do on the Match.com app and website.
We also like these spots as the best places to meet singles in Louisville, KY:
NachBar
Meta
Big Bar
The Hub
Proof on Main
Galaxie
However you decide to start your journey, we wish you all the best! And we will be right here at DatingAdvice.com if we can help you again along the way.
Advertiser Disclosure
DatingAdvice.com is a free online resource that offers valuable content and comparison services to users. To keep this resource 100% free for users, we receive advertising compensation from the sites listed on this page. Along with key review factors, this compensation may impact how and where sites appear on the page (including, for example, the order in which they appear). DatingAdvice.com does not include listings for all dating sites.
Our Editorial Review Policy
Our site is committed to publishing independent, accurate content guided by strict editorial guidelines. Before articles and reviews are published on our site, they undergo a thorough review process performed by a team of independent editors and subject-matter experts to ensure the content's accuracy, timeliness, and impartiality. Our editorial team is separate and independent of our site's advertisers, and the opinions they express on our site are their own. To read more about our team members and their editorial backgrounds, please visit our site's About page.