10 Ways to Meet Singles in Manchester, NH (Dating Guide)
When Lyncecelia moved to Manchester, New Hampshire, she didn't waste any time trying to meet people. She started a thread on City-Data.com asking for opinions on the best ways to socialize in the city. "I want to meet people like me and not be trapped inside all day," she said.
Lyncecelia soon got her wish, with numerous people sharing ideas. One user named AudioJan suggested joining an activity group and or club and told her, "Overall, I find the NH people extremely friendly and personable."
To help other local singles, our dating experts put their heads together to create a comprehensive list of 10 ways for singles in Manchester to meet one another.
As with the parlour game Six Degrees of Kevin Bacon, I bet you know someone or know someone who knows someone who met their boyfriend/girlfriend or husband/wife on a dating site or app. If you're not doing online dating, you won't regret joining the millions of people who are. You can get as specific as you want (down to things like eye color) in your search filters, and it's one of the most affordable ways to connect with other singles. Choosing the right dating site can be a difficult task, though, so we've pinpointed five that have the best reputations and user reviews.
Best Singles Site
It's Match — really, there's not much more to say because it's a household name in the online dating world. But we'll give you some more info anyway. Match was founded in 1993, with the website officially launching in 1995, making it the first dating site in existence. Since then, Match has had more than 42 million signups and has facilitated more first dates, second dates, relationships, marriages, and even babies than any of its competitors.
Best Site for Professionals
Manchester is home to about 10 colleges and universities, which together have over 8,000 students (not to mention thousands of graduates). These schools include Franklin Pierce University, Saint Anselm College, and the University of New Hampshire at Manchester. For those who're very attracted to intelligence, there's hardly a better dating site than Elite Singles. Approximately, 82% of its users have earned a degree from a higher education institution.
Over 50 & Senior Site
According to CensusReporter.org, 33% of people in Manchester are 50 or older. While that's a decent number, it also includes those who are already married. To narrow down your dating prospects, try out OurTime. It's specifically meant for daters in this age range, and the simplicity of its registration and matching process is perfect for less tech-savvy singles.
For Black Men & Women Only
That same CensusReporter.org report we mentioned above shows that 4% of Manchester's population (110,506) is made up of Black men and women. Singles have been told there are plenty of fish in the sea, but if the sea you're fishing in doesn't have the fish you're interested in, you're at a disadvantage. That's why we recommend Black singles who want to date other Black singles to turn to BlackPeopleMeet. The website has a large niche user base (1.4 million monthly users) and dozens of success stories to prove it works.
Hookup & Sex Site
Movies and TV shows have made it seem like marriage, children, and one-on-one monogamy is the goal we should all try to achieve, but that's not necessarily accurate to real life. Plenty of singles and couples love exploring their sexuality and non-traditional forms of dating and monogamy. If you fall into this camp, Adult Friend Finder could be the site for you. Whether you're looking for a one-night stand, NSA relationship, threesome, orgy, swinging partner, or affair, Adult Friend Finder has the tools (e.g., live chat) and sexy members to help you reach your goal.
Google Play and iTunes have dozens of apps listed under the dating category, but you don't want to just download the first one you come across that looks decent. You deserve to have the best mobile dating experience, and that's exactly what the following three online dating apps can give you. We've tested and reviewed each one and can confidently say they're successful at bringing local singles together.
Relationships: Fun Dates, Serious Relationships
Match System: Browse by location, age, interest, and more
About the App: Available via the App Store and Google Play, Match is a fantastic app for dates and relationships. With a user base of 30 million singles, Match is where you'll have a high chance of success. It's free to download, create a profile, search for date prospects, and receive compatible matches based on personalized preferences. Free members can also chat with select members and send unlimited likes.
Browse Free: View Profiles Now
| User Base | Gender Ratio | Popularity (Visits/Mo.) | App Cost |
| --- | --- | --- | --- |
| All Singles* | | 13.5 Million* | Free Download |
Relationships: Deep Relationships
Match System: Search by education, lifestyle habits, age
About the App: Commitment-minded, professional daters will feel at home with EliteSingles, which can be downloaded for free in the App Store or Google Play. Not only is everyone looking for a long-term partner, but 80% of members hold a bachelor's, master's, or doctorate degree. EliteSingles sees 210,000 visitors and 2,500 users finding love every month, so it's one of the fastest growing and most reputable apps.
Browse Free: View Profiles Now
| User Base | Gender Ratio | Popularity (Visits/Mo.) | App Cost |
| --- | --- | --- | --- |
| All Singles* | | 290,000* | Free Download |
Relationships: Casual Dates, Relationships
Match System: Search for and receive matches
About the App: Zoosk is the number one app for finding dates, and if you sync up your Google+ or Facebook account, you can have a profile in seconds. The app has 38 million members and will deliver matches to your inbox on a daily basis based on your behavior such as who you search for, like or don't like, and message. The Carousel is another section for matching (tap the heart if it's a yes and the X if it's a no).
Browse Free: View Profiles Now
| User Base | Gender Ratio | Popularity (Visits/Mo.) | App Cost |
| --- | --- | --- | --- |
| All Singles* | | 3.8 Million* | Free Download |
What's your poison? Beer, wine, or gin and tonic? What about in terms of dating? Blondes, doctors, or funny personalities? No matter what you prefer to drink and who you prefer to date, you can find it at the nine top bars in Manchester. We've got breweries, martini lounges, pubs for college-aged folks, watering holes with a more mature crowd, and anything else you can think of!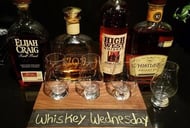 815 is a speakeasy-themed bar with a password that changes every Monday. Check out its Facebook every Monday so you can get in. Ryan McCabe and Sarah Maillet own 815, and Chef Jon Talbot handles the kitchen. 815 has 4.5 out of 5 stars on Yelp, where you'll find this comment from LJ D., who said: "This speakeasy is a hidden gem in the heart of Manchester. What a great place to get away and completely unwind!"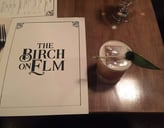 The Birch on Elm is located on, you guessed it, Elm Street, and it specializes in modern, seasonal food and traditional cocktails. We'd recommend the cheese board, crab tortellini, pork belly Cubano sandwich, and peanut butter and jelly cheesecake. In terms of drinks, the Blood & Sand, Suffering Bastard, and Cardstock Paper Plane caught our eye.


3
Veranda Martini Bar and Grille
201 Hanover St • Manchester, NH 03104
(603) 627-2677
Visit Website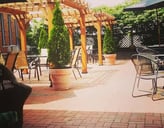 If you love seafood and martinis, then you'll love Veranda Martini Bar and Grille. People can't seem to get enough of the oysters, lobster, mussels, and chowder as well as classic and unique martinis. Stephanie C. said it's "one of my favorite joints for an excellent made martini. The food is excellent. You really can't go wrong at this place. The customer service has always been well above the standard."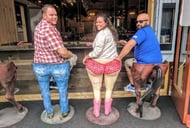 Bonfire Country Bar isn't just a little bit country — it's 100% country, appealing to people's love of "Urban Cowboy." Daily and happy hour specials include $7 picklebacks, $2 fries and a beer of the month, and free bacon! When you feel like being a little fancier, order a Moonshine Sunrise or Wild Wild West. When you want to fill your stomach, you can't go wrong with the burgers, tacos, poblano poppers, and s'mores platter.


21 Kosciuszko St • Manchester, NH 03101
(603) 669-7722
Visit Website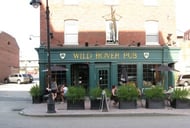 Founded in 1990, the Wild Rover is as Irish of a pub as it gets. The floors and brick walls are over 100 years old, the tap list is one of the largest in the city, and the staff is incredibly charming. You can get a Smithwicks or a Guinness, of course, as well as wine (anything from Riesling to Cabernet). The Wild Rover serves breakfast, lunch, dinner, and late-night snacks, so you can satisfy your cravings anytime with bangers and mash, fish and chips, and shepherd's pie, among other items. Keep an eye on The Wild Rover's calendar for events like DJ dance nights and live musical performances.



"Live Free. Drink Beer" is the motto at the Thirsty Moose Taphouse, and how could you not love that?! The team also wants you to enjoy "good food with great people." On the food menu, you'll see hot pretzel sticks, poutine fries, prime rib sliders, and veggie wraps. On the drink list, you'll see fruity beers (like Purple Haze), brown ales (like Pig's Ear,) Ambers (like Orodon), and IPAs (like Damn Sure).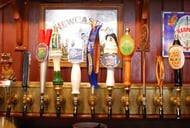 At Strange Brew Tavern, it's all about the beer — whether it's local (e.g., RVP Porter), regional (e.g., Czech Pilsner), national (e.g., Harvest Patch Shandy), or international (e.g., Spaten Oktoberfest Ur-Märzen). Strange Brew Tavern hosts local bands every week as well, including Ken Clark & Friends, Seldom Playrights, and Dirty Duo. Linda Nechetsky raved that: "Servers and bartenders are very attentive, friendly, outgoing. Guaranteed to have a good time every time you come here. Their entertainment is awesome."


23 Central St • Manchester, NH 03101
(603) 935-7779
Visit Website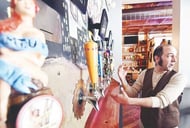 Central Ale House, which is located in downtown Manchester, welcomes patrons whether they're looking for "great food, stories from family and friends, or just a night out on the town." The bar has more than 32 draft beers, including Victory Storm King and Longtrail, as well as several cocktails, including its signature C.A.H. Lift and C.A.H. Gauge. Man can't live on beer alone, though, so try pairing your drinks with mozzarella sticks, wings, or nachos.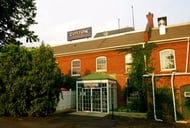 Named one of the top 10 neighborhood restaurants in the Northeast by Bon Appétit magazine, Cotton has all the makings and "potential for a really good time." The food is trendy but delicious — our mouths were watering just looking at the Asian pot stickers, retro meatloaf, and butternut squash raviolis. Wash it all down with Cotton's Manhattan, a Cucumber Spritzer, or Lavender Gin.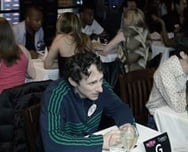 Pre-Dating is an established speed dating company that holds monthly events for millions of singles in over 70 cities around the country — Manchester being one of them. The first step is to choose an event that sounds good to you, sign up, and then attend (usually it's held at a bar and/or restaurant). During the two-hour evening, you'll meet up to 12 single professionals. When the night is over, circle who you like on your Interest sheet, and you'll get an email the next day with links to get their contact info.
5
Manchester Singles Events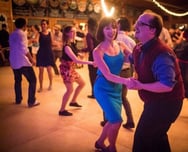 Meetup.com changed the way people come together when it launched in 2002. Instead of relying on word of mouth, flyers, and their own research to find events, people could go to the site, type in their location or interest (or both), and get a list of goings-on near them. Today, Meetup has more than 32 million users, 280,000 groups, and is available in more than 182 countries. It's also especially popular among singles. Click the link below to check out Meetup's offerings for Manchester:
6
Manchester Singles Clubs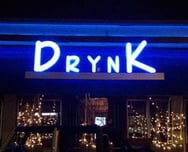 Manchester has about 36 bars and clubs, according to YellowPages.com, but don't worry — there's no need for you to go to every single one of them to see which ones you like. Yelp has the go-to options. On the site's Manchester Dance Clubs page, you can learn more about where, when, and how to get your drink and dance on and read reviews from locals and visitors.
Raise your hand if you created an account (complete with a goofy username and avatar) when AOL launched its chat rooms in the '90s? I'm guessing a majority of people would raise their hands to that question, including myself. When chat rooms came around, it meant people no longer had to take a chance on going out and possibly not meeting anyone — they could go online, find someone interesting, and plan a meetup or just have a conversation. Here are the five leading chat rooms for singles in Manchester, in particular.
BBW, DTE, F2F, FWB, GSOH, IRL, ISO, LDR, MBA, ND, SWF, TV, WAA — these are just some of the acronyms you might come across on a personals site. Respectively, they mean big beautiful women, down to earth, face-to-face, friends with benefits, good sense of humor, in real life, in search of, long-distance relationship, married but available, no drugs/non-drinker, single white female, transvestite, and will answer all. Posting an online personal ad is similar to posting a dating profile, and if you can speak the lingo, you'll get exactly who and what you want online.
9
Sign Up for a Sports League
Manchester has about 47 parks, fields, plazas, clubs, stadiums, ponds, athletic courts, and school grounds — making it a very active community. For singles who love sports, joining a local league (it could be for basketball, volleyball, bowling, softball, soccer, etc.) should be on your radar. It'd be hard not to meet people this way!
Some sports groups and teams gather together on Meetup.com. Try searching on your own as well by googling "Manchester NH sports leagues" to find good options to team up.
10
Join a Book Club or Start One of Your Own
I was an avid reader as a kid, and while I don't read as much as I used to, I still love curling up with a good book when I can. Something I love even more is talking about books with people who've read the same ones as I have. It's so much fun being able to listen to their take on a book as well as share my thoughts. It's also a great way to break the ice with someone new.
If you're a bibliophile as well, participating in a book club, or starting one of your own, will put you right in front of your desired audience.
Meetup is your trusty friend in this situation as well. And so is Google. We browsed for only a couple of minutes and found a bunch of book clubs you could join. The Manchester Library also puts on events on a regular basis that are worth looking into.
Find Your Queen In "The Queen City" Or Vice Versa!
It's awesome that Lyncecelia took matters into her own hands and didn't wait around for new people to come to her. However, we want people like her, and you, to know that they don't have to go on this journey alone. As the authority on all things dating, we have your back and will provide you with everything you need to make all your dating and relationship dreams come true!
Final Thoughts on Dating in
Manchester, NH
We hope you've found our guide "10 Ways to Meet Singles in Manchester, NH (Dating Guide)" to be helpful in your dating journey. If you're ready to take the leap into the local Manchester, NH, dating scene, keep in mind that apps like Match and Elite Singles are the easiest way to meet singles locally and throughout New Hampshire.
Prefer to meet people the old-fashioned way? You're certainly not alone. According to local reviews, these popular spots in Manchester, NH, could be exactly what you're looking for:
815
The Birch on Elm
Veranda Martini Bar and Grille
Bonfire Country Bar
The Wild Rover
Thirsty Moose Taphouse
Strange Brew Tavern
Central Ale House
Cotton
Whether you're in Manchester, NH, surrounding areas, or anywhere else in New Hampshire, remember that there's someone out there for you. It's just a matter of taking that first step.
Advertiser Disclosure
DatingAdvice.com is a free online resource that offers valuable content and comparison services to users. To keep this resource 100% free for users, we receive advertising compensation from the sites listed on this page. Along with key review factors, this compensation may impact how and where sites appear on the page (including, for example, the order in which they appear). DatingAdvice.com does not include listings for all dating sites.
Our Editorial Review Policy
Our site is committed to publishing independent, accurate content guided by strict editorial guidelines. Before articles and reviews are published on our site, they undergo a thorough review process performed by a team of independent editors and subject-matter experts to ensure the content's accuracy, timeliness, and impartiality. Our editorial team is separate and independent of our site's advertisers, and the opinions they express on our site are their own. To read more about our team members and their editorial backgrounds, please visit our site's About page.