9 Ways to Meet Singles in Philadelphia, PA (Dating Guide)
One of the best episodes of "It's Always in Sunny in Philadelphia" is the "The D.E.N.N.I.S. System" — when Dennis explains to the gang his seduction process that supposedly works on any woman. It works like this:
1) Demonstrate Value (he pretends to buy medicine for his sick grandmother from Caylee, a pharmacist), Engage Physically (he takes her to a closed restaurant so they have to go to his place as a backup), Nurture Dependence (he prank calls as an angry neighbor and comes over to protect her), Neglect Emotionally (he stopped showing up when the "angry neighbor" kept threatening her life), Inspire Hope (he tells her she cured his fear of love), and Separate Entirely (after one last night of passionate sex, she never hears from him again).
Obviously, it's a TV show and all of this is in good fun — dating in Philadelphia in real life isn't this manipulative or complicated. In fact, it's actually really easy and fun. We've narrowed down the nine best resources for Philly singles to connect.
1
Philadelphia Dating Sites
Almost half of Americans go online several times a day, while one-fifth are constantly using the internet. If you're one of them, why not do some online dating while you're at it? It's the quickest, simplest, and cheapest way to meet numerous compatible people at once, and we'll take you through our five recommendations.
Best Singles Site
Match is the mother of all dating sites, having been founded in 1995. To give you some perspective on just how long ago that was, this is the year that OJ Simpson was found not guilty, Tom Hanks won a Golden Globe for "Forrest Gump," and tennis legends Andre Agassi and Pete Sampras competed in the Australian Open finals (with the former winning). Not only does Match have history on its side, but it also has the numbers: 30 million members and counting and more romantic connections than any other dating site.
Best Site for Professionals
Philadelphia is a hub for startups and other businesses, which makes it great for single professionals. If you fall into this category and are looking for someone special who does as well, we'd suggest turning to Elite Singles. More than 80% of the site's users hold a bachelor's, master's, or doctorate degree (or some combination of the three). In addition, 90% are at least 30 years old, so you won't have to worry about sorting through younger men and women who might only be looking for a hookup.
Over 50 & Senior Site
OurTime was created around 2011 and is backed by Match.com, so you know it's the real deal. Just like Mikey says to his friends in "The Goonies" that it's "our time down here," it's seniors' time on this dating site. It's only meant for singles aged 50 and older, and you can sign up for a free membership to test the waters out before fully committing.
For Black Men & Women Only
For most people, the point of dating is to find someone who's been through similar experiences, lives a similar lifestyle, has similar beliefs and values, and just gets them, in general. Race and ethnicity can be a major factor in achieving this, which is why BlackPeopleMeet is always a go-to for black and biracial singles. With one less thing to add to your must-have list, you can pay more attention to other qualities and characteristics that matter to you.
Hookup & Sex Site
Online dating has made it easier than ever to find a date as well as a hookup, so for more casual-minded daters, Adult Friend Finder is the site to join. With more than 77 million members and a ton of different ways to chat with them, including instant messaging and video, Adult Friend Finder ensures that you'll probably never be bored.
Earlier we mentioned a majority of people go online throughout the day, and usually their phone is the device of choice. That's why dating apps have become so important — you're no longer limited to browsing for matches on your home desktop. You can go about your day and get out into the world while still making your dating life a top priority. So which apps should you use? We like the following three, and we'll also tell you why in the graphs:
Relationships: Fun Dates, Serious Relationships
Match System: Browse by location, age, interest, and more
About the App: Available via the App Store and Google Play, Match is a fantastic app for dates and relationships. With a user base of 30 million singles, Match is where you'll have a high chance of success. It's free to download, create a profile, search for date prospects, and receive compatible matches based on personalized preferences. Free members can also chat with select members and send unlimited likes.
Browse Free: View Profiles Now
| User Base | Gender Ratio | Popularity (Visits/Mo.) | App Cost |
| --- | --- | --- | --- |
| All Singles* | | 13.5 Million* | Free Download |
Relationships: Deep Relationships
Match System: Search by education, lifestyle habits, age
About the App: Commitment-minded, professional daters will feel at home with EliteSingles, which can be downloaded for free in the App Store or Google Play. Not only is everyone looking for a long-term partner, but 80% of members hold a bachelor's, master's, or doctorate degree. EliteSingles sees 210,000 visitors and 2,500 users finding love every month, so it's one of the fastest growing and most reputable apps.
Browse Free: View Profiles Now
| User Base | Gender Ratio | Popularity (Visits/Mo.) | App Cost |
| --- | --- | --- | --- |
| All Singles* | | 290,000* | Free Download |
Relationships: Casual Dates, Relationships
Match System: Search for and receive matches
About the App: Zoosk is the number one app for finding dates, and if you sync up your Google+ or Facebook account, you can have a profile in seconds. The app has 38 million members and will deliver matches to your inbox on a daily basis based on your behavior such as who you search for, like or don't like, and message. The Carousel is another section for matching (tap the heart if it's a yes and the X if it's a no).
Browse Free: View Profiles Now
| User Base | Gender Ratio | Popularity (Visits/Mo.) | App Cost |
| --- | --- | --- | --- |
| All Singles* | | 3.8 Million* | Free Download |
3
Philadelphia Singles Bars
Yelp has 212 listings for Philly Bars, so, if you're a drinker, this is an avenue you'll want to take advantage of if you aren't already. Buying someone a drink is always shown in movies and TV shows, and it's something more people should do in the real world. Not to mention it's a fantastic way to start a conversation — you can ask someone what they like and why and, on the flip side, share your tastes. Don't forget to take some friends along, which can help relieve the nerves.


1840 Ben Franklin Pkwy • Philadelphia, PA
(215) 783-4171
Visit Website

Assembly is a popular rooftop lounge on top of the Logan Hotel. Its views include the Benjamin Franklin Parkway as well as Philadelphia's art and museum district. The bar menu includes a variety of champagnes and other bubbly cocktails and wines. If you're more of a beer kind of guy or gal, Assembly has your back there, too. You can choose from bottled libations like Yards PPA and Evil Genius Pineapple Hefeweizen. When you need something to nosh on, try the baked brie or the bar's very own charcuterie board.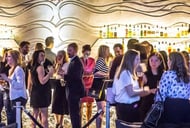 Philly loves its rooftop bars, and Stratus is a resident favorite. It sits 11 stories high above the city's most historic block and has a beautiful maple tree and cozy fireplace to set the scene for singles. In terms of drinks, your options include a Screaming O (Pisco Porton, rosemary hibiscus syrup, lime, egg white, and hibiscus flower garnish), Zonin Prosecco, and Dock Street Bohemian Pils. In terms of food, your options include prosciutto-wrapped dates, pork belly toast, and boozy chocolate truffles. My mouth is watering just typing that.


39th and Walnut Street • Philadelphia, PA
(215) 6620105
Visit Website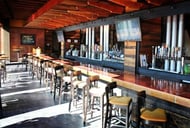 "Comfortably rustic," "craft-minded," "the fire pits are open," and "champions of American craft" are some of the descriptions you'll find on City Tap House's website. It has more than 60 craft beers on tap and a 120-seat dining room (as well as plenty of outdoor seating). Not to mention City Tap House has been voted the "Best Bar to Watch the Game" from 2011 to 2015 by Philly Bar Scene. The bar also hosts weekly events, like quiz nights, so mingling is definitely encouraged.


1720 Fairmount Ave • Philadelphia, PA 19130
(215) 765-2274
Visit Website

Bar Hygge (pronounced "huu-guh" and which means "taking genuine pleasure in making ordinary, everyday things more meaningful, beautiful or special") can be found in the Spring Garden neighborhood. The pub and restaurant offers happy hours Monday through Friday and an amazing brunch every Saturday and Sunday. Bar Hygge is known for its boards in which you can choose one, three, or five items (e.g., cherries and gorgonzola dolce, tempura asparagus, and beef tartare) to be served with seasonal accompaniments and house-made bread.


5
Conshohocken Brewing Company
739 E Elm St b • Conshohocken, PA 19428
(610) 897-8962
Visit Website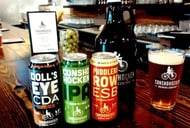 Conshohocken Brewing Company focuses on quality, not quantity, and crafts its beers in small batches so patrons always have something that's innovative and fresh. The year-round beers include Puddlers Row ESB, Type A IPA, and Burn Everything Rye Porter, while seasonal beers include Island in the Sun Double IPA, conshoHOPFEN Hull Melon Helles, and Hearts Alive Imperial Red Ale. When you get hungry, Conshohocken has a massive menu that will satisfy meat and veggie lovers alike.


6
McGillin's Olde Ale House
1310 Drury St • Philadelphia, PA 19107
(215) 735-5562
Visit Website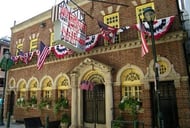 McGillin's Olde Ale House has one of the coolest atmospheres of any Philly bars. It opened the same year Abraham Lincoln was elected president and not too long after the Liberty Bell cracked, making it the oldest continuously operating tavern in the city. McGillin's doesn't skimp on the food or drinks either. Whether you're on a date or watching an Eagles game with friends, you'll have 30 drafts to choose from, including Stoudt's, Dogfish Head, and Flying Fish, and dozens of delicacies such as Mile High Meatloaf, Cape May Seafood Stew, and Shepherd's Pie.


1214 Sansom St • Philadelphia, PA 19107
(215) 928-8118
Visit Website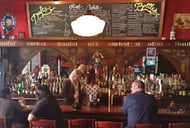 Not only does Fergie's serve up good drinks and good food, but it also serves up good times with events like live band karaoke, Irish ballad sessions, open mic nights, acoustic performances, and poetry readings. This bar and kitchen are open every day from 11:30 a.m. to 2 a.m. and has hoppy, light, and dark beers, fruity ciders, refreshing whites, complex reds, and scrumptious food (fried pickles, roast beef sandwich, all day Irish breakfast, etc.).


901 N 2nd St • Philadelphia, PA 19123
(215) 238-0630
Visit Website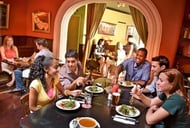 Standard Tap's mission is a modest but admirable one: to be a go-to neighborhood watering hole with awesome beer and food. And this bar is most certainly accomplishing that. Take it from Jen S. who wrote on Yelp that, "This place never disappoints! Whether I come here for brunch, happy hour, dinner, or late night drinks, it always has just the right ambiance." Standard Tap's fare includes beer from Bullfrog, Levante, and Manayunk and food such as chicken pot pie, mussels, and chicken parmesan. Note: The menu is always changing, so you never know what kind of deliciousness you're going to get!


200 Market St • Philadelphia, PA 19106
(215) 625-4566
Visit Website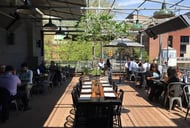 "Unite and dine" is Revolution House's motto, and the bar and restaurant has several stories where you can do that. Revolution House has drinks and food worth bragging about, but something else it can brag about is the ambiance. The building features some of the original brick from 1798, when it was the Quaker Friends Meetinghouse, as well as wainscoting from old Philadelphia school doors, and vintage bottles hanging from the second-floor bar.


212 Walnut St • Philadelphia, PA 19106
(215) 238-0499
Visit Website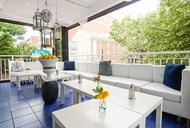 Positano Coast brings Italy to Philadelphia. This restaurant, crudo, and wine bar is a popular engagement and wedding venue, but it's also a romantic spot for singles to meet, sit outside in the fresh air, sip genuine Italian wines, nibble on shrimp cocktail, mahi mahi carpaccio, or tuna tartare, and get to know each other. Positano's Coast calls its atmosphere fun and flirty, and, for a second, you may forget you're in Philly.
4
Philadelphia Speed Dating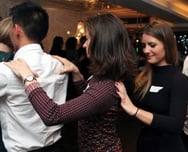 One of the final scenes in "Hitch" is when Will Smith's character crashes a speed dating event Eva Mendes' Sara is attending with a friend to reveal the true, genuine nature of his business. Everyone is sitting at two-seater tables, and the men move from one seat to another after a couple of minutes of getting to know the woman in front of them. After each man has talked to each woman, they both decide if they want to see each other again. This is the traditional style of speed dating events, but they actually vary a lot depending on the city, company, time of year, and things like that. You can find some speed dating events that are specific to Philadelphia below.
5
Philadelphia Singles Events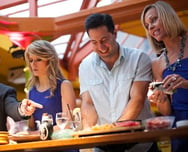 When you're interested in meeting people in a less formal group setting, that's when singles events come in handy. Whether it's a brunch, dance social, networking meetup, tailgating party, potluck, or simply a coffee hour, the options are almost endless. Amazing Singles, which calls itself "the hottest singles resource on the web," has a page dedicated to setting up Philly singles. You can learn more by clicking the blue link.
6
Philadelphia Singles Clubs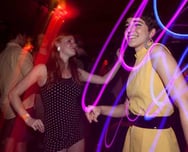 Dancing brings two people together in a more intimate and physical way, and Philadelphia has several awesome clubs where singles can show off their moves. Visit Philly has a massive list that you can check out below and that covers everything from R&B to funk to reggae to country to techno to pop and punk. Seriously, whatever music genre you're into, Philadelphia has a club for it. Some places are even half restaurant half dance lounge so you can really make a night of it.
Some folks are better at breaking the ice online than in person, and singles chat rooms provide the perfect atmosphere for them. You don't have to worry that you stutter, or that there's something in your teeth, or whether your body language is saying the right things — instead, you can be comfortable and yourself. Another perk of using a singles chat room to meet people is everyone's there for the same reason, so there's no guesswork!
The first known personal ad was published around 1685 in England, and it quickly became one of the top ways to connect with people. Usually singles would include their relationship status, race, gender, and the type of encounter they were looking for. Once the internet was invented, newspaper personal ads slowed down significantly and moved online, but the concept remains the same. You're showcasing the most important facts about yourself and what you desire in a partner — it's not very different than a dating profile.
9
Take On Some New Hobbies
It happens to everyone — you get stuck in a rut doing the same things, and that means you probably run into the same people all the time. Picking up a new hobby or two will put you around a bunch of fresh faces and maybe help you discover a talent you didn't know you had.
Thrillist has an article that highlights Philly's newest hobbies, and it includes things like cycling with the Bicycle Coalition, taking photos with Philadelphia Photo Center, bowling with the league at South Bowl, learning how to play an instrument with Swift Lessons, dancing with the Koresh Dance Company, trying your hand at comedy with the Philly Improv Theater, cooking with Restaurant School, and playing volleyball with the Philadelphia Sports League.
Or you could switch up your routine a little bit to see the difference that makes. Rather than doing your Starbucks run in the morning, why not try it during lunch? Instead of hitting the gym after work, give a morning exercise class a try. Dating is all about timing, and mixing things up could change your luck for the better!
Philly May Be the City of Brotherly Love, But We See It as a City for All Kinds of Love!
At the end of the episode, Dennis' system didn't work out so great. Dee bets that he can't get Caylee to take him back, and Mac and Frank come up with their own systems (Move in After Completion and SCRAPS, respectively) that pretty much mess up everyone's game. While "It's Always Sunny" is an amazing TV show, its dating advice isn't meant to be taken literally, of course. Philly singles are better off signing up for a dating site or app, hitting the town, and following some of the other tips on this list!
Photo sources: vice.com, philly.com, thrillist.com, engaygedweddings.com
Final Thoughts on Dating in
Philadelphia, PA
We hope you've found our guide "9 Ways to Meet Singles in Philadelphia, PA (Dating Guide)" to be helpful in your dating journey. If you're ready to take the leap into the local Philadelphia, PA, dating scene, keep in mind that apps like Match and Elite Singles are the easiest way to meet singles locally and throughout Pennsylvania.
Prefer to meet people the old-fashioned way? You're certainly not alone. According to local reviews, these popular spots in Philadelphia, PA, could be exactly what you're looking for:
Assembly
Stratus Lounge
City Tap House
Bar Hygge
Conshohocken Brewing Company
McGillin's Olde Ale House
Fergie's Pub
Standard Tap
Revolution House
Positano Coast
Whether you're in Philadelphia, PA, surrounding areas, or anywhere else in Pennsylvania, remember that there's someone out there for you. It's just a matter of taking that first step.
Advertiser Disclosure
DatingAdvice.com is a free online resource that offers valuable content and comparison services to users. To keep this resource 100% free for users, we receive advertising compensation from the sites listed on this page. Along with key review factors, this compensation may impact how and where sites appear on the page (including, for example, the order in which they appear). DatingAdvice.com does not include listings for all dating sites.
Our Editorial Review Policy
Our site is committed to publishing independent, accurate content guided by strict editorial guidelines. Before articles and reviews are published on our site, they undergo a thorough review process performed by a team of independent editors and subject-matter experts to ensure the content's accuracy, timeliness, and impartiality. Our editorial team is separate and independent of our site's advertisers, and the opinions they express on our site are their own. To read more about our team members and their editorial backgrounds, please visit our site's About page.