9 Ways to Meet Singles in Portland, OR (Dating Guide)
I've mentioned my Northwest trip a few times on the site — I just can't get over how much fun it was, and I can't wait to do it again. Portland was, of course, one of the destinations, and what was awesome about the city (among a bunch of things) is how it didn't feel super touristy. My sister and I felt like we fit right in, getting to know locals and participating in activities they would actually do themselves.
I'm sure singles in Portland love their city, but meeting people isn't always as simple as it can be for tourists (especially when you get into a daily grind of work, home, repeat). So, in this article, I'll share some pointers Portlanders (or Portlandians) can use to add more romance to their schedule.
Dating sites came along in the 1990s and totally changed everything we knew about dating. People were no longer stuck relying on friends and family to set them up, meeting someone at work or while out, or posting an eye-catching personal ad in a newspaper. Dating sites save an exponential amount of time, money, and energy, but not every site is on the same level. Signing up for the wrong one could have the opposite effect of what you want. This is why we've researched and reviewed dozens of dating sites (and counting), determining the following five to be the hidden gems.
Best Singles Site
Joining Match.com is like getting a lemon jelly bean in a box of Bertie Bott's Every Flavour Beans — it's the best, and you won't regret choosing it. Match has been around the longest (since the mid-90s), has a 100% free membership, more than 30 million members, and has led more singles to more dates and relationships than every other dating site around. Even celebrities, like Mariah Carey, Martha Stewart, and Jenny McCarthy, have made Match their dating site of choice.
Best Site for Professionals
If you've worked hard to advance your education and have earned a degree (or two), and you're attracted to people who've done the same, Elite Singles should be at the top of your list. Over two-thirds of its users have a bachelor's, master's, and/or PhD — not to mention over 2,500 of them find love on the site every month. In addition to sorting by education, Elite Singles allows you to sort by appearance, location, age, gender, sexual orientation, lifestyle habits, and so much more.
Over 50 & Senior Site
I have several older family members and friends who've rushed into online dating — joining a more mainstream site without considering that they might have better luck on a senior dating site. Not too long after, they start feeling discouraged because they often spend most of their time filtering out younger singles instead of chatting up those in their preferred age range. OurTime can save my family and friends, and those like them, a lot of headaches. The site not only has the right audience but also stress-free signup, search, and messaging processes.
For Black Men & Women Only
Out of the 641,000+ people who live in Portland, 6.3% identify as black. When you take out those who are married and/or underage, the dating pool gets smaller for black singles who want to date within the same race. BlackPeopleMeet is the answer to this problem. Here, without having to focus on race, you're able to focus on other important identifiers — like those in or around Portland.
Hookup & Sex Site
A lot of singles only want sex — there's no hiding it. In fact, on Adult Friend Finder, you don't need to be ashamed of being upfront at all. This site has an open-minded community of 77 million lustful women and men. Adult Friend Finder will use your location as well to show you who in Portland is logged in at the same time as you — getting you to the hookup that much quicker. Create an account and start browsing for free today!
Practically every dating site, including the ones above, have an app or mobile-friendly version that makes finding a match easier (if that's even possible). You have the option to get notifications sent to your phone when a new, compatible person signs up or when someone views your profile or sends you a like, wink, or message. It'll only take you a couple of seconds to scroll through potential dates and partners while you're on your lunch break, at the gym, or walking your dog. Below are our top three picks for dating on the go:
Relationships: Fun Dates, Serious Relationships
Match System: Browse by location, age, interest, and more
About the App: Available via the App Store and Google Play, Match is a fantastic app for dates and relationships. With a user base of 30 million singles, Match is where you'll have a high chance of success. It's free to download, create a profile, search for date prospects, and receive compatible matches based on personalized preferences. Free members can also chat with select members and send unlimited likes.
Browse Free: View Profiles Now
| User Base | Gender Ratio | Popularity (Visits/Mo.) | App Cost |
| --- | --- | --- | --- |
| All Singles* | | 13.5 Million* | Free Download |
Relationships: Deep Relationships
Match System: Search by education, lifestyle habits, age
About the App: Commitment-minded, professional daters will feel at home with EliteSingles, which can be downloaded for free in the App Store or Google Play. Not only is everyone looking for a long-term partner, but 80% of members hold a bachelor's, master's, or doctorate degree. EliteSingles sees 210,000 visitors and 2,500 users finding love every month, so it's one of the fastest growing and most reputable apps.
Browse Free: View Profiles Now
| User Base | Gender Ratio | Popularity (Visits/Mo.) | App Cost |
| --- | --- | --- | --- |
| All Singles* | | 290,000* | Free Download |
Relationships: Casual Dates, Relationships
Match System: Search for and receive matches
About the App: Zoosk is the number one app for finding dates, and if you sync up your Google+ or Facebook account, you can have a profile in seconds. The app has 38 million members and will deliver matches to your inbox on a daily basis based on your behavior such as who you search for, like or don't like, and message. The Carousel is another section for matching (tap the heart if it's a yes and the X if it's a no).
Browse Free: View Profiles Now
| User Base | Gender Ratio | Popularity (Visits/Mo.) | App Cost |
| --- | --- | --- | --- |
| All Singles* | | 3.8 Million* | Free Download |
Buying a drink for someone at a bar has been a go-to dating approach for probably centuries, and it still is. It's less awkward to go up to a guy or girl and ask them if you could get them a refill than it is to walk over with a cheesy pickup line or no plan at all. For this next section, we're showcasing nine bars that are just as unique as Portland and that are magnets for people!


2315 NE Alberta St • Portland, OR 97211
(503) 284-4090
Visit Website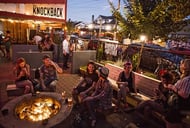 The Knock Back is located on Alberta Street and is considered a contemporary, yet laid-back, bar for beer, wine, cocktails, and pub food but with an upscale twist. Relax with a TKB Manhattan, Rosemary Ricky or a couple Olympia tallboys. Popular menu items include the tempeh reuben, caramelized onion burger, and dirty popcorn (bacon, spices, herbs, and capers). The Knock Back also features live music and a heated patio.


1325 NE Fremont St • Portland, OR 97212
(503) 946-8161
Visit Website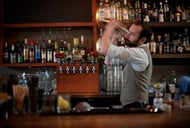 Founded in 2012, Free House is open every single day from 4 p.m. to midnight, so get your drink and flirt on anytime you want. Dani C. is one happy patron who said: "Every time I go to this place, I think I'm just going in for one beer, and I end up having such a wonderful time that I stay for several. Really nice patio area out back and intimate seating inside that can accommodate both dates and gatherings of friends."


1004 N Killingsworth St • Portland, OR 97217
(503) 206-4252
Visit Website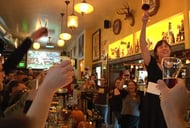 "Cold beer and fine food" is what you're guaranteed to find at Saraveza, a bar in North Portland that opened its doors in 2008. It's not just any cold beer and fine food, though. It's craft beers, such as Breakside Wisco Tavern and Upright Lite, and American comfort food such as deviled eggs, buttermilk fried chicken, a smoked brisket sandwich, and a weekly Friday night fish fry.


2105 N Killingsworth St • Portland, OR 97217
(503) 894-8937
Visit Website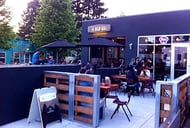 The Old Gold has been called one of Portland's Best Whiskey Bars by Thrillist, and its offerings include the best of the best from Tennessee, Ireland, Scotland, and Japan. Don't forget about the bourbon and rye options either, including Angel's Envy and Whistle Pig. Wash it all down with beer-battered French fries, a tofu bánh mì, or an elk burger. The Old Gold also hosts weekly events such as tap takeovers, DJ parties, themed trivia nights, and whiskey classes.


4024 N Interstate Ave • Portland, OR 97227
(503) 287-5335
Visit Website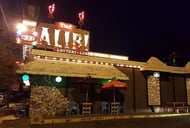 Established in 1943, the Alibi Restaurant & Lounge is Portland's first, and probably most beloved, tiki bar. Portland singles and couples flock to it for its sweet onion rings, Kalua pork, teriyaki chicken sandwiches, and, most importantly, drinks served in tiki mugs (e.g., the Zombie), bowls (e.g., the Palms Punch), and slushy version (e.g., the Miami Vice). The Alibi holds karaoke nights every week as well!


4057 N Mississippi Ave • Portland, OR 97227
(503) 284-6669
Visit Website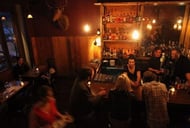 Owned and operated by Dan Hart and Chris Navarra, Interurban, which was founded in 2011, focuses on pre-prohibition era drinks and seasonal food prepared with old-school and progressive techniques. At the bar, you'll find the Suffering Bastard, Padang Padang, Singapore Sling, as well as beer and whiskey. From the kitchen, you'll find oysters, venison tartare, grilled lamb heart, as well as assorted pickles and cheese.


801 NW 23rd Ave • Portland, OR 97210
(503) 477-9505
Visit Website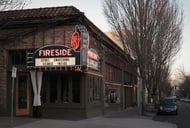 The Fireside is "a neighborhood joint" that opens up early and stays up late (10 a.m. for Sunday brunch and midnight on Friday and Saturday). Owners Wendy Hessel, Sue Erickson, and Dick Singer wanted a place that was comforting and a food menu that was inspired by the outdoors, and that's exactly what they've created. Enjoy an Out-n-Back and herb-roasted chicken by the fire or a Sauvie Island Afternoon and summer pasta on the outdoor patio.


1015 NW Everett St • Portland, OR 97209
(503) 445-8109
Visit Website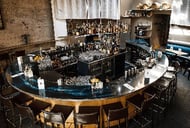 Teardrop Lounge offers traditional mixed drinks, like the Lima Sour, as well as one-of-a-kind cocktails like the Foreign Affair. Its team of experienced and enthusiastic mixologists use only the highest quality ingredients and even provide a glossary of terms on their menu so you can make the right drink choice for your palate. Teardrop Lounge's food doesn't disappoint either, with truffle custard, caviar, and roasted marrow bones.


1014 SW Stark St • Portland, OR 97205
(503) 228-3333
Visit Website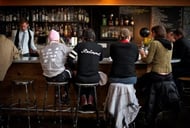 Clyde Common serves local, regional, national, and international cuisine, including fried shishito peppers, Manilla clams, grilled pork chops, and homemade ice cream. On the House Cocktails portion of the menu, we'd recommend the Daily Punch or Southbound Suarez. On the Draft Beer portion of the menu, we'd recommend the Rosenstadt Weissbier or cider from Portland Cider Co. Clyde Common has received a lot of positive reviews, including Al G., who gave it five stars on Yelp and said: "Killer drinks, friendly staff, great vibes."



What's not to like about speed dating? You've got drinks. You've got snacks. You've got music. You've got name tags (I mean, how often do you get to wear those?). And, most importantly, you've got tons of dating prospects. DateSwitch.com has a stockpile of speed dating events in Portland that are worth giving a try. If you're nervous, take a friend to calm you down and make it more fun!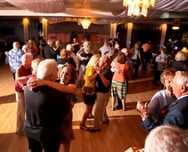 Some of my favorite ways of meeting my past boyfriends were by getting out there and doing something — whether it was playing Frisbee in the park, floating down the river, or attending trivia night at my usual bar. At singles events, you can do these exact same things (and more), but, as the name suggests, they're strictly for the unattached. You don't have to wonder if that cute woman on the other trivia team is married or worry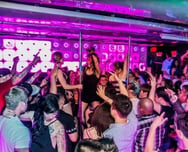 Some people are different when they're at a club — I know I am. We can dance and sing and drink and kiss without our fears, shyness, or other hang-ups holding us back. Others have no inhibitions whether they're at a club or at home. No matter which type you are, 10Best.com has a list of the best Portland clubs for letting loose and connecting with others. Let the words of the great 50 Cent guide you on your journey: "You can find me in the club, bottle full of bub."
Chat rooms provide a rare opportunity for singles to get to know each other quickly and over longer periods of time — unlike in person, when the conversation has to end at some point. You could easily find yourself chatting with someone you like and then looking up at the clock to see that hours have gone by. But you didn't notice because you enjoyed listening to what they were saying and sharing your opinions. We've found five chat rooms for Portland daters that will have you experiencing that feeling in no time.
An online personal ad is similar to a dating profile. Provide key details about who you are and who you want, and then browse other people's personals for someone like-minded while you wait for responses to your ad. And using a Portland-specific personals site (or a personals site with a Portland-specific section) is an efficient way to cut to the chase: a date with someone nearby.
9
Join a Portland Social Club
A social club could be based around anything: kickball, rock climbing, guitar, wine, sewing, religion, philanthropy, pingpong — I could go on and on. The basic concept is to bring together people who have a common interest, and who doesn't love meeting someone who likes the same things?
Meetup has an almost never-ending list of clubs to join, and the Portland Social Club is a particularly busy organization with weekly activities planned. http://www.new.portlandonthecheap.com/ is another resource. From mountaineering classes to volunteering opportunities and drinking/running events, the site highlights activities for anyone and everyone.
In "Rose City," You Can Easily Find Someone with Whom to Stop & Smell the Roses!
Meeting people in Portland is usually no problem for tourists, like my sister and me. That can happen just by asking for directions, getting recommendations on what restaurants to go to, having someone take a photo, and listening to cab drivers' or bartenders' stories. But, for singles living and working in the city every day, expanding their social circle can be a problem sometimes. I hope I've given you some good solutions that'll lead you to a whole new dating life!
Photo sources: uberpong.com, wikimedia.org, oregonlive.com, portlandmercury.com, foursquare.com, newschoolbeer.com, travelzoo.com, yelp.ca, groupon.com, varsitygayleague.com
Advertiser Disclosure
DatingAdvice.com is a free online resource that offers valuable content and comparison services to users. To keep this resource 100% free for users, we receive advertising compensation from the sites listed on this page. Along with key review factors, this compensation may impact how and where sites appear on the page (including, for example, the order in which they appear). DatingAdvice.com does not include listings for all dating sites.
Our Editorial Review Policy
Our site is committed to publishing independent, accurate content guided by strict editorial guidelines. Before articles and reviews are published on our site, they undergo a thorough review process performed by a team of independent editors and subject-matter experts to ensure the content's accuracy, timeliness, and impartiality. Our editorial team is separate and independent of our site's advertisers, and the opinions they express on our site are their own. To read more about our team members and their editorial backgrounds, please visit our site's About page.