11 Ways to Meet Singles in Salt Lake City, UT (Dating Guide)
"I am not really looking for the bar scene hookups but, like, a person to actually date… just seems hard to meet people here," is what WorkinHardly posted in the Salt Lake City subreddit. He was relatively new to the city and didn't know how to change the way his dating life was going, so he sought advice from locals online.
Coffee shops and parks were a few of the responses, but we wanted to delve a little deeper into this question and provide some more specific answers. We've listed 11 ways for WorkinHardly, and all the other SLC singles like him, to turn that dating frown upside down!
1
Salt Lake City Dating Sites
Since the mid-90s, more than 8,000 dating sites have been launched around the world, and that number is only going to grow. While it's nice to have options, 8,000 can be overwhelming for singles to sort through. That's what we're here for, though. We've tested and reviewed a ton of dating sites, and we try out new ones every day. We've identified the following five as the best of the best.
Best Singles Site
Match is like the blue whale of dating sites. It's been around forever (circa 1995) and will probably be around for generations to come. Plus, it's massive (30 million+ members), and it's trustworthy (more romantic connections than any other dating site). With Match's 100% free membership, singles can send messages to their Top Picks, so it's a great deal for singles seeking relationships.
Best Site for Professionals
Salt Lake City has about 11 colleges, universities, and educational centers, including Westminster College, the University of Utah, and branches of Brigham Young University. Students and alumni make up a significant percentage of the population. If you're a recent graduate or a current student and value intelligence in your dates, we've got the dating site for you. Elite Singles says approximately 82% of its users have earned a degree from a higher education institution. You'll have even more luck if you're at least 30 years old and are looking for a long-term commitment.
Over 50 & Senior Site
About 10% of Salt Lake City's population is made up of people 55 or older. For those who fall in that demographic and want to meet like-aged singles, our preferred choice is OurTime. The site was founded with a mission to help mature daters quickly and easily find potential dates and partners who've had similar experiences and now maintain similar lifestyles.
For Black Men & Women Only
Less than 3% of people in SLC identify as Black, but, if you're interested in dating other Black singles, don't let that number discourage you. BlackPeopleMeet has members all over the country. Once you set your location (even to your preferred mile range), start browsing through Salt Lake City profiles by age, appearance, gender, sexual orientation, and hobbies.
Hookup & Sex Site
The dating sites above focus on dates and relationships, but if that's not for you, don't worry because we've got you covered. Adult Friend Finder focuses on casual sexual encounters for kinky singles and couples. From one-night stands to threesomes and swinging parties, Adult Friend Finder can help you find it all. The hookup site will also show you how many people from Salt Lake City are online at the same time as you.
Remember how life used to be before we had smartphones and an app for everything? Yeah, I shudder at the thought. Nowadays, with a few taps of our thumbs, we can have groceries delivered to our house, share what we're doing with our friends, get directions to that concert we're attending, and, most importantly, find a date for the weekend or the night. As the authority on all things dating, our mission is to keep y'all informed about the industry, which is currently obsessed with dating apps. So here are the three you should definitely check out:
Relationships: Fun Dates, Serious Relationships
Match System: Browse by location, age, interest, and more
About the App: Available via the App Store and Google Play, Match is a fantastic app for dates and relationships. With a user base of 30 million singles, Match is where you'll have a high chance of success. It's free to download, create a profile, search for date prospects, and receive compatible matches based on personalized preferences. Free members can also chat with select members and send unlimited likes.
Browse Free: View Profiles Now
| User Base | Gender Ratio | Popularity (Visits/Mo.) | App Cost |
| --- | --- | --- | --- |
| All Singles* | | 13.5 Million* | Free Download |
Relationships: Deep Relationships
Match System: Search by education, lifestyle habits, age
About the App: Commitment-minded, professional daters will feel at home with EliteSingles, which can be downloaded for free in the App Store or Google Play. Not only is everyone looking for a long-term partner, but 80% of members hold a bachelor's, master's, or doctorate degree. EliteSingles sees 210,000 visitors and 2,500 users finding love every month, so it's one of the fastest growing and most reputable apps.
Browse Free: View Profiles Now
| User Base | Gender Ratio | Popularity (Visits/Mo.) | App Cost |
| --- | --- | --- | --- |
| All Singles* | | 290,000* | Free Download |
Relationships: Casual Dates, Relationships
Match System: Search for and receive matches
About the App: Zoosk is the number one app for finding dates, and if you sync up your Google+ or Facebook account, you can have a profile in seconds. The app has 38 million members and will deliver matches to your inbox on a daily basis based on your behavior such as who you search for, like or don't like, and message. The Carousel is another section for matching (tap the heart if it's a yes and the X if it's a no).
Browse Free: View Profiles Now
| User Base | Gender Ratio | Popularity (Visits/Mo.) | App Cost |
| --- | --- | --- | --- |
| All Singles* | | 3.8 Million* | Free Download |
3
Salt Lake City Singles Bars
For spring break, my friends and I used to go to our favorite beach and hit up all the same restaurants, bars, and activities. One year, we were at a place for locals, and a cute guy across the room caught my attention. I had never done this before, but I bought him a jello shot (oh, to be 21 again) and went to talk to him. Turns out, he had a girlfriend, but we both took our jello shots, had a laugh, and parted ways. I'm still proud of myself for having the guts to do that, and I think more singles should take the same risk every now and then. In this section, we've highlighted the six most popular bars in Salt Lake City where you can test out your flirting.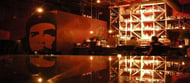 At the Red Door, it's all about the martinis. You can find the classics as well as several signature drinks (the Antifreeze). But the Red Door also creates specialty menus for holidays and events like the 12 Martinis of Christmas and Comic Con 2014. Prices usually start around $8.50. For entertainment, this Salt Lake City staple offers live music. Amy-Kate A. said in her Yelp review: "The drinks are super delicious and creative, and the atmosphere is posh."


128 Main St • Salt Lake City, UT 84101
(801) 364-4268
Visit Website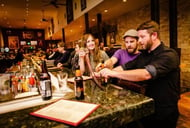 With more than 200 beers from across the globe, Beerhive Pub is a go-to for beer lovers. Whether you're a hop-head or stout fan, the Beerhive has something for every palette. The bar itself even has a frosted rail to keep the beers icy cold! In terms of food, you can fill up on burgers and fries, salads, pizza, and sandwiches, among other items. Jimalene Carroll couldn't say enough good things about the Beerhive: "Great atmosphere, good food, and probably the most extensive beer lists I have ever seen."


1199 Beck St • Salt Lake City, UT 84103
(801) 521-3904
Visit Website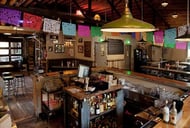 "You've got to see it to believe it," is the saying at the Garage. The drink menu features beer, wine, and cocktails, including the Southern Orchard (made with vodka, lime, peach puree, and sprite) and Ruby Red Summer (made with grapefruit vodka, peach puree, cranberry juice, and sweetened lime juice, and soda water). The food menu features your traditional pub fare with a twist, including Golden Spike onion rings, vegan wings, and Fried Mormon Funeral Potatoes™. Make sure go when there's an event happening like Jazz Joint Thursdays, when the Joe McQueen Quartet and other bands give talented performances that get people on their feet.


376 8th Ave • Salt Lake City, UT 84103
(385) 227-8628
Visit Website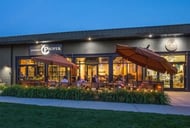 Open six days a week (10 a.m. at the earliest and midnight at the latest), Avenues Proper is part bar, part restaurant, and part brewery, and it does all of those things really well. Offerings include Utah-only beers (Hopsptial IPA and Lake Effect Gose), ciders as well as wine and cocktails. Once you've drunk enough, you can soak up the alcohol by ordering mac and cheese, chicken and waffles, or a house veggie burger.


323 Main St • Salt Lake City, UT 84111
(801) 433-1371
Visit Website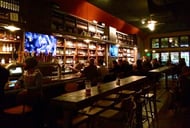 "A space for downtown executives, hip urban locals, and Utah guests," Whiskey Street, which is located on Main Street, is steeped in history. Of course, the bar serves whiskey, like Four Roses Small Batch and Templeton Rye, but it also serves numerous wines, cocktails, beers, and beerbacks. You can get a drink every day from 11 a.m. to 1 a.m. When you're stomach starts growling, try the bourbon bacon caramel popcorn, hot pastrami, blackened ahi, or grilled vegetable Napolean.


147 Broadway • Salt Lake City, UT 84101
801) 363-2739
Visit Website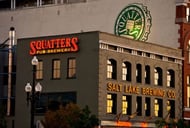 Established in 1989, Squatters Craft Beers has won dozens of prestigious awards, including a gold medal at the 2014 Great American Beer Festival and a bronze medal at the World Beer Cup. It doesn't matter if you get the Full Suspension pale ale or Chasing Tail golden ale -- you'll be happy with anything Squatters serves. Check its calendar of events as often as you can for things like fundraisers, tap takeovers, and holiday parties.
4
Salt Lake City Speed Dating


Speed dating events are like a merry-go-round of dates — you get five minutes or so to talk to one person, and then everyone rotates and you get to do it all over again with someone new. Usually, you'll meet a dozen people, and, once the night is over, you'll tell the hosts who you want to see again. It's crazy efficient! Pre-Dating has mastered the art of speed dating, and the nationwide team holds numerous events in Salt Lake City every month. Pre-Dating has more than 5.6 million speed dates in the books, so you're in good hands.
5
Salt Lake City Singles Events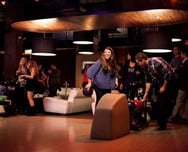 A first date one of my close friends still talks about to this day is one where she and the guy went to a barcade. They got to drink and play old-school games the whole night, and it really helped them break the ice. Having an activity to participate in makes a huge difference because conversation tends to flow less awkwardly. You can both concentrate on the games instead of wondering if you're saying the right things. Meetup.com has a wealth of resources for Salt Lake City singles looking for interactive dates, and typically the group activities can get singles out of their shells and take the pressure off you.
6
Salt Lake City Singles Clubs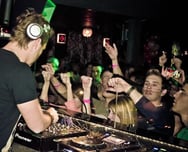 My friends and I have met a bunch of people at clubs over the years — it's kind of hard not to when you're on a crowded dance floor and feeling the music and maybe sipping on a little liquid courage. Salt Lake City is a clubber's paradise, and 10Best.com is where you can learn all about where to go, when to go, who you'll see there, how much it'll cost, and so much more.
7
Salt Lake City Chat Rooms
When chat rooms became really popular in the '90s, they had come a long way from when they were invented in the '70s. And today's chat rooms have come a long way from how they operated in the '90s. Now people have more options, including location-based and interest-specific chat rooms like Salt Lake City singles. We've selected five that have free signup, easy browsing, and instant communication.
8
Salt Lake City Personals
Some personals sites, like DateHookup, are also dating sites, so these personals are basically synonymous with online dating and work in the traditional online dating sense. Other dating personals sites, like Craigslist, are strictly personals sites where you can find ads for dates as well as lawn mowers. We've included both in the following list, and, no matter which you choose, we're sure you'll have a successful experience.
9
Go to Museums, Concerts & Festivals
Salt Lake City has about 22 museums, including the Utah Museum of Fine Arts, Pioneer Memorial Museum, and the Magna Ethnic & Mining Museum. Every week, these museums have exhibitions, interactive tours, classes, fundraisers, educational programs, and holiday celebrations. You can start talking with a special someone at one of these events — you never know where one conversation could lead.
Utah's capital city also puts on dozens of concerts and festivals each year, including the Utah Pride Festival, the Dark Arts Festival, and portions of the Sundance Film Festival, which thousands of people attend.
Art, film, and music fans should consider checking them out because participants are surrounded by people with the same passion. Visit VisitSaltLake.com or SongKick.com to view all your options.
10
Volunteer for Nonprofit Organizations
United Way, the Road Home, and the Utah Humane Society are just a few of the nonprofit organizations and charities in Salt Lake City that can always use some help from local community members. You could work an event, read to schoolchildren, mentor a young person, feed the homeless, do yard work for the elderly, give dogs or cats baths, or whatever else is needed. A majority of these activities are done in groups, so you're getting to know the other charitable people around you while doing a good deed.
Some amazing resources for finding volunteer opportunities include VolunteerMatch.org, SLCO.org, and VOAUT.org. Just type in the cause you're interested in and/or your location, and you'll get an almost never-ending amount of results.
11
Attend Religious or Spiritual Activities
According to BestPlaces.net, a whopping 75.4% of people in Salt Lake City are affiliated with a religion. Here's how it breaks down: 8.97% identify as Catholic, 61.09% identify as LDS, 1.04% identify as another Christian faith, 0.08% identify as Jewish, 0.45% are affiliated with Islam, and 0.50% are affiliated with another eastern faith.
If religion, spirituality, and/or faith are near and dear to your heart, and you want to be with someone who feels the same way, taking part in activities and events put on by these organizations and centers is sure to bring you lots of viable dating options.
Salt Lake City's most popular churches and temples include the Salt Lake City Christian Center, the Salt Lake City LDS Temple, and the Rock Church, while spiritual centers include the Unity Spiritual Community of Salt Lake, the Satya Center, and the Center for Spiritual Living Salt Lake.
"The Crossroads of the West" — Where You'll Be in the Crosshairs of Cupid's Arrow!
Coffee shops and parks are fine ideas for where to meet people, but we believe WorkinHardly was looking for a more in-depth answer to his personal problem. To be honest, Salt Lake City is such a bustling city that there are probably way more than 11 tips for finding a date, but let's take it one step at a time.
We recommend Utah's singles try out some dating sites and apps, bars and clubs, speed dating and singles events, chat rooms and personals, and community events, activities, and gatherings — and see how things go for you!
Photo sources: crookandthebluff.com, slccenter.com, saltlakefilmsociety.org, themodernman.com, meetup.com, visitsaltlake.com, theutahfoodie.com, randomactsofkelliness.com, slmag.com, yelp.com, christinearmbruster.com, tripadvisor.com, saltcitygirl.wordpress.com, pinterest.com
Final Thoughts on Dating in
Salt Lake City, UT
We hope you've found our guide "11 Ways to Meet Singles in Salt Lake City, UT (Dating Guide)" to be helpful in your dating journey. If you're ready to take the leap into the local Salt Lake City, UT, dating scene, keep in mind that apps like Match and Elite Singles are the easiest way to meet singles locally and throughout Utah.
Prefer to meet people the old-fashioned way? You're certainly not alone. According to local reviews, these popular spots in Salt Lake City, UT, could be exactly what you're looking for:
The Red Door
Beerhive Pub
The Garage
Avenues Proper
Whiskey Street
Squatters Craft Beers
Whether you're in Salt Lake City, UT, surrounding areas, or anywhere else in Utah, remember that there's someone out there for you. It's just a matter of taking that first step.
Advertiser Disclosure
DatingAdvice.com is a free online resource that offers valuable content and comparison services to users. To keep this resource 100% free for users, we receive advertising compensation from the sites listed on this page. Along with key review factors, this compensation may impact how and where sites appear on the page (including, for example, the order in which they appear). DatingAdvice.com does not include listings for all dating sites.
Our Editorial Review Policy
Our site is committed to publishing independent, accurate content guided by strict editorial guidelines. Before articles and reviews are published on our site, they undergo a thorough review process performed by a team of independent editors and subject-matter experts to ensure the content's accuracy, timeliness, and impartiality. Our editorial team is separate and independent of our site's advertisers, and the opinions they express on our site are their own. To read more about our team members and their editorial backgrounds, please visit our site's About page.