9 Ways to Meet Singles in Sioux Falls, SD (Dating Guide)
Leanns grew up on a ranch before moving to South Dakota in 2009. The young country music fan tried to make friends in her new home but found herself consistently sitting alone waiting for someone to call and invite her out. She loved to go dancing and wanted to meet people who shared that interests, so she told her story on a local forum, asking, "Anyone have any suggestions?"
One Sioux Falls resident described a large social group that was "all super friendly" and encouraged Leanns not to let a lack of friends keep her at home. "Most people think it's pretty ballsy and cool to go places by yourself," Sheiladekam wrote in a comment, "and will open up to you just for putting yourself out there."
With a population of over 190,000 people, Sioux Falls is currently the largest city in South Dakota. From the French fur trappers of the 1800s to lonely Leanns in 2009, people have been exploring and settling in this area for centuries. If you aren't making friends or dates in Sioux Falls, our list of ways to meet single South Dakotans can help you pioneer new relationships.
1
Sioux Falls Dating Sites
In the early days of dating sites, people dismissed the platforms as tools for the desperate, but today the stigma is gone and the floodgates are open. Now online dating is by far the best way to meet singles. Younger generations have especially embraced the internet's ability to hook them up on hot dates. If you don't know which dating sites are best to join, you're in luck because we've tried the most popular platforms out there and can attest to the quality and success of the following high-performing dating sites.
Best Singles Site
Much like the Corn Palace of South Dakota, Match.com is a one-of-a-kind destination that draws attention and awe from all corners of the world. Since 1995, Match has dominated the dating industry and connected people on more dates and facilitated more relationships than any other dating site in the world. Talk about a claim to fame! When you sign up to Match.com, you'll be in good hands.
Best Site for Professionals
Educated daters often want a partner who can stimulate them on an intellectual level. Someone cultured, well-read, and career-driven. Those types of singles belong on Elite Singles, where over 80% of members have earned at least a bachelor's degree. This international dating brand creates high-caliber matches based on personality, profession, and lifestyle.
Over 50 & Senior Site
Once you reach a certain age, it becomes easier to get people to show you pictures of their kids or grandkids but much harder to get them to go on a date. Many senior daters want a date who understands their life experiences, but they struggle to find singles their own age. OurTime makes the search a lot easier by fostering a mature dating site for singles over 50 years old. Here, South Dakotans navigate a user-friendly dating space where people are seasoned in the ways of the world.
For Black Men & Women Only
Sioux Falls is the biggest city in South Dakota, so it has a much larger Black community than most of the surrounding area, but African-American residents still only make up 4.2% of the total population, according to the census. That's not an encouraging statistic for daters attracted to Black and biracial daters. Fortunately, BlackPeopleMeet offers a central hub for Black daters looking to meet one another. The Black dating site has location-based tools to help locals find one another and make a date.
Hookup & Sex Site
Adult Friend Finder isn't designed to find you deep compatibility, long-term love, or platonic friendships — it's designed to get you laid. This active online community encourages singles to let go of their inhibitions and seek a satisfying sex life. The real-time chat features have led to over 6 million connections between singles and swingers eager to skip right to the good stuff.
Thanks to the invention of railroads, the Sioux Falls population increased five-fold in the 1880s. New technology and innovations often bring people together and change how they interact. Today, most dating sites are rushing to create an app — or at least make their sites mobile-friendly — because mobile dating has pushed the frontiers of flirtation. Singles just find it more convenient. You always have the chance to chat with date prospects when you carry your dating profile around in your pocket. By using location-based matching, dating apps have become highly effective ways to find a date and meet up with someone in your area. If you're always on the go in Sioux Falls, following dating apps will serve you well.
Relationships: Fun Dates, Serious Relationships
Match System: Browse by location, age, interest, and more
About the App: Available via the App Store and Google Play, Match is a fantastic app for dates and relationships. With a user base of 30 million singles, Match is where you'll have a high chance of success. It's free to download, create a profile, search for date prospects, and receive compatible matches based on personalized preferences. Free members can also chat with select members and send unlimited likes.
Browse Free: View Profiles Now
| User Base | Gender Ratio | Popularity (Visits/Mo.) | App Cost |
| --- | --- | --- | --- |
| All Singles* | | 13.5 Million* | Free Download |
Relationships: Deep Relationships
Match System: Search by education, lifestyle habits, age
About the App: Commitment-minded, professional daters will feel at home with EliteSingles, which can be downloaded for free in the App Store or Google Play. Not only is everyone looking for a long-term partner, but 80% of members hold a bachelor's, master's, or doctorate degree. EliteSingles sees 210,000 visitors and 2,500 users finding love every month, so it's one of the fastest growing and most reputable apps.
Browse Free: View Profiles Now
| User Base | Gender Ratio | Popularity (Visits/Mo.) | App Cost |
| --- | --- | --- | --- |
| All Singles* | | 290,000* | Free Download |
Relationships: Casual Dates, Relationships
Match System: Search for and receive matches
About the App: Zoosk is the number one app for finding dates, and if you sync up your Google+ or Facebook account, you can have a profile in seconds. The app has 38 million members and will deliver matches to your inbox on a daily basis based on your behavior such as who you search for, like or don't like, and message. The Carousel is another section for matching (tap the heart if it's a yes and the X if it's a no).
Browse Free: View Profiles Now
| User Base | Gender Ratio | Popularity (Visits/Mo.) | App Cost |
| --- | --- | --- | --- |
| All Singles* | | 3.8 Million* | Free Download |
3
Sioux Falls Singles Bars
In 1856, American frontiersmen went far outside their comfort zones to establish Sioux Falls. They left everything they knew to come out west in hopes of a better life. In comparison, going around the corner to a local bar isn't such an arduous trek for singles hoping to meet somebody. Over the last century, traditional saloons have been replaced by gastropubs, speakeasies, gay bars, and an array of fun watering holes around town. Read on for our reviews of the most exciting and popular drinking establishments in Sioux Falls.


330 N Main Ave • Sioux Falls, SD 57104
(605) 336-0054
Visit Website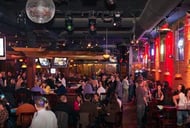 Wiley's Tavern promises to satisfy customers with a varied menu, quality drinks, and engaging special events. Known for its flatbread pizza and live music performances, the bar is a cool place to mingle with date-worthy folks. Its central location along North Main makes it ideal for singles who like mingling in a diverse crowd. You can check out the calendar of events or daily drink specials at Wiley's Tavern to pick the best time to stop by and share a pint (or two) with someone special.


5013 N Cliff Ave • Sioux Falls, SD 57104
(605) 373-0214
Visit Website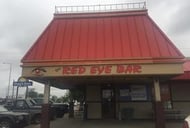 The quirky and excitable team at the Red Eye Bar fancy themselves experts at having a good time. At the very least, they know how to mix a good drink and tell a good joke. This dive bar is unlike any other. Whether you enjoy playing pool or watching midget wrestling, the bar takes fun to a new level. Rowdy people pack into the bar to watch professional burlesque shows, sports games, and oil wrestling. From beer pong to male strippers, the Red Eye Bar certainly gives daters a reason to come out to the bar and have a one-of-a-kind experience.

214 S Phillips Ave • Sioux Falls, SD 57104
(605) 332-5333
Visit Website

At Crawford's Bar & Grill, you can while away your evenings eating hearty meals, drinking innovative cocktails, and flirting with fun-loving individuals. The funky bar boasts of its energetic atmosphere and flavorful dishes. Named after Crawford's Men's Wear, a clothing and shoe store from the 1930s, Crawford's Bar takes pride in the rich history of Sioux Falls and upholds the establishment's long tradition of providing tailored service to loyal customers. From the impressive Sioux quartzite bar top to the hand-painted and jeweled wallpaper, Crawford's Bar put effort into the details to transport visitors to the Wild West for an evening.


2400 W Madison St • Sioux Falls, SD 57104
(605) 275-5590
Visit Website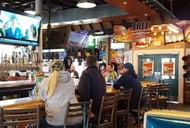 The Garage Bar is a beloved neighborhood haunt known for pouring quality cold ones. You won't find any fancy liquors here; just good old-fashioned beers and wines. A friendly staff welcomes visitors and encourages regulars to kick back and stay awhile. To spice up weekday evenings, the Garage Bar hosts fun dart board and cornhole tournaments, which allow singles to team up and compete for local glory. The Garage Bar is a simple and classic place to meet Sioux Falls locals. As the Facebook page says, "Cold beer, good friends, great atmosphere... what's not to like?"


5
Monks House Of Ale Repute
420 E 8th St • Sioux Falls, SD 57103
(605) 338-2328
Visit Website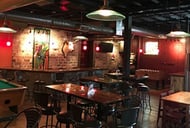 Monks House of Ale Repute is crazy about craft beer. Seriously, they can't get enough of it. Sure, the pizza and sandwiches are great, and the atmosphere is casual and low-key, but what the bar really focuses on is maintaining the best brewery in South Dakota. The Gandy Dancer Brew Works uses a small-batch method (called nano-brewing) to create original and memorable flavors of beer. Monks has 39 taps and feature eight special-made Gandy Dancer brews for daters to savor.
4
Sioux Falls Speed Dating


No one enjoys wasting precious weekend nights on bad dates, and it's especially frustrating to continue the same pattern of failed first dates when you're also balancing a full-time career or an active social life. If you want to speed up the dating process and increase your odds of falling for someone in Sioux Falls, we recommend looking into speed dating events. These lively events allow participants to skip through dozens of first meetings in one night, building on the instant chemistry of mutual matches and dispensing with the undesirables. Singles can sign up through Pre-Dating, a national dating agency, to hear about opportunities to speed date in and around Sioux Falls.
5
Sioux Falls Singles Events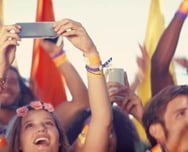 When you take the time to go out and meet people, it's nice to know that you'll find desirable and available date prospects (rather than a roomful of married couples). Singles events give you that security and confidence. Everyone who comes to singles-only parties, meetups, and social gatherings is unattached and interested in meeting date-worthy folks. You don't have to go through the "So, are you seeing anyone?" song-and-dance at singles events. Sioux Falls Social Singles offer local opportunities to network with adult singles (over 40) in your neighborhood. By hosting frequent dinners, festivals, dances, brunches, and gatherings, this group helps daters fill their social calendars with fun activities throughout the year.
6
Sioux Falls Singles Clubs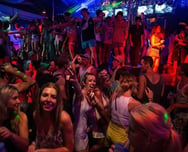 The dance floor is pure dating magic for singles who can bust a move. A night club provides the right atmosphere for make a date with someone. It's casual. It's fun. It's undeniably physical. Young people in skin-tight clothes pack themselves together to revel together at the club. If you enjoy roaming from club to club, you can plan your next night out by scrolling through the Real Yellow Pages to find the hottest clubs in Sioux Falls.
The internet has evolved a lot since the dial-up days, but chat rooms haven't really changed. Chat rooms have remained by-and-large the same because these portals provide a straightforward and enjoyable way for online users to get to know one another. While going up to someone in person can be intimidating, sending a chat is relatively painless and requires a lot less effort. All it takes is a short exchange to see if you have chemistry with someone and start working toward an IRL love connection. Chat rooms are a tried-and-true place to flirt with people you don't know and practice your wooing on an even (and virtual) playing field.
Dating sites have gotten increasingly fancy and high-tech these days with matching games, personality questionnaires, and all sorts of features that can distract people from what they're there to do: get a date. Instead of playing swiping games, online dating personals cut right to the chase. These sites don't need a bunch of bells and whistles to bring singles together. All you have to do is set up a profile, state what you're looking for, and conduct a simple search by age, gender, or location. Dating personals sites don't overcomplicate the dating process, so finding desirable singles becomes a much simpler process.
9
Go Explore the Great Outdoors to Fall For Someone
South Dakota attracts outdoorsy folks who love a good adventure. Often getting to know people around town is easier when you go outside to spend time in a community-driven environment.
From the 130+ species of animals at the Great Plains Zoo to the 800 living butterflies at the Butterfly House and Marine Cove, Sioux Falls has a lot of attractions for local animal lovers and sightseers. Falls Park is a favorite destination with over 123 acres to explore and dozens of gorgeous falls to admire.
Additionally, Terrace Park has beautiful gardens and pagodas to delight the senses on a Saturday afternoon. Whether you enjoy picnicking, swimming, or listening to local bands, the park has a lot of entertaining options. At Terrace Park, the famed Japanese Gardens are a short walk away from the Aquatic Center, so you can easily make a day of it and enjoy the park's friendly atmosphere.
In an article about dating in Sioux Falls, Lauren Forch said, "More than likely… you're going to meet them out doing something. You're not going to meet them at home. So, put yourself in a place where you would want to meet that person."
Whether that's a dog park or a soccer field, going out there and making yourself available for potential meet cuties is what's important. That compatible person is out there somewhere, so go get 'em!
Find Your Way to Love in the Gateway to the Plains
Sioux Falls can seem like a lonely place when you don't know where to go to meet people. Even friendly and outgoing people, like Leanns, can slip through the cracks sometimes, but spending a Saturday night on your own isn't the end of the world. You can always make friends and find new dating opportunities around town if you commit to putting yourself out there.
Hopefully, our top nine ways to meet singles in Sioux Falls has given you some pointers about where you can go to sweep a new person off their feet and make a genuine connection. Good luck!
Final Thoughts on Dating in
Sioux Falls, SD
We hope you've found our guide "9 Ways to Meet Singles in Sioux Falls, SD (Dating Guide)" to be helpful in your dating journey. If you're ready to take the leap into the local Sioux Falls, SD, dating scene, keep in mind that apps like Match and Elite Singles are the easiest way to meet singles locally and throughout South Dakota.
Prefer to meet people the old-fashioned way? You're certainly not alone. According to local reviews, these popular spots in Sioux Falls, SD, could be exactly what you're looking for:
Wiley's Tavern
Red Eye Bar & Casino
Crawford's Bar & Grill
Garage Bar
Monks House Of Ale Repute
Whether you're in Sioux Falls, SD, surrounding areas, or anywhere else in South Dakota, remember that there's someone out there for you. It's just a matter of taking that first step.
Advertiser Disclosure
DatingAdvice.com is a free online resource that offers valuable content and comparison services to users. To keep this resource 100% free for users, we receive advertising compensation from the sites listed on this page. Along with key review factors, this compensation may impact how and where sites appear on the page (including, for example, the order in which they appear). DatingAdvice.com does not include listings for all dating sites.
Our Editorial Review Policy
Our site is committed to publishing independent, accurate content guided by strict editorial guidelines. Before articles and reviews are published on our site, they undergo a thorough review process performed by a team of independent editors and subject-matter experts to ensure the content's accuracy, timeliness, and impartiality. Our editorial team is separate and independent of our site's advertisers, and the opinions they express on our site are their own. To read more about our team members and their editorial backgrounds, please visit our site's About page.