10 Ways to Meet Singles in Tampa, FL (Dating Guide)
Tampa is known as the City of Champions, but, if you're single and looking for a date, sometimes it can feel like the City of Chumps. What good is a city of 4 million people if none of them meet your standards?
As a native Floridian, every time I read a headline like "Florida Man Throws Samurai Sword at Police" or "Florida Woman Arrested for DUI on a Horse," I cringe a little inside and wonder what the odds are of meeting a sane person in this crazy state.
Fear not, Florida man or Florida woman. Hillsborough County is brimful of winning dates as long as you know where to look. Our dating experts can help with that. We've put together a comprehensive list of ways to meet singles in Tampa and find romance without making headlines.
Online dating may have taken a little while to gain traction among singles, but in the last decade it has really taken off. Today, some estimates indicate that over 40 million Americans have tried online dating. You could be one of them! You can join any of the following first-rate dating sites to start a flirtatious conversation and invite someone special to watch the sunset on the beach with you.
Best Singles Site
We rank Match as the overall best dating site because it's been around longer than any other dating platform and has more success stories to its name than any of its competitors. The dating site has over 23.5 million users of all ages, income levels, and demographics, so it's a fantastic place for Tampa singles to get their bearings in the local dating scene.
Best Site for Professionals
Tampa is among the most prosperous cities in Florida. Its strong financial sector, real estate growth, and healthcare industry create thousands of job opportunities — and that means thousands of well-educated singles moving into the Tampa Bay Area. If you want to start a relationship with a white-collar professional, you should consider creating an account on EliteSingles. This high-caliber dating site is designed to assist career-oriented singles over 30.
Over 50 & Senior Sites
Everyone knows Florida is a popular place for retirees. The warm climate and beautiful scenery make it ideal for people of a certain age. Of course, even in this tropical paradise, your golden years can get awful lonely if you don't have a romantic partner to sit with under the sun. OurTime can help with that. This senior dating site connects widows, divorcees, and other singles over 50.
For Black Men & Women Only
A lot of people assume because it's Florida that Hispanics are the largest minority (or even the majority) in most cities. But that's not the case in Tampa. The African-American population is actually larger than the Hispanic population in Tampa proper. Over a quarter of Tampa residents identify as black, and if you'd like to date within this demographic, all you need to do is sign up to BlackPeopleMeet. As you can probably tell by its name, this dating site excels at introducing black and biracial singles across the US.
Hookup & Sex Site
Adult Friend Finder doesn't inhibit users with a lot of uptight guidelines or photo restrictions. This sex-oriented dating site sets singles free to flirt as they please. You can post a revealing pic or send a racy message without worrying about being censured or censored. AdultFriendFinder allows its members to be who they are and seek what they want, which, in this case, is sex.
Explosive population growth in the 1950s and 1960s led Tampa to expand into the bustling metropolitan area we know today. It covers an area of around 175 square miles with a population density of 2,970 people per square mile in the city proper. That's a lot of ground to cover and a lot of people to sort through, so it's no wonder so many of today's singles rely on dating apps to help them meet worthwhile new people. Tampa singles can rely on the following dating apps to keep them connected to their crushes and set them up for romantic success.
Relationships: Fun Dates, Serious Relationships
Match System: Browse by location, age, interest, and more
About the App: Available via the App Store and Google Play, Match is a fantastic app for dates and relationships. With a user base of 30 million singles, Match is where you'll have a high chance of success. It's free to download, create a profile, search for date prospects, and receive compatible matches based on personalized preferences. Free members can also chat with select members and send unlimited likes.
Browse Free: View Profiles Now
| User Base | Gender Ratio | Popularity (Visits/Mo.) | App Cost |
| --- | --- | --- | --- |
| All Singles* | | 13.5 Million* | Free Download |
Relationships: Deep Relationships
Match System: Search by education, lifestyle habits, age
About the App: Commitment-minded, professional daters will feel at home with EliteSingles, which can be downloaded for free in the App Store or Google Play. Not only is everyone looking for a long-term partner, but 80% of members hold a bachelor's, master's, or doctorate degree. EliteSingles sees 210,000 visitors and 2,500 users finding love every month, so it's one of the fastest growing and most reputable apps.
Browse Free: View Profiles Now
| User Base | Gender Ratio | Popularity (Visits/Mo.) | App Cost |
| --- | --- | --- | --- |
| All Singles* | | 290,000* | Free Download |
Relationships: Casual Dates, Relationships
Match System: Search for and receive matches
About the App: Zoosk is the number one app for finding dates, and if you sync up your Google+ or Facebook account, you can have a profile in seconds. The app has 38 million members and will deliver matches to your inbox on a daily basis based on your behavior such as who you search for, like or don't like, and message. The Carousel is another section for matching (tap the heart if it's a yes and the X if it's a no).
Browse Free: View Profiles Now
| User Base | Gender Ratio | Popularity (Visits/Mo.) | App Cost |
| --- | --- | --- | --- |
| All Singles* | | 3.8 Million* | Free Download |
Technology isn't for everyone. A few weeks of fruitless swiping can get singles itching to go out and actually mingle in person. That's what the bar scene is for. Many people hang out at neighborhood bars to relax, converse, and meet new people. It's a friendly environment where you can easily start up a conversation and build common ground over a few drinks, tapas, and maybe a late-night dinner. If you're in the mood for fun, Tampa's downtown scene doesn't disappoint. We recommend checking out the following bars, breweries, and pubs.


1202 N Franklin St • Tampa, FL 33602
(813) 275-5000
Visit Website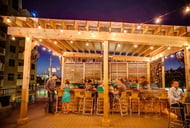 Located in Downtown Tampa, the Fly Bar & Restaurant is a popular place to enjoy a beer, wine, or specialty cocktail. People love the bar's chic rooftop deck and sophisticated feel, but they stay because the food and drinks are simply fabulous. You can enjoy empanadas, fish tacos, and other shareable appetizers and then wash it all down with a glass of bubbly or a bottle of beer. Or, if you want to splurge on a cocktail, try the Sherry Zombie, made with rum, sherry, grapefruit, cinnamon, and lime. Each drink is made with care by the mixologists at the Fly Bar & Restaurant, so you can't go wrong with anything on this menu.


2
Gaspar's Patio Bar & Grille
8448 N 56th St • Temple Terrace, FL 33617
(813) 988-6959
Visit Website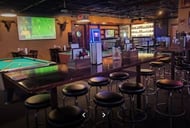 Gaspar's Patio Bar & Grille (not to be confused with the pirate-themed bar Gaspar's Grotto) is a family-owned, dog-friendly neighborhood bar just outside of Tampa. Since 1960, this low-key spot has served up good beers, wings, and oysters. Its daily happy hour — which starts at 11 in the morning and ends at 7 p.m. — is the longest happy hour in the Bay Area. Gaspar's also features nightly karaoke, which starts at 9 p.m. every evening. Local bands also take the stage on weekday and weekend nights. You can enjoy a pint while playing billiards or darts or simply listening to the music with new friends.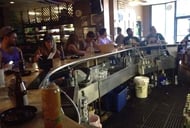 Looking for a hub of activity? Then head downtown to the Hub, an aptly named drinking establishment founded in 1949. This classic dive bar is famous for the Hub Pour, meaning bartenders are generous with top-shelf alcohol and make sure customers get their money's worth. The Hub staff knows how to make a stiff drink, so a little will go a long way. You can play a romantic or throwback song at the jukebox to start a conversation with folks at the bar and get everyone's spirits up.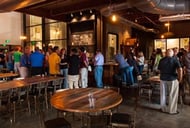 Founded in 2014, the Coppertail Brewing Co. quickly became a favorite haunt among beer lovers in the Ybor neighborhood. This cheerful bar and kitchen serves Florida-inspired and Tampa-brewed beers made with a lot of love and passion. The bar has over 20 types of beer on tap at any given time, and the bartenders will happily give patrons a behind-the-scenes look at how everything comes together in a facility tour. You don't have to make a reservation to take part in a tour, so you can invite a few new friends to join you in walking through the warehouse and sharing a pint in a souvenir glass.


5
Ciro's Speakeasy and Supper Club
2109 Bayshore Blvd • Tampa, FL 33606
(813) 251-0022
Visit Website

Ciro's Speakeasy and Supper Club is one of Bayshore Boulevard's best-kept secrets. Like any good speakeasy, this bar and lounge is dimly lit and rarely overcrowded. You have to call ahead to make a reservation and get the day's password to get in this exclusive bar. Once inside, you can thumb through the 10-page drinks menu while soft jazz music plays overhead. Ciro's serves specialty cocktails and upscale dishes that'll knock your socks off. Where else can you find duck fat fries, black truffle popcorn, charred octopus, and strip steak? If you've got refined tastes and time to kill, you'll love this unique bar and restaurant.


16029 Tampa Palms Blvd W • Tampa, FL
(813) 252-3004
Visit Website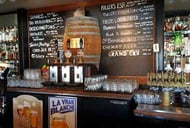 One look at the Fat Rabbit Pub's menu is enough to make your mouth water. This place is known for serving light fare (aka rabbit food) with fresh ingredients and savory flavor combinations. Plus, every item on the menu can be made gluten-free upon request. Whether you're pining after the handmade pumpkin ravioli or the oven-roasted zucchini fries, the Fat Rabbit can satisfy your taste buds. Its 20+ beers on tap give patrons tons of affordable and delicious options as well. We recommend visiting the Fat Rabbit on Tuesday to take part in a free game of trivia or on Saturday to enjoy happy hour while a sports game plays on the bar's seven flat-screen TVs.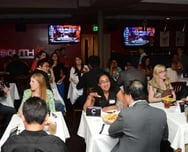 Who has time to meet people one at a time? I'd personally rather get a week's worth of dating done in a single evening. The only place where that's possible is at a speed dating event. These events challenge singles to meet dozens of date prospects and establish a connection on a series of fun mini-dates. You don't have to waste time on dud dates because the blow of the whistle or the ringing of a bell will bring you someone new to meet. Pre-Dating is a nationally recognized speed dating event organizer, so check out its calendar to liven up your love life.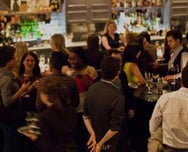 Attending a party can be nerve-wracking because you never know how many single folks are going to be there. But that's not the case with singles events. When you show up at a singles mixer, party, or meetup, you can rest assured everyone there is available and ready to meet someone new. These events offer a low-key and friendly environment where approaching a stranger is easy. Eventbrite is always adding singles-oriented events to its calendar so click the link below to get a ticket to a fun event in your area.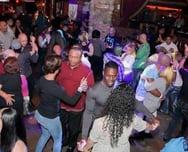 Tampa native Aaron Carter melted a lot of young hearts with his dance moves as preteen pop singer in music videos and as a 20-something star on "Dancing with the Stars." He's always first on the floor, busting out the moves like it's MTV, and that's part of what made him a heartthrob. Dancing can be a great way to bring people together and turn strangers into dance partners. You can follow Aaron's example and head to the dance club when you want to make an impression and meet date prospects in Tampa.
Chatty singles can always meet people in a local chat room. You don't have to brave the Tampa heat to make a friend in this virtual space. Chat rooms don't use algorithms to ensure you only talk to certain people or see certain messages. You can chat with everyone who's online. It's basically a free-for-all where you can discover common interests by having a genuine conversation. We recommend singles use a location-specific chat room to find viable date prospects in their area. The following chat rooms are open 24/7 to Tampa singles in search of friendship and romance.
Sometimes match algorithms help you sort through your dating options, and sometimes they just get in the way. You don't always need a formula to tell you who you like and who you're compatible with — and that's why online dating personals are popular among singles who know exactly what they want. You can set up an account for free on a personals site and search the database by age, location, or dating goals to find someone special in your area. This is a no-muss, no-fuss approach to dating that busy Tampa singles should take advantage of on those lonely nights in.
9
Join a Group Geared to Your Interests
You've probably heard of Meetup.com before, right? It's a popular social networking tool for people who are new in town or want to make new friends. But what you may not realize is that it's also a great way for local singles to meet one another in a casual setting.
You can do a quick search by interest (cooking, hiking, kayaking, reading, etc.) or by keyword (singles, young professionals, etc.) to find a Meetup group that fits your personality and relationship goals. Happy Singles of Tampa Bay, for example, has more than 907 members and often organizes themed parties and dinners on the town.
New Town Connections is another handy resource for Tampa singles. This platform promotes events to make it easy for newcomers to get involved in the community's social scene. You can join as an Experiencer for $19 a month and get access to happy hours, socials, and other events.
10
Pitch in with a Volunteer Effort
Volunteerism is alive and well in the Tampa Bay Area. Whether you're giving your time to the Red Cross or the Humane Society, you can make a difference in the community while making the acquaintance of kindhearted folks. Volunteer teams often form strong bonds because they share similar values, interests, and goals.
Volunteer Match can connect you with volunteer opportunities in Tampa. You can narrow your search by cause, location, keyword, and other criteria. Once you've found a volunteer event that strikes your fancy, you can start giving back and expanding your horizons by putting your free time to good use.
Take the Dating Scene by Storm in the Lightning Capital of the World
The stereotypical Florida man and Florida woman may lead outsiders to believe that dating prospects are slim in the Sunshine State, but that's just not true. Tampa certainly has its fair share of hotties — this is the city where Channing Tatum was born, after all — and it's growing bigger and more diverse with each passing year.
You can find a date in this Gulf Coast paradise by taking advantage of the events, websites, bars, and other resources at your disposal. Hopefully our list has given you a good starting point, so you can get out there and make something happen. Good luck!
Final Thoughts on Dating in
Tampa, FL
We hope you've found our guide "10 Ways to Meet Singles in Tampa, FL (Dating Guide)" to be helpful in your dating journey. If you're ready to take the leap into the local Tampa, FL, dating scene, keep in mind that apps like Match and Elite Singles are the easiest way to meet singles locally and throughout Florida.
Prefer to meet people the old-fashioned way? You're certainly not alone. According to local reviews, these popular spots in Tampa, FL, could be exactly what you're looking for:
Fly Bar & Restaurant
Gaspar's Patio Bar & Grille
The Hub Bar
Coppertail Brewing Co.
Ciro's Speakeasy and Supper Club
The Fat Rabbit Pub
Whether you're in Tampa, FL, surrounding areas, or anywhere else in Florida, remember that there's someone out there for you. It's just a matter of taking that first step.
Advertiser Disclosure
DatingAdvice.com is a free online resource that offers valuable content and comparison services to users. To keep this resource 100% free for users, we receive advertising compensation from the sites listed on this page. Along with key review factors, this compensation may impact how and where sites appear on the page (including, for example, the order in which they appear). DatingAdvice.com does not include listings for all dating sites.
Our Editorial Review Policy
Our site is committed to publishing independent, accurate content guided by strict editorial guidelines. Before articles and reviews are published on our site, they undergo a thorough review process performed by a team of independent editors and subject-matter experts to ensure the content's accuracy, timeliness, and impartiality. Our editorial team is separate and independent of our site's advertisers, and the opinions they express on our site are their own. To read more about our team members and their editorial backgrounds, please visit our site's About page.