9 Ways to Meet Singles in Washington, DC (Dating Guide)
In another life, when Obama's star was on the rise, I thought I might go into politics professionally. I worked on national and local campaigns, majored in political science, and even pursued a master's degree in American campaigns. A lot of my classmates have since moved on to jobs in Washington, DC, and I live vicariously through them, dreaming of what might've been.
As a whole, the couples I know in DC seem to be much happier with their lot in life than the singles I hear from. While my couple friends gush about leisurely brunches and gourmet cupcakes, my single friends tell stories about getting wasted at rooftop parties, being stood up at overpriced bars, and struggling to separate their work lives from their personal lives.
Steeped in history and politics, Washington, DC is a multi-faceted city built on networking strong relationships, and yet some overworked interns, politicos, and lobbyists find themselves married to their work and going home alone. If getting a date is high on your agenda, our list of the nine ways to meet singles in DC can help you re-energize your social calendar and fulfill the promise of a satisfying love life.
1
Washington, DC, Dating Sites
For anyone hoping to make their love lives great again, online dating is the best option this side of Pennsylvania Avenue. Dating sites are big league. Though once dismissed as an outsider, online dating now dominates single life and is very much part of mainstream culture. Online dating has risen to become the most popular and tremendous governing force in the dating industry. You can throw your support behind a tried-and-true dating site and meet new people in your area by choosing any of our favorite DC dating networks ranked by category below.
Best Singles Site
If dating websites had elections, Match.com would definitely have our vote. This top-tier dating platform always delivers on its campaign promise to match up singles in long-lasting relationships. Just look at its winning track record: to date, Match has been responsible for the most marriages of any other dating site. Now that's change we can believe in!
Best Site for Professionals
Working professionals are well-represented in the nation's capitol. It's like a magnet for the ambitious and the power-hungry. You can introduce yourself to DC's hard-working singles online by joining Elite Singles, a selective dating network for well-educated daters. This dating site can match you with high-quality individuals in your area. More than 82% of members on Elite Singles hold at least a bachelor's degree, so you won't find any deadbeats or losers online here.
Over 50 & Senior Sites
OurTime rallies its resources to support senior daters seeking new friendships and relationships online. This user-friendly dating site is particularly handy for technological outsiders with little experience (but a lot of enthusiasm) for online networking. Users often praise the ease of signing up and searching for a mature date on OurTime so we highly recommend it to DC singles over 50.
For Black Men & Women Only
Until 2011, Washington, DC was a majority-black city, and it remains ethnically diverse with a significant portion (49% of current DC residents) identifying as black or African-American. If you want to date within the District's tight-knit black community, you can use BlackPeopleMeet to find available men and women online. Over 1.4 million people have joined this network, making it the world's largest online community of black and biracial daters.
Hookup & Sex Site
Those living in DC are no strangers to sexual scandals. From presidents to interns, we all have private desires that should hopefully stay well away from our public lives. If you want to anonymously hook up with singles in DC, Adult Friend Finder offers an exciting and sexually active community of consenting adults. You can enjoy guilt-free and no-strings-attached sex with a stranger using this discreet hookup site.
Much like the 24-hour news cycle, singles in DC never rest. There's always a new love interest to chase, a fresh story to tell, and another this-just-in adventure on the horizon. The modern dating world is fast-paced, and many daters need a way to stay connected and follow new developments while on the go. Dating apps give singles the mobility and freedom to find a late-breaking date from anywhere. Below, you can find our top choices for popular dating apps for DC locals.
Relationships: Fun Dates, Serious Relationships
Match System: Browse by location, age, interest, and more
About the App: Available via the App Store and Google Play, Match is a fantastic app for dates and relationships. With a user base of 30 million singles, Match is where you'll have a high chance of success. It's free to download, create a profile, search for date prospects, and receive compatible matches based on personalized preferences. Free members can also chat with select members and send unlimited likes.
Browse Free: View Profiles Now
| User Base | Gender Ratio | Popularity (Visits/Mo.) | App Cost |
| --- | --- | --- | --- |
| All Singles* | | 13.5 Million* | Free Download |
Relationships: Deep Relationships
Match System: Search by education, lifestyle habits, age
About the App: Commitment-minded, professional daters will feel at home with EliteSingles, which can be downloaded for free in the App Store or Google Play. Not only is everyone looking for a long-term partner, but 80% of members hold a bachelor's, master's, or doctorate degree. EliteSingles sees 210,000 visitors and 2,500 users finding love every month, so it's one of the fastest growing and most reputable apps.
Browse Free: View Profiles Now
| User Base | Gender Ratio | Popularity (Visits/Mo.) | App Cost |
| --- | --- | --- | --- |
| All Singles* | | 290,000* | Free Download |
Relationships: Casual Dates, Relationships
Match System: Search for and receive matches
About the App: Zoosk is the number one app for finding dates, and if you sync up your Google+ or Facebook account, you can have a profile in seconds. The app has 38 million members and will deliver matches to your inbox on a daily basis based on your behavior such as who you search for, like or don't like, and message. The Carousel is another section for matching (tap the heart if it's a yes and the X if it's a no).
Browse Free: View Profiles Now
| User Base | Gender Ratio | Popularity (Visits/Mo.) | App Cost |
| --- | --- | --- | --- |
| All Singles* | | 3.8 Million* | Free Download |
3
Washington, DC, Singles Bars
If gerrymandering teaches us anything, it's that you shouldn't be afraid to go out of your way to find people who like you. Getting out of your online bubble and into the real world can be a refreshing way to get the ball rolling with someone new. A bar is a natural platform for building consensus and convincing an undecided single to sway your way. Hundreds of bars in Washington, DC, serve as social safe places, helping overworked patrons get through political hailstorms, busy workweeks, and lonely Saturday nights.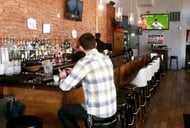 The Big Board tempts savvy customers with an original pricing structure set up to fluctuate with supply and demand. That means you could see your favorite beer dive a couple bucks in price from one day to the next. The menu of "capitol assets" and "liquid assets" includes gourmet burgers and specialty cocktails worth filibustering for. Thursday trivia nights are particularly good times to come out and meet people because teams of friends love to compete with one another and compare their answers over a few cold ones.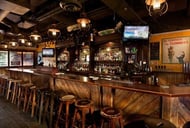 Named after James Joyce's most famous short story, the Dubliner is a classic Irish pub in DC This family-run bar has been in business since 1974 and proudly maintains the Celtic heritage of its founders. The immigrant-friendly Irish haven pours smooth proprietary Irish whiskey for people of all backgrounds. Patrons can sample 100 different Irish whiskeys at this bar (hopefully not all at once, though) and listen to live music featuring soulful ballads and lively jigs. Everything about this bar, from the traditional shepherd's pie to the Irish accents of the bartenders, will have daters from the Emerald Isle feeling right at home.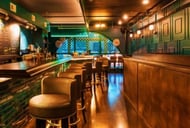 Copycat Co., an unorthodox Chinese-inspired establishment, hands out a drinking manual instead of a menu. Their pie charts, history lessons, and detailed taste profiles demystify the essence of classic drinks and help people make an informed decision at the bar. Copycat Co. is also known for serving tasty street fare, such as traditional Northern Chinese dumplings, late into the night. The small two-story bar has a lot of quality packed within its walls. Professional bartenders push their creative limits to come up with original drinks they hope customers like so much that other bars will start copycatting them.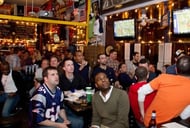 Nestled on the corner of 9th and U, Nellie's Sports Bar is a favorite hangout for the LGBTQ community in DC. On nice days, colorful groups of people crowd onto the roof to mingle with one another. From Sunday Funday drag brunches to Smart Ass trivia nights on Wednesdays, Nellie's Sports Bar always has something fun on the events calendar. In addition to frequent live performances and movie nights ("Mean Girls" showed last summer), the bar keeps 10 HD televisions available for sports fans to root for their favorite teams. At this rowdy bar, you can let your freak flag fly and score a date.


5
The Back Room at Capo Deli
715 Florida Ave NW • Washington, DC 20001
(202) 827-8012
Visit Website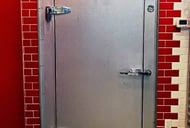 The Capo Italian Deli is a legend in DC, promising no gimmicks, no fancy-schmancy ingredients, and no skimping on quality meats. Tons of people come in and out of this sandwich shop every day, but what many don't know is that there is a secret bar attached to the deli. They don't advertise it or make a big deal, so it's easy to miss this hidden gem. The BackRoom at Capo Deli's entrance is cleverly disguised as a fake freezer door. When the red light is on, patrons have the green light to go in and enjoy a specialty house cocktail. It's the ultimate speakeasy with a host checking names at the door on busy nights.


6
Jack Rose Dining Saloon
2007 18th St NW • Washington, DC 20009
(202) 588-7388
Visit Website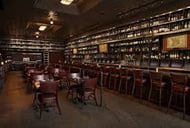 Jack Rose Dining Saloon has over 2,600 whiskeys available — and counting! This bar is a powerful force to be reckoned with in the DC nightlife. Add an open-air terrace to an impressive collection of spirits, wines, and liquors, and you've got a sure-fire winner. From the cellar to the roof, the Jack Rose Dining Saloon is a hard-liner on the issue of drinking excellence and serves up uncompromising quality in every glass.


800 16th St NW • Washington, DC 20006
(202) 638-6600
Visit Website

Within the Hay-Adams Hotel in downtown DC, there's a place where the political elite are welcome to let their guard down and mingle without ending up on the five o'clock news. Off the Record is a sleek seasonal bar specializing in serving politically-inspired drinks like the Trumpy Sour and Fill a Buster. The bar's tongue-in-cheek humor can be seen in the caricatures of famous politicos decorating the walls. With a private feel and a superb wine selection, this upscale venue is ideal for anyone looking to lobby someone for a date.


1201 U St. NW • Washington, DC 200009
(202) 627-0794
Visit Website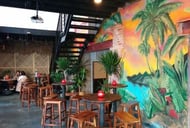 When it's all too much and you just want to run away to the beach, Archipelago is there for you with a strong rum runner to ease the stress of today's political climate. The bamboo stools, tiki glasses, and palm decorations transport visitors to a delightful tropical resort in the heart of DC. You can soothe your nerves and escape the grittiness of the political swamp with one of Archipelago's signature piña coladas or ti punches in your hand.
4
Washington, DC, Speed Dating



High-powered political operatives don't have time to waste on dud dates. That's why speed dating events have won the popular vote for many singles in the DC area. These accelerated social hours help attendees quickly sort through dozens of date candidates and cast a vote for whomever they want to see again. And, not to worry, it's a secret ballot, so rejected dates can't appeal your decision. Professionals in the City organizes engaging speed dating events for more than 200,000 singles searching for romance.
5
Washington, DC, Singles Events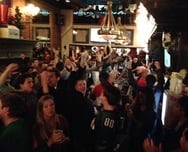 A lot of DC residents make a living through their networking prowess. Singles events offer the opportunity to meet the Bill to your Hillary or the Jack to your Jackie in a date-friendly social atmosphere. Whether you're letting loose at a dance party or debating new legislation at a meet-and-greet, you can mix things up and meet new people in the course of one fun-filled evening. At singles events, eligible date candidates rally together to give one another their vote of approval.
6
Washington, DC, Singles Clubs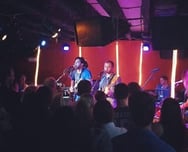 During the day, Washington, DC is all-business, brokering deals, arranging closed-door meetings, and speaking primarily in talking points. But at night, the city comes alive with people who are tired of political jockeying and just want to be wild and free without making a federal case out of it. A popular nightclub offers single men and women a respite from the intrigues of the day by providing some intriguing date opportunities throughout the night.
7
Washington, DC, Chat Rooms
Maybe you don't feel comfortable showing your face at a downtown bar or a popular dating site. That makes sense. DC can be a gossipy place for professionals, so anonymity in the dating scene can be a high priority in this political climate. An online chat room can definitely provide some flirtatious fun without revealing any sensitive personal details. You can join a chat room from the privacy of your own home and talk to singles in a safe and anonymous space. No compromising photos. No eyewitnesses. And no need to even use your real name.
8
Washington, DC, Personals
Dating, much like politics, used to be a lot simpler in the days of "I like Ike." In the old days, you could just place an ad in a newspaper (not fake news) to make yourself available to daters in your neighborhood. These days, not everyone reads or trusts the mainstream media, so dating personals are much more effective when placed on the internet. A good dating personals website can speed up your search for a compatible partner. Whether you're seeking a hookup or a relationship, the following dating personals websites can help you achieve your dating agenda.
9
Play a Sport to Kick Off Your Social Life
Many of DC's residents are competitive and driven individuals, addicted to the win-lose dynamic of American politics. That's why they're called "political junkies." To stay sane during the off-election years, a lot of political professionals join various sports leagues. It's a great way to get some exercise while working toward the win alongside people who enjoy the same sort of activities as you do.
The Washington Area Frisbee Club (WAFC) is a good one for letting loose and mingling with fun folks in the neighborhood. You can toss out a few compliments while playing an engaging team sport and make fast friends during the game.
If you're more about watching the game than playing the game, you can always kick back at a sports bar in America's capital. The Washington Post recommends the Arlington Rooftop Bar and Grill, Biergarten Haus, and Bracket Room for avid sports fans looking for a watering hole in the DC area.
Singles Campaign Online & In Person to Make Dating Inroads in DC
My single friends in DC may bemoan the dating scene, but I know they wouldn't want to live anywhere else. Working and dating in Washington are similarly high-pressure propositions; though fraught with hurdles, people greedily chase the tantalizing glimmer of rewards in the distance. Successful daters, like successful legislators, know how to win people to their side and overcome the odds through sheer charisma.
The right to date may not be on the Bill of Rights, but it's pretty crucial to American singles in the pursuit of happiness. So, if you're looking to exercise your liberties in the DC area, get out there and start building fruitful relationships! There are thousands of people to align with in the US capital. If you take advantage of every social opportunity, you'll gradually expand your dating influence.
Our dating experts have endorsed nine ways to meet people in DC to help singles make that one connection, indivisibly, with dating platforms and meetups for all.
Final Thoughts on Dating in
Washington, DC
We hope you've found our guide "9 Ways to Meet Singles in Washington, DC (Dating Guide)" to be helpful in your dating journey. If you're ready to take the leap into the local Washington, DC, dating scene, keep in mind that apps like Match and Elite Singles are the easiest way to meet singles locally and throughout District of Columbia.
Prefer to meet people the old-fashioned way? You're certainly not alone. According to local reviews, these popular spots in Washington, DC, could be exactly what you're looking for:
The Big Board
The Dubliner
Copycat Co.
Nellie's Sports Bar
The Back Room at Capo Deli
Jack Rose Dining Saloon
Off the Record
Archipelago
Whether you're in Washington, DC, surrounding areas, or anywhere else in District of Columbia, remember that there's someone out there for you. It's just a matter of taking that first step.
Advertiser Disclosure
DatingAdvice.com is a free online resource that offers valuable content and comparison services to users. To keep this resource 100% free for users, we receive advertising compensation from the sites listed on this page. Along with key review factors, this compensation may impact how and where sites appear on the page (including, for example, the order in which they appear). DatingAdvice.com does not include listings for all dating sites.
Our Editorial Review Policy
Our site is committed to publishing independent, accurate content guided by strict editorial guidelines. Before articles and reviews are published on our site, they undergo a thorough review process performed by a team of independent editors and subject-matter experts to ensure the content's accuracy, timeliness, and impartiality. Our editorial team is separate and independent of our site's advertisers, and the opinions they express on our site are their own. To read more about our team members and their editorial backgrounds, please visit our site's About page.