12 Ways to Meet Singles in Atlanta, GA (Dating Guide)
A friend of mine and her husband travel to Atlanta at least twice a year — it's their city. Whether it's for an anniversary, long holiday weekend, or just because, they can't resist celebrating their love here. What's not to like? Atlanta has so many things going for it — from the restaurants and the entertainment to the weather and sports, not to mention the history.
Atlanta's more than 51 million annual visitors and 496,400 residents feel the same way, too. And being single in this city is like being a kid in a candy store — you have so many options. To get you started, we've pinpointed the 12 best ways for dating in the ATL!
Imagine how difficult finding someone to go out with was before online dating came around. We had to ask family, friends, and coworkers for help, post public ads in newspapers, or have the courage to walk up to strangers while out and about. Those avenues still exist, of course, but dating sites exponentially fast forward the process. Below are five that can get you online and on your way in a matter of seconds.
Best Singles Site
Match.com is like that perfect shell in a sea of thousands. Once you use it, you won't go back to those other mediocre sites. It has a beautiful, instinctive layout, 100% unique features (e.g., Missed Connections), and the most trusted reputation in the online dating industry. Over 42 million singles have joined Match, and they've found more dates and relationships than those on other dating sites.
Best Site for Professionals
Many singles have focused so much of their time on their careers that it's put a damper on their dating lives, which doesn't seem quite fair. It shouldn't be one or the other, and Elite Singles is here to make sure that doesn't happen. By offering tips and finding matches on a daily basis, this dating site caters to busy men and women who just need a little helping hand.
Over 50 & Senior Site
For some people, age isn't just a number — it's something they heavily weigh when choosing a date or partner. Senior daters need look no further than OurTime. Here, everyone is 50 and over, come from various locations and backgrounds, and have a ton of different interests. Since the interface on OurTime is so straightforward, finding a friend or lover in Atlanta is a piece of cake.
For Black Men & Women Only
Atlanta is one of the most ethnically diverse cities in the United States, with Black Americans making up 54% of the population. If you're a black or biracial single interested in dating other black and/or biracial singles, BlackPeopleMeet is our top pick. The site has more than 1.4 million monthly users from the African-American community and numerous advanced features for narrowing down the field even more.
Hookup & Sex Site
Online dating used to be looked down upon as something only desperate people did, especially if they were just looking for sex. The stigma has faded, though, as online dating has become more successful and people have become more open-minded. On Adult Friend Finder, there's no need to feel ashamed of your desires — express them freely to your 77 million fellow members, and you're sure to connect with others who feel the same.
Dating sites significantly changed the dating landscape when they came on the scene in the 1990s, and dating apps did the same thing when they emerged e in the 2000s. Accessibility and affordability have become a nonexistent problem thanks to swiping technology, GPS-based matching, social media integration, and free memberships. Today, we have for you three dating apps that are making a name for themselves among singles:
Relationships: Fun Dates, Serious Relationships
Match System: Browse by location, age, interest, and more
About the App: Available via the App Store and Google Play, Match is a fantastic app for dates and relationships. With a user base of 30 million singles, Match is where you'll have a high chance of success. It's free to download, create a profile, search for date prospects, and receive compatible matches based on personalized preferences. Free members can also chat with select members and send unlimited likes.
Browse Free: View Profiles Now
| User Base | Gender Ratio | Popularity (Visits/Mo.) | App Cost |
| --- | --- | --- | --- |
| All Singles* | | 13.5 Million* | Free Download |
Relationships: Deep Relationships
Match System: Search by education, lifestyle habits, age
About the App: Commitment-minded, professional daters will feel at home with EliteSingles, which can be downloaded for free in the App Store or Google Play. Not only is everyone looking for a long-term partner, but 80% of members hold a bachelor's, master's, or doctorate degree. EliteSingles sees 210,000 visitors and 2,500 users finding love every month, so it's one of the fastest growing and most reputable apps.
Browse Free: View Profiles Now
| User Base | Gender Ratio | Popularity (Visits/Mo.) | App Cost |
| --- | --- | --- | --- |
| All Singles* | | 290,000* | Free Download |
Relationships: Casual Dates, Relationships
Match System: Search for and receive matches
About the App: Zoosk is the number one app for finding dates, and if you sync up your Google+ or Facebook account, you can have a profile in seconds. The app has 38 million members and will deliver matches to your inbox on a daily basis based on your behavior such as who you search for, like or don't like, and message. The Carousel is another section for matching (tap the heart if it's a yes and the X if it's a no).
Browse Free: View Profiles Now
| User Base | Gender Ratio | Popularity (Visits/Mo.) | App Cost |
| --- | --- | --- | --- |
| All Singles* | | 3.8 Million* | Free Download |
I recently went to a bridal shower of a friend who met her soon-to-be husband at a bar. When they first met, we didn't think anything of it because we've all met people at bars before, and how often does it turn into a relationship? Well, for her, it did, and she's the happiest she's ever been. It just goes to show that you never know what one beer could turn into. In terms of Atlanta's bars, we could go on and on about them for days, but we've gotten our favorites down to seven.


292 Moreland Ave NE • Atlanta, GA 30307
(404) 221-2600
Visit Website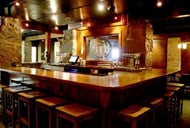 What was once a Victorian home, Methodist Protestant church, and dance school has now become a staple among the Atlanta drinking community. Wrecking Bar Brewpub was founded by Bob and Kristine Sandage in 2011, and they promised to take it "where no other brewpub has gone before." One-of-a-kind beers include the Breaking Bob Kölsch, Juice Willis IPA, and Jemmy Stout — while notable eats include Elote Corn Fritters, Charred Octopus, and Bowl of Honeysuckle Gelato.

303 E Howard Ave • Decatur, GA 30030
(404) 378-3502
Visit Website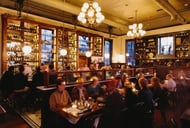 What you'll find at the Kimball House all depends on the season and what the team is feeling that day, which makes the menus really exciting. For example, you could go on a Monday and find a rack of lamb, but then on Thursday, you could find Ravioli with braised short ribs. What remains constant, though, and that can't be missed is the raw oysters that are brought in every day from around the area and the US. Pair it with Kimball's beer, wine, bubbles, cocktails, or absinthe concoctions, and you'll be set!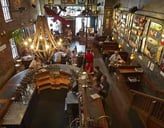 Dave Blanchard, Mike Gallagher, and Tom Moore (three friends from Athens, Georgia who have more than 20 years of bar/restaurant experience) opened the Brick Store Pub on June 27, 1997, at exactly 9 p.m. Between the main bar and the Belgian bar upstairs, Brick Store's offerings include 29 rotating taps and 79 bottled beers. It's open every day and hosts weekly events such as special beer releases, cooking competitions, and holiday parties.


602 North Highland Ave • Atlanta, GA 30307
(404) 525-3447
Visit Website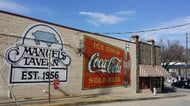 "Best Bar in Atlanta," "Best Neighborhood Bar," and "One of the Best Bars in the US" are just some of the accolades Manuel's Tavern has received since its 1956 founding. It was designed by and named after Manuel Maloof, who was inspired by the English taverns he visited during his service in World War II. Manuel's serves your typical bar fare but taken to the next level, including pale ales, saisons, mozzarella sticks, and club sandwiches.


828 North Highland Ave • Atlanta, GA 30306
(404) 873-2583
Visit Website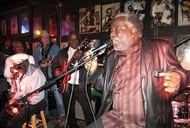 "Keeping the blues alive" is the motto at Blind Willie's, where music starts at 9:30 every night (closed on Sundays, though). You can enjoy the sounds of the Nick Moss Band, Shawn Holt and the Teardrops, and John Primer. When you're craving a drink and a meal, we recommend trying the Willie's Swamp Water (vodka, blue Curacao, and pineapple juice) and the Chicken Willie Strips.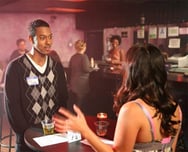 If you're a multitasking, get-er-done type of person, speed dating could be for you. Instead of going on one long date at a time and potentially not finding your perfect match — with a speed dating event, you can go on dozens of dates in one night and come away with multiple perfect matches. Eventbrite has a massive list of speed dating events coming up in Atlanta, so all you have to do is figure out what you're going to wear!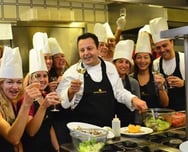 If romantic movies have taught us anything, it's that a little friendly competition is a turn-on for a lot of people. And nothing lights that competitive fire better than singles events. Whether it's roller skating, Escape Room parties, tree ropes courses, or fencing, there's a singles event for every personality. These are fantastic for starting up a conversation as well — because you can ask the person you're next to or competing against how long they've been participating in the hobby and if they have any tips.



Jermaine Dupri, T.I., TLC, Lil Jon, Ludacris, Usher, Ciara — they all hail Atlanta, making the city a music destination like no other. In addition to live performances by musicians like these, you can also find the hottest music played in clubs and other venues. Atlanta.net has broken down the go-to clubs by the most important information, including location, age restrictions, drink specials, and price. Click the following link to see for yourself.
Remember how annoying it used to be to find a chat room? You had to pull up AOL, log in, wait for the dial-up to finish, find a chat room you like, create a username, upload a photo or avatar, and try a bunch of openers until someone responded. Nowadays chat rooms are way less time-consuming and complicated. Some don't even require registration! The chat rooms everyone uses today (including the ones below) also have millions of users instead of thousands or hundreds — making it more likely to connect with someone special in seconds.
What do Craigslist.org, DateHookup.com, ClassifiedAds.com, DoULike.com, and BookOfMatches.com have in common? They're all among the most popular personals sites for Atlanta singles. Compared with other personals sites, they have massive user bases and don't charge anything to post a profile, browse through others' profiles, receive matches in your inbox, and communicate in a number of ways (such as IM, email, and virtual gifts).
9
Go to Braves & Hawks Games
Most Atlantans are huge sports fans, and how could you not be when you're only minutes away from the Braves (baseball), the Hawks (basketball), the Falcons (football), United FC (soccer), Blaze (lacrosse), and the Gladiators (hockey). Atlanta is also home to the NCAA's annual Peach Bowl and the Peachtree Road Race (the largest 10-kilometer race in the world).
Lets not forget about the non-professional sports clubs in Atlanta either, including those for dodgeball, bocce ball, volleyball, or bowling, to name a few.
When you're attending a game or participating in a sport yourself, it's only natural to meet like-minded people. You could easily turn to the person next to you and get their opinion about the call the umpire just made, or you could ask one of your teammates what technique they use to get that perfect spike.
Atlanta is a magnet for festivals, and for good reason. With all the parks, venues, stadiums, and concert halls, the city never runs out of reasons or places to hold a festival. It could be a festival for the environment (the Atlanta Dogwood Festival), for ethnic representation (the Festival Peachtree Latino), for LGBT support (Atlanta Pride), for entertainment (the Atlanta Film Festival), for music lovers (Music Midtown), for geeks, nerds, and dorks (like Dragon Con), for beer fanatics (the SweetWater 420 Fest), or for foodies (the Candler Park Music & Food Festival).
Check out ExploreGeorgia.com for more information and more festivals that are worth checking out.
You could meet someone while watching a band play, planting a tree, getting in line for food or a beer, listening to a speech about equal rights, admiring a person's costume — whatever the case may be. You're all there for the same reason, so you should feel less nervous about making a move.
11
Participate in Atlanta Streets Alive
Atlanta Streets Alive is an organization whose whole mission is to bring the community together and create "neighborhood pride." For three days of the year, Atlanta Streets Alive closes down three routes and 9 miles in the city, allowing people to bike, skate, hula hoop, walk, and explore in ways they've never done before.
These free events are opportunities to see Atlanta in a new light, exercise, and maybe get to know people you work with or live near, but you've never spoken to before. You'll find activity hubs throughout the route that are perfect for talking with your fellow participants.
Network Under 40 is a national initiative, with an Atlanta branch, that holds events not just for networking but for making authentic friends and forming authentic relationships. According to the site, "It's not just about meeting people, it's about knowing people." Every week, Atlanta Under 40 hosts breakfasts, lunches, dinners, happy hours, art walks, Topgolf matches, and so much more.
Adding more people to your contacts is good for business as well as your dating life. Who knows if a new colleague, sponsor, partner, or what have you could become more (as long as you follow your company's rules). Or maybe they know someone who you'd get along with really well and can make introductions for you. Anything could happen!
Hotlanta: Where Hot Singles Go on Hot Dates!
My friend and her husband have another trip to Atlanta coming up soon, and they never tire of it. It's easy to see why — the city is always buzzing with a new restaurant to try out, a show to see, an event to attend, and, most importantly, people to meet. Even if you're not married yet, Atlanta has a wealth of resources for singles to come together, and we've just told you about 12 of them!
Photo sources: singleblackmale.org, duvine.com, capturelifethroughthelens.com, networkunder40.com, atlantaintownpaper.com, ajc.com, gafollowers.com, hotlantahotspots.com, 50statebrewhaha.wordpress.com, bonappetit.com, atlantaprogressivenews.com, wantickets.com
Final Thoughts on Dating in
Atlanta, GA
We hope you've found our guide "12 Ways to Meet Singles in Atlanta, GA (Dating Guide)" to be helpful in your dating journey. If you're ready to take the leap into the local Atlanta, GA, dating scene, keep in mind that apps like Match and Elite Singles are the easiest way to meet singles locally and throughout Georgia.
Prefer to meet people the old-fashioned way? You're certainly not alone. According to local reviews, these popular spots in Atlanta, GA, could be exactly what you're looking for:
Wrecking Bar Brewpub
Kimball House
Brick Store Pub
Manuel's Tavern
Blind Willie's
Whether you're in Atlanta, GA, surrounding areas, or anywhere else in Georgia, remember that there's someone out there for you. It's just a matter of taking that first step.
Advertiser Disclosure
DatingAdvice.com is a free online resource that offers valuable content and comparison services to users. To keep this resource 100% free for users, we receive advertising compensation from the sites listed on this page. Along with key review factors, this compensation may impact how and where sites appear on the page (including, for example, the order in which they appear). DatingAdvice.com does not include listings for all dating sites.
Our Editorial Review Policy
Our site is committed to publishing independent, accurate content guided by strict editorial guidelines. Before articles and reviews are published on our site, they undergo a thorough review process performed by a team of independent editors and subject-matter experts to ensure the content's accuracy, timeliness, and impartiality. Our editorial team is separate and independent of our site's advertisers, and the opinions they express on our site are their own. To read more about our team members and their editorial backgrounds, please visit our site's About page.