9 Ways to Meet Singles in Birmingham, AL (Dating Guide)
After a long-term relationship ended badly, Sadie, a Birmingham, Alabama, local, found herself without any of her former friends, whom she had isolated herself from to be with her partner. She was only 27 and knew she couldn't live her life like that, so she asked Reddit users, "Are there any activities around here where people were especially welcoming?"
Several people, including SouthernBelle5672 and WalksSoftly, came to the rescue, sharing their insights on the city's goings-on and how they had expanded their own social circles. Sadie was soon invited to a brewery meetup, game night, and cycling day.
Trying to get back out there after a breakup, whether you're looking for friendship or romance, can be difficult even if you're in a bustling city like Birmingham. But that's the purpose of this guide — to give you tips for meeting new people and leading the full life you've always wanted and deserve.
Your dating life will see the biggest difference if you're on a dating site — hands down. It's an efficient and economical way to connect with other singles in Birmingham…or all over the world if you want. Our experts have reviewed and ranked dozens of dating sites and have determined the following five to be the best in the biz.
Best Singles Site
Match is like the quarterback of dating sites. Singles turn to it for guidance when they're not sure what the next move is, and competitors turn to it when they need inspiration for how they should run things. With a rich history (founded in 1995), massive user base (30 million) and high success rate (the most romantic connections of any dating site), Match has found the winning play.
Best Site for Professionals
Attention: doctors, lawyers, entrepreneurs, and other busy professionals. Elite Singles has got your back. The site was created in 2001 with you in mind and now sees more than 290,000 monthly users, 80% of whom have earned at least a bachelor's degree. In addition to sorting by education, occupation, and location, you can sort Elite Singles members by age, gender, sexual orientation, appearance, and lifestyle.
Over 50 & Senior Site
People 55 or older make up almost 21% of Birmingham's population. That's an audience that warrants special online dating attention, and that's exactly what OurTime does. The niche site caters to mature singles by making the sign-up, browsing, and chatting processes super simple.
For Black Men & Women Only
Birmingham is one of the most diverse cities in the country, with 73% of its residents identifying as Black. But the problem is knowing who's single and who's not. On BlackPeopleMeet, you won't have to worry about that at all. Over 1.4 million Black and biracial singles use the site and app every month, and you can meet them for free by creating an account and liking their profiles.
Hookup & Sex Site
Lifelong relationships are no longer the norm, and that's OK. People are now free to express their desires without fear of judgment, so if it's casual sex you're looking for, you can confidently and successfully find it on Adult Friend Finder. Founded in 1996, AFF, as it's also known, is among the largest sites in the hookup industry — it has over 100 million users, and counting, and on the homepage, you can see who's online in Birmingham at the same time as you.
Thanks to dating apps, we can take our search for love to the streets, coffee shops, bars, parks, and even the bathroom (hey, it happens). However, you don't want to download just any app — there are some duds out there. We've narrowed the thousands of dating apps to three that we believe can meet any single's needs:
Relationships: Fun Dates, Serious Relationships
Match System: Browse by location, age, interest, and more
About the App: Available via the App Store and Google Play, Match is a fantastic app for dates and relationships. With a user base of 30 million singles, Match is where you'll have a high chance of success. It's free to download, create a profile, search for date prospects, and receive compatible matches based on personalized preferences. Free members can also chat with select members and send unlimited likes.
Browse Free: View Profiles Now
| User Base | Gender Ratio | Popularity (Visits/Mo.) | App Cost |
| --- | --- | --- | --- |
| All Singles* | | 13.5 Million* | Free Download |
Relationships: Deep Relationships
Match System: Search by education, lifestyle habits, age
About the App: Commitment-minded, professional daters will feel at home with EliteSingles, which can be downloaded for free in the App Store or Google Play. Not only is everyone looking for a long-term partner, but 80% of members hold a bachelor's, master's, or doctorate degree. EliteSingles sees 210,000 visitors and 2,500 users finding love every month, so it's one of the fastest growing and most reputable apps.
Browse Free: View Profiles Now
| User Base | Gender Ratio | Popularity (Visits/Mo.) | App Cost |
| --- | --- | --- | --- |
| All Singles* | | 290,000* | Free Download |
Relationships: Casual Dates, Relationships
Match System: Search for and receive matches
About the App: Zoosk is the number one app for finding dates, and if you sync up your Google+ or Facebook account, you can have a profile in seconds. The app has 38 million members and will deliver matches to your inbox on a daily basis based on your behavior such as who you search for, like or don't like, and message. The Carousel is another section for matching (tap the heart if it's a yes and the X if it's a no).
Browse Free: View Profiles Now
| User Base | Gender Ratio | Popularity (Visits/Mo.) | App Cost |
| --- | --- | --- | --- |
| All Singles* | | 3.8 Million* | Free Download |
In combination with online dating, you should still get out in the world and see what dating prospects you can find, and a bar is a standard place to do that. Buy a girl a beer here, ask a guy to play pool there, and you just might come away with that special someone. Birmingham has several popular bars, in particular, that locals and visitors alike can't get enough of because they're always packed and have some of the best drink specials.

130 41st Street S • Birmingham, AL 35222
(205) 202-4187
Visit Website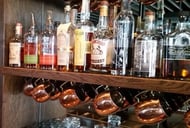 Open every single day, 41st Street Pub & Aircraft Sales provides "a clean, fun, and stylish environment perfect for enjoying a few drinks and having something to do." It's said to be the only bar in Birmingham with shuffleboard tables, and you'll also find darts, board games, and TVs for Alabama and Auburn games. Libations include beer and cocktails, including gimlets and the house favorite Moscow Mule.


2
Avondale Brewing Company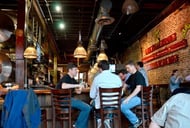 Avondale Brewing Company (which is housed in an early 20th century building that was once a pharmacy, saloon, and brothel) has one of the most unique stories of any brewery. The team tells how, during prohibition, an elephant would find beer bottles, drink out of them, and then walk the streets of Avondale. This is the inspiration for the brewery you see now, which features its own beers, including the Spring Street Saison, Miss Fancy's Tripel, and Battlefield IPA.


3
Carrigan's Public House
2430 Morris Ave • Birmingham, AL 35203
(205) 440-2430
Visit Website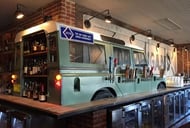 Located downtown, Carrigan's Public House serves beer and mixed drinks as well as pub food that's taken to the next level. Our mouths started watering just reading about the Deception (byrrh, lemon, vodka, St. Germain, and absinthe) and Sweet Lies (gin, Liquore Strega, lemon, Campari, and cucumber). In terms of the lunch and dinner menus, we couldn't resist the Panko-fried chicken, pub ramen, and Ahi tuna melt.


4
Good People Brewing Company
114 14th Street S • Birmingham, AL 35233
(205) 286-2337
Visit Website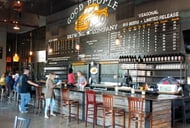 With a name like Good People Brewing Company, you'd expect good people to work there and serve good drinks, and that's exactly what you'll get. Founded in 2008, the brewery sought to "make good beer to share with our friends," and it now has the four highest-rated beers in the South. Among them is the El Gordo Russian Stout, Snake Handler Double IPA, Hitchhiker American IPA, and Coffee Oatmeal Stout.


5
Lou's Pub & Package Store
726 29th St S • Birmingham, AL 35233
(205) 322-7005
Visit Website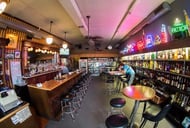 Lou's Pub & Package Store opened its doors more than 20 years ago, and today it's known as one of the best bars in America by Esquire magazine and other publications. Owned and operated by Mike Carpri, Lou's Pub has 4.7 stars out of 5 on Facebook. In one review, Anne Rast Yoder said: "No better place in town for cocktails and excellent conversation. I love the relaxed neighborhood vibe at Lou's, and Mike and his staff always go above and beyond to make me happy when I visit."


200 20th St N • Birmingham, AL 35203
(205) 320-2824
Visit Website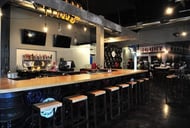 Paramount is all about "Games. Drinks. Grub," and if you head to the corner of 2nd Avenue and 20th Street, that's where you'll find it. The bar has an American garage feel and over 20 old-school and new games (e.g., Galaga, Centipede and Golden Tee). On Tuesdays and Thursdays, you can play the classics for free, and basketball is free on Wednesdays. Now for the good stuff: try a cocktail, like the Ed, Edd & Eddy, or one of the 50 beers on draft and in bottles. Soak up that alcohol with Jamaican jerk wings, pork tacos, or a burger topped with blue cheese.


2125 2nd Ave N • Birmingham, AL 35203
(205) 323-7995
Visit Website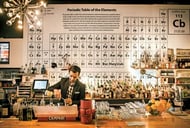 The Collins specializes in tailor-made cocktails, one-of-a-kind bar food, and a friendly atmosphere. Tell the bartenders what you like to drink, and they'll whip up a concoction you can't get anywhere else. Or there's always beer, including local, regional, national, and international options. For the food, offerings include pigs in a blanket, grilled cheese sandwiches, and bread pudding. Enjoy all of this indoors or on the street-side outdoor patio.


2304 10th Terrace S • Birmingham, AL
(205) 322-3220
Visit Website

The Garage Café has been called one of the 10 coolest bars in the world, and it all started with Jimmy Watson in 1994. This Birmingham landmark serves homemade sandwiches, craft beers, and mixed drinks, but people keep coming back for the beautiful courtyard decorated with lights, statues, plants and trees, and fountains. Geoffrey H. wrote that, "It's definitely a 'Cheers' type of vibe. The staff is top notch as well. If you are looking for a place to just grab a drink and chill, this is definitely the spot to go to."


1312 Cobb Lane • Birmingham, AL 35205
(205) 939-1312
Visit Website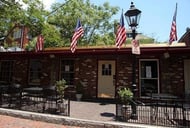 The J. Clyde is a well-established tavern that hosts happy hour every day from 2 p.m. to 6 p.m., when you'll get half off all Birmingham beers. The food menu has everything from beer and deviled eggs to fish and chips, and the J. Clyde rueben. On the flip side, the drink menu has everything from light or malty beers to Cabernets to Bloody Marys and chocolate martinis. Don't forget to check out J. Clyde's events for anniversary parties, specific beer flight nights, holiday celebrations, and raffles, among other gatherings.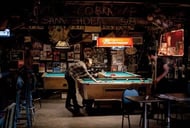 The Nick is Birmingham's self-proclaimed "dirty little secret." This dive bar has been bringing fan-favorite as well as up-and-coming bands to the city for more than three decades. It doesn't matter if you're into country, rap, rock, pop, blues, or any other genre because you'll definitely find a show worth going to. Elise G. shared her experience on Yelp: "You'll be hard-pressed to find a better spot in town for live, local rock music. The drinks are always cold, and the people are friendly. You can always meet someone new there."


Pre-Dating is the world's largest speed dating company, and it puts on monthly events in more than 70 cities in the US, including Birmingham. Since the '90s, Pre-Dating has facilitated more than 5.6 million speed dates, and that number is only going to grow. Events are held at bars, restaurants, clubs, and other venues, and there's always an even number of men and women. Check out Pre-Dating's Birmingham page by clicking the link below.
5
Birmingham Singles Events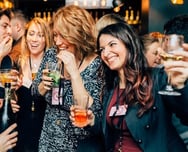 For those who want something a little more casual than speed dating, Eventbrite has an extensive list of group singles events that'll make it a little easier to break the ice. From masquerade balls to dinner theater nights and coffee mixers, there are events that will appeal to anyone. You'll want to pick one and sign up quick because they fill up pretty quickly.
6
Birmingham Singles Clubs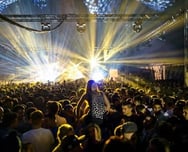 One night when my friends and I were at a club, one of the girls immediately met a guy she hit it off with, and we didn't see her for the rest of the time until we left. When they weren't on the dance floor, they were in a corner talking, holding hands, gazing into each other's eyes, and, of course, making out. And, as the good friends we are, we didn't make fun of her the next day (we totally did). They exchanged numbers and continued talking and meeting up for a few weeks after that. When you think about it, it's crazy how what seems like a normal night out can turn into something different that completely changes your singleness. If you're ready to take a chance and see where one night can take you, head to one of the Birmingham clubs featured in TimeOut magazine.
We always recommend to our readers to join a chat room because it's a fun way to get to know someone without having to look them in the eye — which, understandably, can make a lot of people nervous. You can take your time and really think about what you want to say, and you have so many tools for expressing yourself — including regular chat, phone and video chat, avatars, emoticons, GIFs, and memes. We've picked out our five top chat rooms, but test them out for yourself to see which one is right for you.
Ever turned to the classified section of a newspaper and seen things like "SWF 42/F/Boston seeking long-term partner to enjoy long walks with" or "Young, black man in Los Angeles who's passionate about Star Wars longs to find the Leia to his Hans"? Those are known as personal ads, and they used to be a common way people would find a date (or hookup or almost any type of encounter you can think of). Since the internet was created, personal ads are mostly posted online, which is good news for you because that means it's even faster to get a date. Visit some of the personals sites in this section, and we guarantee you'll go out to a romantic dinner and movie in no time.
9
Join the New Neighbors League
The New Neighbors league is a national organization whose mission is to connect people who are new to a city with local residents. The Birmingham branch meets every week for coffee, lunch, games, drinks, movies, book clubs, and fundraisers and to share their knowledge about the city.
While the New Neighbors League is mostly for women, Birmingham has tons of other groups, clubs, and organizations you can check out. Doing a search on Google of "Birmingham social clubs," we found resources through Meetup, Yelp, Young Professionals of Birmingham, and Spice West Midlands.
Conjure Up Some Dates in "the Magic City"!
Sadie saw firsthand the Southern charm the folks of Birmingham have to offer when she posted that thread on Reddit. You'll see it, too, once you start making your way through some of the tips above — no Reddit post needed! Birmingham is nicknamed "the Magic City," and a magic love story could be right around the corner for you. Try these ways to meet people to find your person sooner rather than later!
Final Thoughts on Dating in
Birmingham, AL
We hope you've found our guide "9 Ways to Meet Singles in Birmingham, AL (Dating Guide)" to be helpful in your dating journey. If you're ready to take the leap into the local Birmingham, AL, dating scene, keep in mind that apps like Match and Elite Singles are the easiest way to meet singles locally and throughout Alabama.
Prefer to meet people the old-fashioned way? You're certainly not alone. According to local reviews, these popular spots in Birmingham, AL, could be exactly what you're looking for:
41st Street Pub
Avondale Brewing Company
Carrigan's Public House
Good People Brewing Company
Lou's Pub & Package Store
Paramount
The Collins
The Garage Café
The J. Clyde
The Nick
Whether you're in Birmingham, AL, surrounding areas, or anywhere else in Alabama, remember that there's someone out there for you. It's just a matter of taking that first step.
Advertiser Disclosure
DatingAdvice.com is a free online resource that offers valuable content and comparison services to users. To keep this resource 100% free for users, we receive advertising compensation from the sites listed on this page. Along with key review factors, this compensation may impact how and where sites appear on the page (including, for example, the order in which they appear). DatingAdvice.com does not include listings for all dating sites.
Our Editorial Review Policy
Our site is committed to publishing independent, accurate content guided by strict editorial guidelines. Before articles and reviews are published on our site, they undergo a thorough review process performed by a team of independent editors and subject-matter experts to ensure the content's accuracy, timeliness, and impartiality. Our editorial team is separate and independent of our site's advertisers, and the opinions they express on our site are their own. To read more about our team members and their editorial backgrounds, please visit our site's About page.