9 Ways to Meet Singles in Little Rock, AR (Dating Guide)
A student at the University of Arkansas at Little Rock felt frustrated by the Southern town's social scene, so he did what any modern young person would do — asked Reddit for help. Under the username the_key_master, he asked, "Best way to meet people around town?" and got dozens of answers with varying levels of sincerity. Some were really helpful and suggested things like volunteering at the zoo or joining a college club, and then there was the guy who recommended meeting hobos under a bridge. Thanks, dude.
Trolls may treat such a basic question as "Where do I go to meet people in Little Rock?" with sarcasm, but it's a serious issue for anyone feeling alone. Many adult singles encounter troubles similar to what the_key_master experienced when seeking to expand their social networks beyond classmates and coworkers.
Arkansas' capital may be the most populous city in the state, but that doesn't mean dates fall in your lap. Single men and women have to put themselves out there if they want to get a date. Fortunately, our dating experts are here to help lonely Little Rockians. You can turn on the Southern charm and mingle with flirty singles using any of the following nine ways to meet people in Little Rock.
1
Little Rock Dating Sites
A couple decades ago, online dating was viewed as a means of last resort for a sad and desperate few. Old-fashioned singles shied away from the stigma of a dating site and had a healthy amount of skepticism about meeting strangers online. Thanks to the meteoric rise of technology, those days are long over. Young people today have no qualms about going online to find a date. Online dating is actually a first resort for a majority of tech-savvy singles. As a result, there are more dating websites than any one person could ever hope to need. We've highlighted our favorite sites by popular categories to help you join the 21st century and set up a dating profile on a reliable site.
Best Singles Site
In 1995, Coolio's "Gangsta's Paradise" topped the charts, "Toy Story" hit the theaters, and a small website called Match.com became a trailblazer in the online dating industry. The rest is history. Over two decades later, Match is our favorite dating site because of its longstanding commitment to using personality traits and deep relational values to match couples. You can create a dating profile and browse local profiles for free, so get to it!
Best Site for Professionals
There's nothing wrong with joining a high-caliber dating site. After all, it's the persnickety daters that often get the pick of the litter. Elite Singles strives to give serious daters an elevated dating pool where career, education, and good manners are a must. According to the membership statistics, about 82% of members have earned at least their bachelor's degree, making this a superb elite dating space for Little Rockians with high standards.
Over 50 & Senior Sites
I reckon once you hit a certain age, jawing with youngins doesn't quite do it for you anymore. Kids today don't understand the history and experience of the older generation, so some senior daters feel more at home among singles their own age. OurTime offers a mature dating environment designed specifically for senior daters. Little Rock daters can use the dating site to find a mature single who's more their speed.
For Black Men & Women Only
Little Rock has a huge black population — about 42% of residents identified as black or African-American in the census — and was the backdrop for the milestone events in the Civil Rights Movement. When the Little Rock Nine enrolled in an all-white high school to test the US Supreme Court desegregation ruling, they struck a blow for racial equality that continues to this day. Today's Little Rockians can intermix freely and date the person they find most attractive, regardless of race. On BlackPeopleMeet, thousands of singles of all colors sign up to flirt with people who share an appreciation for Black culture, African-American history, and social justice.
Hookup & Sex Site
Adult Friend Finder isn't a place for prudes. This sexually charged dating site gives millions of uninhibited singles and couples the freedom to flaunt their fetishes and pursue promiscuous playmates online. Little Rock singles can browse over 100 million risqué photos on AFF and invite a local hottie into bed via anonymous private chats. A little naughty behavior is expected and welcomed by members on Adult Friend Finder.
The dating world has come a long way thanks to modern technology. No more wondering where to get a date or how to meet people. You can click and swipe your way into an active dating life with relative ease, so singles on dating apps are as happy as a pig in mud. The location-based tools, live messaging, and fun interface get people engaged with one another within a matter of minutes. If you're looking for a fast and easy way to make a date, check out our favorite dating apps listed below.
Relationships: Fun Dates, Serious Relationships
Match System: Browse by location, age, interest, and more
About the App: Available via the App Store and Google Play, Match is a fantastic app for dates and relationships. With a user base of 30 million singles, Match is where you'll have a high chance of success. It's free to download, create a profile, search for date prospects, and receive compatible matches based on personalized preferences. Free members can also chat with select members and send unlimited likes.
Browse Free: View Profiles Now
| User Base | Gender Ratio | Popularity (Visits/Mo.) | App Cost |
| --- | --- | --- | --- |
| All Singles* | | 13.5 Million* | Free Download |
Relationships: Deep Relationships
Match System: Search by education, lifestyle habits, age
About the App: Commitment-minded, professional daters will feel at home with EliteSingles, which can be downloaded for free in the App Store or Google Play. Not only is everyone looking for a long-term partner, but 80% of members hold a bachelor's, master's, or doctorate degree. EliteSingles sees 210,000 visitors and 2,500 users finding love every month, so it's one of the fastest growing and most reputable apps.
Browse Free: View Profiles Now
| User Base | Gender Ratio | Popularity (Visits/Mo.) | App Cost |
| --- | --- | --- | --- |
| All Singles* | | 290,000* | Free Download |
Relationships: Casual Dates, Relationships
Match System: Search for and receive matches
About the App: Zoosk is the number one app for finding dates, and if you sync up your Google+ or Facebook account, you can have a profile in seconds. The app has 38 million members and will deliver matches to your inbox on a daily basis based on your behavior such as who you search for, like or don't like, and message. The Carousel is another section for matching (tap the heart if it's a yes and the X if it's a no).
Browse Free: View Profiles Now
| User Base | Gender Ratio | Popularity (Visits/Mo.) | App Cost |
| --- | --- | --- | --- |
| All Singles* | | 3.8 Million* | Free Download |
3
Little Rock Singles Bars
While Little Rock is largely a quiet, slow-paced place to live, the University of Arkansas at Little Rock ensures thousands of young people continually move to the city and keep the bar scene alive. At night, popular bars along the Arkansas River keep their doors open and music playing so singles can come in and try their luck in the local dating scene. If you're looking for date-worthy places to have a drink and meet someone in Little Rock, our list of popular local bars can steer you right.


2500 W 7th St • Little Rock, AR 72205
(501) 375-8400
Visit Website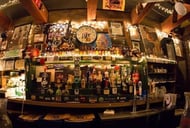 At the end of an unassuming dirt road, the White Water Tavern waits to wow guests with its funky vibes and country music. The quaint little cabin has a huge local following (townies call it WWT), and singles come from all around town to order cheap drinks and listen to live music performances on the weekend. It's a dive bar with Christmas lights, pool tables, and a relaxing outdoor patio. It may look like a run-down old ramshackle building, but White Water Tavern is actually a fun spot to run down Little Rock's locals and get a date.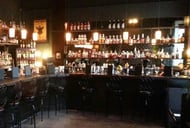 It may be new around town, but 109 & Co. has already made a positive impression on the Little Rock community. The cocktail bar and lounge offers an upscale atmosphere with intimate booths and tall tables. The friendly team of master mixologists can make just about any drink you can think of (and a few you can't), so even cocktail connoisseurs will be well-satisfied with the drinks on hand. Nestled in the downtown area, 109 & Co. is a go-to spot for singles hoping to share a specialty cocktail with someone special.

3
Flying Saucer Draught Emporium
323 President Clinton Ave • Little Rock, AR
(501) 372-8032
Visit Website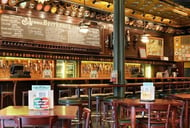 The Flying Saucer Emporium has landed a location in Little Rock, and it is out of this world. The bar's expansive beer menu includes hundreds of draughts for beer lovers to enjoy. This eclectic venue frequently hosts beer-centric events around specialty pints, rare taps, and popular brews. New arrivals come on the menu every week to offer visitors an uncommonly broad flavor selection to sample. At the Flying Saucer Emporium, UFO club members and beer aficionados come together over the checkered tablecloths and share a laugh over a pint.


11121 N Rodney Parham Rd • Little Rock, AR
(501) 904-6988
Visit Website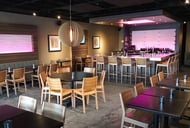 Wine lovers flock to the ZIN Wine Bar to enjoy a top-notch selection of over 40 different wines from California, France, and around the world. Delicate finger foods, including figs filled with goat cheese and a white-bean hummus platter, satisfy the palate while the bartenders pour glass after glass of high-quality wine. If you want to know the best pairings, the helpful staff will gladly give you their recommendations. The open layout of the ZIN Wine Bar encourages guests to clink glasses and share appetizers in a sophisticated setting.


1321 Rebsamen Park Rd • Little Rock, AR
(501) 663-9802
Visit Website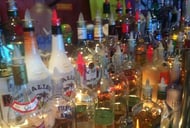 Little Rock's Town Pump boasts having the best wings and burgers in town. A diverse crowd of people come together to hang out and put political leanings aside for at least one night. Pitchers of beer and live music make the evenings fly by at the Town Pump. It's a lively setting any day of the week, but particularly on Tuesdays. Karaoke Tuesdays get patrons to loosen up, take the spotlight, and impress their friends and dates with their musical chops.

1620 Market St • Little Rock, AR 72211
(501) 319-7675
Visit Website

Born-and-bred Southerners feel right at home at Petit & Keet. This locally owned gem treats guests to craft beers, rich wines, and awesome signature cocktails. Seriously, these cocktails look every bit as impressive as they taste. Meanwhile Petit & Keet's high-end restaurant serves up delectable fried dishes that are the epitome of comfort food. Basically, every bite and sip at this place will have you craving more. Singles can enjoy a cool, laid-back ambiance at this beloved bar and grill.


Edit 415 Main St • Little Rock, AR 72114
(501) 313-4704
Visit Website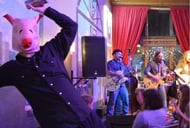 Attracting a young and hip crowd, the Four Quarter Bar is a happening spot for daters on the prowl. The bar stays open until 2 a.m. every night of the week, so night owls always have a place to retreat and get your drink on. On the weekends, local talent takes the stage and performs live blues, alt-country, jazz, and bluegrass music. Late-night grub includes smoked pulled pork nachos and mac'n'cheese tossed in bacon. And even if that doesn't excite you, the roomful of attractive date prospects definitely will.
4
Little Rock Speed Dating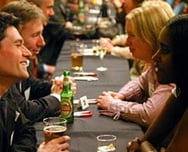 Sometimes dating can feel as slow as molasses. Meeting dates one at a time just doesn't cut it for busy folks with places to go and people to see. It'd be much quicker if you could ditch your bad dates and let instant chemistry decide how long you spend in someone's company. Actually, that is a thing that exists, and it's called speed dating. Speed dating events let singles move on to the next date after a five-minute conversation — without being rude. These events condense and simplify the dating process so you can breeze through a month's worth of dates in one sitting. What'll they think of next? On dozens of mini-dates, you can rustle up a few dates and tag the keepers in one efficient night.
5
Little Rock Singles Events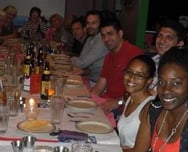 Coupledom comes with a lot of perks. Engagement parties, bridal showers, honeymoons, anniversaries — it's like all they do is celebrate being together. Ever wish someone would throw you a party for your devotion to being unattached? Well, that's what singles events are, essentially. Everyone at these events will be happy to hear that you're single, because they are too! Meeting available and attractive people at a singles event is as easy as going up and saying "hi" to that cutie across the room. Whether you're going to the local bowling alley or eating finger foods in a ballroom, at singles events, being single is worth celebrating.
6
Little Rock Singles Clubs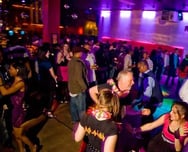 Little Rock's nightlife isn't all cowboys and dance lines. The South loves its twang, of course, but you can also find popular hip-hop, rock, and jazzy dance clubs in the City of Roses. Singles of all music tastes come out to the club to make fast connections. When words can't do justice to your feelings, you can let your dance moves do the talking for you. The heart-pounding music and intimate lighting helps you get close to someone new and find romance in the twilight hours. If this all sounds appealing to you, grab your boots and get on down to the dance floor!
Little Rock is a charismatic city where smooth talkers can play the field. And no, I don't just mean Bill Clinton. Many chatty daters in Little Rock find their stride in local chat rooms. These open, accessible, and uncensored spaces give singles the room to win people over with words and make a connection based on mutual interests. Chat rooms let members dictate the direction of discussions so it can get pretty raunchy as anonymous men and women try to hook up with one another online.
Traditional dating methods are like taking the back roads through the countryside, winding your way along the scenic route because it's a more enjoyable ride. Online dating personals are like merging onto Interstate 30 — it cuts right to the getting-you-where-you-want-to-go part. When you set up your dating personals ad, you don't have to list your favorite movies, describe your childhood experiences, or write a biography. All you have to do is say who you are and what you're looking for, and you're off to the races. Little Rock dating personals help singles more quickly search for and find the kind of person who fits their desires.
9
Go Outside & Get Involved in the Community
You never know where you're going to meet somebody. One Little Rock resident named Bill Clinton couldn't stop staring at a 27-year-old woman studying in the library. At last, Hillary Rodham came over to introduce herself. It can happen in an instant. One moment, you're reading a book, and the next you're asking your future husband, "What're you looking at?"
The start of a life-long connection isn't always on a dating-specific platform or event; sometimes, it's just in a place. Serendipitous meetings could happen anywhere, really. A kickball league. A public park. Anywhere the local community gathers to have fun or work together. If the venue involves shared interests or values, all the better!
Volunteering at the Little Rock Zoo is a terrific way for animal lovers to convene, make new friends, and protect endangered species. If you want to meet new people, take the initiative to go outside your comfort zone and join Little Rock's volunteer organizations, sports leagues, and other social groups.
How to Rock the Dating Scene in Little Rock
When you're new to a city, you may find yourself wishing there were a guidebook about where to go to meet people. Instead of relying on random people in a Reddit comments section, it'd be nice to have an authority tell you the most popular social places and dating resources around town. That's why we created our list of the top ways to meet singles in Little Rock.
Hopefully, you can use these ideas to jump-start your love life and take Little Rock's dating scene by storm. Y'all just remember to put your best foot forward when introducing yourself, and it should all turn out for the best. Good luck!
Advertiser Disclosure
DatingAdvice.com is a free online resource that offers valuable content and comparison services to users. To keep this resource 100% free for users, we receive advertising compensation from the sites listed on this page. Along with key review factors, this compensation may impact how and where sites appear on the page (including, for example, the order in which they appear). DatingAdvice.com does not include listings for all dating sites.
Our Editorial Review Policy
Our site is committed to publishing independent, accurate content guided by strict editorial guidelines. Before articles and reviews are published on our site, they undergo a thorough review process performed by a team of independent editors and subject-matter experts to ensure the content's accuracy, timeliness, and impartiality. Our editorial team is separate and independent of our site's advertisers, and the opinions they express on our site are their own. To read more about our team members and their editorial backgrounds, please visit our site's About page.