11 Ways to Meet Singles in New York City, NY (Dating Guide)
Ten years ago, a thin 15-year-old girl in my chorus class surprised everyone when she stepped into the spotlight and belted out "Feed the Birds" like a full-grown opera singer. She was a talented musician with dreams of seeing her name up in lights. So, of course, she moved to New York City the moment she turned 18. Now she lives alone in the Bronx, auditions for every role she can, and hopes to meet an eligible guy who'll turn her solo act into a duet.
Though over 8 million people live in the Big Apple, so far, the 20-something singer has come up empty-handed in the love department. It's easy to romanticize dating in New York City as some exciting cross between "Sex in the City" and "Friends." However, according to my friend's Facebook page, the reality isn't all that glamorous. Between working nights at a cafe and going to auditions on weekends, she doesn't have any patience for the flaky daters in her life.
A lot of her posts have the same bottom line: "Where do I go to meet a good single man?" Well, we're here to answer that question for New Yorkers, like my friend, trying date in the city that never sleeps. We've come up with 11 different ways for New York daters to meet compatible single people and discover romance right around the corner.
1
New York City Dating Sites
New Yorkers are busy people. Whether you're working long hours on Wall Street or trying to make it on Broadway, you may not have the time or energy to go out looking for a date in the wee hours of the night. That's what online dating is for. A dating website can spare you the hassle of traveling across the five boroughs to meet someone. Instead, a simple search will show you available date prospects in your neighborhood. We recommend the following five top dating websites for NYC singles looking for a hookup, a date, or a relationship.
Best Singles Site
Since 1995, Match has offered singles a reliable and effective place to mingle online. It's known for connecting relationship-oriented men and women using time-tested personal comparability profiles. Over 30 million members have created accounts on Match so there's someone for everyone on this dating site. Match is our top pick for all singles in New York City because its diverse membership and helpful tools make dating easy and fun for people around the world. Whether you're interested in a casual date or a committed relationship, Match can help you narrow down millions of dating prospects to your perfect match.
Best Site for Professionals
Elite Singles caters to the upper crust of the dating world. Career-driven singles in New York City can network with one another using location-based searches on this dating site. As you can probably tell by the name, Elite Singles is meant for discerning daters interested in quality over quantity. The site's claim to fame: about 82% of users are university-educated with at least a bachelor's degree. Professional singles of New York can go on this site to talk brainy to one another.
Over 50 & Senior Site
Living in New York City means never having to grow up and settle down if you don't want to. Many seniors in this city stay out late, keep up with trends, and generally rock old age. If you're over 50 years old and looking for a mature partner, OurTime is a great place to start. This dating site connects millions of senior men and women in a user-friendly network. You don't have to be a tech wizard to create a profile and start a conversation with someone your own age on OurTime.
For Black Men & Women Only
New York City is renowned for its ethnic diversity. It's the melting pot where immigrants come seeking the American Dream. On any given block, you'll see people of all nationalities, religions, and races. According the 2010 Census, New York City boasts the largest population of black residents of any city in the US. For black or biracial singles looking to date within their culture, BlackPeopleMeet is a niche dating site designed to bring a vast community within your reach. This platform welcomes African American, Caribbean, and biracial singles looking for a romantic partner who shares similar values and experiences.
Hookup & Sex Site
Hookup culture is alive and well in the city that never sleeps. Tons of NYC daters take a page from Barney Stinson's playbook and prowl the bars with cheesy pickup lines. That's a lot of legwork for something that isn't a sure thing, and often finding an easy girl or guy isn't so easy in real life. A dating site can cut through the guessing game and let promiscuous daters get straight down to business. Adult Friend Finder (AFF) is a popular place for sexually active singles looking for a one-night stand or a hookup buddy. On the site, you'll have over 77 million members to sift through, so you can chat your way into a hottie's pants without having to suit up and leave your apartment. Challenge accepted!
Singles in NYC are constantly on the move, taking the subway to a new speakeasy, walking to a favorite pizzeria, and grabbing a cab on the way home. There's so many places to go and ways to get there in this city. Location-based dating apps can help you keep track of nearby dating opportunities and make plans with a hot single at a bar around the corner from you. Whether you're taking in a show in Manhattan or grabbing a slice of pizza in the Bronx, a dating app gives you easy access to romantic encounters 24/7.
Relationships: Fun Dates, Serious Relationships
Match System: Browse by location, age, interest, and more
About the App: Available via the App Store and Google Play, Match is a fantastic app for dates and relationships. With a user base of 30 million singles, Match is where you'll have a high chance of success. It's free to download, create a profile, search for date prospects, and receive compatible matches based on personalized preferences. Free members can also chat with select members and send unlimited likes.
Browse Free: View Profiles Now
| User Base | Gender Ratio | Popularity (Visits/Mo.) | App Cost |
| --- | --- | --- | --- |
| All Singles* | | 13.5 Million* | Free Download |
Relationships: Deep Relationships
Match System: Search by education, lifestyle habits, age
About the App: Commitment-minded, professional daters will feel at home with EliteSingles, which can be downloaded for free in the App Store or Google Play. Not only is everyone looking for a long-term partner, but 80% of members hold a bachelor's, master's, or doctorate degree. EliteSingles sees 210,000 visitors and 2,500 users finding love every month, so it's one of the fastest growing and most reputable apps.
Browse Free: View Profiles Now
| User Base | Gender Ratio | Popularity (Visits/Mo.) | App Cost |
| --- | --- | --- | --- |
| All Singles* | | 290,000* | Free Download |
Relationships: Casual Dates, Relationships
Match System: Search for and receive matches
About the App: Zoosk is the number one app for finding dates, and if you sync up your Google+ or Facebook account, you can have a profile in seconds. The app has 38 million members and will deliver matches to your inbox on a daily basis based on your behavior such as who you search for, like or don't like, and message. The Carousel is another section for matching (tap the heart if it's a yes and the X if it's a no).
Browse Free: View Profiles Now
| User Base | Gender Ratio | Popularity (Visits/Mo.) | App Cost |
| --- | --- | --- | --- |
| All Singles* | | 3.8 Million* | Free Download |
3
New York City Singles Bars
Where there's alcohol, there are singles hoping to hook up. New York City's vibrant bar scene attracts a bustling crowd of daters. You can dive into the dating scene by buying someone a drink or giving a compliment to a stranger in the low-key atmosphere of a bar. If you don't have a favorite haunt, or want to mix up your dating experience, you can try any of the following top-rated, must-visit, totally-worth-the-cab-fare NYC bars. Cheers!


1
The Dead Rabbit Grocery and Grog
30 Water Street • New York, NY 10004
(646) 422-7906
Visit Website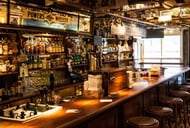 In the 1850s, a criminal gang called the Dead Rabbits united many Irish immigrants in the Five Points. Their exploits captured the imagination of filmmaker Martin Scorsese in "Gangs of New York" and inspired cocktail virtuosos Jack McGarry and Sean Muldoon to name their Irish bar after the famed gang. Today, the Dead Rabbit serves specialty cocktails, craft beer, bottled punches, whiskeys, and Irish coffee in a relaxed, intimate parlor. This cocktail bar transports visitors back in time to the days of Boss Tweed with a straightforward ambiance and unforgettable drinks, such as a smoking hot applejack toddy. It's an affordable place -- by New York standards -- and a great place to clink glasses with a new acquaintance as the ragtime piano plays.

2
Cloud Social Rooftop Bar
6 W 32nd Street 17th fl • New York, NY
(212) 904-1092
Visit Website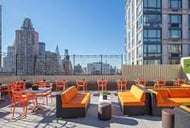 Many native New Yorkers avoid going to Times Square, but the St. Cloud Rooftop Restaurant and Bar at the Knickerbocker hotel is worth wading through pasty tourists to enjoy a view of the greatest city in the world. This sophisticated yet casual setting fosters a romantic atmosphere for singles to rub elbows and share a drink or two. The upscale menu lets daters whet their appetites with small shareable plates and delicious martinis full of fresh, seasonal tastes.


148 West 24th Street • New York, NY 10011
(212) 390-8455
Visit Website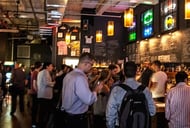 Located in Brooklyn, the Barcade is a fun place for making new friends and challenging a crush to a game of Pac-Man. This is the original arcade bar in New York City. Vintage video games line the walls and give daters tons of things to talk and laugh about. American craft beer flows freely and invites visitors to relax and enjoy themselves. Originally opened in 2004 in Williamsburg, the Barcade has expanded to serve city dwellers in need of a good time and now has six locations from St. Mark's Place in the East Village to the Fishtown neighborhood of Philadelphia.


4
McSorley's Old Ale House
15 East 7th Street • New York, NY 10003
(212) 473-9148
Visit Website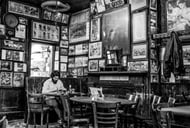 For over 160 years, McSorley's Old Ale House has served as a relaxing spot to enjoy a pint of ale. Bartenders in this longstanding pub pour liquid gold for thirsty customers. McSorley's Ale is the bar's trademark libation packed with rich and unique flavors. This bar is proud of its history and distinguishes itself as the oldest Irish tavern in New York City. The sawdust-strewn floor in the saloon gives the place an authentic look and feel. Over the years, many legends, from Abe Lincoln to John Lennon, have passed through the doors to taste McSorley's Ale.


567 Hudson Street • New York, NY 10004
(212) 989-3956
Visit Website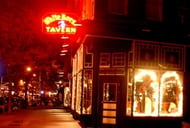 A bar that used to be a bookstore. Need I say more? Originally built in 1880, the White Horse Tavern still holds true to its literary foundation. This place is old school. Over the years, its famous patrons have included classic American authors Jack Kerouac and Norman Mailer as well as talented musical artists including The Clancy Brothers, Bob Dylan, and Mary Travers. Today, the cash-only bar is a popular spot for writers to linger and scrawl literary quotes or references on the walls.

326 Spring Street • New York, NY 10013
(212) 226-9060
Visit Website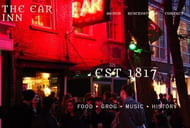 Classic pub fare, movie screenings, and live music tempt visitors to stay awhile at the Ear Inn. As New York City's oldest bar, the Ear Inn has a certain amount of clout in the bar scene. Established in 1817, the bar started out as a nameless all-men drinking establishment where sailors from all over the world ate, drank, and gambled. Then one day the owners covered the round parts of the B on the neon "BAR" sign outside, and the Ear Inn was born. Today, the bar is a quaint reminder of a bygone time with tons of old photos crammed on the wall to give you and your date something to talk about.


24-27 Jackson Avenue • Long Island City, NY
(718) 383 2724
Visit Website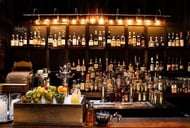 The Dutch Kills Bar, located in Long Island City, is a cocktail bar with hand-cut ice and specialty drinks served with style. The dark and welcoming place is known for hiring masterful bartenders who ensure everyone's having a good time. Happy Hours on weekdays help active daters save a few bucks while they share a drink with someone special. The speakeasy vibe and original cocktails tempt many singles to spend an evening at the Dutch Kills Bar.
4
New York City Speed Dating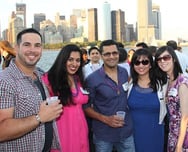 Pressed for time? Impatient with dud first dates? Then you might want to try speed dating. A single night can expedite your dating life by introducing you to dozens of local singles. Because, really, a few minutes of conversation is enough to know if you want to keep talking or move on to someone else. A New-York based speed dating company can help you meet eligible daters in a fun and structured setting. If the chemistry is just right, you can exchange numbers and meet for a real date with someone you already know you like.
5
New York City Singles Events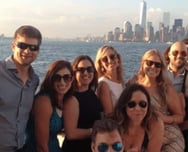 If you're into the party scene, a singles event could be the perfect place for you to meet new date prospects. New York daters crowd into bars, penthouses, and yachts to mingle with one another for special themed events. Singles events can also include smaller meetups at bowling alleys, cooking classes, potlucks, and other intimate gatherings. Usually themed around a particular passion or hobby, a New York singles event provides people with the chance to meet a lot of people in a casual atmosphere. Having a game or activity to focus on helps singles start a conversation and loosen up together. Check out a calendar of upcoming events by clicking on the link below.
6
New York City Singles Clubs



Music. Dancing. Drinks. The club atmosphere makes it easy for singles to sidle up to a cutie and introduce yourself without having to say a word. New Yorkers thrive in the nightlife, and so many feel right at home in the packed, swaying crowds of a club. There's nothing like going out on the town and making yourself available to romantic possibilities. You can grab a couple friends, go club hopping, and dance the night away in a sexually charged setting.
NYC clubs open their doors to crowds of carefree daters. As the beat of the music rises to match the beat of your heart, it's easy to get swept up in the moment and fall for that hot stranger busting a move beside you.
7
New York City Chat Rooms
In "You've Got Mail," the romance between New Yorkers Kathleen Kelly and Joe Fox begins in an over-30 chat room. They met online and carried on a conversation for months before meeting and falling in love. What's great about chat rooms is you can let what you say be your first impression. Your charm, wit, and flirty words stand out, so people fall for your personality over your looks. Sure, sometimes chat rooms can be sketchy or boring, but not if you find an online space suited to your standards and desires. To get you started, we've highlighted the five most popular (and completely free) New York City chat rooms for adults looking to meet people:
Before there was online dating, there were dating personals. It began with singles posting personal ads in the classified section of newspapers to find a date, and now the custom has gone online. On a dating personals website, you can create a profile, describe what type of person you're looking for, and attract available singles in New York City. Some even match you up with other people in your area looking for someone like you!
New York has a lot of green spaces where singles can escape from the busy city and enjoy a day of hiking, biking, and other outdoorsy activities. Central Park is the obvious example with about one square-mile of trees, ponds, trails, playgrounds, ballparks, and so much more to get people engaged and smiling with one another. Another lush spot is the Brooklyn Bridge Park, an 84-acre waterfront park with a carousel, gardens, sporting events, and a beach. You can join a basketball clinic, yoga class, kayak group, or outdoor movie for free here. A favorite for picnickers, the Brooklyn Bridge Park is a great place to start a game of frisbee or volleyball and make some new friends who enjoy the outdoors as much as you do.
10
Volunteer With a Local Farmers Market or Political Group
Contributing to an effort or cause you feel passionate about isn't just the right thing to do — it's also a fantastic way to meet people who share your values. Singles can volunteer with a local farmer's market, political organization, school program, or any nonprofit to do some good while networking with like-minded and charitable individuals. Volunteer Match can help you find opportunities to get involved in work that appeals to you.
If you're a interested in helping the homeless, for example, the Young Philanthropists at the Bowery Mission would be happy to have your help serving meals and hosting fundraisers all year round.
If there's one thing New Yorkers pride themselves on, it's being cultured. A love of reading unites many writers, editors, publishers, artists, and other creative types working in the city of Joan Didion, Herman Melville, and Philip Roth. Singles can start a new chapter in their love lives by joining a local book club. There's plenty to choose from. Meetup can direct you to the NYC book club meetings happening all week long in your area. From feminist groups to queer readers, many book clubs focus on certain topics that all participants share an interest in.
Whether you enjoy smutty romance novels or action-packed science fiction, you can share your enthusiasm as part of a book club in New York City. It's a great way to start a discussion, make friends, and flirt with fellow bookworms.
New York City: You Can Make a Date There & Make It Anywhere!
In the city of dreams, anything is possible. That's the promise that brings so many people to New York City. Talented singers, writers, artists, and entrepreneurs come to the bustling city to make some kind of dream come true. For my friend, it's a Broadway stage. For others, it's a high-ranking position at Goldman Sachs. NYC is a cultural focal point for all sorts of ambitions.
Millions of people call this remarkable, crowded, and iconic city home, and they all have different stories to tell. When surrounded by so many diverse and individualistic people, dating becomes quite an adventure.
Career-driven and opinionated New Yorkers may not be the easiest people to snuggle up to, but, hey, if you can make a date there, you can make it anywhere. You don't have to be Carrie Bradshaw or Rachel Green to get a date in New York City. You just have to know where to go. Any of the places or activities we've recommended could help you meet someone special and audition for the role of girlfriend or boyfriend. Break a leg!
Where to Start in
New York City, NY
Dating in New York City, NY — or anywhere in New York, for that matter — can certainly be an adventure. That's why you'll want to research and learn everything you can about the local dating scene before venturing out into the great unknown.
We highly recommend you start your adventure by browsing Match.com profiles in New York City, NY, which is entirely free to do on the Match.com app and website.
We also like these spots as the best places to meet singles in New York City, NY:
The Dead Rabbit Grocery and Grog
Cloud Social Rooftop Bar
Barcade
McSorley's Old Ale House
The White Horse Tavern
The Ear Inn
Dutch Kills Bar
However you decide to start your journey, we wish you all the best! And we will be right here at DatingAdvice.com if we can help you again along the way.
Advertiser Disclosure
DatingAdvice.com is a free online resource that offers valuable content and comparison services to users. To keep this resource 100% free for users, we receive advertising compensation from the sites listed on this page. Along with key review factors, this compensation may impact how and where sites appear on the page (including, for example, the order in which they appear). DatingAdvice.com does not include listings for all dating sites.
Our Editorial Review Policy
Our site is committed to publishing independent, accurate content guided by strict editorial guidelines. Before articles and reviews are published on our site, they undergo a thorough review process performed by a team of independent editors and subject-matter experts to ensure the content's accuracy, timeliness, and impartiality. Our editorial team is separate and independent of our site's advertisers, and the opinions they express on our site are their own. To read more about our team members and their editorial backgrounds, please visit our site's About page.