10 Ways to Meet Singles in San Diego, CA (Dating Guide)
I know someone who lived in San Diego for a few years, and we talk about the city at least once a week because he loves it so much. Some of his favorite aspects include: you don't need AC because the weather is perfect year-round, you're close enough to the beach and other terrains that you could go surfing and mountain hiking in the same weekend, and you're living in a diverse hub with all kinds of people and various ways to connect with them.
The latter is particularly important for San Diego singles who haven't quite gotten their dating rhythm down yet. After consulting with my friend, as well as the experts here at DatingAdvice.com, here are our 10 go-to tips for finding romance in San Diego.
Your dating arsenal wouldn't be complete without online dating. There are more than 7,500 sites out there, and billions of singles using them. You won't find better odds anywhere else. With online dating, there's more accuracy and less luck involved because you can zero in on your individual desires. Plus, free memberships are available on practically every dating site, so your wallet won't feel any of the strain. Don't fret about having to try all 7,500 dating sites to find the right one for you, though. We've narrowed it down to the top five.
Best Singles Site
Match is our favorite choice for San Diego singles because they can limit their search to the city or beyond if they don't mind traveling a bit farther for a date. The site also has no shortage of members — 30 million and consistently growing. You'll receive at least five match suggestions a day and can browse on your own by more than just location. Relationship status (never married, divorced, etc.), hobbies, lifestyle habits, appearance, photos, and latest activity are also options.
Best Site for Professionals
Catering to singles who place education high up on their must-have list, Elite Singles was founded in 2001 and offers free registration, profile creation, browsing, match recommendations, and communication, including liking members, sending them a virtual smile, and adding them to your Favorites list. According to the site, 82% of its users have at least a bachelor's degree, but also 90% are at least 30 years old. If this is your preferred age range, you'll feel at home here.
Over 50 & Senior Site
We've heard complaints from many senior singles who say they've had a tough time on some dating sites because they kept receiving matches who were too young, and it's frustrating because they spend so much time sorting through incompatible profiles that they fear they're missing the good ones. This isn't a concern on OurTime because it was made just for men and women who are 50+. Not to mention SeniorPeopleMeet is its sister, so if you sign up for one site, your profile will appear on both.
For Black Men & Women Only
Black and biracial singles in San Diego looking to meet one another can turn to BlackPeopleMeet, whose motto is "Creating Relationships. Connecting Lives." It doesn't matter if friendship, dates, or a long-term commitment is on your mind — BlackPeopleMeet will work all day and all night until that special person (or persons) is in your life.
Hookup & Sex Site
Adult Friend Finder helps you find a sexual encounter, including one-night stands, threesomes, swinging relationships, full-blown affairs, or whatever else your heart desires. One aspect we really like about Adult Friend Finder is it'll show you who's logged in at the same time — so you don't have to send a message and then stare at your phone for what seems like forever hoping they'll respond (we all do it!).
San Diegans are busy people, and they shouldn't have to put their work or family life on hold to find a date — and vice versa. That's why dating apps are so useful. You can seamlessly go about doing your errands and other commitments while connecting with new people, and you won't miss a beat. It only takes a couple of minutes to create a profile, and the app will do all the work for you, sending notifications to your phone when it thinks you'd be compatible with another member. All you have to do is yay or nay them.
Relationships: Fun Dates, Serious Relationships
Match System: Browse by location, age, interest, and more
About the App: Available via the App Store and Google Play, Match is a fantastic app for dates and relationships. With a user base of 30 million singles, Match is where you'll have a high chance of success. It's free to download, create a profile, search for date prospects, and receive compatible matches based on personalized preferences. Free members can also chat with select members and send unlimited likes.
Browse Free: View Profiles Now
| User Base | Gender Ratio | Popularity (Visits/Mo.) | App Cost |
| --- | --- | --- | --- |
| All Singles* | | 13.5 Million* | Free Download |
Relationships: Deep Relationships
Match System: Search by education, lifestyle habits, age
About the App: Commitment-minded, professional daters will feel at home with EliteSingles, which can be downloaded for free in the App Store or Google Play. Not only is everyone looking for a long-term partner, but 80% of members hold a bachelor's, master's, or doctorate degree. EliteSingles sees 210,000 visitors and 2,500 users finding love every month, so it's one of the fastest growing and most reputable apps.
Browse Free: View Profiles Now
| User Base | Gender Ratio | Popularity (Visits/Mo.) | App Cost |
| --- | --- | --- | --- |
| All Singles* | | 290,000* | Free Download |
Relationships: Casual Dates, Relationships
Match System: Search for and receive matches
About the App: Zoosk is the number one app for finding dates, and if you sync up your Google+ or Facebook account, you can have a profile in seconds. The app has 38 million members and will deliver matches to your inbox on a daily basis based on your behavior such as who you search for, like or don't like, and message. The Carousel is another section for matching (tap the heart if it's a yes and the X if it's a no).
Browse Free: View Profiles Now
| User Base | Gender Ratio | Popularity (Visits/Mo.) | App Cost |
| --- | --- | --- | --- |
| All Singles* | | 3.8 Million* | Free Download |
One of the best bar scenes in a movie is from "Good Will Hunting." You know, where Matt Damon gets Minnie Driver's number and says "How do you like them apples?" to an Ivy league jerk who was also interested in her. It was so badass, and I feel like a lot of people have wanted to have a moment like that in one of their local bars. Whether you're a pub, cocktail lounge, or wine bistro kind of person, we've compiled a list of eight San Diego watering holes where you could have your Matt Damon moment — or simply some great drinks with some great people.


601 S Coast Hwy • Oceanside, CA 92054
(760) 270-9075
Visit Website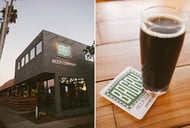 Located in a former BMW and Saab dealership, Bagby Beer Company (pronounced BAG-bee) features long high-top tables where patrons can enjoy each other's company while sipping on house beers (like the Struggle Bus American Extra Pale Ale and the Fancy Pants German-style Schwarzbier) and guest beers (like the Gypsy Tart Flanders-style Brown Ale and Reverend Nat's Hard Apple Cider). For something harder, Bagby's Beer offers classics, like a Dark and Stormy, and new concoctions like a ginger beer bourbon. To soak up the drinks, try Bagby's pork belly poutine or smoked chicken club.


2250 Avenida De La Playa • La Jolla, CA
(858) 454-4244
Visit Website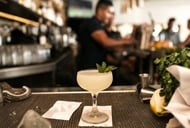 "Where cocktails are our craft," Level2, which can be found on the middle level of George's at the Cove, can whip up a delicious drink no matter what your taste buds are craving. Its signature drinks, the Sea3, is made with dehydrated mango, lime, and chile-infused tequila; lime; agave nectar; and sea cube and was named one of the "10 Most Popular Cocktail Recipes of 2016" by Tales of the Cocktail. The bar itself was also voted one of the hottest cocktail bars in the city by Eater San Diego and one of the most popular restaurants by Zagat.


3
Churchill's Pub and Grille
887 W San Marcos Blvd • San Marcos, CA
(760) 471-8773
Visit Website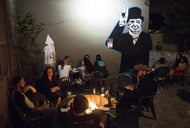 Churchill's Pub and Grille prides itself on having the best atmosphere of any bar in San Diego as well as the best beer selection and food. On the drink menu, you'll find anything from bitter flavors, such as the Port Brewing Hop 15, to fruity flavors such as the St. Louis Framboise. On the food menu, you'll find chile poppers for heat addicts, an IPA burger for meat lovers, an epic grilled cheese for Cheeseheads, like myself, Buffalo cauliflower for vegans, and sticky toffee pudding for those with a sweet tooth.


2103 El Cajon Blvd • San Diego, CA 92104
(619) 291-7450
Visit Website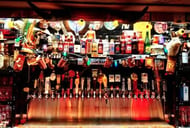 Open every day from 5 p.m. to 2 a.m., Live Wire, has all the familiar favorites, including Guinness and Delirium Tremens, as well as all kinds of spirits. Singles who prefer cheap drinks and pool, a laid-back vibe, and music that's off the beaten path will love it here. Tyler C. shared his experience at Live Wire on Yelp, saying, "The original San Diego craft beer bar. Divey, dark, and amazing. Best place for an IPA in Southern California."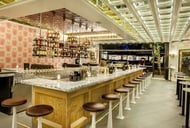 KINDRED'S, whose mascot is the gold beast (pictured left), is all about the cocktails, If you want something that'll smack you in the face (in a good way), try the Vicious Glow. If you want something a little less aggressive, try the Ladyhawke. KINDRED'S also has some of the most impressive vegan recipes you'll find in not just San Diego but the country. What caught our eye on the menu were the smoked tofu lardons, cookie dough truffles, and the basil- and chive-crusted tofu Benedict (a brunch staple).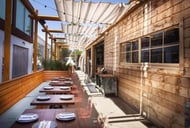 The folks at Campfire believe "we are better together" and strives to mimic the feeling people get when sitting around a campfire together sipping on and eating delicious, humble drinks and food. The staff uses what they call "market-driven ingredients" over an open fire, creating unique and memorable cocktails, like the Charred Cactus, meals, like Halibut a La Plancha, and, of course, good, old-fashioned S'mores.


3752 Park Blvd • San Diego, CA 92103
(619) 795-6901
Visit Website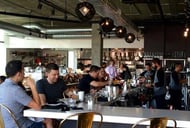 TRUST is a bar and restaurant that's all about balance. It's offerings are refined but down to earth, and its decor is contemporary but welcoming. Chef and Co-Owner Brad Wise puts his all into every appetizer and entree (such as ricotta agnolotti, wood grilled octopus, and Meyer Ranch flat iron steak). Bar Manager Juan Sanchez puts his own spin on the drinks (such as gin sours and boilermakers). And Executive Pastry Chef Jeremy Harville is doing things with profiteroles, carrot cake, and other desserts that you wouldn't believe.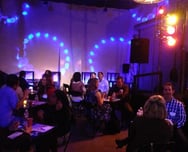 Dating can sometimes seem like a slow process, especially if you aren't having any success. First you've got to find someone you like. Then either you need to ask them out or they need to ask you out. Next you've got to plan and actually go on a date. During that time, you'll be determining if you like each other. If you don't, the whole thing starts all over again. However, at a speed dating event, that process is put in fast-forward mode — you'll go on dozens of mini dates within a two-hour period or so and are sure to hit it off with a few people at the minimum.
5
San Diego Singles Events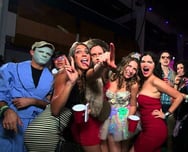 Singles events can include speed dating, but often they're more interactive such as swing dancing, sailing, cycling, cooking, or karaoke. They're also usually held for certain demographics (e.g., age, religion, race, or sexual orientation) or interests and include a few drinks or a happy hour part, so you're getting a two for one!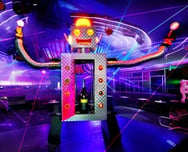 If your favorite Fridays and Saturdays are those where you and your friends dance the night away while also hoping to make a connection with a sexy single, San Diego has tons of clubs for doing just that. You could get totally dolled up and show off your moves at a hip-hop spot, put on your best leather jacket and rock out at an alternative venue, or keep it casual in shorts and a tank top at a beachside tiki bar.
Chat rooms aren't like the AOL days when you had a corny screen name, used text smiley faces instead of emojis to express yourself, and always had one eye on the door in case your parents walked in. Hey, I went through that phase, too. Chat rooms today are more sophisticated and open — you can find an online community for just about anything and have numerous ways to start a conversation. Daters in San Diego will love the chat rooms we picked not only because they're meant for them but also because they don't cost anything!
Personals allow you to put the most important information about yourself (and what you want in a date or partner) in one concise space. While these types of ads used to be limited to newspapers, the invention of the internet changed everything. For $0 (or sometimes just a couple of bucks), you can post your personal on a variety of websites with pages dedicated to San Diego singles. Then, let them come to you! You should also take this as an opportunity to take matters into your own hands and search through personals yourself.
San Diego is known for its beautiful beaches (Del Mar, Coronado, Imperial, etc.), so why not kill two birds with one stone by heading to the shore to meet people and work on your tan? There's always a bunch of activities going on and things to do along the 70 miles of coastline — including volleyball matches, theme park attractions, parades, restaurants and bars, and quirky shops. There's nearly an endless number of places where to be approached (or do the approaching).
Out of all the beach activities you can find on San Diego's beaches, one of the most successful for meeting people is taking surfing or paddle boarding lessons. Not only can you learn a new skill, but it'll also be easy to interact with a cute guy or girl who's also in the class. Just ask them questions about why they wanted to get into the sport and things like that.
One of my bucket-list items is to go to San Diego Comic-Con dressed up as as one of my favorite book, movie, or TV characters. I can only imagine how awesome it would feel to be surrounded by nerds, dorks, and geeks just like me. You could compliment someone on their costume, share the inspiration behind yours, or discuss what happened at the day's panels.
Who knows, you could meet the love of your life and eventually end up getting married and/or renewing your vows at Comic-Con. This is the first year the event is offering legal wedding ceremonies, officiated by Orlando Jones!
San Diego: Sun, Sand, Seas & Singles!
My friend could go on and on about San Diego for days, and just looking at this list, it's totally understandable. From the streets of West Broadway to the depths of the internet, everywhere you turn and everything you do presents a chance to meet someone. The next step is to start working your way through each tip!
Photo sources: hotelpalomar-sandiego.com, fluxxsd.com, singlesevents.com, sandiegouniontrib.com, geeksaresexy.net, thrillist.com, sandiegomagazine.com, nytimes.com, alyssawithana.com
Final Thoughts on Dating in
San Diego, CA
We hope you've found our guide "10 Ways to Meet Singles in San Diego, CA (Dating Guide)" to be helpful in your dating journey. If you're ready to take the leap into the local San Diego, CA, dating scene, keep in mind that apps like Match and Elite Singles are the easiest way to meet singles locally and throughout California.
Prefer to meet people the old-fashioned way? You're certainly not alone. According to local reviews, these popular spots in San Diego, CA, could be exactly what you're looking for:
Bagby Beer Company
Level2
Churchill's Pub and Grille
Live Wire
KINDRED
Campfire
TRUST
Whether you're in San Diego, CA, surrounding areas, or anywhere else in California, remember that there's someone out there for you. It's just a matter of taking that first step.
Advertiser Disclosure
DatingAdvice.com is a free online resource that offers valuable content and comparison services to users. To keep this resource 100% free for users, we receive advertising compensation from the sites listed on this page. Along with key review factors, this compensation may impact how and where sites appear on the page (including, for example, the order in which they appear). DatingAdvice.com does not include listings for all dating sites.
Our Editorial Review Policy
Our site is committed to publishing independent, accurate content guided by strict editorial guidelines. Before articles and reviews are published on our site, they undergo a thorough review process performed by a team of independent editors and subject-matter experts to ensure the content's accuracy, timeliness, and impartiality. Our editorial team is separate and independent of our site's advertisers, and the opinions they express on our site are their own. To read more about our team members and their editorial backgrounds, please visit our site's About page.