9 Ways to Meet Singles in Scottsdale, AZ (Dating Guide)
U.S. Army Chaplain Winfield Scott fell in love with Arizona's dry climate and beautiful terrain upon his first visit to the Salt River Valley. He looked at the stark landscape and saw the potential for something wonderful to grow. So, he and his wife Helen returned to the region in 1888 and purchased 640 acres of land abutting the Arizona Canal, which was still being constructed.
In the next few years, Winfield and his brothers planted orange groves and encouraged people to settle in Orangedale, which was later renamed Scottsdale in honor of the town's founder and advocate.
Today, Scottsdale has an estimated population of more than 248,000 people. This flourishing town is the legacy of one man who saw Scottsdale not for what it was, but what it could be. If you're hoping to grow a prosperous life of your own in Scottsdale, we can help by recommending nine ways to meet singles throughout town. Let's get to it!
The internet has changed a lot of daily practices — from how we save our photos to how we order food — and it's even changed how we date. Online dating has become the most popular way for modern singles to meet their future spouses. It's worth checking out a dating site whether you live in South Scottsdale, Old Town, Shea Corridor, or North Scottsdale.
Best Singles Site
We rank Match as the best dating site for Scottsdale singles because it's been around longer than any other dating site (launched in 1995), and it has the most success stories to its name. Match even offers an I Met Someone Guarantee, which means if you're active on the site and don't find someone within six months, you'll get an additional six-month subscription for free.
Best Site for Professionals
EliteSingles is a fast-growing dating site with a well-educated membership base. Every month, over 165,000 singles sign up in search of love and connection. Busy professionals who work in the Phoenix Metropolitan Area can save themselves some time scouring for local dates by joining this high-end dating network.
Over 50 & Senior Sites
According to recent census data, around 42% of Scottsdale residents are over 50, and the median age is 42. That's good news for senior singles in the area. OurTime makes the search for a senior date even simpler with straightforward matching and chatting features.
For Black Men & Women Only
If you're hoping to meet a Black or biracial date in Scottsdale, you're going to have your work cut out for you. Less than 2% of the population identifies as African-American, and nearly 90% identify as white. However, you can turn that ratio upside down by seeking out a diverse online community such as BlackPeopleMeet. This niche dating site has helped thousands of Black singles meet one another online.
Hookup & Sex Site
Finally, we have to acknowledge that not all daters want the white-picket-fence, walk-into-the-sunset dating experience. Some singles just want sex. That's what Adult Friend Finder was made for. This casual hookup website delivers an uninhibited dating ground for singles and couples of all ages, backgrounds, and desires.
When I got my first smartphone, I knew I could never go back. I mean, how did I live without instant access to every photo I've ever taken and location-based directions to anywhere I want to go? Upgrading from dating sites to dating apps feels the same way. Suddenly you don't have to wait until you're near a computer to check in with a date — you can chat while on the go without giving out your number to a bunch of randos. We recommend trying the following mobile-friendly dating platforms the next time you're looking to upgrade your love life.
Relationships: Fun Dates, Serious Relationships
Match System: Browse by location, age, interest, and more
About the App: Available via the App Store and Google Play, Match is a fantastic app for dates and relationships. With a user base of 30 million singles, Match is where you'll have a high chance of success. It's free to download, create a profile, search for date prospects, and receive compatible matches based on personalized preferences. Free members can also chat with select members and send unlimited likes.
Browse Free: View Profiles Now
| User Base | Gender Ratio | Popularity (Visits/Mo.) | App Cost |
| --- | --- | --- | --- |
| All Singles* | | 13.5 Million* | Free Download |
Relationships: Deep Relationships
Match System: Search by education, lifestyle habits, age
About the App: Commitment-minded, professional daters will feel at home with EliteSingles, which can be downloaded for free in the App Store or Google Play. Not only is everyone looking for a long-term partner, but 80% of members hold a bachelor's, master's, or doctorate degree. EliteSingles sees 210,000 visitors and 2,500 users finding love every month, so it's one of the fastest growing and most reputable apps.
Browse Free: View Profiles Now
| User Base | Gender Ratio | Popularity (Visits/Mo.) | App Cost |
| --- | --- | --- | --- |
| All Singles* | | 290,000* | Free Download |
Relationships: Casual Dates, Relationships
Match System: Search for and receive matches
About the App: Zoosk is the number one app for finding dates, and if you sync up your Google+ or Facebook account, you can have a profile in seconds. The app has 38 million members and will deliver matches to your inbox on a daily basis based on your behavior such as who you search for, like or don't like, and message. The Carousel is another section for matching (tap the heart if it's a yes and the X if it's a no).
Browse Free: View Profiles Now
| User Base | Gender Ratio | Popularity (Visits/Mo.) | App Cost |
| --- | --- | --- | --- |
| All Singles* | | 3.8 Million* | Free Download |
Meeting people online is all well and good, but some singles prefer to do their dating the old-fashioned way: in person. If you fall into that category, we'd recommend checking out the bar scene in downtown Scottsdale. The low-key atmosphere of a dive bar and the intimate vibes of a speakeasy can help daters feel more relaxed while making conversation with someone new. The following bars have our vote as the most date-worthy spots in town.


7011 E Indian School Rd • Scottsdale, AZ
(480) 990-3433
Visit Website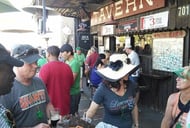 Established in 1959, the Coach House has the distinction of being the oldest tavern in Scottsdale. This longstanding landmark is open to the public 365 days a year from 6 a.m. until 2 a.m. Yes, even on Christmas. During the holiday season, the bar is decked out with lights on every square inch inside and outside, and it maintains a festive atmosphere to get people in a celebratory mood. This down-to-earth bar is famous for its large selection of beers, mouthwatering burgers, and friendly service. If you're looking for somewhere to listen to rock music and start a casual conversation, the Coach House is the place for you.


7320 E Scottsdale Mall • Scottsdale, AZ
(480) 945-2882
Visit Website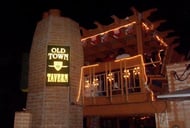 The Old Town Tavern prides itself on having "the biggest little stage in Old Town Scottsdale." This rustic two-story watering hole serves ice-cold beers and premier wines on its beautiful outdoor deck and indoor bar. You can sit back and listen to live music, which plays nine times a week, and make a connection with someone across the bar. The Old Town Tavern's bartenders are famously generous when making drinks, and they don't water down their concoctions with a ton of ice. Since 2006, the Old Town Tavern has offered locals a cozy spot to relax, dance, and enjoy themselves.


7245 E Main St • Scottsdale, AZ 85251
(480) 425-7787
Visit Website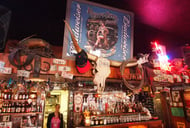 Country music lovers can take it easy at the Rusty Spur Saloon, aka Scottsdale's last real cowboy saloon. An intimate dance floor gets people on their feet and clapping along to classic bluegrass and country songs played by talented bands in cowboy hats and boots. Over the years, celebrities, including Clint Eastwood, John Wayne, Vince Vaughn, and Jennifer Aniston have been known to stop by the Rusty Spur Saloon for a quiet drink. If it's good enough for them, it should be good enough for you, too.


4
Second Story Restaurant & Liquor Bar
4166 N Scottsdale Rd • Scottsdale, AZ
(480) 945-5555
Visit Website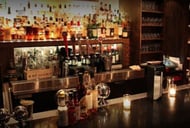 The Second Story Restaurant & Liquor Bar is a sophisticated spot for local daters to while away an evening in style. We're talking prime steaks, craft drinks, and seasonal delicacies that are to die for. This bar offers a culinary experience like no other from the WTF Biscuits (meant to be shared) to the Duck Confit. We recommend stopping by for lunch or dinner on Wednesdays when the Second Story Restaurant serves $1 oysters all day — or until they run out. Diners escape from the everyday at this elevated bar, which has over 300 types of whiskeys ready to be poured.


5
Boondocks Patio & Grill
4341 N 75th St • Scottsdale, AZ 85251
(480) 949-8454
Visit Website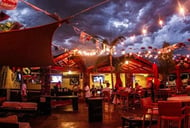 Whether you're lounging around on the squishy couches or sitting with new friends at the high-top tables, you can treat yourself to a luxuriously lazy evening at the Boondocks Patio & Grill. One local guide on Google reviews called it a "great place for drinks and to meet people. Also good food." The colorful outdoor area provides plenty of space to mingle and enjoy yourself. Plus, Boondocks' calendar is always full of fun events, including taco nights, football parties, and live performances.

6
The Grapevine Restaurant & Karaoke Bar
4013 N Brown Ave • Scottsdale, AZ 85251
(480) 994-1792
Visit Website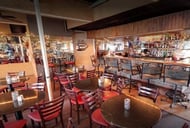 I don't know about you, but I'm a sucker for a good karaoke bar. It doesn't take much to get me up on stage jamming out to my favorite Beatles or Britney Spears song. I may go in telling myself I won't sing, but after a few drinks, I'm like, "Oops, I did it again." The Grapevine Restaurant & Karaoke Bar gives singles a chance to get out of the comfort zones and rock the dating scene. You can grab the mic and dedicate a romantic song to a cutie by the bar, or you can toast a talented performer and become someone's biggest fan. Since 1971, The Grapevine Restaurant & Karaoke Bar has brought people together for good food, handcrafted cocktails, and live amateur music. Karaoke runs from 5 p.m. until 1 a.m. so you have plenty of time to pick a song and maybe invite someone to join you in a duet.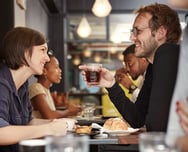 Speed dating is like regular dating on steroids. You have all the getting-to-know conversations condensed into doable five-minute chats, and then you get to decide who you like at the end of the night. It's a carousel of fun — sort of like swiping, but with more face-to-face flirtation — and a lot of singles use these events to spice up their Friday or Saturday evenings. If you haven't tried speed dating before, you may want to look on Eventbrite's calendar to see if there's a Scottsdale event coming up that's just your speed.
5
Scottsdale Singles Events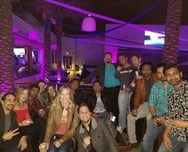 The problem with hanging out at a bar and scoping out dates is that you can never be sure if the cutie you're eyeing is single or taken. You could waste precious time barking up the wrong tree, and that's just no fun for anyone. However, attending a singles event removes the uncertainty and allows people to mingle with confidence. You can search Meetup by the keyword "single" to find a gathering designed to introduce lonely hearts around town. Whether you're hiking through the valley or sharing your thoughts in a book club, a singles group can offer you a chance to share your interests with like-minded singles.
6
Scottsdale Singles Clubs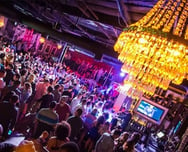 The West's Most Western Town welcomes cowboys and cowgirls seeking adventure and romance. You can get into the swing of things by putting on your boots and making an appearance at the local dance club. Scottsdale is home to many exciting, trendy, and all-out country hangouts where you can let your dance moves speak for you. You can spend an evening at the saloon the next time you need a break from your everyday routine. Click the link below to read the Yelp reviews of the most popular dance clubs in Scottsdale.
We all have different passions in life. Some people can throw a football with pinpoint accuracy, some people can build furniture without an instruction manual, and some people are less physically inclined and more intellectually impressive. Intellectuals often don't feel comfortable making friends at a bar or a club. They prefer environments where their thoughts have center stage. These singles often excel in chat rooms where words are the way to another person's heart. You don't have to worry about your shirt being untucked or your hair being a mess in this online space. Just mind your ps and qs, and you'll do just fine.
A lot of people confuse online dating personals with online dating, but that's like saying Scottsdale and Phoenix are basically the same. Sure, they may have a lot of similarities, but locals can tell you a few key differences that separate them. Dating personals don't have the same matching capabilities and swiping features that most dating sites do. Dating personals also don't recommend users to one another or have a lengthy profile setup. Instead of spending a lot of time cropping photos and writing a bio, you can cut to the chase on a dating personals site and quickly find a date who meets your standards.
9
Volunteer Your Time in Maricopa County
If you need something to shake up your daily routine, you can always get involved with a local nonprofit and spend some time doing good deeds around town. Most volunteer activities inspire teamwork among people who share common goals and values, and that's a great foundation for a relationship.
Scottsdale residents can take part in many citywide volunteer programs to make a difference in the community while getting to know people in the community. You can assist at charitable events, animal shelters, public school programs, and many other places to create opportunities to meet kind and giving singles.
The Four Peaks Animal Rescue group is always accepting volunteer applications and will happily give you puppies to cuddle and office work to complete whenever you have free time. This is a great place for singles to get to know people and put life in perspective by focusing on caring for others and focusing on problems bigger than themselves.
"The volunteers are amazing and so helpful," said Hannah, who adopted a cat through Four Peaks Animal Rescue. "So thankful for all the help and support from such a great organization."
Carefree Singles Find Paradise in the Valley of the Sun
A man in the 1880s saw the Salt River Valley as a promising place to start a family and make a home, and he convinced others to follow his lead and settle down in what is now known as Scottsdale.
Winfield Scott couldn't have known then that his orange grove ranch would plant the seeds for one of the largest city's in Arizona, but he trusted his instincts and had faith in his ability to turn even the bleakest of surroundings into a sunny paradise.
Now that you've gone through our list of ways to meet people, you too can create something wonderful out of nothing and set yourself up for success in Scottsdale. Whether you're joining a club, hanging out at a bar, or signing up for a dating site, you can make the best of your surroundings with a little elbow grease and just a dash of luck. Have fun!
Final Thoughts on Dating in
Scottsdale, AZ
We hope you've found our guide "9 Ways to Meet Singles in Scottsdale, AZ (Dating Guide)" to be helpful in your dating journey. If you're ready to take the leap into the local Scottsdale, AZ, dating scene, keep in mind that apps like Match and Elite Singles are the easiest way to meet singles locally and throughout Arizona.
Prefer to meet people the old-fashioned way? You're certainly not alone. According to local reviews, these popular spots in Scottsdale, AZ, could be exactly what you're looking for:
Coach House
Old Town Tavern
Rusty Spur Saloon
Second Story Restaurant & Liquor Bar
Boondocks Patio & Grill
The Grapevine Restaurant & Karaoke Bar
Whether you're in Scottsdale, AZ, surrounding areas, or anywhere else in Arizona, remember that there's someone out there for you. It's just a matter of taking that first step.
Advertiser Disclosure
DatingAdvice.com is a free online resource that offers valuable content and comparison services to users. To keep this resource 100% free for users, we receive advertising compensation from the sites listed on this page. Along with key review factors, this compensation may impact how and where sites appear on the page (including, for example, the order in which they appear). DatingAdvice.com does not include listings for all dating sites.
Our Editorial Review Policy
Our site is committed to publishing independent, accurate content guided by strict editorial guidelines. Before articles and reviews are published on our site, they undergo a thorough review process performed by a team of independent editors and subject-matter experts to ensure the content's accuracy, timeliness, and impartiality. Our editorial team is separate and independent of our site's advertisers, and the opinions they express on our site are their own. To read more about our team members and their editorial backgrounds, please visit our site's About page.