The 7 Worst Online Daters Ever
WTF!
The Internet has a lot going for it, but it's definitely known as a hangout for weirdos. We unfortunately sometimes make the mistake of going out with these rather strange strangers that we meet online, but at least the Internet offers us a forum for sharing these horrible date experiences.
Pooled from all over cyberspace, here are the seven worst online dates ever.
7. Talk Baby To Me
From complex.com
"We head to a really nice steakhouse, and after appetizers and his third martini, he starts to speak baby talk to me, as in 'Would you wike a wittle kissy-wissy?' Our steaks arrive and he reached across the table to cut my meat for me! I'm completely freaked out, decide I'm going to the bathroom, and he asks if I need help wiping. (I wish I was making this up.) I make it to the ladies' room, where my waitress walks in after me as I'm planning my escape route, and she says, 'Um, I was just listening in on your date. Your guy has put a pacifier on your plate. Do you need to get out the back?' She winds up sneaking me through the kitchen, and I slipped her a $20 tip."

6. Interesting Table Manners
From thoughtcatalog.com
"I met a guy, chatted, he seemed relatively normal. We go for our first date in a pub. A well-lit pub. We're having a couple drinks, talking and whatnot, I see his hands under the table, moving around. It cannot be. OH BUT IT IS. He was touching himself. Apparently I was turning him on too much and he couldn't help himself. Date ended pretty quickly after that. The follow-up is, when I got home he'd sent me an epically long email about how I was fat and ugly and a tease and a whore. Oh, and ended it with the phrase, 'Don't bother responding, because I will not read it'. Done and done!"

5. What Did You Expect?
From refinery29.com
"I got a guy who looked great on paper (online), actually looked like his photo (hot as hell) and was initially charming. I say initially because we originally started out at a café for an alfresco cocktail before what originally was supposed to be dinner at a nearby restaurant. The minute we got to the cafe, he was getting up from his chair and flirting with women he obviously knew — literally talking about 'that night at the club' à la 'Night at the Roxbury'. Then forget the restaurant. I stupidly went to his place instead (his suggestion) where 'dinner' was frozen salmon thrown into his oven on an ungreased pan. No sides, just salmon. He poured me a glass of cheap wine and immediately stuck his hand down my dress. Scared and disgusted, I told him this wasn't what I expected. He said, 'Well, what did you expect from an online date?' Yeah, I grabbed my purse and ran out the door."

4. A Little Rivalry
From theawl.com
"We agreed to meet at a bar even though he didn't drink (when I asked if he went to meetings instead, he was silent). On the phone, it had come up that he was a Redsox fan – I am a diehard Yankees fan. But I thought a little rivalry could be fun – I have a lot of Yankee fan friends who have married Redsox fans and they both have a sense of humor about it! When I met him at the bar, he proceeded to tell me that 1. If we became a couple, I would only be allowed to wear my Yankees hats/shirts when I was home visiting my family – never around him; 2. I should not expect him to talk to me while he was watching Redsox games on TV; and 3. We could not get married in October because he needed to keep the post-season available for any potential Redsox trips to the World Series."

3. Wasn't That Nice?
From gizmodo.com
"I met a borderline sociopath on a now-defunct dating site after ignoring the red misogyny flags in his profile (I used to have a misguided 'give a brother a chance' attitude.) He put on a good act for several dates, so I decided to sleep with him. He didn't want to wear a condom, I insisted, he surreptitiously slipped it off before finishing and got me pregnant. He flew into a rage when I told him but calmed right down when I said I was absolutely having an abortion. He then oh-so-generously offered to pay half the bill and bought me a pizza afterward. Wasn't that nice of him?"

2. Something More Clever
From sheknows.com
"Last year, after a round of bad online dates, I suddenly had to cancel a first date with a person I had not met yet. My father passed away unexpectedly, and, of course, I had to drop everything for this. I wanted to be polite despite my own emotional exhaustion at the time, so I texted the guy. He did not believe me and questioned my honesty. He texted back that I could come up with something more clever than my dad passing if I did not want to meet up. I texted him back that he had serious issues if he thought someone would make up such a lie. He made things worse by calling a couple of times and texting that he felt terrible about not believing me and that it was really causing him much pain to know what he had done. Of course, I stopped texting and stopped online dating shortly thereafter."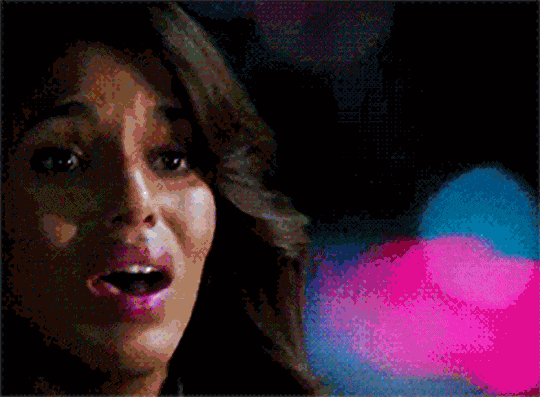 1. A Real Double-Date
From cosmopolitan.com
"Nervous to … try online dating alone, my friend and I signed up together but on different sites. We each met a guy who asked us out to dinner, and we decided to arrange our dates on the same night at the same restaurant one after the other, so we could take turns watching other from afar. My date and I seemed to click; after we parted ways, I pretended to go home but instead snuck to a different part of the restaurant to spy on my friend and her date. Fifteen minutes later, my date walked back in and sat down with my friend! Turns out we both scheduled dates with the same guy who used different aliases on different sites."

Photo sources: giphy.com, moviestillsdb.com