10 Ways to Meet Singles in Burlington, VT (Dating Guide)
When my family planned a roadtrip through the Northeast, I begged my parents to make Vermont one of our sightseeing stops. I had done a school report about the small liberal state and wanted to see the mountains and greenery for myself. Of course, it wasn't just the scenery that interested me — honestly, it was the ice cream.
I craved a trip to Vermont because I knew the Ben and Jerry's headquarters was there. It's like a real-life Charlie's Chocolate Factory, but for ice cream. I haggled, pleaded, and demanded until my parents finally agreed. We went on a factory tour, and I bought cute ice-cream earrings to impress my friends. As we were leaving, my dad said, "I thought visiting a factory would be boring, but it was actually my favorite part of the trip."
From the lush trees of the Landlocked Forest to the peaceful waters of Lake Champlain, Burlington is a beautiful destination made even more tempting by the delicious ice cream factory just down the road. If you're having trouble melting hearts in this wintry town, however, we've got 10 suggestions to help singles meet Vermonters online and in person. Let's get to it!
Vermont's motto is "Freedom and Unity," and that's exactly what dating sites provide. The freedom to explore your romantic options and discover a greater sense of unity for singles around the world. Online dating is the fastest and easiest way to meet available men and women of all ages and backgrounds. A simple search and a short message is all you need to make a connection on a good dating site. To help you connect even faster, we've highlighted five of our top choices for Burlington daters on the lookout for romance.
Best Singles Site
Over 42,000 people live in Burlington, the most populated city in Vermont. In contrast, over 40 million Americans have used online dating services, most notably Match.com. Our dating experts love Match because it uses personality-driven tools introduce like-minded singles to one another. Since 1995, this prominent dating site has been responsible for connecting more relationships and marriages than any other dating site.
Best Site for Professionals
When you're dating, education matters. Well-read and learned individuals may intimidate the average layman, while immature high-school dropouts may bore the average working professional. Intellectual singles often desire someone on their level, and that's what the high-caliber membership of Elite Singles provides. Over 82% of members on this dating site have earned a bachelor's, master's, or doctorate degree, so it's perfect for single professionals interested in quality dates.
Over 50 & Senior Site
Because of Burlington's natural beauty and safe neighborhoods, the city is a popular place to retire. In fact, AARP named Burlington among the best small cities for retirement. Retirement isn't such a picnic, however, when you don't have someone special to spend your golden years with. Fortunately, Vermont's senior singles can join OurTime to meet daters over the age of 50. This easy-to-use website takes the confusion and worry out of senior dating in Burlington.
For Black Men & Women
Vermont is a very white state, and Burlington is a very white city in that very white state, so if you're looking for a Black, biracial, or even slightly tan date living within the city limits, it's probably best to do a location-based search on BlackPeopleMeet. This niche dating network helps thousands of singles mingle in a more diverse and user-friendly environment.
Hookup & Sex Site
Ultimately, all that lovey-dovey stuff isn't for everyone. Some sexually active daters care more about kinky fantasies than favorite movies when chatting up a date. Adult Friend Finder lets fast-moving daters cut to the chase and chat explicitly about their desires in the world's largest online sex community. On AFF, over 6 million connections have been made between hot singles and swingers.
As the home of the University of Vermont, Burlington has an ever-changing college-town vibe with over 11,000 students coming and going every semester. The dating pool constantly refreshes itself as freshman come in to replace graduating seniors. Such a dynamic dating space can be difficult to keep up with, and that's why dating apps have become so popular among young people. Highly effective dating apps allow singles to easily navigate their dating prospects and find mutual matches wherever they go.
Relationships: Fun Dates, Serious Relationships
Match System: Browse by location, age, interest, and more
About the App: Available via the App Store and Google Play, Match is a fantastic app for dates and relationships. With a user base of 30 million singles, Match is where you'll have a high chance of success. It's free to download, create a profile, search for date prospects, and receive compatible matches based on personalized preferences. Free members can also chat with select members and send unlimited likes.
Browse Free: View Profiles Now
| User Base | Gender Ratio | Popularity (Visits/Mo.) | App Cost |
| --- | --- | --- | --- |
| All Singles* | | 13.5 Million* | Free Download |
Relationships: Deep Relationships
Match System: Search by education, lifestyle habits, age
About the App: Commitment-minded, professional daters will feel at home with EliteSingles, which can be downloaded for free in the App Store or Google Play. Not only is everyone looking for a long-term partner, but 80% of members hold a bachelor's, master's, or doctorate degree. EliteSingles sees 210,000 visitors and 2,500 users finding love every month, so it's one of the fastest growing and most reputable apps.
Browse Free: View Profiles Now
| User Base | Gender Ratio | Popularity (Visits/Mo.) | App Cost |
| --- | --- | --- | --- |
| All Singles* | | 290,000* | Free Download |
Relationships: Casual Dates, Relationships
Match System: Search for and receive matches
About the App: Zoosk is the number one app for finding dates, and if you sync up your Google+ or Facebook account, you can have a profile in seconds. The app has 38 million members and will deliver matches to your inbox on a daily basis based on your behavior such as who you search for, like or don't like, and message. The Carousel is another section for matching (tap the heart if it's a yes and the X if it's a no).
Browse Free: View Profiles Now
| User Base | Gender Ratio | Popularity (Visits/Mo.) | App Cost |
| --- | --- | --- | --- |
| All Singles* | | 3.8 Million* | Free Download |
Burlington may seem like a quaint little town during the day, but, at night, the downstreet scene comes alive with big-city entertainment and excitement. The average age of city residents is 26 years old, so there's no shortage of singles running about town on a quest for friendship, romance, or love. You can join them at any of the following well-loved and well-populated drinking establishments in the heart of town.


1
Juniper Bar and Restaurant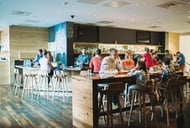 The Juniper Bar's talented bartenders love to whip up creative cocktails or recommend a favorite beer for patrons hankering for something different from the norm. Situated in Hotel Vermont, this chic bar and restaurant serves up amazing plates of food as well as upscale signature cocktails — all while using local ingredients. Burlington residents know where to go to get a high-quality drink and don't mind hob-nobbing with out-of-towners if it means sampling some of Vermont's finest distilled spirits and brews.


4 N Winooski Ave • Burlington, VT 05401
(802) 863-5803
Visit Website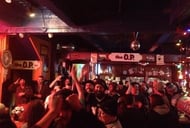 If you like cheap drinks in a neighborhood bar, there's no other place like the Other Place. Commonly called the OP, this dive bar hands out free popcorn on a nightly basis. Just in case you didn't come there thirsty enough! The affordably priced drinks and appetizers has made this a regular hangout for many Burlington singles. One reviewer described the Other Place as having "a pleasant mix of locals," which is ideal for active daters around town.


137 St Paul St • Burlington, VT 05401
(802) 489-5501
Visit Website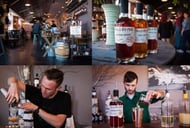 The Mad River Distillers began in a 150-year-old ramshackle barn in the Green Mountains and now sells award-winning spirits across the Northeast. The distillers proudly use regional grains, pure mountain spring water, fair-trade sugar, and locally sourced ingredients to produce delicious bourbons, ryes, rums, and apple brandies. The Burlington Tasting Room highlights these flavors and offers an extensive stock of Vermont-made spirits. Daily cocktail specials make this a favorite watering hole for Vermonters with discerning tastes.


135 St Paul St • Burlington, VT 05401
(802) 860-9463
Visit Website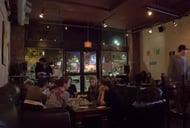 As its name implies, Drink is a bar focused on serving unforgettable liquors, wines, and beers. Its artful vodka infusions stand out in Burlington's bar scene and have turned into a favorite hot spot for college-aged singles. Whether you enjoy playing board games in a group or listening to live musical performances on your own, you'll find plenty to entertain you at Drink. And, hey, if Cards of Humanity and concerts aren't your jam, you can always just drink.


205 College St • Burlington, VT 05401
(802) 864-8209
Visit Website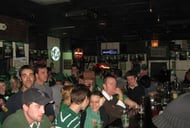 Though its located on College Street, Finnegan's Pub tends to attract a seasoned crowd of veterans, die-hard sports fans, and people of Irish descent. Since the 1970s, this dive bar has cultivated a relaxed atmosphere where people can go to escape the daily grind. With dozens of microbrews on tap, it's definitely a great place to get your drink on and flirt with regulars at the bar. Singles can get attention by ordering a round of Irish whiskeys or challenging a crush to a game of pool at this cherished local hangout. Touting itself as "craft beer for the common man," Finnegan's Pub is there for everyone to enjoy.


136 Church St • Burlington, VT 05401
(802) 859-8909
Visit Website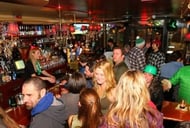 The Church Street Marketplace is overrun with shoppers during the day and crowded with drinkers at night. Red Square is a popular haunt on Church Street where people come to listen to live music and DJ stylings. The full bar gets daters on their feet and gives them the liquid courage to ask someone special to dance. Once you've made a connection on the dance floor, you can chat with your date on the outdoor patio at Red Square.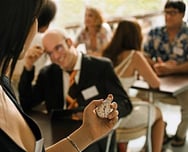 On your mark, get set, date! Speed dating is an aptly named a high-speed solution for busy singles tired of wasting hours of their lives on bad dates. At a speed dating event, participants enjoy a more efficient way to meet people. To the gentle ring of a starting bell, you sit down for dozens of brief mini dates where you can quickly decide if there's something there worth pursuing. And if there's no chemistry, you can move on. No harm, no foul. Check out Eventbrite's calendar to find speed dating events taking place near you!
5
Burlington Singles Events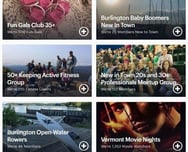 Sometimes sitting across from a date feels too much like an interview and throws singles off their conversational game. If you're more of a doer and less of a talker, then we recommend heading to singles events based around a fun activity or theme. Whether you feel most comfortable at a lock-and-key party on a rooftop or an outdoor hiking group, you can pick and choose from a variety of date-worthy settings in Burlington. Meetup has over 8 million members around the world and is a popular place to seek out groups of singles who share your interests and values.
6
Burlington Singles Clubs



My college friends loved going downtown and hunting down romance on the dance floor. A nightclub's evocative mood lighting, high-energy beats, and ever-moving crowds are a singles playground. You don't need to come up with a pick-up line because your date isn't going to be able to hear what you say. Which means attractive singles can let their dance moves and fit physique draw people to them. If you're looking for a hot dance partner, Burlington's downtown clubs can hook you up. Backed by local reviews, Yelp is the most thorough resource for club goers seeking a wild place to dance the night away.
One of my first experiences online was joining a chat room (a kid-friendly chat about the "Animorphs" book series), and I remember being blown away by how easy it was to meet so many different people from so many different places. Chat rooms open singles up to a world of possibilities, and local chat rooms empower daters to act upon their feelings and set up a date in real life. You can log in to a Burlington chat network to practice your flirting game and woo potential dates within a few suave keystrokes.
Personally, I don't feel like I need to know everything about a person I meet online. My eyes gloss over profiles written like narcissistic autobiographies, and I don't typically put much weight in suggested matches because I prefer to go my own way and find my own matches, thank you very much. For daters like myself who want to skip all the bells and whistles of today's dating websites, online dating personals provide a simpler alternative. By creating a free dating personal, you can cut right to the chase in the dating world and build connections with singles who have similar romantic goals.
9
Go to a Festival to Mingle in a Friendly Atmosphere
When you're looking for a date, you should go where the the people are. The more people you're around, the greater chance you have of finding someone who stands out from the crowd. Local festivals provide a terrific opportunity to sample the best foods, drinks, and sounds while mingling with fun-loving folks. Burlington holds many popular festivals throughout the year.
Every August, the Festival of Fools attracts tens of thousands of slapstick-loving people seeking a laugh. Professional street performers, comedians, and musicians make sure everyone has a good time and loosens up. The free events are perfect opportunities for breaking the ice and making friends among the 10,000 visitors on Church Street.
From the amusement parks of the Carousel Festival to the huge vegetable spectacles at the Giant Pumpkin Regatta, the city of Burlington encourages individuals to leave their dooryards and form close-knit community.
10
Join a Political Revolution or Other Community Efforts
In 1980, a 39-year-old idealist named Bernie Sanders got his start in politics by winning a Burlington's mayoral election. He upset a five-term incumbent Democrat by passionately advocating for social justice and the people's common welfare.
Bernie's rhetoric inspired people to get to the polls, and he won by just 10 votes — despite being a relatively unknown and untested candidate.
When you follow what you believe in, people are drawn to you, and success comes naturally. Daters could learn a lot from Bernie Sanders. If you join a political organization, or other socially motivated groups, you can come together with locals who share your ideals, interests, and values.
Anyone can start campaigning for their best romantic interests by getting involved in the Burlington community as an activist or volunteer. Whether you're helping out at a medical center or giving back by cleaning up a local park, you can make new social connections in good-hearted groups in the People's Republic of Burlington. At a local festival, you can't help laugh, chat, and enjoy yourself.
Romance Reigns Supreme in Vermont's Queen City
The picturesque city of Burlington has a welcoming feel to it. I remember strolling down Church Street with my family and imagining what it'd be like to live in such a neighborly place. For one thing, I thought, I'd eat ice cream every day and get a sailboat so I could relax on the lake in the summertime.
Of course, the reality of living in Burlington isn't always so idyllic. Maybe some residents are lactose intolerant. Maybe others find it difficult to make friends in town. Our 10 recommendations for meeting singles in Burlington offer a head-start to romantic connections so you can sail off into the sunset with an ice cream cone in one hand and your date's hand in the other.
It doesn't matter if you're in a chat room or at the bar; what matters is that you take action to improve your dating life. Once you start putting yourself out there, it becomes much easier to strike up a conversation and make a date with a new acquaintance. Have fun!
Final Thoughts on Dating in
Burlington, VT
We hope you've found our guide "10 Ways to Meet Singles in Burlington, VT (Dating Guide)" to be helpful in your dating journey. If you're ready to take the leap into the local Burlington, VT, dating scene, keep in mind that apps like Match and Elite Singles are the easiest way to meet singles locally and throughout Vermont.
Prefer to meet people the old-fashioned way? You're certainly not alone. According to local reviews, these popular spots in Burlington, VT, could be exactly what you're looking for:
Juniper Bar and Restaurant
The Other Place
Mad River Distillers
Drink
Finnegan's Pub
Red Square
Whether you're in Burlington, VT, surrounding areas, or anywhere else in Vermont, remember that there's someone out there for you. It's just a matter of taking that first step.
Advertiser Disclosure
DatingAdvice.com is a free online resource that offers valuable content and comparison services to users. To keep this resource 100% free for users, we receive advertising compensation from the sites listed on this page. Along with key review factors, this compensation may impact how and where sites appear on the page (including, for example, the order in which they appear). DatingAdvice.com does not include listings for all dating sites.
Our Editorial Review Policy
Our site is committed to publishing independent, accurate content guided by strict editorial guidelines. Before articles and reviews are published on our site, they undergo a thorough review process performed by a team of independent editors and subject-matter experts to ensure the content's accuracy, timeliness, and impartiality. Our editorial team is separate and independent of our site's advertisers, and the opinions they express on our site are their own. To read more about our team members and their editorial backgrounds, please visit our site's About page.