11 Ways to Meet Singles in Newark, NJ (Dating Guide)
In 2013 and 2014, Newark was voted the unfriendliest city in the US by Condé Nast Traveler Readers' Choice Survey. That's kind of harsh. I don't know why voters decided to hate on the Brick City. Maybe some Newarkers are rough around the edges (aka tougher than the rest), but over 311,000 people live here — some of them are bound to be friendly!
Taking a stand in the article's comments section, Jan defended the city's good qualities, saying, "Where I live in Newark, it's heaven. I wouldn't trade it." She said she doesn't have any patience for fake friendliness and likes knowing where she stands with her New Jersey neighbors.
If where you stand is without a date on Saturday night, we can help you take the blunt Newark dating scene by storm with 11 different ways to meet singles in your area. Go get 'em!
Want to meet a lot of people in Newark? There's one obvious place to go. No, I don't mean Newark Airport. I'm talking about dating websites. Online dating is currently the number one way to meet single people in your area. It's just more effective than wandering about town hoping the cutie across the room is single.
On dating websites, you know that everyone is available and interested in dating, so you don't waste your good pick-up lines on someone who's already taken. Below, you'll find our favorite dating websites ranked by category. Enjoy!
Best Singles Site
Without a doubt, Match.com is the best dating platform for anyone serious about finding that special someone. Since 1995, the site has wowed singles with personality-driven matching tools that cut to the core of who daters are and what they want. Newarkers can create an in-depth profile within minutes and start attracting compatible dates near them
Best Site for Professionals
When you're looking for a long-term romantic partner, it's OK to be choosy. Elite Singles is all about introducing you to a date who meets your standards. This high-class dating network connects well-educated professionals with love on the brain. Over 90% of members are over the age of 30, so you can skip all the childish game-playing and date high-caliber people with relationship potential.
Over 50 & Senior Sites
For recently divorced or widowed singles, rejoining the dating scene as a mature dater can be a daunting prospect. Online dating has radically changed how singles meet one another, and young people dominate the general dating platforms. To help daters over 55 find love again (or for the first time), OurTime has carved out a niche as a reliable senior dating site with thousands of active profiles. Newark is a youthful city, boasting a median age of 32, so having OurTime working to gather mature date prospects for you can really save time.
For Black Men & Women Only
In the mid-60s, Newark became the second US city (Washington DC was the first) to have a majority African-American population. Today, the black majority stands at 52% according to the latest census data. If you'd like to get a date within Newark's sizable black community, BlackPeopleMeet is a fantastic place to start. This dating hub has millions of profiles and claims the title of the largest black dating site for American singles. Can't beat that.
Hookup & Sex Site
Look, adults have needs. And sometimes a censored dating site just doesn't satisfy the needs of licentious singles. That's what Adult Friend Finder is there for — to give horny men and women an outlet to satisfy their every desire. Whether flirting in live chats, exchanging pics in private messages, or arranging a quickie, AFF's thriving sex community can hook you up to all sorts of titillating experiences in Newark.
Newark is a college town, a commuter city, and a population-dense metropolis. People here are hard to pin down. Around 100,000 people commute to Newark every day, and nearly 60,000 students and faculty fill Newark's universities. That's a lot of people coming and going. With such a young and active population, singles need a dating app to keep up with it all and find available dates near them. You can read our reviews of the top dating apps to choose the right app for anyone waiting on a sunny day.
Relationships: Fun Dates, Serious Relationships
Match System: Browse by location, age, interest, and more
About the App: Available via the App Store and Google Play, Match is a fantastic app for dates and relationships. With a user base of 30 million singles, Match is where you'll have a high chance of success. It's free to download, create a profile, search for date prospects, and receive compatible matches based on personalized preferences. Free members can also chat with select members and send unlimited likes.
Browse Free: View Profiles Now
| User Base | Gender Ratio | Popularity (Visits/Mo.) | App Cost |
| --- | --- | --- | --- |
| All Singles* | | 13.5 Million* | Free Download |
Relationships: Deep Relationships
Match System: Search by education, lifestyle habits, age
About the App: Commitment-minded, professional daters will feel at home with EliteSingles, which can be downloaded for free in the App Store or Google Play. Not only is everyone looking for a long-term partner, but 80% of members hold a bachelor's, master's, or doctorate degree. EliteSingles sees 210,000 visitors and 2,500 users finding love every month, so it's one of the fastest growing and most reputable apps.
Browse Free: View Profiles Now
| User Base | Gender Ratio | Popularity (Visits/Mo.) | App Cost |
| --- | --- | --- | --- |
| All Singles* | | 290,000* | Free Download |
Relationships: Casual Dates, Relationships
Match System: Search for and receive matches
About the App: Zoosk is the number one app for finding dates, and if you sync up your Google+ or Facebook account, you can have a profile in seconds. The app has 38 million members and will deliver matches to your inbox on a daily basis based on your behavior such as who you search for, like or don't like, and message. The Carousel is another section for matching (tap the heart if it's a yes and the X if it's a no).
Browse Free: View Profiles Now
| User Base | Gender Ratio | Popularity (Visits/Mo.) | App Cost |
| --- | --- | --- | --- |
| All Singles* | | 3.8 Million* | Free Download |
Settled in 1666, Newark is the third oldest city in the United States. You think you have a tough time meeting people nowadays? At least you're not a pilgrim! You don't have to explore new worlds to settle down with someone — just head to your favorite local bar, order some disco fries, and chat up a hottie over a few drinks. We've combed through the Newark bar scene to highlight the best watering holes around town where singles test the dating waters and have an adventure without straying too far from home.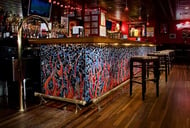 At Hell's Kitchen Lounge, daters enjoy a colorful escape from Newark's crowded city streets. Decorated with bold red and gold colors, this unique venue holds nothing back. The bar's glow burlesque show is famous around town and a must-see for anyone with eclectic tastes. Plus, every Sunday the bar opens for brunch and serves $3 Bloody Marys to help patrons forget the weekend is almost over. Hell's Kitchen Lounge is one of the most popular Newark bars because of its tempting cocktails, wacky events, and memorable flair.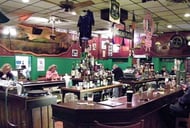 Established in 1936, McGovern's Tavern is a no-frills, just-hang-and-chill kind of place. This Irish pub and restaurant is a favorite of Rutgers students because it's walking distance from the college. From the outside, it doesn't look like much (it doesn't have any windows), but the inside has an inviting atmosphere, seasoned by the smell of hot burgers and wings as well as the lively hum of dozens of conversations. This traditional bar has long been a treasured haunt for Newarkers looking to relax and mingle.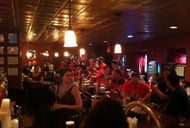 Open until 1 a.m. every day, Fever Bar and Lounge attracts a mature crowd of daters in Newark. This stylish bar opened its doors in November 2014 and has been surprising and delighting locals ever since. It's a low-key place to sip an apple martini or swig a cold brew. Many thirsty coworkers stop by Fever for a drink before commuting home. On Friday nights, the place comes alive with music as a local DJ encourages people to get up on their feet and dance.


4
Pour Abbey's Bar & Grill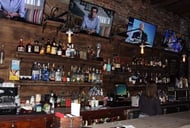 Few bars would take the trouble to stay open until three in the morning — but that's the promise Pour Abbey's makes to its customers. The friendly staff encourages regulars to hang around and forget their worries while drinking a cold brew. While the bar keeps the drinks coming, the grill cooks up juicy burgers so big you need both hands to eat it properly. Rows of flat-screen TVs show everything from a live Jersey Devils game to old episodes of "Modern Family." At Pour Abbey's, locals find a low-key place to enjoy themselves.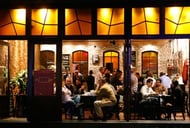 The East Ward, aka the Ironbound, is known as restaurant row because it has hundreds of restaurants and bars showcasing Hispanic flavors. Mompou is among the most popular bars in this cultural hub. The trendy lounge serves Spanish tapas and premier wines to discerning diners. Since 2005, the house-made sangria and live music has entranced visitors and facilitated quiet conversations among flirtatious individuals.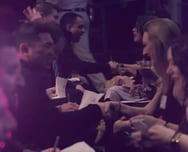 Speed dating events let you cut through the traffic of traditional dating and get into the fast lane with a compatible date. You have a few minutes to chat it up with someone on a mini-date before moving on to the next person. At the end of the night, you'll tell the event organizers which dates you'd like to see again. If that person likes you back, the agency will exchange contact information and let you take it from there. Of course, because of New Jersey's typical tell-it-like-it-is attitude, you'll probably know where you stand with just about everybody by the end of the night.


At a singles event, you can get a date faster than Cory Booker can get a cat out of a tree. Everyone at a singles event is an active dater looking for romance and love. Such fun date-friendly gatherings get people to come out of their shells and meet available men and women in the neighborhood. Whether you enjoy cruising on a sailboat or partying downtown, Newark's singles meetups offer a wide range of opportunities to have a good time while mingling with outgoing folks. Below, you'll find an updated calendar of singles events in the Newark area.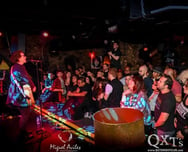 The alternative lifestyle is alive and well in Newark. Many trendy nightclubs have an edgy atmosphere and attract a youthful crowd. You can hear raging metal, punk, and rock music from the moment you step through QXT's doors. The alt bar's Halloween in July Event invites hundreds of locals to dress up and walk on the wild side for a night. Newark's nightlife comes in many shapes and sizes. On Market Street, Rio Lounge delights visitors with old-school and new-school hip hop music. Meanwhile, the drag shows across town at La Roca night club encourage gay and straight patrons to let their freak flags fly.
Chat rooms are a tried-and-true way to meet new people online. It's not as intimidating as approaching someone at a bar and not as high stakes as messaging someone on a dating site or app. On a chat room, you can do a little anonymous flirting and see where the chat takes you. Many singles can get lost in conversation with one another in group chats and private messages. It can get racy, so many chat rooms specify as being for adults only. You can check out the most popular chat rooms for Newark singles by clicking the links below.
Online dating is like New York City: flashy, popular, and maybe a tad overhyped. Dating personals are more like Newark: straightforward, no-nonsense, and with less overcrowding. You won't find any unnecessary matching features or swiping games on a dating personals site. These platforms give singles the freedom to find dates on their own, using their own search criteria. You can use any of the following Newark personals sites to create a dating profile that gets straight to the point.
9
Attend a Festival & Make a New Friend
Summertime is my least favorite time to be single. There are so many weddings in my newsfeeds, and so many of my friends are so damn happy and beautiful. I don't think I'm the only one inundated either — Instagram is just determined to remind us all that summer is prime wedding season. Instead of scrolling through the pics of June brides online, single Newarkers can take some gorgeous snapshots of their own at the annual Portugal Day Festival.
Locals say you can sample the best Portuguese food in North America right here in the heart of Brick City, so grab a plate and get ready to make your Facebook friends jealous by taking some awesome photos of your own.
Newark has a high concentration of Portuguese residents, and they come together at the festival to celebrate their culture and showcase their cuisine in one of the city's most anticipated yearly events. Over 300,000 people come to watch the parade, enjoy folk dancing performances, and taste authentic Portuguese dishes.
For the past few years the Lincoln Park Music Festival has invited music lovers to grab a blanket and a friend and enjoy three days of live hip-hop, blues, gospel, and jazz performances.The outdoor festival typically sees over 60,000 people coming and going. Whether you enjoy delicious food or upbeat music, Festivals help singles join a colorful neighborhood scene and meet people in a fun atmosphere.
10
Go Beyond the Bricks: Take a Walk in the Park
Newark may seem a cold, unfriendly urban jungle at first glance, but it actually has a lot of beauty within its borders. After all, this is the Garden State we're talking about. The city's parks provide plenty of afternoon entertainment for local singles.
In Essex County, Branch Brook Park sets a romantic scene with the largest collection of cherry blossoms in the country. More than 4,300 cherry blossom trees add life and color to the gritty city. Across the 360 acres, you'll find families picnicking, friends playing Frisbee, and joggers enjoying the sunshine. It's the largest public park in Newark, so it's a prime location for daters to recharge themselves and make small talk with neighborly folks.
While the six-acre Military Park may not be as expansive, it has some impressive sights and engaging activities as well. Like a carousel. And the "Wars of America" monument built by the Danish-American sculptor who created Mount Rushmore. The calendar of activities is packed with family-friendly events that encourage laughter and conversation.
Anyone who thinks of Newark as just an airport city has clearly never wandered among the blooming cherry blossoms of Branch Brook Park or taken a history tour at Military Park. These lush spots are great venues to build connections in the Newark community.
11
Get Your Groove on in a Dancing Troupe
Many people in Newark enjoy busting a move, so tons of amateur and professional dance troupes have cropped up throughout the city. Showing off your rhythm is an undeniably sexy way to get to know someone, and local dance groups give singles a chance to practice their moves with one another.
You can search on Meetup for dancing groups in Newark and find the salsa club, dance party, or ballroom lessons for you.
Or, if you think you've got the dancing chops for it, you can try out for the Dynamic Dynasty, an award-winning hip-hop dance crew specializing in tutting, popping, locking, animation, breaking, stunt formations, and voguing. With over 4,300 followers on Facebook and dozens of competition wins under the team's belt, you just know the Dynamic Dynasty has a good time performing together.
The Gateway City: A Date-Friendly Place to Meet People
From its delis to its diversity, there's a lot to love about Newark. OK, so it's not the friendliest city in the world, but most Newarkers are nice enough once you get to know them. These city slickers pride themselves on their honesty and thick skin. As Jan said, "I love them for being true to who they are; if they don't like you, they may just tell you so."
Singles can play the field in this unique urban setting by joining a dating site, heading to a local bar, going to a fun event, and taking advantage of the dating resources we've highlighted in this article. All it takes is a little courage and some practice to increase your batting average and knock it out of the park with someone special. So get off the bench and into the game!
Advertiser Disclosure
DatingAdvice.com is a free online resource that offers valuable content and comparison services to users. To keep this resource 100% free for users, we receive advertising compensation from the sites listed on this page. Along with key review factors, this compensation may impact how and where sites appear on the page (including, for example, the order in which they appear). DatingAdvice.com does not include listings for all dating sites.
Our Editorial Review Policy
Our site is committed to publishing independent, accurate content guided by strict editorial guidelines. Before articles and reviews are published on our site, they undergo a thorough review process performed by a team of independent editors and subject-matter experts to ensure the content's accuracy, timeliness, and impartiality. Our editorial team is separate and independent of our site's advertisers, and the opinions they express on our site are their own. To read more about our team members and their editorial backgrounds, please visit our site's About page.