10 Ways to Meet Singles in St. Petersburg, FL (Dating Guide)
St. Petersburg is the Sunshine City in the Sunshine State. It holds the Guinness World Record for having the most consecutive days of sunshine. No storm cloud blotted the skies for 768 days in the 1960s, which you've got to admit is pretty impressive. To this day, St. Pete has the reputation as a sunny beach destination for anyone hoping to get away from it all.
If you live alone in the city, though, it can be hard to maintain a sunny disposition while watching couples walk hand in hand along the beach.
To brighten your day, we've put together a list of ways to meet people in St. Petersburg, Florida. These resources can help local singles make new friends and plan fun dates in one of the sunniest cities in the US.
1
St. Petersburg Dating Sites
Online dating is the #1 way to meet singles no matter where you live. It has become increasingly popular as millennial singles came of age and started seriously seeking partners. From 2013 to 2015, the number of 18- to 24-year-olds using online dating tripled, and it has only continued to grow. At this point, not joining a dating site is like not having a social media account or not owning a car. Sure, you can survive, but you'll miss out on a lot of conversations, connections, and convenience.
Best Singles Site
We have reviewed hundreds of dating sites on DatingAdvice, and we have ranked Match as the best of the best. Since 1995, this longstanding dating site has brought together millions of couples and arranged more dates than any other dating site or app. Anyone seeking a relationship should consider creating a profile on Match.
Best Site for Professionals
Whether you work in the healthcare industry, the hospitality sector, or the financial district, your job can say a lot about who you are and what kind of life you want. Singles often consider employment status a dealbreaker issue and seek a partner who is equal to them in education and income. If such standards are important to you, joining EliteSingles can help you filter out undesirables. EliteSingles is a dating site for single professionals who have earned a college degree, maintained a thriving career, and want to find someone to share in that success.
Over 50 & Senior Sites
St. Pete has a thriving population of retirees. According to the 2010 census, the median age of the city is 41.6 years old. These folks moved to the Sunshine City to live out there days in a warm paradise, and now all they need is someone with whom to spend it. OurTime can help with that search. Singles over 50 can find thousands of compatible dates on this top-rated senior dating site.
For Black Men & Women Only
Nearly one-quarter of St. Pete's population identifies as black, which is the largest minority in the city. BlackPeopleMeet caters to this niche audience with its online community of African-American singles. You can create a profile on this dating site for free and start mingling with black and biracial date prospects.
Hookup & Sex Site
Last on our list of dating sites is Adult Friend Finder, an adults-only dating site for sexually active singles in St. Pete and beyond. This flirtatious community has led to over 5.6 million online connections. If you're interested in hooking up with someone in town, check out your options and start chatting on AdultFriendFinder.
If dating sites are like cars, then dating apps are like flying cars. They employ cutting-edge and high-tech tools to help people get where they want to go that much faster. Using a dating app is often more convenient for busy singles on the go. Now they can stay connected at all times and carry their dating networks with them in their pockets. Many popular dating sites have converted into dating apps to cater to a mobile audience. We've ranked some of our favorite free-to-download options below.
Relationships: Fun Dates, Serious Relationships
Match System: Browse by location, age, interest, and more
About the App: Available via the App Store and Google Play, Match is a fantastic app for dates and relationships. With a user base of 30 million singles, Match is where you'll have a high chance of success. It's free to download, create a profile, search for date prospects, and receive compatible matches based on personalized preferences. Free members can also chat with select members and send unlimited likes.
Browse Free: View Profiles Now
| User Base | Gender Ratio | Popularity (Visits/Mo.) | App Cost |
| --- | --- | --- | --- |
| All Singles* | | 13.5 Million* | Free Download |
Relationships: Deep Relationships
Match System: Search by education, lifestyle habits, age
About the App: Commitment-minded, professional daters will feel at home with EliteSingles, which can be downloaded for free in the App Store or Google Play. Not only is everyone looking for a long-term partner, but 80% of members hold a bachelor's, master's, or doctorate degree. EliteSingles sees 210,000 visitors and 2,500 users finding love every month, so it's one of the fastest growing and most reputable apps.
Browse Free: View Profiles Now
| User Base | Gender Ratio | Popularity (Visits/Mo.) | App Cost |
| --- | --- | --- | --- |
| All Singles* | | 290,000* | Free Download |
Relationships: Casual Dates, Relationships
Match System: Search for and receive matches
About the App: Zoosk is the number one app for finding dates, and if you sync up your Google+ or Facebook account, you can have a profile in seconds. The app has 38 million members and will deliver matches to your inbox on a daily basis based on your behavior such as who you search for, like or don't like, and message. The Carousel is another section for matching (tap the heart if it's a yes and the X if it's a no).
Browse Free: View Profiles Now
| User Base | Gender Ratio | Popularity (Visits/Mo.) | App Cost |
| --- | --- | --- | --- |
| All Singles* | | 3.8 Million* | Free Download |
3
St. Petersburg Singles Bars
Since its establishment in 1888, St. Pete has supported a bustling downtown area with laid-back watering holes providing some much-appreciated air conditioning and refreshment. If you need a respite from the online dating scene, then you can hang out at a bar and browse for dates in person. You can dress to impress on a Saturday night and meet tons of interesting and attractive people at a local bar. We've put together a list of our favorites to help you dive in and make a big splash on the dating scene.


111 2nd Ave NE • St. Petersburg, FL 33701
(727) 821-2533
Visit Website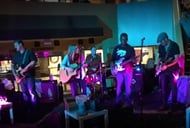 The Ale and the Witch is an enchanting place to mix things up during the witching hour. People come for the craft beer (aka witches brews), but they stay for the live music and good company. The bar's 32 award-winning beers come from some of America's top brewers, and the knowledgeable bartending staff stands behind the quality of its drinks. Anyone looking to unwind for an evening would do well to come by the Ale and the Witch on 2nd Avenue. As an added perk, the bar has a dog-friendly courtyard where dog lovers can unleash their wild sides under the full moon.


340 Beach Dr NE • St. Petersburg, FL 33701
(727) 896-1080
Visit Website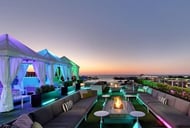 Located in the Birchwood Hotel, the Canopy is a swanky rooftop bar known for its sweeping views of Tampa Bay. This scenic spot is a perfect place to scope out a date. You can lounge on a couch by the fire pits or grab a perch seat by the bar. As you stand four stories above Beach Drive, it's hard not to feel entranced by the beauty of the bay and the city. Everything on the Canopy's menu is seasonal, so there's always something new to try. If you're looking for elevated American fare and high-caliber signature cocktails, this place won't let you down.


242 1st Ave N • St. Petersburg, FL 33701
(727) 201-9783
Visit Website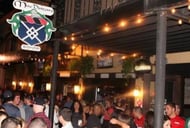 Looking to get lucky? Then you should head to an Irish pub like MacDinton's in St. Pete. This festive bar features live bands and DJs seven nights a week, and its happy hour prices keep locals coming back for more. The menu is full of fun indulgences ranging from Dublin sausage rolls to Irish curry chicken. Every Tuesday is Taco Tuesday here, and people rave over the $3 beef tacos stuffed with lettuce and cheese. If you like burgers, come by the bar on Sunday to enjoy build-your-own burgers starting at $1.


231 Central Ave • St. Petersburg, FL 33701
(727) 440-9231
Visit Website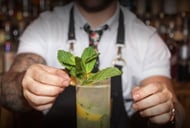 The Mandarin Hide team sees themselves as local stewards of the craft cocktail. This social sanctuary dares you not to like its libations. If you don't see anything on the extensive drink menu to tickle your fancy, challenge the bartending staff to whip you up something special. They enjoy creating signature drinks on the fly and serving a memorable experience to fit everyone's tastes. The Mandarin Hide's motto is "Pouring our spirits to raise yours," and that's exactly what they do every evening until 3 a.m.


5
Ferg's Sports Bar & Grill
1320 Central Ave • St. Petersburg, FL 33705
(727) 822-4562
Visit Website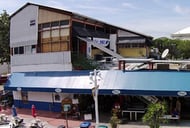 If you've lived in St. Pete a while, you've probably heard of Ferg's Sports Bar & Grill. It's a pretty big deal. The two-story building takes up almost two city blocks on Central Avenue and is the go-to hangout for sports lovers on game day. You'll never miss a second of the action while dining and drinking here because you'll be surrounded by 70 flat-screen TVs. The bar has juicy signature burgers, lots of high-top tables, and even a dog park. A teacher named Mark Ferguson opened Ferg's Sports Bar & Grill in 1992 with the dream of becoming the premier sports bar in Tampa Bay. Today, the bar serves 30,000+ fans coming together to cheer on their teams during the World Series.


6
Bongo's Beach Bar & Grille
5250 Gulf Blvd • St Pete Beach, FL 33706
(727) 360-1811
Visit Website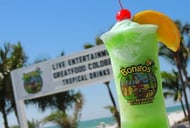 Bongo's Beach Bar & Grille is such a fun, tropical spot that it's worth navigating a bunch of out-of-towners at the Grand Plaza Hotel to hang out by the beach with a rum punch or a cold beer. This place is always packed with people who are eager to relax, listen to live music, and make a friend at the bar. Plus, you won't find a more romantic spot to watch the sun set in St. Pete. The bar's ideal positioning on the Gulf of Mexico means you have a front-row seat to some fantastic ocean views. People come from all over the city, the country, and the world to hang out at this wacky beach bar.


111 2nd Ave NE • St. Petersburg, FL 33701
(727) 289-7257
Visit Website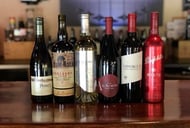 Finally, we're rounding out our list with a locally owned wine bar in the heart of downtown. Wine Madonna is a cozy spot to hangout with friends or on your own. You can often find Madonna Metcalf, the owner and a certified sommelier, behind the bar recommending a top-notch vintage to patrons. This isn't a crowded, seedy bar — it's an upscale winery with plenty of room to mingle. You can stop by for a tasting or a painting event to meet locals in a fun atmosphere. If you find a glass of wine you like, you can order a bottle and invite others to join you in a toast to new friends and good wines.
4
St. Petersburg Speed Dating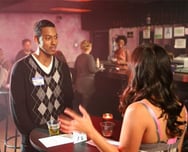 Searching for a date on your own can be pretty time-consuming, and not everyone has hours on end to swipe, chat, and flirt with strangers. Some of us have jobs, families, friend groups, and other pressing concerns demanding on our time. That's why speed dating has recently exploded in popularity as singles seek a fun and fast way to meet date-worthy folks. At a speed dating event, you can sort through dozens of date prospects in a couple hours and walk away with a list of mutual matches to pursue. The Tampa Bay area has tons of speed dating events going on throughout the year, so check out Pre-Dating's calendar to find one near you.
5
St. Petersburg Singles Events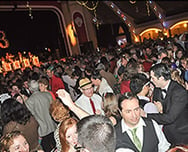 At a singles event, you can cut right to the chase and meet people who are interested in making a date. Some singles events revolve around fun themes (beach parties, costume parties, etc.) or fun activities (hiking, sailing, rockclimbing, etc.), but they all offer a terrific place to mingle with eligible bachelors and bachelorettes. You can look on Meetup for a singles event that suits your fancy. Some of these groups have over 1,000 members and meet regularly at bars, restaurants, and parks.
6
St. Petersburg Singles Clubs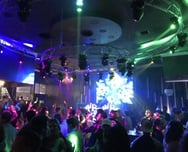 Romance is always in the air at a nightclub. You can hear people cheer and laugh when their favorite songs play, and you can easily shimmy up to a group of people on the dance floor to make fast friends. The casual environment, musical background, and dancing frenzy all combine to create a night full of opportunity and promise. Whether you're into swing, jazz, salsa, country, or pop music, you can find a musical lounge and trendsetting bar that hits the right note in St. Pete.
7
St. Petersburg Chat Rooms
Traffic can be a beast in St. Pete, and the Looper (a sightseeing trolley) isn't exactly the fastest way to get around either. If you're tired of sitting in bumper-to-bumper traffic on the causeway and circling the Central Arts District looking for parking, you may want to look into ways to meet singles without leaving home. Like chat rooms. Instead of going out on the town, you can log into an online forum from home and build connections with locals. You never know where the conversation may take you.
8
St. Petersburg Personals
Online dating personals are like old-school dating sites. You won't find any complicated matching tools or subscription packages here. These platforms keep it simple. You sign up within minutes by submitting your name, age, and gender, and then you'll write a short bio describing what you're looking for in your dates. Once your profile is live, you can search for others in the area and send messages to anyone you like. Searching for romance has never been so easy.
9
Join a Co-Ed Sports Team
Having fun under the sun is what St. Pete is all about. On clear days, you can find the city's parks and playgrounds crowded with locals hoping to work on their tans and get some exercise.
Singles can gain ground in the dating scene by joining a co-ed sports team. The St. Petersburg Parks & Recreation website invites adults to contact the Athletics Office for information about adult sports leagues. It lists basketball, kickball, flag football, softball, and beach volleyball as options. Look for a co-ed team if you're straight and hoping to meet someone on the field.
St. Pete's YMCA also runs adult-friendly sports programs for basketball players and volleyball players over 18 years old. These drop-in games are free to all Y members.
You don't have to be an agile athlete to take part in these leagues. Many teams are beginner-friendly and offer a fun and casual way to spend time with people who share similar interests.
10
Visit the Museum & Check Out the Cultural Scene
As the home of the Dali Museum, St Petersburg is a noteworthy hub of arts and culture in Florida. Its museums offer a calendar of special exhibitions, public events, and group activities to engage all the senses. You can join a Sunday yoga group, attend a cultural fair, or volunteer at a museum to get more involved in this vibrant community.
If you head west on Central Avenue, you'll discover a the colorful 600 Block Arts District, an area known for its Bohemian art, boutique shops, and cool vibes. Young art lovers often frequent this area looking for a good time. Whether you're gazing at an abstract work in a gallery or enjoying the seasonal street food from a food truck, you can help but enjoy yourself in this beautiful, diverse, and unique district.
"I can't stay away from my friends on the block," said one resident in a five-star review. "I always find something new that I can't live without."
Romance Is Always in Season in This Sunny City
It isn't always easy to find someone to stroll into the sunset with you. St Pete is a big city, and its diverse population of over 244,000 people can be overwhelming for someone looking for a single hot date. However, the resources on this list can help you shine a light on the most promising dates in town.
Next time you're looking for something to do in St. Pete, try one or two of these ways to meet people to shake up your routine. If you go into it with a positive attitude, you'll be sure to attract some radiant people in the Sunshine City.
Advertiser Disclosure
DatingAdvice.com is a free online resource that offers valuable content and comparison services to users. To keep this resource 100% free for users, we receive advertising compensation from the sites listed on this page. Along with key review factors, this compensation may impact how and where sites appear on the page (including, for example, the order in which they appear). DatingAdvice.com does not include listings for all dating sites.
Our Editorial Review Policy
Our site is committed to publishing independent, accurate content guided by strict editorial guidelines. Before articles and reviews are published on our site, they undergo a thorough review process performed by a team of independent editors and subject-matter experts to ensure the content's accuracy, timeliness, and impartiality. Our editorial team is separate and independent of our site's advertisers, and the opinions they express on our site are their own. To read more about our team members and their editorial backgrounds, please visit our site's About page.