14 Best Free New Dating Sites (Plus 3 Old Favorites)
It seems like every day a new dating site or app launches and invites singles to view dating from a new perspective. There are plenty of options to mix things up online. A catchy gimmick or innovative design may catch an online dater's eye, but only effective tools keep them around long enough to connect with mutual matches.
In 2013, Forbes estimated that 1,000 new online dating services launch every year; however, many of those fail to attract an audience in such a competitive and unforgiving space. New dating websites and apps are a dime a dozen — the trick is figuring out which ones will actually work for singles and fill a need in the dating scene.
Singles don't have to search for these needles in the haystack on your own — that's our job. Our dating experts stay on the pulse of the industry and spread the word about new dating tools and resources.
To update singles about the latest and greatest dating platforms around, we've compiled a list of 17 new dating sites (and apps) that offer something unique to the modern dater. Plus, we added a few tried-and-true options in case you tire of looking for a shiny new dating site that works.
Best New Dating Sites & Apps
In the Architect of Destruction episode of "How I Met Your Mother," Barney Stinson proclaims that new is always better. Four words to live by. While his logic isn't the soundest, he does have a point when it comes to the dating industry. Singles are forever chasing after newer, hotter, better prospects, especially online.
New online dating sites pioneer ways to improve the experience for users dissatisfied by the same old swiping game.
Below, you'll find our list of today's top new dating platforms that have come up with intriguingly original ideas to make online dating faster, safer, and easier. Taking advantage of these innovative tools and fun communities can bring new life to your romantic affairs. Enjoy!
1. Snack
The Snack app bills itself as "not your parents' dating app." Its avantgarde attitude and sleek mobile interface has hit the mark with a new generation of singles. Not only has Snack eliminated swiping features, but it also puts video at the forefront of the online dating experience. That makes searching for dates or new friends much more dynamic and authentic.

Snack offers more than just good vibes — its interest-based features have made it popular among niche communities, including gamers, fitness buffs, and anime enthusiasts.
Plus, the video dating profiles help single users learn more about their dates and feel more comfortable putting themselves out there on an app where all types of snacks can thrive.
2. Happn
The idea for Happn was born in Paris in 2014, so it's only new in the context of apps like Match (founded in 1993) and eharmony (launched in 2000).
As smartphones were beginning to take hold of the social scene, Happn's three co-founders wondered why dating sites and apps didn't utilize GPS data to seize upon the everyday romantic opportunities of real life. People meet one another all the time in coffee shops and grocery stores, so what if an online dating platform could help those individuals reconnect? They thought it was a good idea, so they made it happen.
Watch on
Today, Happn helps users find their Crushes and use location-based tools to view the people they've crossed paths with most recently. If you've ever met someone in the real world that you'd like to find again, Happn offers a great opportunity to create romance based on the everyday happenstance.
3. High Reply
Launched in 2022, High Reply is the newest dating site on this list, and it shows promise for singles seeking open-minded dating and genuine connections. The dating service rewards quality members by ranking them higher in search results. The more a person engages with their dating profile and the dating site, the higher their quality score will be. The High Reply platform also offers a straightforward credit system for premium features.
"Everything on this site is clearly mapped out and stated," a spokesperson for High Reply told us. "We have tried really hard to make the site as transparent as possible."
4. Mesh
Mesh's slogan is "Experience Better" because it aims to bring value back to online dating. Based in New York City, the dating site empowers users to keep out the spammers, jerks, and rejects. Its most innovative feature is the messaging system. Your inbox automatically filters incoming messages so you only see those who meet your standards. The dating platform's founder, Asher Snyder, prioritized quality and choice when designing this female-friendly online experience.

"On Mesh you have a curated, clean inbox with people you actually want to date," Asher told us in an interview. "Over time, you would then trust your inbox more, so that leads to a higher response rate."
5. Hinge
When I heard that a dating app called Hinge was positioning itself to become The Relationship App, I was so intrigued that I signed up that day. Within moments, I had matches to talk to and dates to plan. Hinge combines personality-driven profiles and mutual-match communications to ensure quality interactions. The app lets users be the gatekeeper of their own inboxes, deciding who can send messages and who goes into the discard pile.
What's even better is that you're not just swiping on the whole dating profile — you have to actually take the time to like or comment on a specific photo or prompt. That makes it easier to start a conversation based on mutual interests.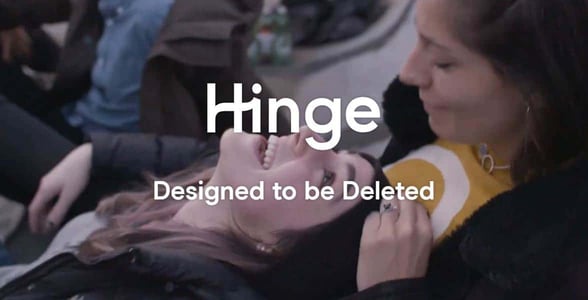 Because your Hinge account is connected to your social media profile, you know everyone is genuine, and you can get a full picture of who they are (especially if they link to Instagram). The relationship app is undeniably effective at pairing up serious daters. In fact, I'm actually engaged to a guy I met on Hinge in 2019!
8. Bumble
Bumble is the feminist's take on online dating. In December 2014, this remarkable dating app challenged patriarchal dating norms by requiring women to make the first move (meaning send the first message). From the moment a mutual connection is made, the woman has 24 hours to say something before the opportunity disappears forever.
In same-sex matches, both individuals have the opportunity to respond within the 24-hour window. By putting a time pressure on singles, the app actually speeds up the dating process. As they say on Bumble: Life's short, so make the first move.
9. JustAskMeOut
In the UK, JustAskMeOut has started a fast-moving dating revolution based on the idea that online daters should skip all the chatting and just go out in person as soon as possible. This new dating site gives online singles a quick avenue to offline fun.
"We don't have a chat facility — you just have to ask people out," said Alex Rowley, Founder and CEO of JustAskMeOut. "We designed it that way because we feel the only way to find out if that person is a perfect match is to meet in person."
10. Coffee Meets Bagel
When I tried Coffee Meets Bagel, I was pleasantly surprised by how easy it was to sign up and how polite everyone I met was. It was a creep-free zone with no pick-up lines in sight! Founded in 2012, Coffee Meets Bagel wanted dating to become fun again.
The entrepreneurial dating app accomplishes that by putting women in control of who connects with them online. Coffee Meets Bagel offers women a curated list of matches (called Bagels) to like or pass on — so users only talk to quality date prospects who have expressed interest in them.
Plus, on Coffee Meets Bagel, users have the ability to ask the community to rate their photos in a simple either/or vote. Users earn activity points by choosing which photo they like better and give each other valuable feedback about what pics to post.
11. Hornet
Launched in 2011, Hornet created quite a buzz in the gay community by vying with the Grindr app for the position of the world's premier all-male dating network. Today, Hornet has over 25 million members who have been captivated by the app's clean interface and thought-provoking content. The social-driven profile setup makes it easy to discover hot guys who share similar interests and lifestyles.
12. HER
One of my closest friends uses the HER app and goes on a date every other week thanks to its fast connective tools. She doesn't know many lesbian or bisexual women at her work, so the all-women dating app helps her tap into the diverse female-friendly community without going too far out of her comfort zone.
"We thought the best way for women to express who they are is by sharing images." — Robyn Exton, Founder of Her
Formerly known as Dattch, the female-driven app was started in 2012 as a side project by Robyn Exton, a single lesbian dissatisfied by online dating. Today, HER boasts over 10 million members (all verified as women seeking women) and promotes user-generated events in over 50 countries worldwide.
13. Pure
Known as the "hookup app for awesome people," Pure certainly has swagger. Thousands of men and women come here for anonymous and spontaneous affairs made in the heat of the moment. Dedicated to fun, freedom, and fantasies, this dating app creates a nonjudgmental space for sex-oriented singles to make instant connections and arrange raunchy encounters.
All you need is a selfie to get started. Profiles aren't permanent (lasting only one hour), so everyone you see online is actively seeking a short-term hookup. Pure offers a private online space to flirt with locals and go after what you want. If you're a woman, the app is 100% free. If you're a man, you can enjoy a free trial period before the subscription period starts.
14. The League
The League is a new dating app launched in 2015, and it has grown by leaps and bounds by appealing to ambitious, successful, and well-educated professionals in the dating scene. Since the COVID-19 pandemic, The League has embraced video dating and turned over a new leaf with fun new video meetup options for members.

How exclusive is The League? It actually has a waitlist to join. The dating app reviews every new profile and only accepts the most attractive and authentic singles. The team isn't afraid to set high standards, and that's something many highly successful singles love about it. You can read our full review of The League to learn how it works and what its plans are for the future.
13. Wingman
Most dating sites leave singles alone to fend for themselves when searching for a date, but Wingman aims to bring a community element back into online dating. This dating app lets users play matchmaker and suggest potential dates for their friends and family members.

On Wingman, singles can feel confident going on dates endorsed by their friends, and the matchmaker can enjoy the chance to bring a little more love into the world by recommending dates. It's a team effort, and that's what makes it so exciting.
Wingman has turned a solitary sport into a team effort, and that brings a little extra excitement and trust to the online dating scene. You can read more about the dating app here.
14. Aisle
Since 2014, Aisle has staked out a middle ground between India's traditional matchmaking services and fast-paced devaluing dating apps. Aisle's quality-focused app vets all members to cultivate a safe and friendly environment for urban daters interested in making genuine connections online. Page upon page of in-depth success stories speak to the effectiveness of this dating app.
"We didn't have any mutual friends or relatives, and we both lived miles away from each other. But something just felt right." — Nehha and Omprakash, a couple who met on Aisle
Instead of paying a flat subscription fee, Aisle members use conversation invites to connect with free members and make a date. When we interviewed him, CEO Able Joseph likened this communication system to buying a drink for someone. One person expresses interest, and the other person can accept that offer at no personal cost. All in all, Aisle is a trustworthy tool to build a relationship with Indian singles.
3 Old Favorites
As Barney Stinson found out when he sipped a new bottle of Jumbo Jim's Grape Scotch — newer isn't always better. Sometimes it's downright disgusting. New is untested, which means it could be unreliable, ineffective, or dissatisfying.
The newest craze may be thrilling at first, but you never know how long it will last. Novel online dating ventures often end up unable to compete against more time-tested brands. Longstanding dating websites may not be as flashy, but they get the job done and have decades of success stories to prove it. Below, you'll find three of our favorite dating sites known for staying current and getting results.
Match
Match is not a new dating site by any stretch of the imagination. It's actually the oldest dating site. Launched in 1995, Match has been responsible for more relationships and marriages than any other site. It's like the wise old sage offering dependable, time-tested solutions to counter the fleeting, trendy startups of online dating.
Relationships: Friends, Dates, and Relationships

Match System: Browse by zip, age, appearance, more

Our Experts Say: "Match has facilitated the most dates and relationships of any dating site, and its large audience and high success rate make it our top review..." Full Review »

Browse Free: View Photos Now
| | | | |
| --- | --- | --- | --- |
| User Base | Gender Ratio | Popularity (Visits/Mo.) | Today's Deal |
| All Singles* | | 39.7 Million* | Try Match FREE |
Even as the site stays true to the personality-based matching that made it so successful, Match continually evolves to better serve singles. Missed Connections is Match's newest feature. Innovative location-based tools allow members to see when they cross paths with compatible Match members in real life. Because who knows? Maybe that special someone is just around the corner!
Elite Singles
Over 165,000 new US members join Elite Singles each month because they want to take a more discerning approach to love. The online dating site's claim to fame is that over 80% of members have university degrees and over 90% are over the age of 30. These are serious people interested in a serious relationship with high-quality individuals.
Relationships: Serious Relationships

Match System: Search, Receive Partner Suggestions

Our Experts Say: "EliteSingles is a leading dating site just for busy, single professionals. More than 80% of members have earned a college degree, and most are looking for a serious commitment..." Full Review »

Browse Free: View Photos Now
| | | | |
| --- | --- | --- | --- |
| User Base | Gender Ratio | Popularity (Visits/Mo.) | Today's Deal |
| All Singles* | | 2 Million* | Browse Profiles Free |
What began as a curated network in Germany has now expanded into an international endeavor to raise the bar for singles everywhere. Today, thousands of professionals have found love thanks to the intelligent matchmaking resources of Elite Singles.
Elite Singles is an upscale dating website that has stood the test of time and proven its worth to the upper crust of the dating world.
Zoosk
Last of all, Zoosk launched back in 2007 to create a worldwide dating network. The real-time chat features and coin-based subscription plans encourage over 35 million members to interact with one another on a daily basis. The dating site may not be new anymore, but it is still very active with 3 million messages sent on the website and app every day.
Relationships: Fun Dates, Serious Relationships

Match System: Search and get match recommendations

Our Experts Say: "Zoosk is integrated with social media sites, like Facebook and Google+, so it's very popular with singles on the go..." Full Review »

Browse Free: View Photos Now
| | | | |
| --- | --- | --- | --- |
| User Base | Gender Ratio | Popularity (Visits/Mo.) | Today's Deal |
| All Singles* | | 28.9 Million* | Start Zoosk for FREE |
When you join Zoosk, you have access to date prospects in over 80 countries, and you can send instant messages, likes, or virtual gifts to catch someone's attention. Whether you're seeking a relationship or just want to chat, Zoosk is a fantastic place to get started.
Try Something Old & Something New to Avoid Feeling Blue
At DatingAdvice.com, we pride ourselves on keeping up with the ever-changing dating industry and informing singles about the resources at their disposal. When a new dating site pops up on our radar, we rush to explore its budding community and review its most notable features for our readers.
When choosing the best new dating sites and apps, we didn't just look at the launch date — we also looked at its potential for staying power. Many new names in the industry won't be around for long, so we wanted to choose the most promising and innovative options to help singles have real conversations and make matches that lead to dates.
The new online dating websites on this list have grabbed our attention because of the imaginative ideas, niche audiences, and streamlined functionality behind them. If you want to try something new, we hope you enjoy using these groundbreaking platforms as much as we enjoyed testing them out for you. Choose wisely!
Advertiser Disclosure
DatingAdvice.com is a free online resource that offers valuable content and comparison services to users. To keep this resource 100% free, we receive compensation from many of the offers listed on the site. Along with key review factors, this compensation may impact how and where products appear across the site (including, for example, the order in which they appear). DatingAdvice.com does not include the entire universe of available offers. Editorial opinions expressed on the site are strictly our own and are not provided, endorsed, or approved by advertisers.
Our Editorial Review Policy
Our site is committed to publishing independent, accurate content guided by strict editorial guidelines. Before articles and reviews are published on our site, they undergo a thorough review process performed by a team of independent editors and subject-matter experts to ensure the content's accuracy, timeliness, and impartiality. Our editorial team is separate and independent of our site's advertisers, and the opinions they express on our site are their own. To read more about our team members and their editorial backgrounds, please visit our site's About page.