25 Key Dating App Download Statistics (Dec. 2023)
Singles can learn a lot from studying dating app download statistics and active user numbers. These stats can act as a window into the online dating scene and let singles know where the hottest swiping action is.
The only problem is that not every online dating company is forthright about the numbers in its database. So our dating experts had to get a little creative and extrapolate from web analytics to determine approximately how many downloads a dating app has seen since its launch.
We have ranked the most popular dating apps based on total downloads and provided additional online dating statistics to help singles get the lay of the land.
1. Tinder: 530 million downloads
The app statistics for Tinder are truly impressive as it's widely considered the best in the business. Since its launch in 2012, Tinder has been downloaded over 530 million times and created 75 billion matches. That's billion with B.
Tinder's popularity stems from its ingenious swiping system. This online dating app was the first to require two users to like each other's profile before they could communicate, and its photo-based swiping has become the gold standard for many mobile apps.

A Tinder user can swipe, match, and chat for free. However, some highly driven singles have found it's worth upgrading to Tinder Plus or Tinder Gold to enjoy more premium features and get a leg up on the competition.
2. Badoo: 493 million downloads
Badoo has been breaking records in the online dating industry for over a decade now. In 2016, Badoo became the first dating app to surpass 100 million downloads on Google Play.
Today, the online dating app boasts having 493 million users in 190 countries. The global app is particularly popular in Brazil, Mexico, France, Italy, and Spain.

A Russian entrepreneur named Andrey Andreev launched Badoo in Moscow in 2006, and it has grown into a global phenomenon. The dating app sees over 12 billion swipes and adds about 400,000 new members to its user base every day.
3. Adult Friend Finder: 103 million downloads
Adult Friend Finder launched in 1996 as one of the hottest places for sexy adults on the web. And it has only grown larger and more popular with time. Today, the AFF community boasts having over 103 million registered users around the world.
AFF members come from all walks of life, but they share a common interest in hooking up with an attractive stranger.
Relationships: Hookups Only
Match System: Filter by distance, gender, encounter
About the App: With 77 million members, Adult Friend Finder is one of the most popular apps for the sex community. It doesn't matter if you're single or part of a couple — you're welcome to search for sex buddies, threesomes, and other casual encounters. And you won't have to pay to do that as well as download the app, fill out a profile, and chat.
Browse Free: View Profiles Now
| User Base | Gender Ratio | Popularity (Visits/Mo.) | App Cost |
| --- | --- | --- | --- |
| All Singles* | | 25.5 Million* | Free Download |
Yes, just like AFF members, we're playing it a little fast and loose with this one. Adult Friend Finder is a casual dating website that's available with no downloading necessary. But it deserves a top ranking on any list of popular dating platforms because it has surpassed the impressive milestone of 100 million members.
4. Bumble: 100 million downloads
Bumble caused a buzz in 2014 as the first dating app to put single women first. The app requires female users to make the first move (i.e. send the first message) once they've matched with a male user. This woman-led company has endorsed women-led online dating, and it has been a roaring success.

The Bumble team announced that the app had celebrated its 100 millionth download in 2020. This was a major achievement for Bumble, and it further legitimized the online dating industry in the global market. Fewer than 400 apps have reached over 100 million downloads on Google Play.
5. Happn: 95 million downloads
Happn is a popular dating app for busy professionals in big cities or suburbs. The app uses the location data on a mobile device to identify where local singles cross paths in their daily lives. If two users frequent the same bookstore or coffee shop, Happn recommends the potential match and lets them know they already have something in common.
Since February 2014, Happn has been downloaded over 95 million times. It is particularly popular in major cities in the U.S., Canada, and Europe.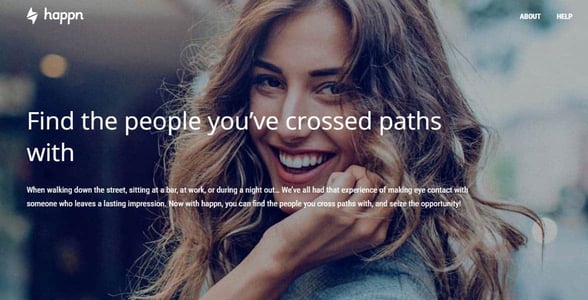 Happn ranks as one of the most popular online dating apps by a long shot if you go by dating app download statistics. However, it's important to look at current online activity to see how many people who install the app actually stick around to create matches and chat. The Happn dating app sees about 10 million daily active users.
6. Plenty of Fish: 50 million downloads
Plenty of Fish drew inspiration from the old saying "there are plenty of fish in the sea" when it launched in Canada in 2003. The online dating site and app have promoted completely free chatting tools and attracted a large and diverse membership base as a result.
The POF community boasts having more than 150 million members, and it sees around 4 million active users each day. The POF app has been downloaded more than 50 million times, according to the play store. These basic statistics speak to the power of free chat features to bring people together.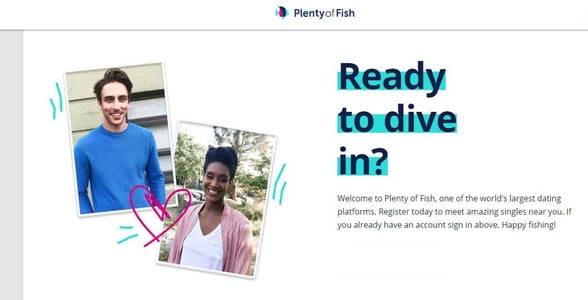 Plenty of Fish is a 100% free online dating service. It doesn't charge POF members a fee for mixing and mingling, and that's the secret to its popularity. Singles all over the world can explore plenty of matches and conversations on POF without paying anything.
Every week, POF is responsible for making over 57 million matches in 20 countries.
7. OkCupid: 50 million downloads
As a totally free dating platform, OkCupid supports a lively, dynamic, and fast-growing membership base. All users can set up a dating profile, answer personality quiz questions, and send private messages with a basic free membership.
According to internal stats, OkCupid members exchange over 7 million messages in an average day. The dating app has been downloaded over 50 million times.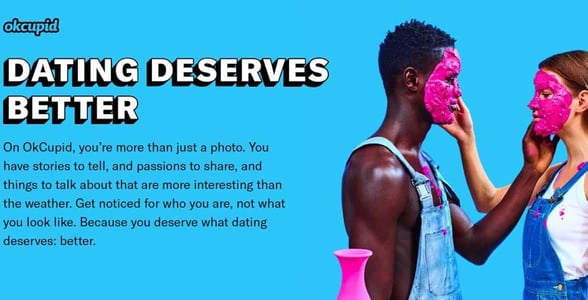 OkCupid launched its dating website in 2004 and became the first major dating company to release a mobile app in 2012. It's an old-school company that isn't afraid to embrace new-school tools. Plus, the team has promised to provide forever free messaging to all users, so it has won over many people in the dating world.
8. Zoosk: 38 million downloads
In 2007, Zoosk took a page from Facebook's playbook and used a variety of social networking tools to bring single people together. The dating platform grew rapidly from a Silicon Valley startup to one of the most successful dating companies in the world.
The Zoosk app has seen 38 million downloads. About half those downloads come from the U.S., which accounts for $165 million of its annual revenue.
Relationships: Casual Dates, Relationships
Match System: Search for and receive matches
About the App: Zoosk is the number one app for finding dates, and if you sync up your Google+ or Facebook account, you can have a profile in seconds. The app has 38 million members and will deliver matches to your inbox on a daily basis based on your behavior such as who you search for, like or don't like, and message. The Carousel is another section for matching (tap the heart if it's a yes and the X if it's a no).
Browse Free: View Profiles Now
| User Base | Gender Ratio | Popularity (Visits/Mo.) | App Cost |
| --- | --- | --- | --- |
| All Singles* | | 3.8 Million* | Free Download |
Zoosk is a legit dating platform where singles don't have to form a match or pay a fee to say hello. The app has a good balance of free and premium features to ensure people can stay safe and have a good time. When all is said and done, Zoosk members exchange about 3 million messages a day.
9. Grindr: 27 million downloads
Grindr is widely known as the most popular gay dating app in the world. And the numbers back that up. Since launching in 2009, the Grindr app has seen over 27 million downloads, and it has nearly 4 million daily active users.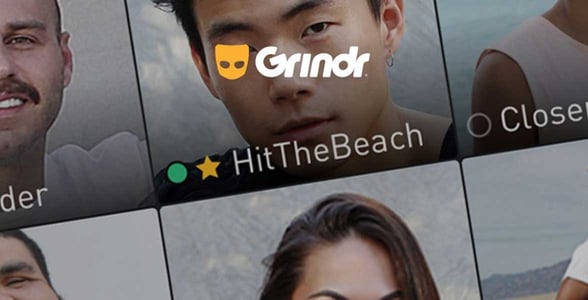 A Grindr app user must identify as a single man seeking men, and he must upload a profile picture to show he's the real deal. However, Grindr allows its members to crop out or obscure their faces so their real identity can remain anonymous while swiping on the gay dating app.
Sex-driven men should note that Grindr has rules against sexually explicit or nude photos being shared on the grid, but it allows such photos to be exchanged between Grindr Xtra members in private chats.
10. Hinge: 23 million downloads
Hinge has been called the relationship app and the anti-swiping dating app. I call it the place where I met my husband. Hinge is a free dating app where quality matters and users are in complete control of their matches, so it's no wonder it's become so popular.
Since it launched in 2012, Hinge has helped a ton of people meet their match (I'm one of them!) and currently about 5.5 million members explore the local dating scene on this mobile app.


Hinge operates under the motto "designed to be deleted" because its goal is to help new users meet people, go on dates, and get in a serious relationship ASAP. The Hinge team isn't trying to keep an app user in an endless swiping vortex, so it solicits first date feedback and offers interest-based matching to strengthen online connections.
11. Coffee Meets Bagel: 21 million downloads
Coffee Meets Bagel has made a name for itself as a quality-driven dating app for young adults who are tired of hookup culture. The CMB app launched in 2012 to instill greater civility in matches and encourage online daters to get to know one another on a deeper level.
So far, Coffee Meets Bagel has been downloaded about 21 million times and created over 98 million mutual matches.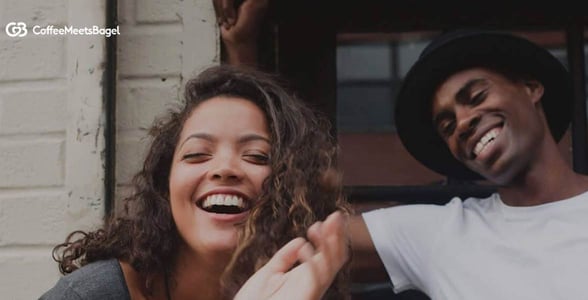 Coffee Meets Bagel curates a list of potential match options based on an individual's interests, background, and like history. The online dating app limits the number of dating profiles a person can view and like in a single day, and it hides inactive conversations, so app users aren't overwhelmed by endless swiping lists and a barrage of messages.
12. Hily: 20 million downloads
Hily is a smart dating app that uses advanced algorithms to verify its users, predict personal compatibility, and spark conversations that lead to dates. The Hily team pays attention to trends in the online dating scene and has created icebreakers and video call features to meet singles where they're at.
Within three years of its launch, Hily exceeded 20 million downloads and earned a 4.4-star rating from users.

Hily uses technology to bridge the distance between singles, and its intuitive design has helped create new relationships in the modern age. During the coronavirus pandemic, Hily conducted a survey to see how its users were coping with the new normal. The results found that 70% of Hily users are open to virtual date ideas through video or texting.
13. SCRUFF: 20 million downloads
SCRUFF is an up-and-coming gay dating app designed to get guys swiping and chatting almost as soon as they hit download. Seriously, the registration process takes less than a minute, and then new members receive a stack of dating profiles based on their date preferences.
Whether it's supporting private chats, promoting LGBTQ+ events, or hosting a queer quiz show, SCRUFF empowers gay, bisexual, trans, and queer men to make fast connections with one another.


Within its first 10 years on the market, SCRUFF was downloaded over 20 million times, and it has received over 100,000 positive reviews.
"Great app for chat, meet and grab a drink. And it's not all about sex," a Google Play user said in a SCRUFF review. "Guys here love to play!"
14. Match: 10 million downloads
Founded in 1995, Match.com has the distinction of being the longest-running dating platform in existence. So it makes sense that its audience size is huge because it has had longer to grow.
Match sees about 13.5 million monthly visitors, and its dating app has been downloaded over 10 million times. Over 25,000 new members join the Match database every day.
Relationships: Fun Dates, Serious Relationships
Match System: Browse by location, age, interest, and more
About the App: Available via the App Store and Google Play, Match is a fantastic app for dates and relationships. With a user base of 30 million singles, Match is where you'll have a high chance of success. It's free to download, create a profile, search for date prospects, and receive compatible matches based on personalized preferences. Free members can also chat with select members and send unlimited likes.
Browse Free: View Profiles Now
| User Base | Gender Ratio | Popularity (Visits/Mo.) | App Cost |
| --- | --- | --- | --- |
| All Singles* | | 13.5 Million* | Free Download |
Match is completely free to download, and its free membership never expires, so online daters can explore this quality dating scene at no cost. Match has a premium member option, but it's not necessary to upgrade to meet people here. In fact, Match provides free chat options between highly compatible members in each other's Top Picks list.
15. HER: 10 million downloads
A lesbian woman founded the HER dating app in 2013 as a gift to the LGBTQ+ community. Lesbian, bisexual, transgender, and queer women can download HER for free to escape the mainstream dating scene and enjoy an all-female social space.
HER has been downloaded over 10 million times, and approximately 60% of its members hail from the United States.


HER offers a variety of ways for single women to connect with each other. Female users can comment on photos and posts in their newsfeed, chat with mutual matches, and send RSVPs to local events, including pride parades, book clubs, barbecues, and parties hosted by LGBTQ women.
The HER events calendar has been understandably quiet during the COVID-19 pandemic, but we expect things will pick back up in the coming years.
16. eharmony: 6 million downloads
The eharmony dating website has been well-established for over 20 years now, However, the online dating app has been on the scene for less than 10 years and has struggled to gain traction among millennials.
Overall, the eharmony dating pool has over 33 million members in 200 countries. Our experts estimate the eharmony app has been downloaded 6 million times.
Approximately 30% of eharmony's user registrations come from mobile users. The app is downloaded about 10,000 times per day.
Relationships: Long-Term Relationships, Marriages
Match System: Get daily match suggestions
About the App: Responsible for 4% of marriages in the U.S., eharmony is among our top picks for relationship-minded heterosexual singles. To become a member, add the app to your phone (iOS or Android) and then take its 29 Dimensions® of Compatibility Matching Quiz. It's absolutely free to do both these things — as well as receive matches and communicate during other special events.
Browse Free: View Profiles Now
| User Base | Gender Ratio | Popularity (Visits/Mo.) | App Cost |
| --- | --- | --- | --- |
| Straight Singles* | | 4.1 Million* | Free Download |
The eharmony app has staked a claim as a more mature alternative to mobile apps like Tinder. It stands out from other apps in the swiping scene because of its in-depth personality test, compatibility ratings, and paid subscription model.
Over the years, eharmony has built its reputation as a love-driven matchmaker for serious daters. Its smart algorithm has connected more than 2 million couples in the U.S., so it may be worth seeking quality over quantity here.
17. JACK'D: 5 million downloads
JACK'D is an open-ended dating app geared toward gay and bisexual men of all types. Its members run the gamut in terms of age, race, religion, and sexual experience. Some are serious about finding a potential partner, while others are more interested in chatting up hotties and arranging casual hookups.
The JACK'D community spans 2,000 cities in 180 countries. According to web analytics, the app has been downloaded at least 5 million times.

The JACK'D app offers anonymous swiping and dating profile insights (including an app user's response rate) to help singles find their way to a great match. Plus, gay singles can turn on the travel matching feature if they're planning a vacation or business trip and want to meet local singles along the way.
18. Elite Singles: 2 million downloads
Busy professionals have flocked to Elite Singles to raise the caliber of their online dating experience. This premium dating site and app have fostered many sincere connections based on shared values.
Elite Singles has about 2 million active users, and about one-third of members are between 25 and 34 years old. Over 381,000 people join EliteSingles every month.
Relationships: Deep Relationships
Match System: Search by education, lifestyle habits, age
About the App: Commitment-minded, professional daters will feel at home with EliteSingles, which can be downloaded for free in the App Store or Google Play. Not only is everyone looking for a long-term partner, but 80% of members hold a bachelor's, master's, or doctorate degree. EliteSingles sees 210,000 visitors and 2,500 users finding love every month, so it's one of the fastest growing and most reputable apps.
Browse Free: View Profiles Now
| User Base | Gender Ratio | Popularity (Visits/Mo.) | App Cost |
| --- | --- | --- | --- |
| All Singles* | | 290,000* | Free Download |
More than 13 million people have given Elite Singles a try over the last decade, and the dating company estimates that it has introduced around 2,000 couples per month. The network currently reaches 20 countries, including the U.S., the U.K., Canada, Australia, and South Africa.
19. Ashley Madison: 2 million downloads
Ashley Madison made a scandalous name for itself in 2001 by encouraging its members to search for affair partners and engage in extramarital sex. It is currently the most popular dating service for married people.
Every swipe on Ashley Madison can reveal a new romantic avenue with single and not-so-single folks. Ashley Madison adds 15,000 new members every day, and the dating app has been downloaded over 2 million times.
Relationships: Hookups, Casual Dates, Affairs
Match System: Search by age, location, appearance, and more
Our Experts Say: "With its massive user base and advanced privacy features, Ashley Madison is the #1 site for discreet hookups, dates, or relationships..." Full Review »
Browse Free: View Photos Now
| | | | |
| --- | --- | --- | --- |
| User Base | Gender Ratio | Popularity (Visits/Mo.) | Today's Deal |
| All Singles & Attached* | | 65 Million* | Start Now for FREE |
Whether you're looking for an affair, a hookup, or a flirty chat, you can find plenty of viable options on Ashley Madison. The married dating site has over 80 million users in 45 countries. It is free to download on Google Play and the App Store.
20. BlackPeopleMeet: 1 million downloads
BlackPeopleMeet had been rocking matches between Black singles for about 15 years when the dating website expanded into the mobile industry. The BPM app launched just a few years ago, but it has already been downloaded over 1 million times and gotten rave reviews.
Relationships: Dates, Relationships
Match System: Browse by city, hobbies, age, etc.
About the App: Since it was founded in 2002, BlackPeopleMeet has established the largest online dating community for black and biracial singles of all orientations. Every month over 1.4 million daters use this simple and safe platform to connect with African-American singles in their area. You can download the app and create a profile for free to find new friends, hot dates, and love interests online.
Browse Free: View Profiles Now
| User Base | Gender Ratio | Popularity (Visits/Mo.) | App Cost |
| --- | --- | --- | --- |
| Black Singles* | | 1.4 Million* | Free Download |
For almost 20 years, BlackPeopleMeet has supported Black love and provided a nonjudgmental space where like-minded daters could come together.
"If you're looking for someone to meet, this is the perfect site," said Michael F. in a BPM review. "This is the best option, and it comes with a mobile app that you can browse on the go."
21. ChristianMingle: 1 million downloads
For almost 20 years, ChristianMingle has answered the prayers of Christian singles searching for love and marriage. The dating website and app has been a helpful guide to Catholic, Protestant, Evangelical, and other faith-driven singles.
ChristianMingle has over 16 million members altogether, and more than 1 million people have downloaded the Christian Mingle app.
Relationships: Dates or Serious Commitments
Match System: Search and receive matches
About the App: Christian dating doesn't get any better than on ChristianMingle. With the free app, available on any iOS or Android device, you can browse the more than 2.4 million Christian singles. Since you already know that everyone is on the same religious page, you can focus on other things like age, distance, hobbies, and education to make a deep connection with someone of the same faith.
Browse Free: View Profiles Now
| User Base | Gender Ratio | Popularity (Visits/Mo.) | App Cost |
| --- | --- | --- | --- |
| Christian Singles* | | 2.4 Million* | Free Download |
Christian Mingle offers a values-driven dating space where members share similar beliefs, traditions, and goals. That makes for a strong foundation for a dating relationship.
According to survey data, Christian Mingle has inspired more Christian marriages than any other online dating site or app.
22. OurTime: 114,000 downloads
OurTime has been the top dating platform in the senior dating category since its establishment in 2011.
The OurTime dating site expanded into a fully functional dating app in 2018 to bring greater value to senior singles of the world. OurTime app has seen over 114,000 downloads, and the overall platform has more than 1 million active users.
Relationships: Dating and Relationships
Match System: Search by age as well as zip, gender, more
About the App: Made just for single seniors, OurTime is one of the most well-known niche dating apps. It's a fun and straightforward app with simple swiping features. Once two people swipe right on each other, they can communicate. For more match options, visit the Connect and I'm Interested pages. Plus, if you sign up for OurTime, your profile will appear on its sister site, SeniorPeopleMeet, for free.
Browse Free: View Profiles Now
| User Base | Gender Ratio | Popularity (Visits/Mo.) | App Cost |
| --- | --- | --- | --- |
| Mature Singles (50+)* | | 1.4 Million* | Free Download |
OurTime has an average rating of 3.6 stars on Google Play and 3.8 stars on the App Store.
"Easy-to-use and reliable app," Linda P. said in an OurTime review. "I have looked at several dating sites, and none are perfect, but this one ticks a lot of boxes."
23. JDate: 108,000 downloads
As a Jewish dating website, JDate has been in the matchmaking business since 1997. The desktop site has inspired countless Jewish relationships and marriages, and the Jewish dating app has sped up the matching process.
The JDate app launched in 2014, and it has been downloaded about 108,000 times since then.

JDate is hands down the most popular way for Jewish singles to meet a potential partner. According to a third-party survey, about 75% of Jewish online daters have created a profile on JDate, and the dating platform is responsible for over half of new Jewish marriages that started online.
24. SilverSingles: 100,000 downloads
SilverSingles has been in the online dating business for a long time. The dating platform can trace its history back to 2002 when it was known as PrimeSingles.net.
The SilverSingles dating app has been downloaded over 100,000 times, and it boasts having over 50,000 paid members.
Relationships: Serious Relationships
Match System: Filter by age, height, and distance
About the App: SilverSingles runs an exclusive dating community for single men and women over the age of 50. Its database includes recently divorced singles as well as singles who have never been married. The dating app matches people based on their similarities in age, lifestyle, hobbies, and relationship goals. If you want to show your interest in someone online, you can send a smile, message, or request that they upload a profile picture. Either way, they'll know you care.
Browse Free: View Profiles Now
| User Base | Gender Ratio | Popularity (Visits/Mo.) | App Cost |
| --- | --- | --- | --- |
| Singles Over 50* | | 800,000* | Free Download |
SilverSingles is a tried-and-true resource for senior men and women. The niche site has grown steadily by appealing to singles who are over 50 and interested in finding a real romantic connection.
25. BeNaughty: 50,000 downloads
Last of all, BeNaughty has seen remarkable growth as a casual dating site and app. Sex-driven singles have let go of their inhibitions and upped their dating game thanks to its free chat rooms.
It is completely free to register a BeNaughty account and view potential matches. Plus, all female users can send unlimited messages for free, while male users are limited to sending five free messages and a mass text called a FlirtCast.
Relationships: Casual Encounters
Match System: Sort profiles by zip code, appearance, more
About the App: On BeNaughty, everyone is interested in finding sexual encounters with no strings attached. Within a couple of minutes, you can get a profile up for $0. Free membership includes unlimited photos, browsing, matches, winks, and chats. BeNaughty also has an advanced anti-fraud system to ensure your personal information stays private while you flirt online.
Browse Free: View Profiles Now
| User Base | Gender Ratio | Popularity (Visits/Mo.) | App Cost |
| --- | --- | --- | --- |
| All Singles* | | 13.3 Million* | Free Download |
BeNaughty has over 13.3 million active users in its dating pool, and the mobile app has been downloaded over 50,000 times on Google Play. Unfortunately, due to its X-rated content, BeNaughty has temporarily removed its Android app from the Play Store. The mobile-friendly site is still operational and available to both Android and iOS users.
Where Can I Download Dating Apps?
That depends on what kind of mobile device you're using to download a dating app. Android users can download dating apps at the Google Play Store, while iOS and iPhone users can get dating apps from the App Store. The most popular dating apps will typically be available in both these places, but they may also have a direct download option or mobile-friendly web browser access to give active users more options.
Do I Have to Pay to Download the Tinder App?
No, it is completely free to download the Tinder app and use it to meet new people. A person can set up a Tinder profile, swipe on local profiles, and send messages to their matches. All for free.
Tinder is a 100% free dating app where millions of single people mix and mingle every day.


A free Tinder account will never expire, and it provides everything a person needs to explore the local dating pool. However, some users choose to upgrade to Tinder Plus or Tinder Gold because they want to be able to send unlimited likes and swipe in another state or country.
The Tinder Passport feature allows members to expand their potential match list beyond a 100-mile radius, and it is useful for singles who travel often for work or pleasure.
Tinder has over 6.6 million paid subscribers worldwide, and stats on annual Tinder revenue rank it the highest grossing non-gaming app ever.
What Do Tinder Statistics & Analytics Say About the App?
The Tinder app has some undeniably impressive usage statistics. The online dating app is available in 40 languages and 190 countries. It has been downloaded 530 million times and created over 75 billion matches since 2012.
If you're going by sheer audience size and match rate, Tinder is easily the most successful app for singles seeking local romance.
Of course, not every Tinder match adds up to a Tinder date, and that's why the online dating app has kept track of real-world stats as well as user base numbers. Every week, Tinder users go on over 1.5 million dates. That may sound like a lot, but when you consider that the Tinder app records over 1 billion swipes per day — Tinder doesn't have such a great swipe-to-date record.
Which Social Apps Work Best for Senior Singles?
As singles reach a certain age, it becomes increasingly difficult for them to meet new people and form new friendships and relationships in their everyday routine. That's why they go online — to go beyond their own social circle and find like-minded singles in their age group.
Apps like Tinder tend to cater to a younger crowd of 20-somethings and 30-somethings, but senior dating sites and apps provide a more mature dating space where people in their 50s, 60s, 70s, and up can thrive.
OurTime is a good example of a social dating app that brings seniors plenty of promising date options.
Relationships: Dates and Relationships
Match System: Search by profiles by zip and more
Our Experts Say: "OurTime is well-known in the over-50 dating crowd, particularly because it has a ton of helpful search features and an easy layout..." Full Review »
Browse Free: View Photos Now
| | | | |
| --- | --- | --- | --- |
| User Base | Gender Ratio | Popularity (Visits/Mo.) | Today's Deal |
| Mature Singles (50+)* | | 8.9 Million* | Over 50? Try It FREE |
As you can see, OurTime has many helpful matchmaking tools and communication options to support single seniors in search of love. As part of the People Media network, the dating platform has over 9 million monthly active members, and it adds another 20,000 members every week.
What's the Most Popular App for Casual Sex?
Although technically not a dating app, Adult Friend Finder is the hottest place to pick up a date on your phone, laptop, or computer. This online dating site provides a mobile-friendly interface with blogs, forums, videos, and private chat rooms full of X-rated content.
Relationships: Hookups Only
Match System: Search by location, interest, more
Our Experts Say: "Make no mistake: this site isn't about making friends, it's about finding hookups and casual encounters. No adult site has a larger or more active user base of those seeking discreet fun..."
Browse Free: View Photos Now
| | | | |
| --- | --- | --- | --- |
| User Base | Gender Ratio | Popularity (Visits/Mo.) | Today's Deal |
| All Singles* | | 25.5 Million* | Try It 100% Free |
Online daters tend to be more engaged when they're in a well-populated dating pool. And AFF ups the ante by offering racy content as well. AFF members can browse the hookup site anonymously and use the search tools to find a potential match nearby.
Adult Friend Finder supplies tons of date options in a sexually charged atmosphere, so it's no wonder so many horny men and women have created a personal ad and joined the fun.
Follow the Data to Find Your Ideal Match on an App
Online dating is basically a numbers game. Singles have more swiping and chat options on a popular dating site or app, and that gives them more opportunities to make a romantic connection that can lead to a first date, a serious relationship, or even marriage.
By compiling dating app download statistics, our experts endeavored to outline the best of the business and show how the most popular dating apps stack up against each other. That way, online daters know where to go to meet a ton of new people and give themselves the best chance of finding what they're looking for in the modern dating scene.
The dating sites and apps on this list have successfully brought millions of singles together, and they can open up a world of romantic possibilities to app users once they click download. Best of luck!
Advertiser Disclosure
DatingAdvice.com is a free online resource that offers valuable content and comparison services to users. To keep this resource 100% free, we receive compensation from many of the offers listed on the site. Along with key review factors, this compensation may impact how and where products appear across the site (including, for example, the order in which they appear). DatingAdvice.com does not include the entire universe of available offers. Editorial opinions expressed on the site are strictly our own and are not provided, endorsed, or approved by advertisers.
Our Editorial Review Policy
Our site is committed to publishing independent, accurate content guided by strict editorial guidelines. Before articles and reviews are published on our site, they undergo a thorough review process performed by a team of independent editors and subject-matter experts to ensure the content's accuracy, timeliness, and impartiality. Our editorial team is separate and independent of our site's advertisers, and the opinions they express on our site are their own. To read more about our team members and their editorial backgrounds, please visit our site's About page.