12 Safest Casual Dating Sites (Dec. 2023)
Sometimes it can feel daunting to find safe casual dating sites because so many networks have issues with scam artists and bots. As casual dating encounters became more accepted and desirable, a number of dating apps and sites rushed to cater to casual dating singles. Some developed a bad reputation for supporting frauds.
The good news is that, because hookups and casual flings have become more popular, the quality of sites that cater to that dating style has improved. 
Read on to find out what our experts have to say about the safest websites out there for casual dating.
Best Overall Safe Casual Dating Websites
Our experts agree that these online dating platforms offer the best overall features for people seeking casual dates or casual sex. They offer a variety of features to minimize fake profiles and scammers, as well as to keep your dating life private.
You may not have considered Ashley Madison for casual dating if you aren't a married person, but the site isn't solely for married people. Singles can benefit from the safety features and privacy benefits that Ashley Madison has to offer, as long as they're willing to date people whose relationship status may be a bit murky. The majority of the site's membership is made up of married people, similar to that of sites like Victoria Milan. 
It's true that Ashley Madison was the target of a major hacking scandal several years ago, when priceless active user data was released to the public. Since that time, however, the dating site went all-in on keeping its member info secure.
Site encryption, database encryption, and other measures keep hackers from accessing sensitive personal information. On the user side of things, you can keep your photos private, blur your face and other identifying features, and use the Panic Button tool to navigate you away from the dating platform to avoid prying eyes. Ashley Madison's premium membership offers even more privacy benefits for casual dating members.
BeNaughty is a casual dating site that puts intention right up front: don't be shy, don't dance around what you want. One way the platform supports that openness is by offering security features to weed out fake profiles and to keep its members' information private. All members get a certain level of security. The platform keeps its user information as secure as it can be and uses email verification as a basic level of protection against scams.
If you really want to go all in on the security, however, you'll want to purchase one of the premium membership options that BeNaughty offers. The Security Package offers full HTTP encryption, browser history clearing, and the ability to browse incognito, among other perks. The Premium Dater subscription bundles those security features with the unlimited contact access of another BeNaughty premium package to provide greater privacy and better chances to connect with someone for a casual relationship.
Adult Friend Finder (AFF) launched in the '90s, which has given the platform plenty of opportunities to mess up on casual dating safety and learn from its mistakes. The unofficial official website of local hookups offers a few key features that help users stay safe from scammers and fake profiles. 
AFF uses email verification as a basic step for account setup, which isn't necessarily the strongest method of identity verification out there, but it is one that allows people to stay anonymous. You need a functioning email address and preferably a picture to get your groove on at Adult Friend Finder.
Another feature aimed at keeping chatbots and scams under control is content moderation. While you can get as spicy as you want on the platform, moderators constantly watch for problems, including harassment, scammers, and so on. So you can chat up strangers and set up a hookup without worrying.
OneNightFriend is a newcomer to the casual encounter market, but the site offers everything you'd need to find your next one-night stand, including a few key security features. Premium members have the option to browse incognito, which means that none of the people whose profiles you check out will know you saw them. This can definitely come in handy if you don't want to tip your hand too soon.
Another feature that OneNightFriend brings to the table to help you stay safe is the Ask For a Photo tool. While you don't have to include a profile picture on your account, OneNightFriend definitely encourages it. But how can you know if a person's dating profile picture is legit? Ask them for a photo at the moment. The feature helps singles put their minds at ease when it comes to scammers and fake profiles, and you can be sure that the person you're talking to is really there and really interested.
FriendFinder-X is a very understanding platform if you're looking to get the most out of your single life without drawing attention to yourself or taking the risk that your friends will find out. The hookup site makes it easy to keep your information secure in a few different ways. You don't have to use your real name or anything like it, and in fact you're encouraged to come up with something unique. You also don't have to put your photos all the way out there, since FriendFinder-X offers private photo albums. 
If you're concerned about a potential match you encounter on the site, and you want to make sure that they're legit, the webcam chat function can help. It gives you the chance to not just make sure that they are who they say they are, but also get down to sexy business before you meet in person.
6. SaucyDates
SaucyDates is all about adult dating, and consistently takes top marks in just about any Best Hookup Site countdown. The site sets itself apart from a lot of the competition by constantly updating its security and privacy features. The free dating site recognizes that its platform is particularly attractive to scammers, so the team behind it has developed key tools to keep things under control.
The block and report systems aren't separate. Instead, every time you block someone, it reports their profile for review by dedicated moderators. In addition, the platform uses language recognition and other tools to identify potential scammers and alerts users to the possibility that who they're talking to isn't legit. The site even hosts a guide for identifying and avoiding romance scammers, so users know what to look for and how to stay safe.
7. Seeking.com
Luxury dating isn't new, but the digital age brought it to online platforms. Seeking.com, formerly known as Seeking Arrangement, takes its job of connecting wealthy benefactors and luxury-loving sugar babies seriously. Seeking makes it easy to stay anonymous or reveal yourself, just as you want.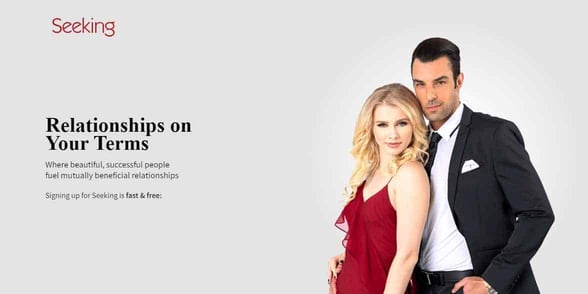 For would-be sugar daddies and mommies, privacy features include the ability to blur or make pictures private so only the people you want get to know who you really are. Wealthy patrons can also choose to disclose or withhold other details including their budget, their earnings, and so on.
For sugar babies, anonymity is a key benefit, but Seeking lets you get an idea of your prospective match's resources and other details ahead of time. Diamond and platinum members, as well as verified members, have to jump through hoops to prove their status.
8. Pure
Sex positivity can only really come about when potential partners are open and honest, and can trust each other. Pure is one hookup app that makes it extremely easy to get across what you're looking for and who you are, so you can scratch that itch. There are no complicated profiles to set up, and you don't have to tap dance around what you're looking for. Instead, you simply download the app, using your Apple, Google, or Huawei ID, and start posting to the ad board.

All Pure needs to know about you is your gender identity and your sexual orientation. That helps to serve up the ads you create to the right audiences on the app, so you can get responses. It also serves up ads in your area that might meet with your approval. The ads disappear within 24 hours, keeping you anonymous but helping you reach the right person for what you crave.
9. HUD
Consent and honesty are important when it comes to casual dating, and HUD puts those values front and center in a casual dating app that cares. The sex-positive hookup app promotes honesty and safety through strict content moderation policies and a zero-tolerance policy for harassment or abusive behavior on the platform. The app requires you to verify your account either through a confirmation text or Facebook, adding another layer of security and prevention against scammers.
HUD also keeps your exact location a secret, though the app uses your location services data to serve up matches that are close to you. Finally, The Hook Up, HUD's blog, offers advice on safety and other issues that come up in casual dating .
Safe Casual Dating Websites for LGBTQ+ Singles
For LGBTQ+ singles, looking for a potential partner can come with some heavy-duty risks: being outed, harassment, and other dangers and risks that don't happen as often for non-queer singles. These platforms use robust content moderation and other features to create safe spaces for everyone, whether gay, lesbian, bisexual, transgender, or questioning.
LesbianPersonals takes its duty of creating a safe space for queer women seriously. The dating site for woman-loving women moderates content to keep harassment down, and focuses on a community atmosphere rather than a one-to-one matching system. Users mostly participate in the personal ad boards or chat rooms, and, once you're comfortable with another member of the lesbian dating platform, you can take things private.
The team behind LesbianPersonals takes safety seriously, and keeps track of the content that users put on the site to make sure that there are no trolls, no harassers, and no fake profiles to scam the membership. Since the emphasis is on community, it's easier to catch fakes before they sink their claws in.
Some gay men don't just want to find a hookup, that's why MenNation offers a healthy dose of community to go with the casual sex. Erotic content spices things up from the very beginning, so it's definitely a site for meeting Mr. Right Now as opposed to the love of your life. But MenNation still offers a safe and secure atmosphere for queer men who don't necessarily want to be out, loud, and proud.
You can keep your identity under wraps on the platform, choosing which questions to answer or not. The platform is exclusively for men seeking other men, though gay couples looking for a third (or fourth, or fifth) are as welcome as singles. MenNation uses verification and content moderation to keep down fake profiles and other issues and lets users stay as private or as public as they want.
12. GayArrangement
Not every sugar daddy wants a female sugar baby, and not every male sugar baby is in the market for a sugar mommy. GayArrangement caters to gay sugar dating fans, and the built-in features help gay daddies and gay boys keep things discreet.
The strict registration process and verification are the first steps to keeping things discreet. GayArrangement wants to ensure that the experienced men and younger gay babies are the real deal, which takes time. The site also uses the most up-to-date privacy and security features to keep content on the site from falling into the wrong hands.
13. HER
As a woman-only dating app created by a lesbian woman, HER is about community as much as it is about matchmaking. It may not be the very best hookup app for lesbian singles, but HER definitely takes top marks for creating a safe atmosphere and community for exploring sapphic love.

The online dating app features content moderation and a robust reporting system that makes it easy to identify and remove any bad actors. It also offers account verification so users can make themselves more trustworthy to others.
HER also offers a lot of options for self-identification, making it easy to be as upfront or private and discreet as you want about yourself. You can even choose to go incognito and browse profiles on the site without revealing yourself.
Safe Casual Dating Websites for Senior Singles
Romance scammers often target senior singles, so the following platforms make it safer for older daters to meet and get to know each other without the risk of being scammed. 
SilverSingles ranks at the top on several lists for safe senior dating, in part because it has been around for a very long time. Launched in 2002, SilverSingles has had decades to perfect its platform to allow seniors to find each other without the risks that some mainstream dating sites include. 
Safety features include measures like SSL encryption, account verification, and fraud detection systems to weed out fake profiles and scammers early and keep account information secure. SilverSingles also maintains a thorough FAQ section on the site to help answer questions that the older audience may have about online dating safety and security. 
Like SilverSingles, OurTime takes the safety and security of its membership seriously. The dating platform has been around for a long time and makes it easy for seniors to register and use the site and app without compromising on safety. Email and ZIP code verification steps help to weed out scammers early on, and the customer service team takes care of any dubious profiles quickly and answers member questions. 
OurTime also puts tools in the hands of the seniors on the site, from in-depth articles about online dating safety to the ConnectMe feature, which allows users to text or have a phone call with a potential match without revealing their personal information. 
16. SeniorMatch
SeniorMatch has been in the senior dating scene for two decades, and like OurTime and SilverSingles, the platform makes the safety and security of its members one of its top concerns. SilverMatch offers account managers, a customer service feature that helps senior singles build a profile and walks them through the site tools to help them get a handle on the process before taking the plunge. The site also uses a variety of behind-the-scenes verification measures to prevent romance scams from taking root.

Customer service is very responsive, and SeniorMatch members can flag profiles and messages easily, to make sure that any potential bad experiences resolve quickly and easily. SeniorMatch may be slightly younger than the other two sites on the list, but it boasts the same high quality of security and privacy for its members, while keeping the dating pool age-appropriate.
FAQs: Which Dating Site or App is Safest?
As long as you make sure to stick with a legitimate dating site or dating app, you can be confident that there's some measure of security and verification happening. All legitimate dating sites and platforms use at least one or two methods to help keep information and members safe. Those may include email verification, ID checks, Facebook or other social media verification, or another method.
Our dating experts agree that the top pick for online dating safety is Match. It may not be the best choice if you're seeking a casual fling, but if security is your main priority, Match is the best option. The dating website and its companion app both incorporate verification and security measures to prevent fake profile issues and scammers.
More recently, Match partnered with Garbo to take dating safety a step further on Match Group platforms. Garbo offers users the ability to perform an affordable background check on just about anyone they may be considering as a date. Before you take the plunge with a potential partner, you can check in through the platform and make sure that the person you want to go out with is safe and legit.
Are Dating Sites Safer Than Dating Apps?
This is a complicated question because the two types of dating platforms work differently. Verification steps for a dating website are usually simpler than the steps on a dating app. An online dating site usually uses email verification as the primary way to verify user identification, which makes it easier for someone running a fake profile or dating scam to take advantage of the process.
Dating apps generally use methods like text verification, GPS information, and other built-in functions on the phone to help verify that you are who you say you are and live where you say you live. This offers a higher measure of security, but it's not foolproof. On the other hand, dating apps are more able to collect and harvest data that may go to third parties. Dating websites don't gather as much information on you.
Ultimately, your best option is to look into the verification steps a given dating platform uses, and how it collects and uses your data. If anonymity is important to you, then stick with dating sites and apps that incorporate features like database encryption and secure connections to keep your personal information from getting into the wrong hands. 
Is It Worth Paying for Extra Security or Verification Features?
This depends on how vulnerable you feel, and how important these features are to you personally. Many mainstream dating platforms offer the option to submit documentation like a passport or ID to verify that you are a real person, and that you are who you say you are. Romance scams are big business and weeding out potential scammers is an ongoing process for a lot of sites.
Some sites like Elite Singles incorporate steps into the most basic level of membership to weed out fake profiles and bot accounts.
Elite Singles uses a paywall as a way to prevent would-be romance scams. Making users pay to access messaging capabilities and requesting additional verification steps as part of the basic sign-up process both work well to keep people with bad intentions off the platform.
If you feel vulnerable, it's a good idea to verify your account and to stick with verified accounts for your dating pool. This way you can feel confident that the person you're talking to is genuine, and not just someone with a convenient photo and backstory, looking to catfish you.
Which Dating Sites and Apps Have the Best Video Features?
Video chat is a great way to get a feel for a potential match before you take the plunge and meet in person, so it's great that several online dating apps and site platforms have made this option available online. One surprising top pick for video chat is eharmony, which brought its video call feature online in 2020. As the COVID lockdown began, the dating site with a long-term relationship focus introduced video capabilities to help singles connect on a deeper level even when they couldn't meet in person.
Academic singles or professionally-minded daters have a video chat option with The League dating platform. The League offers its video chat option as The League Live, and it functions like a speed date, except that daters use their phones. You get three minutes with a potential match to spark conversation and see if the vibe is there, and then it's done. 


The Sauce puts video before everything else, setting itself apart from every other dating app by allowing users to build their profiles with short video content instead of multiple-choice questions or essays. Once you match with someone, you can continue sending quick videos back and forth until you're ready to meet.
A lot of dating sites and apps have brought video chat options online in the past two years, whether in response to COVID lockdowns or just because that feature is more in-demand by singles, especially as Gen Z has started dating. Our experts have reviewed the top dating sites with video and voice features. 
Which Dating Sites and Apps Include Free Chatting?
It can seem tricky to find dating sites and apps that allow you to contact potential matches for free, but they are definitely out there. In fact, as dating site users make it clear that they don't want to have to pay to send a message, more platforms have found ways to make that first contact free.
Facebook Dating doesn't get our top pick for best dating site, but it is a solid platform built on the information Facebook gathers on its members and suggestions made based on your extended network of friends. The dating side of the social media platform offers free messaging, which makes it a good platform for people who want an easy dating option.

OkCupid built its platform on the idea that online dating sites should be free. And while the site offers perks for premium membership, you can get everything you need — including sending messages to just about anyone — without taking out your credit card.
On the dating app side, several apps make chatting free and easy. Tinder lets you contact every mutual match for free, with no need to pay for access. All you have to do is swipe right and get a swipe right in return. Bumble makes it slightly more complicated, but just as free: Women must send the first message, and message access is only available for a limited time. Hinge puts conversations up front, and requires you to send a message commenting on something you found on another user's dating profile, but lets you do it for free.
Match, our overall top pick for best dating site and best dating app, also offers limited free chatting. You can contact your Top Picks on the platform without a premium membership, but you'll need to get out the credit card to have full communication access with everyone else.
Stay Safe While Navigating the Modern Dating World
When you're looking for a casual hookup, keeping your personal information and yourself safe is a big concern. Safe casual dating sites help you protect yourself, so you can get down and dirty without having to worry about who will find out, or whether the person you're with is legit or not. 
Take the time to find out how a free dating site or dating app protects its active users, and make sure that you're choosing platforms that offer the best possible security and safety features.
Then take the plunge into online dating worry-free, and enjoy the freedom!
Advertiser Disclosure
DatingAdvice.com is a free online resource that offers valuable content and comparison services to users. To keep this resource 100% free, we receive compensation from many of the offers listed on the site. Along with key review factors, this compensation may impact how and where products appear across the site (including, for example, the order in which they appear). DatingAdvice.com does not include the entire universe of available offers. Editorial opinions expressed on the site are strictly our own and are not provided, endorsed, or approved by advertisers.
Our Editorial Review Policy
Our site is committed to publishing independent, accurate content guided by strict editorial guidelines. Before articles and reviews are published on our site, they undergo a thorough review process performed by a team of independent editors and subject-matter experts to ensure the content's accuracy, timeliness, and impartiality. Our editorial team is separate and independent of our site's advertisers, and the opinions they express on our site are their own. To read more about our team members and their editorial backgrounds, please visit our site's About page.