10 Most Downloaded Dating Apps in the World (June 2023)
In today's fast-paced life, people want fast results in everything — including when they're finding love. Online dating apps seem like the obvious answer for modern singles.
Over the last decade, online dating has become a popular way to meet new people. According to the Pew Research Center, 3 of 10 Americans have used a dating site or app.
With such huge demand, many businesses have jumped into the online dating industry. Experts estimate that over 2,500 dating sites and apps operate in the U.S., and over 5,000 exist worldwide.
This leads us to the next question: How do you know which one suits you best? Maybe for your needs, the best app is the most popular dating app. In this blog post, we'll take a closer look at the top 10 most downloaded dating apps in the world.
Before we jump in, let me emphasize that the number of downloads doesn't equate with quality. It just shows the popularity of the apps among online daters. Remember that what's most popular may not suit your needs as an individual.
That being said, buckle up and let's start our adventure with the most popular app in the world today: Tinder.
1. Tinder  – 530 Million Downloads
Tinder is a mega-star dating app for young people. The data shows that this app has been downloaded over 530 million times, with 75 million monthly active users and 9.6 million subscribers in 2021.

In addition, over 60% of Tinder users are under 35 years old, and the majority of them are male. Tinder is available in 190 countries and 40 languages. Tinder also claims that 1.5 million of its users go on dates every week.
The ingenious swiping system from Tinder boosts its popularity among online daters. Tinder successfully gamifies the art of finding a match for dating. To learn more about how Tinder really works, you can ask the experts, or go explore the swiping scene yourself!
2. Bumble – 100 Million Downloads
Bumble is an online dating app for women who don't want to be bombarded with conversations from men they're not interested in. On Bumble, women start the conversation. This means that single women only have to talk to the men they like and message.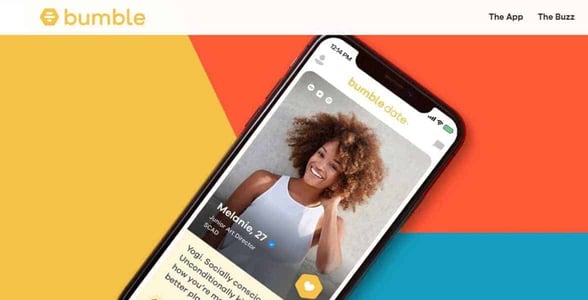 People love Bumble's approach making it the fastest-growing dating app in America. It has 100 million downloads worldwide and is available in 150 countries. This is such a huge achievement because less than 400 apps have reached over 100 million downloads on Google Play.
Bumble takes a different approach to help people find matches. It replaces casual swiping with a value-driven approach to attract people who really want to find meaningful connections. Our Bumble review provides more detailed information about how the dating platform really works.
3. Badoo – 100 Million Downloads
Badoo was launched in 2006 by Russian entrepreneur Andrey Andreev. It became a popular dating app, especially in Europe and South America. It boasts over 400 million registered users on the website and app. This app is available in over 190 countries and has been translated into over 47 languages.

With Badoo, you can find your match based on interest and location. It also requires that two users like each other by swiping games before they can have a conversation to get to know each other. If you're curious about Badoo, check out our review and see what the online dating world has to offer.
4. Happn – 100 Million Downloads
Happn uses location-based data to help you find dates. It allows you to connect with other people with whom you may have crossed paths with in real life, such as in the street, in a cafe, or on public transport. You can also discover matches that share similar tastes, interests, and lifestyles.

In simple words, Happn helps you to find the men or women next door for your dates. On the downside, the concern over user privacy and potential misuse of location data has become a hot topic with this app.
Despite all that, since its founding in 2013, Happn has become a popular dating app with 100 million users, and 6.5 million monthly users. It's also available in 40 countries. Happn is most popular in the UK where it has over 3.2 million active users.
5. Ashley Madison – 80 Million Downloads
"Life is short. Have an affair" is Ashley Madison's tagline. Do you feel intrigued? You're not alone.
Ashley Madison is a dating app that helps married or people in relationships find someone with whom to have an affair. Over 80 million people have created dating profiles on Ashley Madison since its launch in 2001. It's also available in 45 countries.
Relationships: Hookups, Casual Dates, Affairs
Match System: Search by age, location, appearance, and more
Our Experts Say: "With its massive user base and advanced privacy features, Ashley Madison is the #1 site for discreet hookups, dates, or relationships…" Full Review »
Browse Free: View Photos Now
| | | | |
| --- | --- | --- | --- |
| User Base | Gender Ratio | Popularity (Visits/Mo.) | Today's Deal |
| All Singles & Attached* | | 65 Million* | Start Now for FREE |
Every swipe on Ashley Madison can lead to a romantic hookup with not-so-single but available folks. There are 15,000 new members every day joining Ashley Madison, and the dating app has been downloaded over 2 million times. Ashley Madison helps married people have discreet affairs while preserving their union, and our experts don't knock it for being honest about its naughty intentions.
6. Plenty of Fish (POF) – 50 Million Downloads
There are plenty of fish in the sea. This is the inspiration for Plenty of Fish when it launched in Canada in 2003. The online dating site and app provide completely free chat tools for its users to find partners.
Right now, Plenty of Fish has been downloaded 50 million times on Google Play. It is also available in nine languages and has users in over 20 countries worldwide. The total number of registered users is 150 million people with 65,000 new members registered on a daily basis.

Recently, POF tried to distance itself from those who are looking for casual sex. The team has moved away from the world of superficial swiping and dick pics to focus on helping single people find serious relationships. Plenty of Fish isn't just for casual dating — the free messaging features have also sparked meaningful connections that led to long-term relationships and marriages.
7. OkCupid – 50 Million Downloads 
OkCupid launched its website in 2004 — and followed up with its mobile app in 2012. The dating service promises forever free online messaging to find dates. The magic happens through in-app questions that power its algorithm to help users find potential partners.
In 2022, here were some of the most frequently asked questions:
Are you sensitive?
Is it important to you that your partner looks after their health?
Do you understand what the metaverse is?
And there are 4,000+ other questions in its algorithm. The more questions you answer, the more data the algorithms can use to find the best match for you.
Right now, OkCupid has grown into the sixth most popular online dating site in the world. It had 50 million users in 2020 with about 91 million connections made annually and 50,000 dates made every week. 
8. Grindr – 30 Million Downloads
Grindr has been the most popular dating app for the LGBTQ community since 2009. To date, Grindr has over 27 million members in its database. Grindr also claims that there are 13 million gay, bi, trans and queer folks who use their app every month. 
Thanks to Grindr, casual dating for LGBTQ folks has become easier. Grindr puts singles in touch with local date prospects to find the nearest date available. They can choose a date in the same bar, club, or neighborhood they hang out in.

A Grindr user must upload a profile picture to show he's a real person. But Grindr allows its members to crop out or blur their faces so their real identities can remain anonymous while swiping on gay dating apps.
Sex-driven users should note that Grindr has rules against sexually explicit or nude photos being shared on the app. But it allows such photos to be exchanged by Grindr Xtra members in private chats.
9. Hinge – 23 Million Downloads
Not everyone is a fan of swiping games to find dates. If that sounds like you, Hinge may be a better online dating app for you.
Hinge launched in 2012 with a motto "designed to be deleted." Hinge classifies  success when its users go on a date, hit it off, and delete the app because they've found "the one." No surprise that Hinge doesn't idolize swipes and active users.

Hinge's users need to upload six photos, respond to prompts, and give basic demographic information to complete their dating profile. They also can add links to their Instagram feed or post videos to show more of their personalities.
Online daters seem to love this approach because Hinge is currently estimated to have around 6 million users worldwide with 4 million of them in the US. Hinge has always had a free membership to start users off with, but the online app has recently expanded its paid offerings to include more perks and benefits that could give singles an edge — for a price.
10. eharmony – 10 Million Downloads
If you're looking for a serious relationship and want to end up saying "I do," eharmony is for you. This app matches 15 million matches a day and is responsible for about 2 million marriages in the US.
It shows that the eharmony approach using psychology to find a match for its 10 million active users works. Our experts estimate the eharmony app sees 10,000 downloads every day and has more than 33 million members in its dating pool in 200 countries.
Relationships: Casual Dates, Deep Relationships
Match System: Personality test suggests matches
Our Experts Say: "Accounting for 2% of U.S. marriages, eharmony's compatibility-based system and commitment-minded user base are ideal for those seeking a serious relationship…" Full Review »
Browse Free: View Photos Now
| | | | |
| --- | --- | --- | --- |
| User Base | Gender Ratio | Popularity (Visits/Mo.) | Today's Deal |
| All Singles* | | 4.1 Million* | View Profiles FREE |
eharmony pairs users using multiple aspects of personal compatibility that includes emotional temperament, relationship goals, lifestyle, and core beliefs.
Heads up: You need to answer a lot of questions if you want to use eharmony. The questionnaire separates those who really want to find a long-term partner and those who only are looking for a one-night stand.
You can join eharmony for free with limited access. As a free member, you can only communicate in generic greetings and you can't see the match's photo. That's a bummer.
If you want to see your match's photo and have maximum use of the app, you need to join eharmony's 750,000 -paid members. The subscription packages are available for six months, 12 months, and 24 months.
FAQs: Do Singles Still Use Tinder?
Yes, they do. Tinder is undeniably one of the most popular online dating apps out there, but online dating burnout is also trending. That's why people try to find other alternatives especially if you're not a fan of swiping or you want to find a partner based on more than how they look.

For example, if you want to choose who you have a conversation with, you can use Bumble. Or if you want to use psychology to improve your chance to click with your dates, you can use eharmony. Try different kinds of apps that can enrich your experience in online dating.
That's why we recommend downloading at least three apps to cast a wide net and see what works best for you. Three is a reasonable number that gives you enough choices while not overwhelming you.
Make sure you put serious effort into your online dating journey. If you randomly download three apps and click here and there and then throw in the towel, well, maybe you should think about changing your strategy and making more of an effort before you declare that online dating sucks.
How Many People Use Facebook Dating?
No official numbers have been released by Facebook yet. Since its launch in 2019, Facebook dating hasn't shown any impressive progress. If it had good numbers, Facebook would surely shout it from the rooftops.

In this case, no news isn't good news. The fact that we hear nothing in terms of download statistics indicates that Facebook Dating still needs to grow and attract more active users. Despite the lack of information, Facebook is not giving up on the online dating realm. It has continued to invest in the dating platform and make improvements to enhance user experience. Let's give them time and see their progress.
Is Christian Mingle a Popular Dating App?
Yes, Christian Mingle is the most popular dating app in the Christian dating niche. It has 15 million users with 3 million downloads since its launch years ago. Most of its users come from its dating sites, that's why the downloads number isn't high and Christian Mingle doesn't make it into this article.

What is most interesting about Christian Mingle is it claims to have a high marriage success rate. And this claim is supported by 84% of its surveyed users. Christian Mingle is a dedicated dating service with many benefits and successes to its name. Our experts highly recommend this dating site to Christian singles who want to date within the faith.
What Is a Match Group?
Match Group is the king of the online dating industry. It's the dominant force for matchmaking modern singles. Match Group owns and operates a global portfolio of popular online dating services, including Tinder, Match, Meetic, OkCupid, Hinge, Plenty of Fish, and other names you may recognize.

Many of the most popular dating apps we mentioned in this article are owned by Match Group. With a solid portfolio of diverse online dating brands, Match Group is set to continue its dominance in the online dating industry and drive where the industry is heading.
How Do I Start My Online Dating Journey?
In this article, we equip you with a lot of information about online dating. But if you don't do the right thing from the get-go, your success in online dating can be slim. Here are five tip to boost your success rate in online dating:
1. Find what outcome you want to achieve in online dating. Are you looking for a serious relationship or only a casual hookup?
2. Determine what intrigues you. Is physical appearance enough for you? Or do you find deep connection and interest mean a lot to you? This will help you choose the right online dating app for your needs.
3. Be yourself when you present yourself in the online dating app. You don't want your date to fall in love with the person you're not. That's the recipe for a disastrous relationship.
4. You need to kiss a lot of frogs to find your prince. No, we don't recommend kissing random people. We suggest you enjoy the dating process, speak with a lot of people, and see where it takes you.
5. Safety should be a top priority, of course. Meet your date in a public place. Don't get in a car with them or go back to their place on the first date. You barely know this person. Take your time.
Online Dating Stats Are Cool – But Numbers Aren't Everything!
Choosing the right online dating site can be overwhelming if you're new to online dating games. We recommend you start with yourself: What are you looking for initially? Once you know what you're looking for, you can do research on which apps suit your needs best.

The fact is, niche online dating apps can make your dating pool more targeted. If you try to date everyone, you'll end up with no one. That's why, having specific qualifications on what type of partner you want to date will help you a lot in your search. The likelihood that you will find a partner that suits your needs becomes higher. 
Last but not least, don't let numbers deceive you. Companies tend to make their numbers look good so they will look good as a business. Take that into consideration when choosing the online dating site you want to try.
Now, you're ready to hunt your love online. Happy dating!
Advertiser Disclosure
DatingAdvice.com is a free online resource that offers valuable content and comparison services to users. To keep this resource 100% free, we receive compensation from many of the offers listed on the site. Along with key review factors, this compensation may impact how and where products appear across the site (including, for example, the order in which they appear). DatingAdvice.com does not include the entire universe of available offers. Editorial opinions expressed on the site are strictly our own and are not provided, endorsed, or approved by advertisers.
Our Editorial Review Policy
Our site is committed to publishing independent, accurate content guided by strict editorial guidelines. Before articles and reviews are published on our site, they undergo a thorough review process performed by a team of independent editors and subject-matter experts to ensure the content's accuracy, timeliness, and impartiality. Our editorial team is separate and independent of our site's advertisers, and the opinions they express on our site are their own. To read more about our team members and their editorial backgrounds, please visit our site's About page.