12 Best Apps for Cheating & Affairs (Sep. 2023)
If you find yourself dissatisfied in your relationship, but unable to end it, the best apps for cheating can help you deepen the fantasy of something new. People have many reasons for cheating on their spouses and other romantic partners, but dissatisfaction in the relationship is the most common reason given for infidelity, according to a study from the Journal of Sex Research. 
While cheating on your spouse presents a lot of risks and may result in heartache, apps that cater specifically to cheating partners abound. Here are some options if you want to look for an affair outside of your relationship.
Marital Affairs | Anonymous Swiping | Catching a Cheater
6 Apps for Marital Affairs
Cheating dating apps become more common every year because they offer an easy and safe outlet for spouses looking for a secret affair. Cheaters often use dating apps to conduct their search discreetly by taking advantage of privacy features and other measures. The most popular dating apps may not be intended for affair seeking, but they can be useful for people who want to step outside of their marriage interact with compatible people.
Ashley Madison is easily one of the best cheating apps on the market. It's the most famous, and it's been in operation for over 20 years, so it has a lot of experience to back its tools. 
While not everyone on the cheating dating site and app is married, Ashley Madison is explicitly a dating platform for affairs. That means Ashley Madison users must accept the idea of dating or hooking up with a married person.
The cheating app and site use a lot of privacy features to help straying partners stay discreet. A panic button built into the code instantly navigates you to a generic website, in case someone walks in on you browsing. Another key privacy measure is the private showcase, with an individual key. This feature lets you reserve private photos for those you've built up a level of trust with, so that your images will stay under wraps until you're ready to reveal them. You can also blur and mask your main profile pictures by default, to prevent identification. 
Among all of the sites and app options for no-strings-attached flirting and hookups, BeNaughty stands out as one of the most direct. The dating site is a no-judgment zone primarily for singles, swingers, and couples, but people seeking a secret affair can find what they're looking for there as well. The mobile app is available on both the Google Play store and the App Store for iOS users.
The BeNaughty team works hard to keep the platform secure and monitor for fake profiles and bots, which is one reason it's a popular choice as a cheating spouse app. Because of the sensitivity of seeking hookups, BeNaughty makes it easy to stay relatively private, and one-month subscriptions include features like auto history cleaning, incognito browsing, and encryption. Its private message box is useful for sparking the romance of secret affairs. 
FriendFinder-X is a dating website that promises no judgment, no commitments, and no pressure to rush into a new relationship. This casual hookup platform has an X in its name for a reason: Its X-rated content can satisfy adult desires any hour of the day or night.
If you're looking for a potential partner or sexting buddy, you can use the search filters on FriendFinder-X to identify local singles who are currently online. Everyone on FriendFinder-X is of the same mindset of finding a casual hookup, so that makes it easier to break the ice with a new person via instant messaging.
4. Victoria Milan
Ashley Madison is a very public face of affairs, but while Victoria Milan is less known, it's still very popular for the cheating husband or wife who wants to find a new dating partner. The affair dating site is especially popular in Europe, but caters to a user base scattered over 33 countries around the world as one of the top international affair sites and cheating apps in this niche.
Because the members want to avoid being detected, Victoria Milan offers anonymizing features and privacy safeguards to limit the risk of discovery, like the AnonymousBlur tool. The staff at the popular cheating dating site also monitors new member signups to ensure that screen names and other profile details don't give away any identifying information. 
5. Gleeden
Created by a married woman, Gleeden is the rare cheating dating site that puts women first. The site promises absolute discretion throughout the process, and boasts several success stories, varying from cheating partners who used Gleeden to find the balance they sought in maintaining their marriage while still seeing other people, all the way to new relationships for unhappy partners.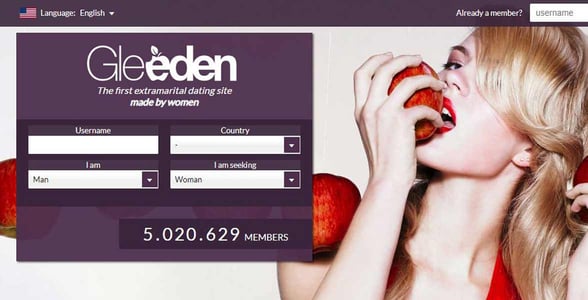 Gleeden is the best app for exploring romantic relationships without fear of judgment or ties to monogamy. It's quick and easy to meet a new person on the dating service and form a connection. You can stay on the cheating app for ultimate privacy, or you can move on to exchanging text messages or a phone call to take the relationship to the next level.
6. Seeking
For a high-income cheater, the best option for finding someone discreet outside of a committed relationship may be a sugar dating relationship. Formerly known as Seeking Arrangement, Seeking.com offers discretion and privacy, along with straightforward negotiations between prospective sugar babies and sugar daddies and mommies. 
The sugar dating platform allows would-be benefactors to maintain their anonymity until they're ready to reveal themselves, even as both sides set the terms of the relationship. Income verification and discreet billing for premium access make it easy to prove you're genuine, and reduce the risk of being caught.
6 Apps for Anonymous Swiping or Browsing
If you're more interested in anonymous browsing, rather than setting up a relationship, several platforms and cheating dating apps exist to help. These sites and apps let you look and chat anonymously, swipe and indulge your fantasies.
Adult Friend Finder has been around almost as long as the internet has, launching in the mid-90s to offer adventurous adults a venue for chatting, hookups, and exhibitionism. The site is one of the largest online dating platforms in the world, with hundreds of millions of accounts globally, making it easy to find a compatible chat partner.
The hookup dating platform is also anonymous, and you can browse without even signing up first. With video chat, forum, and other semi-public options for communication, a cheating spouse can get their kicks without revealing anything about who they are.
Zoosk is a fast and versatile dating site aimed primarily at singles, but definitely a popular choice for married people and those in committed relationships as well. 
The Zoosk site started out as a Facebook application, before branching out to become a dating site and then a dating app. The dating platform's easy-to-use interface and plentiful communication options make it an easy choice for people who want to talk. 
9. Tinder
The original swiping dating app, Tinder has a well-established reputation for helping people find hookups. If you want the thrill of the romantic hunt but not the heartache that comes with the follow-through, Tinder can be a good option because you can simply swipe right, see if you get a mutual match, and chat without any implied commitment or expectations. The left-right swiping mechanic makes it easy to fantasize without taking things further.
We've ranked Tinder among the best cheating apps because it provides a ton of swiping options and date opportunities. The dating app is responsible for about 1.5 million dates every week, so you definitely won't be the only one mixing and matching here.
10. Grindr
For a cheating husband living in the closet, or simply interested in exploring same-sex attraction, Grindr is an attractive option. Grindr makes it easy to sign up: all you have to provide is an email address, user name, password, and your sexual interests, and you can get started. 

The gay dating app is as much about providing space in the LGBTQ+ community for men-loving-men to talk as it is about hooking up, and if you want to keep things at chatting and browsing, it's easy to do so.
11. DOWN
DOWN sets itself apart from other hookup and casual dating apps by putting things out in the open from the beginning. On the app, which is available for either an Android device or iOS device, members specify whether they're there to hook up or for something more serious. While the app caters to singles, married people and those in other committed relationships are welcome among the open-minded membership. 
12. OkCupid
OkCupid made a name for itself by insisting on remaining free while most other platforms for dating moved to paid subscription models. Even after its purchase by Match.com, the owners stipulated that core features, and especially chatting and messaging, remain free. Anonymous chatting is easier on the OkCupid dating site and app than it is on many others, although there are always risks, especially on mostly public sites.
4 Apps for Catching a Cheating Spouse or Partner
If you suspect that your spouse is cheating, it can feel like torture to try and get the proof you need to take the next step and determine what to do. These apps make it easier to catch your cheating spouse red-handed, so that you can decide how to handle the situation.
13. mSpy
It can be difficult to get access to a cheating spouse's device long enough to do a thorough search, but mSpy makes it easy to access the information you need at your leisure. The site boasts that you can install the tracking in less than 5 minutes, with no jailbreak of the iOS device or Android device required.

mSpy tracks everything on the phone: social media, text messages, Facebook messenger, browser history, even GPS. The information stays secure, and only you can access it 
14. Hoverwatch
Spy apps can be expensive, but worth the cost for the peace of mind. Hoverwatch costs as little as $6 per month for up to 25 devices, but for personal use the hidden app still costs less than a dollar per day. In exchange, the Android spy app records phone calls, Snapchat interactions, WhatsApp, SMS, and even detects when the target phone SIM card changes. 
15. iKeyMonitor
While iKeyMonitor caters mostly to parents, iOS users with wandering spouses can easily use it to keep tabs on a cheater's activity as well. Beyond being a text message spy, the app is discreet, remote-controlled via a user panel, and gets high reviews among free Android spy apps. You do need physical access to the phone to download the app to the target device, but once it's present you can monitor everything you need.
16. Highster
There are several spy apps for iOS users and Android users alike, but Highster Mobile offers a few specific benefits that make it attractive for partners looking to catch cheating spouses. Like the others on this list, Highster is a spying app that offers comprehensive text message capture and social media monitoring, along with browsing history and GPS fencing. 
This spy app also offers a stealth camera option that lets you monitor what the cheating spouse may do with their camera. Instead of a subscription service, users pay a one-time fee, with unlimited lifetime upgrades. 
FAQs: Where Do I Go Meet Quality Singles?
While not technically a platform dedicated to cheating, Elite Singles uses top-of-the-line privacy and security features that protect the identities of doctors, lawyers, engineers, and other single professionals. Its discreet, photo-blurring feature makes it a solid choice for upscale cheating spouses and partners.
The dating site membership includes highly educated, high-earning people from around the world, with more than 80% of the users boasting a college degree of a Bachelor's or higher. 
It takes a while to get started on Elite Singles, in part because of the lengthy and detailed questionnaire process. Another aspect of the process that takes time involves account and platform security: ID authentication and manual profile verification and approval for each new member means that not every person who signs up can jump in right away. 
Do a Lot of People Use Dating Apps to Cheat?
Surprisingly, not a lot of people use dating apps to cheat on their partners. A survey by YouGov found that only about 17% of dating app members use the platforms to cheat. While almost half of all millennials in the survey used dating platforms for convenience and especially to hook up, nearly half of the people surveyed said that they're looking for long-term relationships.
Ashley Madison published a survey on its own membership that found surprising results as well. While the dating site facilitates 40,000 affairs per day, and membership grows every year, the site and the app that go with it don't seem to have the same level of membership as the major mainstream dating platforms out there. Of course, cheating partners have a lot of dating apps and sites available to them, but there doesn't seem to be as much interest in using married dating sites or affair apps specifically for cheating.
Can My Partner See My Profile on Cheating Dating Apps?
While every cheating app does its best to ensure security and privacy, there are countless stories of a spouse finding out about their partner's extramarital activities through a variety of methods. A hidden app on the phone of the cheating spouse, or a text message sent to the wrong person, and your secret affair is not so secret.
Cheaters will always run the risk of being discovered, so it's a good idea to consider carefully what personal information you include in your dating profile and what secret chats you have on your cellphone. Anonymous messaging sites and other platforms can make it a bit easier to step out of your relationship without revealing yourself to a suspicious spouse or partner, but it's always a risk to conduct an affair on cheating dating apps – or anywhere really.
Is Facebook Dating an Anonymous App?
The Facebook Dating app doesn't post to your Facebook profile, nor does it show up on your account in any obvious way. But your information on the dating platform does come directly from your Facebook account, and it connects with Facebook messenger.

While it is potentially possible to avoid people you know on Facebook Dating, a lot of your personal details show up on your profile there. It's not a truly anonymous app, even though it doesn't directly connect to your Facebook profile. The risks of being seen by someone connected to your partner make it an unlikely choice as a cheating app.
What is a Good Dating Game App?
If you want to turn dating into a lighthearted, fun game rather than a serious pursuit, there are a few options we recommend. Dating game apps and sites create a playful atmosphere through a few different mechanics to take some of the pressure off. 
Date Mate: This app, available on the App Store, is more of a companion to your dating life than a dating game app to play solely on your iPhone or iPad. Date Mate uses a quick, 12-question quiz to determine your compatibility with another person.
You submit your answers to the questions, and then let another person you might be interested in answer as well. Then Date Mate provides insights into your compatibility and possible pitfalls for a relationship. You can choose a tailor-made pickup line, or delve deeper into the other person's character.

Savvy: The goal of Savvy Dating Game is to connect people in a new way, using a game-based app to get potential partners talking. It's still in the works, but the team behind it promises an adventurous, exciting atmosphere where questions fly and banter flows. 
The dating app promises to allow you to initially establish matches based on compatibility, but also to let you branch out and talk to many other people you might not otherwise get a chance to meet. You'll get icebreakers to start up a conversation and questions that are funny, interesting, probing, or flirty to help you find out if the person you're talking to is a good match.
Meet Play Love: This app is as much a social platform as it is a dating platform. Meet Play Love is a MMODG (Massively Multiplayer Online Dating Game), which allows users to build a custom avatar, chat and exchange pictures, and play fun and lighthearted games together. The app welcomes everyone and allows you to explore relationships in a virtual social media setting with no pressure and plenty of anonymity.
Dates Stay Anonymous on Apps for Cheating Spouses
The best apps for cheating make it possible for people in committed, monogamous relationships to explore the possibilities outside of their commitment. Just exploring the options can give a cheating spouse a thrill, whether or not the situation ever goes beyond talking. 
Cheating dating apps and websites give spouses an outlet for finding something more, and while they're not risk-free, they can make it easier to explore outside of a settled relationship.
Is Ashley Madison (4.0/5.0) Right for You?
Hopefully, our guide "12 Best Apps for Cheating & Affairs (Sep. 2023)" and our recommendation of Ashley Madison will help fulfill your dating needs.
Remember that sites like Ashley Madison can have their pros and cons. With 65 Million users per month and an expert rating of 4.0/5.0, Ashley Madison has many features to like:
It has a huge membership base
The Ashley Madison credits system is simple and lets you pay as you go.
Communication features include instant messages, virtual gift options, and .
Discreet payment options so the Ashley Madison dating site's name won't appear on a credit card statement.
You can contact the team by calling or sending an email or standard letter.
But that's not the whole story on Ashley Madison. Among its drawbacks:
Not the best dating website for people who want long-term relationships or any type of serious commitment.
Many Ashley Madison users do not browse under their real names, so sometimes a scammer or catfisher will try to make a pass.
Male users will need to upgrade to Ashley Madison premium to get all the communication perks a female user has for free.
For further research, be sure to check out our full review of Ashley Madison, where we break down its 4.0 rating, its usability, and what its 65 Million monthly users get from their Ashley Madison profiles. Or check out these Ashley Madison alternatives if you'd like to consider similar options we recommend.
Advertiser Disclosure
DatingAdvice.com is a free online resource that offers valuable content and comparison services to users. To keep this resource 100% free, we receive compensation from many of the offers listed on the site. Along with key review factors, this compensation may impact how and where products appear across the site (including, for example, the order in which they appear). DatingAdvice.com does not include the entire universe of available offers. Editorial opinions expressed on the site are strictly our own and are not provided, endorsed, or approved by advertisers.
Our Editorial Review Policy
Our site is committed to publishing independent, accurate content guided by strict editorial guidelines. Before articles and reviews are published on our site, they undergo a thorough review process performed by a team of independent editors and subject-matter experts to ensure the content's accuracy, timeliness, and impartiality. Our editorial team is separate and independent of our site's advertisers, and the opinions they express on our site are their own. To read more about our team members and their editorial backgrounds, please visit our site's About page.