8 Best UK Dating Sites (Sep. 2023)
Since before the Covid-19 pandemic, more British singles have turned to U.K. dating sites to help find new people with similar interests to date. A recent study conducted by eharmony in partnership with the Imperial College Business School found that by 2035, more people in the U.K. will meet their partners online versus in person.
Considering this finding, it's no surprise that the market for dating sites and dating apps is doing excellent business in the United Kingdom. Our dating experts have compiled the best choices.
Overall Best | Muslim Dating | Senior Dating | International Singles | Hookups
Overall Best Dating Sites for British Singles
The best dating sites overall make it easy to find and contact prospective matches, usually through algorithms and geographic location. While not all of the sites on this list are based in the U.K., they all have excellent features — and all of them have plenty of active users in the United Kingdom.
For British singles interested in relationships as opposed to something more casual, Match makes a great choice. The dating site and its connected app match you with new people based on similar interests and other aspects of compatibility, as determined by a proprietary algorithm. Best of all: millions of active users log in every month from the U.K.
You can get started with a free membership, which allows you to create your profile, add and edit details, including photos, browse matches, and "like" or "favorite" your preferred prospects. When you're ready to make a more lasting connection, it's easy and affordable to upgrade your membership to have access to more robust messaging and contact options.
Match Group launched its dating website in the 1990s on a mission to inspire real-life dates and true love, and it has become a global sensation.
If you're looking for a slightly higher-class match, Elite Singles can help you reach your goals. Each Elite Single you meet on the online dating service is a step above, with over 80% of the members holding at minimum a Bachelor's degree.
The company focuses on providing a streamlined, professional experience and keeps the focus on curated matches, based on the personality test you take at signup. Our review goes into more detail about the matchmaking process.
If you're not interested in going far afield to find your perfect match, Elite Singles includes a function to find local singles based on the site's algorithm and your location. While free membership includes most of what you need to find the right person, paid membership does come with some perks, including unlimited messaging and broader communication options. 
3. JustAskMeOut
Some online dating site members prefer to thoroughly vet their matches before meeting in person; others want to get straight to the point. JustAskMeOut takes the time-consuming preliminaries out of the way, encouraging its user base to get to the point and ask their matches out right away. 
To help make that easier, the dating service encourages active members to make their profiles as detailed as possible. From there, the platform uses information provided by the would-be dater to suggest three matches per week. Then you can take a deeper look into a few profiles and quickly set a date. Based in the U.K., JustAskMeOut helps you get to the point, and meet new people in person as soon as possible.
4. Parship
Although not based in the United Kingdom, Parship is the British branch of a larger, well-established online dating service based in Germany. Like Elite Singles, Parship's membership tends toward high-class professionals. The site and related dating app are for people interested in a serious connection, as opposed to a one-night stand or casual encounter. 

Free members can register and build a profile, take the Parship dating questionnaire, receive recommended partners, view other profiles, and use initial contact options like "smile," "like," and "icebreakers." Paid members get unlimited messaging and better access to match sorting capabilities.
If you're seeking a genuine connection in a secure dating platform to rival anything eharmony can provide, Parship has the experience and the technology to help you.
Best U.K. Dating Sites for Muslim Singles
Muslim singles in the U.K. often struggle to find a good resource among mainstream dating sites to connect with the perfect match. Fortunately, several U.K. dating sites specifically work to connect single Muslims and help people for whom shared faith is an important part of compatibility.
5. Single Muslim
With more than 20 years of experience, Single Muslim is the first online dating service to work directly with marriage-minded Muslim singles. While the market has expanded, and more options exist, Single Muslim remains popular because the company focuses on the fundamentals. Single Muslim has over 3 million active members worldwide and has been responsible for more than 100,000 marriages.

The entire team at Single Muslim resides in the U.K. The site's largest priority, according to founder Adeem Younis, is creating a safe and welcoming environment where any Muslim man or woman can find a good match, either for themselves or for a family member. 
6. Muzmatch
A newer face in the U.K. dating sites and apps scene, Muzmatch launched in 2015 and has continued to grow outside of its original base to build a global presence. The dating app sets itself apart from the competition by keeping users fully involved: At every step in the upgrading and development process, the app solicits feedback from the user base.
Much like Single Muslim, Muzmatch caters to Muslim singles looking to date seriously, with in-app support features like chaperone support, photo privacy, and security built in. Muzmatch may be a relative newcomer, but it's already played a part in over 15,000 romantic success stories.
In March 2020, the app saw a 12.6% increase in matches and a 45% increase in downloads, and the team has since added video and voice messaging features to satisfy online daters during the pandemic.
Best U.K. Dating Sites for Senior Singles
It can be difficult for single seniors to find new love, but singles in this demographic have been increasingly adopting online dating. The best U.K. dating sites for seniors combine easy-to-use features, strong customer service and assistance, and large membership lists. The following selections will help any U.K. single seniors find love.
OurTime is American, but every year it becomes more popular outside of the U.S., especially in English-speaking countries. For U.K. seniors seeking friends and lovers, OurTime makes it easy. Like many of the best dating sites for older singles, OurTime incorporates safety features to ensure that fake profiles and scammers don't get a foothold.
Seniors on the dating site can either choose from curated matches, or search for potential partners using a few different criteria like religion, ethnicity, whether or not they have children, and so on. The price for premium membership is very reasonable, and OurTime even has an app available for iPhone and Android. Our full review has more information about how OurTime works and why it is the best dating site for a single person over 50.
If you're looking for a free dating site geared toward senior singles that carries a top reputation, SilverSingles has you covered. The site is simple, effective, and community-oriented.
The online dating service regularly ranks highly on lists covering the best dating sites for seniors. Its features make online dating direct and easy to understand.
Any senior dater can participate in the free forums on the site, and search matches based on a variety of criteria. While SilverSingles isn't the flashiest of the senior dating sites, the service has been around for over a decade, and it has a personality-based match algorithm to help identify a potential partner with similar interests and values.
9. Dating Over 50s
When Dating Over 50s launched in 2008, its target demographic still viewed online dating as a novelty. As U.K. singles of all ages turn to digital dating services in ever-larger numbers, Dating Over 50s has expanded, with residents of most major cities in the U.K. in its membership.

Basic membership gives you access to create a profile, browse mature local singles, and send icebreaker messages, while paid membership gives you access to fuller communication and community engagement. If you're seeking a senior dating option that emphasizes community and friendship along with romance, Dating Over 50s is a very strong candidate. 
10. SwingFree.co.uk
For older singles who don't let traditional monogamy dictate their relationships, connecting with like-minded people can be tricky. SwingFree.co.uk doesn't only accept mature singles, but the majority of the site's membership is over 35. The site also puts security at the forefront, making it a safe place for older swingers and polyamorous people to swipe and pick up a potential date.
Free members can send icebreakers and winks, but deeper communication comes with a subscription. This paywall — along with the site's 24/7 moderation policy — also discourages fake profiles and scammers.
Best U.K. Dating Sites for International Dating
Whether you're visiting the U.K. or you're one of Her Majesty's subjects and want to meet people from outside your homeland, international dating sites make it easy to connect. These sites and mobile apps cater specifically to people interested in a multinational experience, and the features and functions help to make it easy.
Although eharmony originally launched in the United States, its robust presence in the U.K. continues to grow. That international appeal makes this online dating site a solid choice for any international dater interested in a more serious relationship. 
As the dating sites on this list go, eharmony leans more toward marriage than just dating. The original concept of the site when it launched in 2000 was to strengthen so-called traditional marriage, leading to a strong evangelical Christian singles presence. But over time, the site has opened up to a broader audience. While you can sign up for free, the premium membership gives access to better contact options and unlimited messaging with your potential matches.
12. Happn
One of the main complaints about online dating is that it takes away the magical, film-like moments of meet-cute. Happn, available on the App Store and Google Play Store, hopes to bring that element back. Users go through their days with Happn lurking in the background on their phone, and when they cross paths with another Happn user, the app lets them both know.

If you're new to the U.K. and want to encounter locals, Happn gives you an instant icebreaker, and opportunities to find people in a way that combines chance and luck with determination. If you're a U.K. citizen and looking to meet new people, you're likely to run into more than just locals, opening up your dating pool and giving you the chance for some chance encounters. The app is free, but paid membership brings benefits when it comes to messaging.
13. I Love Your Accent
It's no secret that many American ladies appreciate a man with a British accent, and I Love Your Accent brings that chemistry into the open. The dating site targets Americans and Brits who want to find each other, whether for a long-distance relationship, casual dating, friendship, or true love. 
It is free to set up a user profile, complete with an audio sample of your speaking voice, as well as instant messages. VIP memberships come with some hefty perks, including unlimited likes and access to premium site features. Users who want an extra sense of security can also purchase background checks on a new person. This is a unique feature among dating sites and mobile dating apps. 
14. DateBritishGuys
Another option for British men seeking American women, or vice versa, is DateBritishGuys. Founded by an American woman and a British man, the dating site is a popular option, so much so that even the BBC has mentioned it as the best dating site for a single person who wants to date a British guy. 
Singles can sign up quickly and easily by connecting their Facebook or Google+ account, saving time to get down to the business of finding a match. The site also features a blog with dating expert advice, news, and success stories from members. Users must verify their identity, and women interested in messaging British men have to pay a subscription fee for access, but verified British men can access full messaging for free.
Best U.K. Dating Sites for Casual Hookups
While Tinder is well-known as a popular choice for singles looking for a casual encounter, there is more than one hookup app on the market and plenty of sites for people in the U.K. to find sex. These platforms all make it easy for Brits to find the hookup of their choice.
AdultFriendFinder, or AFF, has been in the hookup business for almost three decades, and that experience makes it a trusted platform. The hookup site makes it easy for users to put themselves out there: Over 100 million members globally and a free and simple signup process mean that your chances of finding a casual encounter are strong.
While there is a hookup app available along with the site, the platform's content is too salacious for the App Store or Google Play, so you'd have to go looking for it. Free members get access to public forums and search functions, but one-on-one conversations require a paid membership.
For married people looking for a little action outside of their relationship, Ashley Madison is a go-to choice, for a lot of reasons. Scandal rocked the online dating website for married couples years ago, but this inspired the company to implement advanced security measures.
You don't have to be married to join Ashley Madison, but since the dating site is for affairs, you have to be okay with your matches being married. Ashley Madison is the gold standard for illicit affairs online with its many bespoke features, including the panic button, fantasy dating, and customizable privacy settings.
17. IllicitEncounters
If Ashley Madison is the international gold standard for illicit affairs, IllicitEncounters works hard to provide heavy competition. The site launched in 2003 as a general-purpose hookup site in the U.K., but the site's founder gradually recognized the need for married people to have the same chance to hook up for a hot date.
The site boasts more than 1.2 million users, including singles seeking couples and married men and women for a casual fling or hookup. Safety and security features along with a certain level of anonymity make for a fruitful playground for married people in the U.K., as well as the people who want to date them.
18. SaucyDates
SaucyDates is a U.K. dating site that launched in 2007 with a simple premise: casual dating for singles without the need to pay tons of money.
It takes less than a minute to sign up for this inclusive hookup app where Black singles, LGBTQ+ singles, Muslim singles, and all other types of single people are welcome. Once your dating profile is complete, all you have to do is use the search tools to find the right person.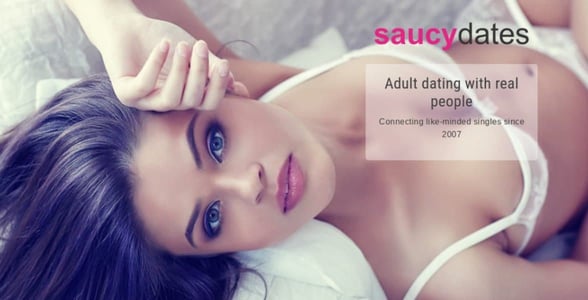 SaucyDates puts privacy and security first to weed out fake profiles and scammers and keep things fun. Whether you're a single parent, a multiracial nonbinary person, a bisexual single, or a polyamorous couple, SaucyDates creates a safe environment to explore.
FAQs: Is There a U.K. Dating Site for Christian Singles?
Christian singles in the U.K. have a few very strong options when it comes to finding a dating website that puts faith at the forefront. 
One faith-based dating website popular in the U.K. is Christian Mingle. While the site itself isn't based in the United Kingdom, the user base for the U.K. continues to grow. With over 3.5 million monthly users around the world, there's a high chance of finding the right person who shares your faith.
Another contender is Christian Connection. Based in the U.K., every member of the team for the dating website places a high value on faith. The dating service combines online engagement with offline, in-person events. Users get a free trial period, during which all site features are available, while paid members get more opportunities to reply to messages and engage with each potential match.
Is JDate The Best U.K. Dating Site for Jewish Singles?
JDate is one of the most established names in the Jewish dating niche. It has millions of users to its name.
If you're seeking a more serious connection with marriage in mind, JWed lets you take it slow and get to know your prospective match. The app and site bills itself as a community dating service, meant to connect marriage-minded Jewish members to eligible matches who share their priorities and faith. 
Another option for singles in the Jewish community is Forj. Like JWed, this Jewish dating app combines algorithmic matching based on shared values and similar interests with dating expert advice to help you make the most out of every match. 
What Are the Best Apps for British Singles Under 35?
Most of the mainstream dating app and dating website options cater to the under-35 crowd, but there are a few standouts, depending on what you're looking for in a dating service.
OkCupid has been around for a long time, and while the dating site and app allow anyone of any age to sign up and find potential matches, under-35 members tend to be more active. There are perks to a paid membership, but if you're looking to save money, you can access all the features without paying any money at all.


Coffee Meets Bagel, which launched in 2012, distinguishes itself from other dating service options by putting single women first and encouraging a more serious approach. The dating app limits the number of matches (called bagels) it sends every day, giving women the chance to delve and explore. 
For some people, the easiest and most available option would be Facebook Dating. The direct connection to Facebook's vast social media network makes it easy to set up a profile and meet people. Plus, your matches are a little more vetted than on other dating sites. The downside to this option is that there still aren't as many active users as on comparable platforms. 
Finally, our dating experts also recommend TapDat for Brits seeking something a little more casual. The sex-positive dating site and app sets itself apart from some other platforms in the space by keeping things straight to the point: no erotic content to wade through, free messaging, and a welcoming space to connect with prospective hookup partners for a casual encounter.
Find a Posh Partner on U.K. Dating Sites & Apps
Online dating is a popular way to meet new people and explore new types of relationships. Whether you're looking for a hookup, a fun date, or something more serious, there is an online dating service for you. 
The best U.K. dating sites help Brits find romance and love in their communities. And the good news is all the sites and apps on this list are free to join, so you can explore the online dating scene at no cost.
Is Match (4.9/5.0) Right for You?
Hopefully, our guide "8 Best UK Dating Sites (Sep. 2023)" and our recommendation of Match will help fulfill your dating needs.
Remember that sites like Match can have their pros and cons. With 39.7 Million users per month and an expert rating of 4.9/5.0, Match has many features to like:
A large, diverse, and global user base active in 50 countries.
Receive daily personalized match suggestions based on your match preferences.
Multiple search tools empower singles to find dates on their own.
A lot of ways to show interest and communicate for free.
Match has collected more success stories and facilitated more first dates than any other dating site in existence.
Members can attend local Match Events if they feel burnt out on online dating.
The Match Customer Care team is available by email and live chat Monday through Friday.
But that's not the whole story on Match. Among its drawbacks:
Only paid subscribers can send unlimited messages or see who has liked their profiles.
Can be time-consuming to search through all the choices, features, and matches.
You can't choose who is in your Top Picks list, so free members have no control over who they can message and who they can't.
Privacy mode (incognito browsing) is only available to paid subscribers.
For further research, be sure to check out our full review of Match, where we break down its 4.9 rating, its usability, and what its 39.7 Million monthly users get from their Match profiles. Or check out these Match alternatives if you'd like to consider similar options we recommend.
Advertiser Disclosure
DatingAdvice.com is a free online resource that offers valuable content and comparison services to users. To keep this resource 100% free, we receive compensation from many of the offers listed on the site. Along with key review factors, this compensation may impact how and where products appear across the site (including, for example, the order in which they appear). DatingAdvice.com does not include the entire universe of available offers. Editorial opinions expressed on the site are strictly our own and are not provided, endorsed, or approved by advertisers.
Our Editorial Review Policy
Our site is committed to publishing independent, accurate content guided by strict editorial guidelines. Before articles and reviews are published on our site, they undergo a thorough review process performed by a team of independent editors and subject-matter experts to ensure the content's accuracy, timeliness, and impartiality. Our editorial team is separate and independent of our site's advertisers, and the opinions they express on our site are their own. To read more about our team members and their editorial backgrounds, please visit our site's About page.