7 Best Free Sex Apps (Dec. 2023)
Sex chat apps give people the freedom to pursue their passions and explore their sexuality in a safe and anonymous environment, and that has been extremely helpful to all the sexy singles of the world.
Not every person in the dating scene is looking for a soulmate, a true love, a you're-the-only-one-for-me — some singles just want some sexting or a casual hookup to get them through the night. If you're looking for an easier way to find a local sex partner, a free sex app is worth a shot. It's much easier to get lucky on a hookup app than at a bar or club because everyone is available and sexually active.
For your pleasure, we've compiled the best sex apps for finding a sexting partner, playing games, meeting gay people, dating as a couple, and general hooking up. These 14 very sexy apps bring hot singles to your fingertips, so get flirting! //
Best Overall | Sexting | Games | Gay | Couples
Best Overall (#1-5)
To help you meet your match in bed, our dating experts have ranked the best apps for sex. These free apps outperform the competition and give singles satisfaction every night. We'll highlight the best features that make the following five apps great options to get sex with no strings attached.
1. Adult Friend Finder
Adult Friend Finder is at the top of most lists in terms of sex apps, and for good reason. It's among the largest (100+ million users), and it's extremely affordable because it is completely free to join. Adult Friend Finder appeals to casual daters who want to meet new people and browse X-rated content on the down low.
Relationships: Hookups Only

Match System: Search by location, interest, more

Our Experts Say: "Make no mistake: this site isn't about making friends, it's about finding hookups and casual encounters. No adult site has a larger or more active user base of those seeking discreet fun..."

Browse Free: View Photos Now
| | | | |
| --- | --- | --- | --- |
| User Base | Gender Ratio | Popularity (Visits/Mo.) | Today's Deal |
| All Singles* | | 25.5 Million* | Try It 100% Free |
The AFF community is open to singles, swingers, couples, and polyamorous groups looking to improve their sex life and meet like-minded people.
The premium communication features on Adult Friend Finder include private messaging, public forums, live chat, and two-way video, so whatever your preferred method of flirtation is, you can easily connect with horny men and women around the globe.
2. Flirt.com
Flirt.com isn't actually an app, but it is for sex, so we feel it belongs on this list. The hookup site is mobile-friendly, so you can access your matches and messages from any iOS or Android device without having to download anything.
Relationships: Hookups, Casual Dating, Chats

Match System: Search by age, location, gender, orientation, and other factors

Our Experts Say: "Flirt.com frees singles to chat with attractive locals and pick up dates on the spot. This hookup site is always open to horny and sexy people seeking one-night stands, casual dating, threesomes, and other sexual encounters..."

Browse Free: View Photos Now
| | | | |
| --- | --- | --- | --- |
| User Base | Gender Ratio | Popularity (Visits/Mo.) | Today's Deal |
| All Singles* | | 1 million* | Browse Profiles Free |
The Flirt network includes over 70 million registrants total, and it sees over 1 million visitors every month. These sexy singles know what they want in a match, and they're not afraid to go after it, so get online and get sexting in no time!
3. BeNaughty
BeNaughty is without a doubt one of the best apps for finding sex. Not only are they extremely popular (13.3+ million visitors a month), but the interface and features are very user-friendly.
Relationships: Hookups, Chats

Match System: Search by encounter, location, and more

Our Experts Say: "BeNaughty is a premier hookup app where you can feel comfortable expressing your desires. Plus, it's free to join, browse, and flirt..." Full Review »

Browse Free: View Photos Now
| | | | |
| --- | --- | --- | --- |
| User Base | Gender Ratio | Popularity (Visits/Mo.) | Today's Deal |
| All Singles* | | 13.3 Million* | Browse Profiles Free |
BeNaughty is the mobile-friendly dating site for sexy singles, and it offers a free chat feature to get something going. From your smartphone, you can set your dating criteria, browse through profiles of men and women nearby, and start chatting right away. Plus, it's free for women to chat, and single men can send a limited number of messages to potential matches online.
4. Ashley Madison
As you can undoubtedly tell from the motto "Life is short. Have an affair," Ashley Madison is a married dating site and app. The platform provides a discreet way to meet people and share sexual messages and photos, perhaps even meet up for an encounter outside of your relationship.
Relationships: Hookups, Casual Dates, Affairs

Match System: Search by age, location, appearance, and more

Our Experts Say: "With its massive user base and advanced privacy features, Ashley Madison is the #1 site for discreet hookups, dates, or relationships..." Full Review »

Browse Free: View Photos Now
| | | | |
| --- | --- | --- | --- |
| User Base | Gender Ratio | Popularity (Visits/Mo.) | Today's Deal |
| All Singles & Attached* | | 65 Million* | Start Now for FREE |
Additionally, Ashley Madison is a safe app that is encrypted to keep personal information and photos out of the hands of people with bad intentions. You can even change the icon on your phone to something nondescript, so no one glancing at your apps will know you're an Ashley Madison member.
5. FriendFinder-X
The name says it all — FriendFinder-X is a free dating site for coming together with X-rated friends. The platform serves those who have no-strings-attached sexual relationships on their minds. Founded in 1996, this hookup app has a long-standing history in this niche and millions of casual encounters under its belt.
Relationships: Hookups Only

Match System: Search by location, interest, more

Our Experts Say: "A hookup site specializing in casual encounters, secret affairs, live chats, and member videos, FriendFinder-X skips the awkward "dating" stage of a relationship and fast-forwards straight to the sex..."

Browse Free: View Photos Now
| | | | |
| --- | --- | --- | --- |
| User Base | Gender Ratio | Popularity (Visits/Mo.) | Today's Deal |
| Singles & Couples* | | 1.2 Million* | Browse Members Free |
As you can see from the graph above, FriendFinder-X sees a little more than 1.2 million visitors every month, with a majority of it being men. Don't worry, though, straight guys. With that large of a user base, you won't have any trouble meeting some hot ladies.
FriendFinder-X has advanced search tools to help local singles over the age of 18 find a viable romantic partner who is up for meeting in real life.
6. MenNation
MenNation is an adult chat site geared toward gay and bisexual men in the online dating scene.
MenNation is an active hookup site for online chatting with men who like to mix things up. A video call option is available for premium users who want to connect via webcam, and the photo galleries posted by members leave little to the imagination.
Relationships: Daters & Hookups

Match System: Search by age, zip code, more

Our Experts Say: "MenNation is a well-established gay dating and hookup brand, having been founded in 1996. It's totally free to join, view profiles, receive matches, and flirt..."

Browse Free: View Photos Now
| | | | |
| --- | --- | --- | --- |
| User Base | Gender Ratio | Popularity (Visits/Mo.) | Today's Deal |
| Singles & Couples* | | 780,000* | Start for Free |
What you'll also want to keep in mind about MenNation is the app has more than 79 million users, making it one of the largest in the gay sex app niche. It'll only take you a couple of pieces of information (including date of birth and zip code) to join the community and start sexting men in your area.
If you're a gay man seeking a casual relationship, MenNation is one of the top adult hookup sites that should be on your radar.
7. LesbianPersonals
LesbianPersonals is a sister site of MenNation, but it's just for gay and bisexual women, obviously. It has the same long-standing reputation (25 years and counting) and global reach (30 million members and counting).
Relationships: Hookups Only

Match System: Search by location, interest, more

Our Experts Say: "LesbianPersonals provides a fun, quick, and easy experience for gay and bisexual women looking for sex online. Join for free, and you'll be able to search and communicate immediately..."

Browse Free: View Photos Now
| | | | |
| --- | --- | --- | --- |
| User Base | Gender Ratio | Popularity (Visits/Mo.) | Today's Deal |
| Singles & Couples* | | 500,000* | View Profiles Free |
Something you won't see about LesbianPersonals in the chart above is that the app allows you to communicate with turned-on ladies in various ways — such as instant messaging, email, and live video chat. It's free to register an account on LesbianPersonals, and then users can upgrade their accounts to chat with single women, couples, and groups interested in having casual sex.
Best Sexting App (#8)
For couples in a long-distance relationship or singles who long for connection, sexting can offer a release of sexual energy. A free sexting app helps you send your flirtatious messages in a private and low-profile space. You'll find our review of one excellent app for sexting below.
8. Kik
Kik is the best sexting app available for free to singles (and couples). It is not a hookup app. You won't swipe on local singles or have potential match filters. Instead Kik offers an instant messaging app where adult singles can contact each other for a casual encounter or no-strings sex chat.
Keeping prying eyes out of your private conversations, the app encrypts all stored information. You and a sexting buddy can chat one-on-one or in groups, and users can share messages, pictures, videos, and games on any mobile device. Open for sexting anywhere you go, Kik's messenger offers free chatting to 230 countries worldwide.
Best Sex Game App (#9)
For playful singles and couples, a sex game can be great foreplay. Whether you're at a party or on a date, you can add a little flirtatious fun to any one night for free by using an app. Here we've picked out the best free sex game app available.
9. 3Fun
The 3Fun app is a polyamorous, kink-friendly space where couples can play and explore new connections. The swiping game is a fun way to spice up a night and imagine different potential partners for a threesome or open relationship.
This naughty app can facilitate a local hookup or sexting conversation, and it has prompts for just about every fetish, fantasy, and sexual orientation you can imagine.
Our full review dives deeper into the fun perks and successes that 3Fun has seen with its unique offerings and judgment-free vibes.
Best Gay Sex Apps (#10-11)
A fabulous gay sex app helps singles cut to the chase and get what they want. No need to ask for orientation. No need to take it slow. The people who join gay hookup apps are good to go. Our dating experts recommend gay men check out the following free sex apps.
10. Grindr
With over 3 million active users, Grindr boasts the title of the world's largest gay social network in an app. This free sex app is an erotic playground for your enjoyment. Singles can view up to 100 guys on a location-based grid, and they can swipe on individual profiles until they find the perfect match.
New users have the option to sign up to Grindr through a social media account (Facebook or Instagram) to verify their personal bio and add more compelling photos, but they can also choose to input their information manually. Grindr simply uses the social media signup as a way to flag fake profiles and keep undesirables out of the gay dating network.
Grindr is a great hookup app for sexting men and arranging casual dates on the spot, and it's totally free to use on any Android or iOS device.
11. Surge

Surge is a mobile app that doesn't judge or label their user base, but welcomes all bears, twinks, jocks, and queens. Gay men can swipe through hot headshots (public photos of any other body parts will be rejected) until they make a mutual match — at which point the chat opens automatically.
Surge values the privacy and security of all members. If you choose to send a private pic via chat, the photo will be deleted moments after it's opened.
Best Sex Apps for Couples (#12-14)
Sex dating apps aren't just for singles — couples can get in on the fun, too! Listed below, you'll find three thrilling sex apps for couples. The following couples sex apps offer easy ways to find a threesome, a new sexual position, or erotic enjoyment alongside your partner.
12. Pillow

Pillow, also called Pillow Play, is available to any couple looking to shake things up in bed. The app provides ways to nurture intimacy through suggested activities. Whether it's compliments or a sensual body scan, Pillow helps couples more deeply appreciate one another. Erotic 5-minute episodes walk couples through therapeutic, meditative, and sensual activities. Pillow can feature fun games and spark a sexual encounter between adults who are willing to play along for at least one night.
13. Feeld

Couples are free to play the field on Feeld, a dating app where people "explore love beyond societal norms." Promoting anonymous chatting and open-ended sexuality, this couples sex app encourages swingers to go after what they want and expand the definition of love and pleasure. All members are Facebook verified, but no real names are required to set up a profile. As an added bonus, whenever you swap photos with your match, the app will destroy all records of the photos within seconds of viewing. Feeld is the best dating app for non-monogamous singles and poly couples looking to find sexy playmates.
14. Kindu
Kindu fosters discovery and fantasy for couples who think outside the box. On the app, romantic partners can pair with each other to communicate openly about their sexual interests. Users also peruse thousands of ideas about exciting activities like role playing and date nights. You and your partner will see the ideas you both "like" and the matches you both "heart." In a low-pressure and sexually-charged environment, couples find common ground through Kindu. You can read our full review of Kindu here. Update: Kindu is down at the moment, and our team will monitor to see if it comes back online.
FAQs: What's the Best App to Chat with Strangers
The best sex chat app is one with a lot of members and not a lot of payment requirements or restrictions, so Tinder is the obvious choice. This dating app has been downloaded over 530 million times, and it has created over 75 billion matches since its launch in 2012. Today Tinder has been translated into 40 languages and is available in over 190 countries worldwide.
If all that isn't enough to impress you, then consider than over 1.5 million dates happen each week because of Tinder. There's no doubt that this dating app can hook you up with a bustling sex chat room, and the rest is up to you.
How Do You Find Someone to Sext?
Online dating is the fastest and most promising way to find a new person to sext with you at any hour of the day. A free dating site or app will give you immediate access to a lot of local singles, and many of them will be open to a little flirting that leads to sexting that leads to a casual hookup.
Your search for a sexting partner should begin by matching with compatible profiles. There are some signs you can look for that distinguish sexually active daters from more prudish and rigid singles. For one thing, some people outright state in their dating profile that they're open to local hookups or just looking for casual conversation. Other times, a single guy or gal will post a sexually suggestive or revealing photo of themselves to spark an attraction.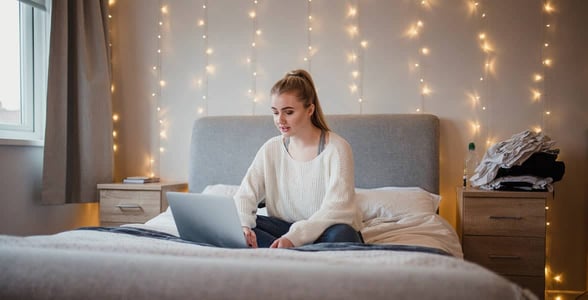 If you can't tell if the person is DTF (down to f*ck), then you can test the flirting waters by sending a private message that reads something like, "hey sexy, what are you looking for on this app?"
Important side note for straight men: Do not talk dirty to a woman in the first message on a dating site. Just say hello, maybe give a very polite compliment, and ask her a question to start the conversation. If she seems into you, then you can turn up the heat, but doing so too early will come off as creepy, sketchy, forward, or just plain rude.
What is the Safest Chat App?
Kik offers a safe chatting community where users can block or report anyone behaving badly and confide in a Wellness Bot for advice and support.
This messaging app regularly facilitates casual dating and anonymous sexting, so it's perfect for adult singles who want to hook up without putting themselves too far out there.
Which Dating Site is Good for Teens?
Teenagers may want to join the online dating crowd, but most respectable dating sites and apps require all members to be at least 18 years old, so any teenager younger than that has to look elsewhere for romance.
Fortunately, plenty of dating sites for teens have begun cropping up to create a safe space for singles as young as 13 and as old as 19. MYLOL has often been ranked the best dating site for teenagers.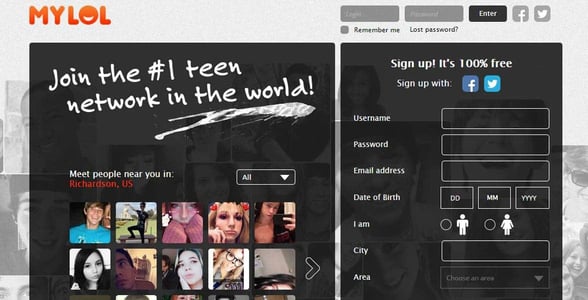 MyLOL is one of the most popular options for teens looking to connect. This young adult chat room fosters an open-ended community where individuals can share their thoughts, express their feelings, and find a person who understands their perspective and life experience.
Is Yik Yak Still an App?
No, sadly, the Yik Yak app is no more. After being launched in 2013, Yik Yak initially grabbed people's attention because it facilitated private chats between local singles who lived within a five-mile radius of each other. The messaging app also had a controversial vote-up and vote-down chat feature so that a user could express interest or disinterest in chatting with certain people online.
Yik Yak got come flack to contributing to cyberbullying in the online dating scene, but, ultimately, it was its popularity (or lack thereof) that was the app's undoing. It shut down its chat room in 2017, and the app is no longer available on Google Play, iTunes, or any other app store.
How Do I Make New Friends on a Dating Site?
Dating apps are multi-purpose tools, and they can be used to find no-strings sex as well as make new friends. But you have to go about it the right way.
First off, you should pick a chat app that is about more than just casual sex. A sexting app or sexting site will not yield many friendships because so many members are interested purely in hitting it and quitting it. That's great if you enjoy one-night stands, but not as fulfilling for someone looking for companionship as well as sex.
Making friends on a dating site isn't an exact science. What works on one person, won't work on someone else, so be sure to tailor your approach and keep an open mind as you chat with strangers.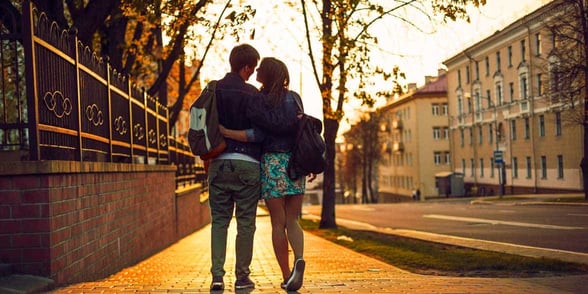 One thing our dating experts recommend is to be clear about your intentions and where you see your conversation going. Within the first 5-10 messages, you should check to make sure your new friend or love interest is on the same page as you. Some singles enjoy the friends-first approach, and others feel like they have enough friends and would rather stick to outright romantic options.
It saves time to let people know upfront what you expect and what you want — and it's also just the polite thing to do. After all, it's hard to build solid relationships and friendships by playing games and lying about who you are.
Spice Up Your Sex Life With a Free Sex Chat App!
There's an app for everything these days, even free chat apps for sex. Next time you're prowling a bar with no hotties in sight, why not whip out your phone to instantly connect with local singles and couples on a casual sex app?
Sex chat apps give you the ability to create your own chat room with a stranger and build intimacy one message at a time. You may wind up enjoying a one night stand, a threesome, or another type of sexual encounter with a new partner.
Our list of the top sex apps will hook you up with thousands of kinky partners searching for a person like you. Good luck!
Advertiser Disclosure
DatingAdvice.com is a free online resource that offers valuable content and comparison services to users. To keep this resource 100% free, we receive compensation from many of the offers listed on the site. Along with key review factors, this compensation may impact how and where products appear across the site (including, for example, the order in which they appear). DatingAdvice.com does not include the entire universe of available offers. Editorial opinions expressed on the site are strictly our own and are not provided, endorsed, or approved by advertisers.
Our Editorial Review Policy
Our site is committed to publishing independent, accurate content guided by strict editorial guidelines. Before articles and reviews are published on our site, they undergo a thorough review process performed by a team of independent editors and subject-matter experts to ensure the content's accuracy, timeliness, and impartiality. Our editorial team is separate and independent of our site's advertisers, and the opinions they express on our site are their own. To read more about our team members and their editorial backgrounds, please visit our site's About page.