7 Best Sexy Dating Sites (June 2023)
The online dating landscape has something for everyone, whether you want to get married soon or just need the help of sexy dating sites to find Mr. or Ms. Right Now for a casual fling. In the U.S. alone, there are close to 3,000 dating sites and apps, and about 1,000 new dating platforms come and go annually. 
There are so many dating networks that narrowing down the search can be difficult. If you're looking for a casual encounter, which of the dozens of options out there is your best bet? Our experts have reviewed the most popular options and compiled the best sites and apps for finding someone to get down with.
Whether you're married or just like to date married people, Ashley Madison welcomes you with its  open-minded atmosphere toward extramarital affairs. Contrary to popular belief, you don't have to be married to sign up. But you do have to be okay with getting involved with a married person.
If you're a woman on the site, you don't have to pay anything to get full access; just set up your profile and you're good to go. For men on the site, Ashley Madison uses a credit system instead of a monthly subscription, so you don't end up paying for more than you use. 
The dating platform has taken its fair share of heat over the years, first for helping to facilitate extramarital affairs. In 2015, the dating site weathered a digital storm when hackers accessed and leaked user data, spreading personal information to the public. As a result of the latter scandal, Ashley Madison redoubled its efforts to keep information on its users not just private but secure, making it a safe platform for discreet singles and married people looking for a fling.
The key feature of BeNaughty that sets it apart from most of the online dating platforms is that the site doesn't pull any punches. BeNaughty is all about hookups, casual encounters, and flings. No judgment, no moralizing. The site doesn't just feature personal ads or profiles, but also plenty of adult content to keep things steamy while you search for your next potential match.
Another way that BeNaughty distinguishes itself as the best hookup site is the fact that a woman can join and chat without paying anything. The adult dating site offers several premium membership packages, each with different benefits. If you're concerned about staying discreet, the Security Package includes HTTPS encryption, auto-clear function for your browsing history, and incognito browsing. If you're less worried about being anonymous but more interested in talking to people privately on the site, the Chataholic Package is the right choice for you.
And lastly, the Premium Dater package combines the best features of the other two, with a larger price tag to match. Each package comes in a daily, weekly, monthly, or quarterly (three-month) subscription plan, set to auto-renew unless you change that setting. 
Sometimes you just want to go classic, and Adult Friend Finder (aka AFF) definitely qualifies. The adult dating site launched in the mid-90s to connect open-minded adults looking for a casual encounter. The site is a phenomenon, with over 93 million profiles and 25.5 million active monthly users, all of whom are interested in casual sex with a stranger. 
The casual dating site was one of the first to put it all out there, and the fun-loving and spicy atmosphere remains the biggest draw for AFF. Adult Friend Finder is open for singles, swingers, and polyamorous relationships, among others,  and provides multiple ways to get in touch with the right people for your next encounter.
The site is free to join, but Gold Membership speeds things up so you reach your goal of a hookup. While posting personal ads, public chats, and browsing profiles is free, you'll need the premium membership to have access to unlimited instant messaging. It also provides access to adult video content, and if you get Gold Plus, even free-level members can reply to your messages. 
A massive user base and minimal signup requirements make Flirt.com an easy choice for singles who don't want to spend a lot of time finding partners for a hookup. While the dating site doesn't have a companion app, it is mobile-responsive, so you can check matches and respond to messages from your phone almost as easily as you might with an app-based dating platform. Flirt.com also makes it easy to get started: All you need is an email address and a profile picture, and you can start browsing.
If you do want to make things a little safer, Flirt offers account verification. But you can just as easily keep things discreet and stick with the basic-level profile setup if you prefer. The site makes a great wingman for people looking for someone to hook up with. And with a paid membership, you can even get icebreakers from the site to get the conversation started. 
Other perks that come with a paid membership are profile videos, the ability to request extra information from potential matches with incomplete profiles, and a few other goodies. As a free member, you can swipe through suggested matches, browse, and even send up to five messages, or reply to the ones you receive. 
Lesbian women are the target demographic for LesbianPersonals, but the casual dating site doesn't discriminate. Instead, you're welcome to sign up if you're a single woman interested in women, or a couple interested in women. Swingers, bisexual women, trans women, and polyamorous couples, among others, can join with no issues and no questions.
Discretion is a major component of the queer dating experience, and LesbianPersonals makes maintaining that easy. While you can verify your profile for peace of mind, the site doesn't require it. You can go by a fake name, and you don't have to provide a verifiable photo either. As part of the Friend Finder Network, LesbianPersonals has a large user base, with millions of members.
Free members can participate in public areas of the site, post personal ads, and browse profiles. The site is set up as a personal ads-and-chat platform with the option of private messaging, which makes it easy to get to know prospective matches without too much pressure. You'll need the premium membership to send private messages and get more access to profile details and steamy one-on-one options.
Gay men looking for casual sex have a lot of options, but MenNation remains one of the best casual dating site options since 1997. The casual dating site for gay and bisexual men and couples features a lot of perks, and the focus is always on fun, casual action. While there's no app to go with the platform, the site is mobile-optimized, so you can take the fun on the go.
As with several of the sex dating sites featured on this list, MenNation doesn't just play host to a sex messenger service or chat rooms, but instead features adult content to keep things spicy while you look for the right man for your next hookup. Webcam broadcasting, one-on-one video chat, and features like BuzzMode that allow one user to remotely control another user's personal toys keep things carefree and very sexual, even at a distance.
Of course, many of the best features of the site only come with a premium membership, though MenNation also allows its user base to accumulate points they can exchange for access to certain features. Free members can sign up, upload videos, and participate in chat rooms, as well as receive tips in the form of points from paying members. As a paying member, you get the full run of the site's features and perks. 
7. Elite Singles
For people seeking casual encounters with high-value partners, Elite Singles makes it easy to find and attract the partners you want. The site primarily caters to singles seeking more long-term relationships, but many members are looking for something more casual, as well.
The major draw for Elite Singles users is the high-value membership. More than 80% of the site's members have a college degree, whether it's a bachelor's, master's, or Ph.D. The site and the mobile app that comes with it also provide top-tier security to help you keep things discreet.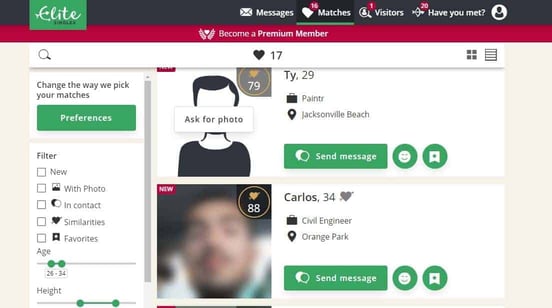 On Elite Singles, ID authentication, manual profile verification, and fraud detection systems all work to eliminate fake profiles and keep your details private to the platform. As an added benefit, Elite Singles publishes a blog with dating advice for busy professionals, full of tips and tricks for managing your relationships.
While Elite Singles caters to the elite single who wants a more serious romantic connection, it remains a good choice for single men and women looking for a high-value hookup. The profile and account verification process can take some time, but it's well worth it for the caliber of people you can meet and connect with on the platform.
8. Seeking.com
Seeking.com may be the best dating site on this list if you prefer hookups that include a luxurious lifestyle. What began as a sugar dating site called SeekingArrangement has refined its process to appeal to sophisticated singles of all genders and orientations.
Seeking puts a lot of control in young people's hands: The site is free for singles who identify as sugar babies, while rich patrons on the site must pay for the privilege of messaging their prospective sugar partners. Seeking also makes it easy for both sides to negotiate terms: would-be sugar babies include information regarding the level of support and pampering they expect, while sugar daddies and sugar mommas provide their budget details up front. 
In addition to the usual dating site options, Seeking Arrangement offers advice and coaching for both its sugar daddies and mommies, as well as sugar babies. The site also offers optional upgrades, including income verification and status badges (Diamond, Platinum, etc.), for sugar patrons to show off their credentials and confirm their interest. 
9. SaucyDates
Launched in 2007, SaucyDates goes the extra mile to eliminate fake profiles. The problem comes up often on dating sites and hookup apps everywhere, and it takes a lot of effort to solve it without making things harder for legitimate members.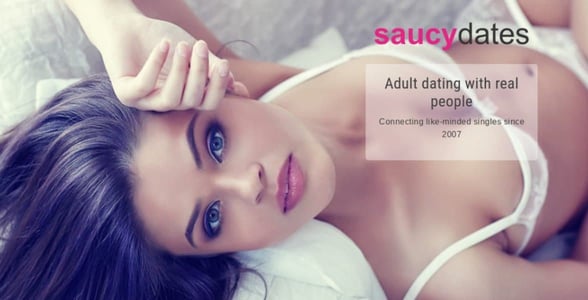 The casual dating app started in the UK but continues to grow in popularity through the US, Australia, Canada, and even India. The site's owner, David Minns, wants to expand into South America and more countries to come, and the platform's success is a strong bet.
The site and app both focus on anonymity and security, and the only required information in the registration process is an email address and your choice of nickname taken from a list of the world's most popular first names. But you don't have to stay anonymous. The optional details include 25 gender identities and nine sexual orientation selections to help you identify who you are and what you're looking for. 
10. Feeld
If you're single and looking for a hookup, there are a lot of sites and apps out there. Feeld is one of few casual dating app options that explicitly welcome both single people and couples. Launched by Bulgarian entrepreneur Dimo Trifonov, the app targets couples interested in opening up their relationships, and singles who are interested in participating in that dynamic.
The app lets you choose from 23 sexual orientation options, and while 74% of the members consider themselves to be heterosexual, the membership plays fast and loose with identity. The app is a platform for couples and singles to explore their sexual and romantic desires. Dimo realized early on that security and safety should take priority, which is why the app features built-in features like a PIN code and identity verification, among other privacy protections.
Feeld is also recognized for putting the safety and comfort of women on the app at the top of its concerns. The development and maintenance teams continually improve the app's reporting and moderating policies and tools. The app regularly releases new features to help a nonmonogamous woman, a queer woman, or any other type of woman explore without feeling intimidated or harassed. 
11. OkCupid
For singles who want to explore without spending any money at all, OkCupid is a long-established favorite. Even though Match Group bought the dating site and app years ago, the team in charge is committed to keeping the core features of the platform free for everyone. That means users don't need a premium membership to find or contact anyone. OkCupid ranks highly among singles looking for casual encounters because, even though the dating site is for all types of relationships, there's no judgment.


Finding a potential match on OkCupid is easy, whether you're looking for someone where you live or while you're traveling. The site allows you to search matches based on location, age, body type, and other features. 
Free membership gives you everything you need to meet someone on the platform, but that doesn't mean that the premium membership level doesn't have its perks. Profiles of OkCupid A-List members receive greater visibility, and A-list members get to see who's been looking at their profile, and can search and browse in incognito mode, among other added benefits. 
12. Plenty of Fish
Plenty of Fish is a classic option for single people interested in casual sex but who don't want to spend a lot of money to find partners. The Match group bought the site in 2015, but POF launched in 2003 as a free dating site. While some reviews on the iTunes store and Google Play store are less than complimentary, Plenty of Fish remains massively popular, with 150 million users worldwide.
Plenty of Fish has its own particular matching systems, based on a personality quiz that new users take when they register. You can browse matches using filters like age, location, and advanced options like income. Users also get access to the Meet Me matching system, which offers a swipe-friendly approach, and Ultra Match, which serves up the best matches for you based on your criteria and personality test.
The POF free membership allows users to set up a profile, register, use all of the matching methods, and send and receive messages. If you choose an upgraded membership, you get an ad-free experience, priority placement in match results, the ability to see extended profile information, and other benefits. 
13. HUD
If you're more interested in a perfect night than in finding your perfect match, HUD dating app lets you negotiate with honesty. The app is all about sex positivity, which includes full disclosure and honest discussions about what you're looking for. Singles and couples alike can participate, and the app has special features that allow couples to pursue polyamorous connections while maintaining rigorous honesty.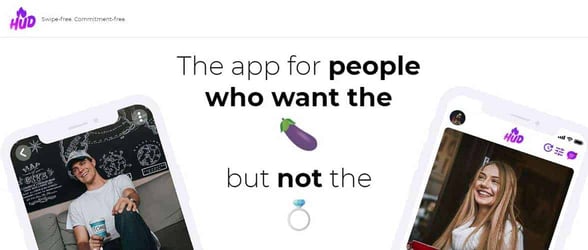 One important way HUD reinforces safety in hookups is with its SAFE badge system that identifies users who have up-to-date STI tests.That helps normalize discussion about the sensitive topic  so everyone on the platform makes informed decisions.
Basic membership is free, and you don't have to pay to match or send messages on the app. But HUD offers Premium and Diamond subscription options that include optional bonuses and perks to make it even easier to find a fling. 
14. Facebook Dating
While many people joked when Facebook first announced its plans to get into the dating site game in 2018, the Facebook Dating app presents a lot of bonuses for people seeking a sexy date. The platform is easy to access, since you can go straight from your Facebook profile into creating your dating profile, and the service is free.
You won't just be served up people from your own friends list. Instead, you're matched with singles based on common interests and location, as well as a few other filters you can select from. Your activity on Facebook Dating also stays separate from your main profile, so you can be at least a little discreet while looking for your hookup.
The downside is that, even after several years since its launch, the platform doesn't have as many options as most other dating sites and apps. And there is always the risk that you'll run into someone in your network that you might not want to see in the context of a dating site. But for low-effort, free casual dating options, Facebook Dating is solid.
15. TapDat
Another sex positivity-forward dating app, TapDat strips away some of the adult content features that most hookup apps and sites favor while opting for straightforward communication. Like HUD, TapDat's creators put honesty and safety at the forefront in developing and updating the platform. TapDat features a robust verification process meant to weed out fake profiles and content moderation policies that prevent aggressive or intimidating behavior.


TapDat's informational blog highlights topics like the importance of regular STI testing, how to understand consent, and other topics to ensure that your partners are having a good time. TapDat is a safe space for adults looking to have a little fun, no strings attached.
16. Victoria Milan
Like Ashley Madison, Victoria Milan is for married people interested in discreet affairs. The dating platform works without requiring much personal information from new users. Like many of the best casual dating sites for cheaters, Victoria Milan can keep things as quiet as they need to be. Unlike Ashley Madison, which experienced a major scandal when user information was hacked and leaked publicly, Victoria Milan has, since its launch, consistently worked to ensure the security of member information.
The site's security features include public/private settings, photo blurring, and monitoring screen names to protect a member's identity, among other measures. The dating platform even offers completely anonymous texting services, which helps those married people who don't want to take any risks at all when pursuing relationships and casual encounters outside of their marriages. 
17. CasualX
"Dating without pressure" is one of the taglines for CasualX, a hookup app that founder and CEO Michelle Li launched after she saw her friends struggle with Tinder and other apps. The secret to the app's success lies in key features, including "Today's Blind Date," which matches users with one profile that meets their criteria, and the Ideas Board, where members can post their thoughts, personal ads, or questions to the user community.
CasualX distinguishes itself by offering a community atmosphere that takes the pressure off finding a hookup. People on CasualX can mingle and flirt in an open, safe space before they take things private and set up a casual encounter.
Frequently Asked Questions: Is Match a Sexy Dating Site?
While some people on Match.com are looking for hookups, the majority of people who use the dating site want something more serious. The dating site may not be as marriage-oriented as platforms like eharmony, but it does have a strong reputation for more serious relationships.
Match is great if you're interested in finding a single person for a longer-term romantic connection, including dating or even something more serious. But the sites on this list are a better choice for a casual hookup.
Overall, Match is one of the best dating apps for finding just about any type of romantic connection, including a casual relationship. It is a female-friendly dating platform, which means its female-to-male ratio is more balanced than you'd find on most racy adult dating sites.
Where Can I Find a Fast & Casual Hookup for Free?
There are a lot of good options on this list, but people still want to know which is the best hookup site. The truth is some adult dating sites and apps do better at "fast and casual" than others. Among the platforms our experts recommend, a few tend to stand out for finding a one-night stand or casual hookup quickly.
Tinder is a classic choice for fling-seekers for a reason. While there are people on the dating app who want something more serious, a big chunk of the membership is there to find a casual encounter and nothing more. Finding a potential match is as easy as opening the mobile app and swiping right. As soon as that same person swipes right on your profile, the app connects you, and you can settle the details in the messaging system, all for free.
BeNaughty is a newer player in the hookup dating site world, but the dating platform set itself apart by putting everything out there. The site is unashamedly about finding the right hookup. Steamy content is not only allowed, it's encouraged, which makes it easy for singles to get in the mood for a hookup.
Ashley Madison is commonly ranked as the best adult dating site for married people, but also specifically for sexy interactions. While some people on Ashley Madison end up forging long-term connections, the site and dating app definitely encourage hookups. Discreet and flirty, Ashley Madison is one of the most popular adult dating sites. The online dating site and mobile app make it easy for single or married users to find the person they want to be with tonight.
What's The Best Dating App for Gay or Lesbian Hookups?
Statistics show that LGBTQ+ singles use dating platforms much more than their straight counterparts, and dating sites have responded to that. The online dating world offers a lot of options for gay and lesbian singles, but there are a few standouts for people looking specifically to hook up on a sex app.
Grindr is one of the first hookup apps for gay men, and it remains a favorite because the app team continues to work hard. While some on the app are looking for more serious relationships, a major percentage of Grindr users want casual encounters and hookups. The development team has had a long time and a lot of feedback to make Grindr the best hookup app, dating app, and friendship app for queer men, and the effort pays off for the membership.
LesbianPersonals launched in 2008, and the hookup site has provided a venue for flirty women seeking women ever since. The platform allows anonymous browsing, and plenty of X-rated content to get you in the mood. Messaging requires a premium membership, but public postings don't. 
HER sets itself apart from LesbianPersonals by being 100% women-for-women, no straight couples allowed, and no men. The app is open to cis and trans women alike, as well as to nonbinary people, and uses verification to weed out fake profiles and bots. Like many sites geared toward queer women, HER is as much about community as it is about romance, and it's a great place to find a casual fling.
Are Hookup Dating Sites Safe?
Hookup dating sites and apps are just as safe as any other kind of dating site. Of course, some things are a little different when it comes to making sure your casual encounters happen without a hitch. 
Just as with any other dating or social networking site, you should be wary of users who stand out for the wrong reasons. Keep an eye out for fake profiles, even on the best-policed sites, and if you get a bad feeling about someone messaging you, block them and report it. And as with other dating sites and social platforms, don't rush to reveal everything about yourself early on. 
In fact, it's a good idea in general not to jump into any kind of relationship (even friends with benefits or a quick hookup) without doing a little vetting. Don't send any money to someone you don't know, and don't provide any of your financial details. It's also generally a good idea to meet in a public place the first time you meet in person. Give yourself time to feel for the vibe before going anywhere private with someone you've just met. These are all basic precautions you should take in any online dating scenario.
If you use your common sense, hookup sites are no more dangerous than any other platform.
Sexy Dating Sites Help You Hook Up
If you're not interested in settling down and want to find someone to have fun with, the best sexy dating sites make it easy. All of the sites on this list put everything on the table: no need to pretend to be looking for more, and no need to be someone you're not. 
With the right adult dating site, you can find plenty of prospective partners, and set up a date for a little fun and no strings. Choose the site that matches what you're looking for, and get started on connecting with the right woman, man, or nonbinary person to light up your evening the way you want!
Advertiser Disclosure
DatingAdvice.com is a free online resource that offers valuable content and comparison services to users. To keep this resource 100% free, we receive compensation from many of the offers listed on the site. Along with key review factors, this compensation may impact how and where products appear across the site (including, for example, the order in which they appear). DatingAdvice.com does not include the entire universe of available offers. Editorial opinions expressed on the site are strictly our own and are not provided, endorsed, or approved by advertisers.
Our Editorial Review Policy
Our site is committed to publishing independent, accurate content guided by strict editorial guidelines. Before articles and reviews are published on our site, they undergo a thorough review process performed by a team of independent editors and subject-matter experts to ensure the content's accuracy, timeliness, and impartiality. Our editorial team is separate and independent of our site's advertisers, and the opinions they express on our site are their own. To read more about our team members and their editorial backgrounds, please visit our site's About page.